September 3, 2011 — The day before my youngest brother's wedding, and the family was gathering in Oregon. On Saturday, several of us planned to go to Silver Falls. That was one place I'd wanted to see, because I remembered hiking there as a child. (You can go behind the waterfall!) We didn't get going as early as planned, and then one sister and her husband needed someone to take them back early so they could get the flower girl to the rehearsal. I was the logical person to volunteer, since I wasn't sure how much hiking I could handle, since I was still recovering from my stroke. So I didn't go very far at all, but what I did was lovely indeed.
Here's the group that went hiking: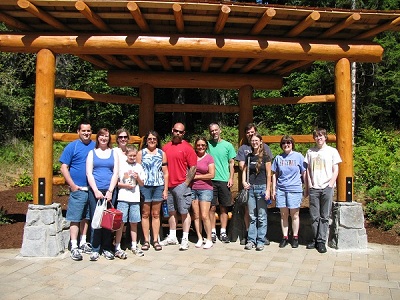 My son and I are on the right. Two sisters went, with one husband. Two brothers went, with one wife. And my Aunt Donna came along, with her son (whom I'd last seen when he was about 12 years old) and his wife and son. So that's a tiny section of my family, but it was lovely to be with them!
Now, of course, I couldn't resist taking pictures of the Falls:

Our first view of the Falls. Of course, we had to take pictures!

Here's my sister Marcy snapping one.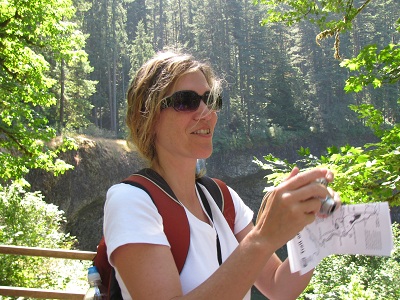 And here's my sister Wendy.

Getting closer to the Falls…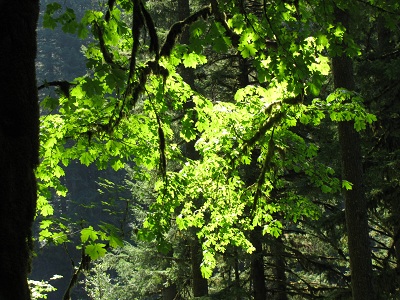 Forgive me, but I always like taking pictures of leaves lit up by sunlight.

Here's a view through the trees.

Closer to the Falls, you get more of a feeling of how big it is.

Here's my brother Randy and his wife Vickey.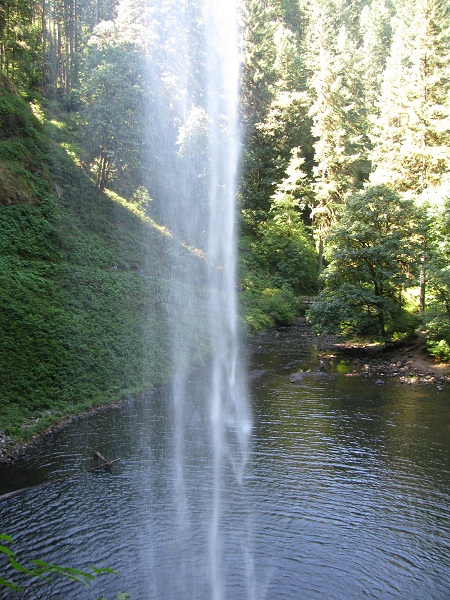 And I had to take one from behind the Falls, the thing that thrilled me so much as a child.

Here's the bridge at the bottom of the Falls.

The Falls were especially pretty from the other side.

This is my sister Marcy and her husband John. We're now on the bridge I pictured earlier.

And here I am with my son Tim.

Sisters!

A last look at Silver Falls from below, before starting the upward climb.

Tim found a side trail to explore.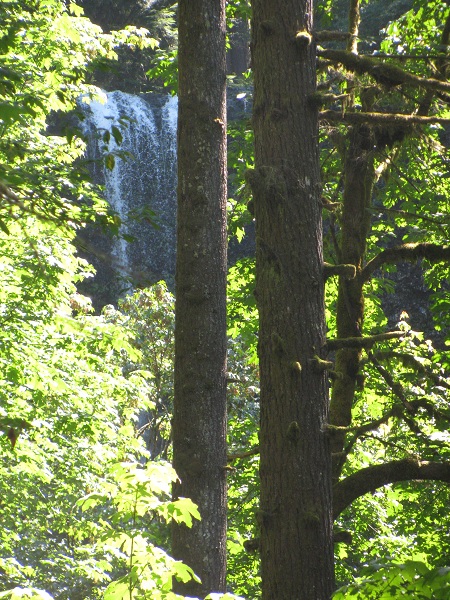 Another glimpse of the top of Silver Falls.

I was fascinated by all the moss on the trees in Oregon and Washington. It was how I remembered forests — but hadn't seen in years. And this set had leaves lit by sunlight as well.

And one final look at Silver Falls, before going back to my Aunt's house, taking a nap, and then getting ready for the Rehearsal Dinner and even more Family.
It was a lovely day. It was probably good I took the shortest loop, since the climb back up completely wiped me out. But I was very glad to get out and about with wonderful people whom I love very much — but don't see very often.