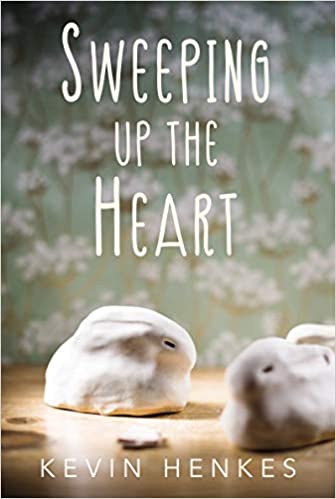 Sweeping Up the Heart
Review posted September 30, 2021.
Greenwillow Books, 2019. 183 pages.
Review written January 9, 2020, from a library book
Amelia Albright wanted to go on vacation during Spring Break like other families do, but her father, an English professor, didn't want to, even though this year of 1999 his college was having a break at the same time. So Amelia ends up going to the clay studio every day to make objects with clay. This time, the objects she makes turn out to be rabbits.
But there's someone new at the clay studio this year, a boy named Casey. Casey's staying with his aunt, who owns the studio, while his parents are making a last effort to keep from getting divorced.
Casey is twelve years old, the same age as Amelia, and he has some fun ideas, like inventing names and stories for people who pass the shop where they are having lunch. But when Casey gets the idea that a strange lady looks like she could be Amelia's mother – when Amelia's real mother died when she was a baby – Amelia can't get that idea out of her head.
This book tells about a week in the life of a lonely girl who finds that art and new friends can bring pleasant surprises, even in familiar places.