It's time for Project 52, Week 21!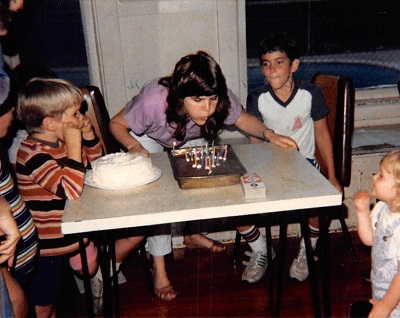 21 weeks ago, on my 52nd Birthday, I decided to start Project 52 — for this year, I'm reflecting each week on one year of my life. (I can't believe how quickly my years in school have gone by!)
Last time, Week 20, I had just finished my undergraduate years at Biola University, and I was dating Steve Eklund, who was a year behind me at Biola.
I'm writing this during Election night 2016 (and am very distracted), which reminded me that last week I forgot to mention that 1984, when I was 20, was the first time I voted in a Presidential election. I voted for Ronald Reagan. I was still very conservative (as I was raised). That was the first time I voted for a Republican for President, and also the last time. And that year I was 21 was the year the seeds of liberal thinking got started.
I also realized last week that I forgot to talk about how Steve and I used to hide pennies for each other to make our days. That was from an Annie Dillard quote, and I remembered that fun this week.
That summer, I moved into the houseful of girls on Biola Avenue, the same one I'd lived in the summer before, and roomed with Jeannette Sadler again. I had been accepted to a PhD program in Math at UCLA, but UCLA didn't start until the very end of September, so I spent the summer continuing to work for Biola University Computer Services. In fact, they gave me a big raise when I graduated. (That annoyed me a little bit, because I was doing the same work.)
That summer, I remember I paid off my student bill and was able to get my diploma. But, you say, didn't you have a full tuition scholarship? Yes I did, and another $2000 scholarship through my Dad's work, but there was still about $900 to pay for living in the dorm, and I paid it myself — finishing that summer, when I was working full-time.
Here I am in my office:
(I'm rather proud that I paid the majority of my tuition and fees at Biola. Between a half-tuition scholarship the first three years, a full-tuition scholarship the last year, a four-year scholarship of $2000 each year, paying the remainder myself the last year, living on-campus the first year, and paying $5000 in student loans after graduating. My parents did pay a whole lot, but I still took care of most of it.)
The picture above is celebrating my 21st birthday at my parents' house. Here's another. I have enjoyed reading to kids for a very long time.
And the day after my birthday, my roommate Coral got married! I was one of the bridesmaids.
Finally, as September ended, I started at UCLA! I moved into a house in downtown L.A. with five other girls, mostly from Biola. Audrey and Joan and Tammy, I'd known from Biola. Karen was my new roommate, and she'd gone to UCLA as an undergrad. Robin was the other housemate.
The house was near USC, so I still had a commute to UCLA. It was a block down the street from First Evangelical Church of Los Angeles, which Steve and I started attending. Remember how I'd been attending Christian schools since 3rd grade, so didn't have any non-Christian friends? Well, one of the great things about First EV Free LA was that it had a vibrant, growing Spanish-speaking congregation — people who were coming to Christ and whose lives were being dramatically changed. There was also an English congregation, which was, honestly, dwindling — mostly people who had been attending the church since before white folks moved out of the inner city.
I don't have many pictures from that year, but here's one of my roommate, Karen:
And here are Joan and her fiancé, Dan: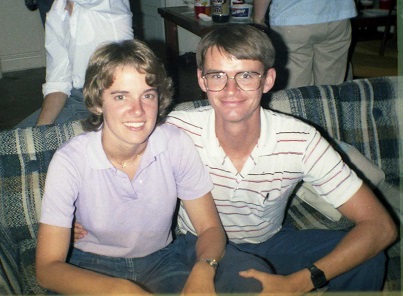 Starting at UCLA was a little overwhelming. Though I never minded being the minority, there were only five women in the incoming grad school class of 120. Most of those were Master's students, not PhD students like me. I had a teaching assistantship. The first quarter, I taught homework help sessions and graded papers. But I got good reviews, since I was a native-born English speaker, so the rest of the quarters, I got to actually teach a College Algebra class of about 20 students, with some supervision.
My very first college class had a mentally unbalanced girl who would start laughing uncontrollably during class, as well as an older guy with narcolepsy who'd start snoring. Remember that I looked about 13 years old (maybe 15 by now). There were a couple times that my students told the girl to be quiet. She also got an F — didn't write answers on her tests. I didn't feel good about that — but that was the worst situation I ever had in all my years of teaching math — my very first class. Though I find it interesting that I remember some of the other students in that class especially well, because they were kind to me in that awkward situation.
But the worst part of that year was that I was getting daily headaches. I finally saw a doctor at UCLA, but they pretty much just said, "stress." This was before any of the triptans had been approved, and nothing worked. I was taking 8 or 9 Excedrin every day.
(I should add that I was taking quite a lot of Excedrin my last year at Biola, too, but now it was starting to affect my life and I felt like I couldn't think straight.)
Somewhere along the way — I think it was after my second quarter — I decided to "settle for" my Master's instead of staying in the PhD program. The thing was: What do you do with a PhD in Math? You pretty much better plan to teach — and I didn't think I wanted to teach.
Also, to get a PhD, I'd need to pass three wicked hard qualifying exams and a language exam (two language exams? I don't remember.) and then work on a dissertation. People were there who'd been in the PhD program for seven years. They were at school at all hours.
To get a Master's, I'd only need to pass two qualifying exams and take enough classes. That was it. I was even able to finish the class load after only a year and a quarter.
So — I was feeling lots of pressure. I was trying to spend time with Steve, who was still at Biola. Here I am talking on the phone, probably to Steve:
There was also some pressure, because I got to live in that house, with only $100 monthly rent, to do some work with the church English classes. That was how they reached out to the neighborhood, and why the church was growing so rapidly — they ran English classes and citizenship classes. The pastor, Doug Moore, was a wonderful man, bilingual, who'd grown up in Chile as a missionary kid. I was used to intellectual, academic sermons. Pastor Doug preached from the heart, and lives were changing.
But I didn't speak Spanish, and I was trying to learn graduate-level mathematics. And teach math courses. And pass my qualifying exams.
And that first round of qualifying exams, in June 1986 — they told me I failed them both.
Mind you, the Master's level exams were over undergraduate material. One was on Abstract Algebra, and the other Analysis. However — I talked with an advisor about my answers — and talked them into more points on the Algebra exam. I'd done it correctly, just not the way they'd planned for the problem to be solved. So I did pass the Algebra exam.
But the big event of the year I was 21 happened on April 6, 1985, when Steve Eklund asked me to marry him.
It was the day of his Senior Recital. (Did I mention that he was a tuba major?) After the recital, we went out to eat at A & V's Pizza with my parents and his parents. And Steve hadn't done it yet, so he asked me to go out of the room — and there in the parking lot behind the store, he asked me to marry him and I said yes!
He'd bought me a ring, but it was too big — It fell off as soon as I put my hand down! But we got it sized. Our parents had all known it was up. (He had asked my Dad for my hand.) And they were happy, and Steve's parents always made me feel welcome and loved.
So that was the year I was 21. It was one of the hardest years yet, but had some wonderful moments. Make no mistake about it, I was very much in love. I was a lot more interested in being a wife than in being a doctor of mathematics.
Oh, and that brings me to my officemate, Thomas Haller, from Zürich, Switzerland. (He always called me Miss Hatch, but I didn't take the hint and just called him Thomas.) When I tried to explain that I'd decided to settle for my Master's, he said, in his thick accent, "So, you want an easy life, Miss Hatch?"
I protested that wasn't it at all, that I had just figured out I didn't want to devote my life to mathematics — but that always did feel a bit of a failure.
(Thomas is the one I used to quote years later when I was grading papers, to make myself laugh. One day I was there during his office hours, and he was patiently explaining concepts to the undergrads. When they left, he said to me, "What they do not realize is that they are too stupid to understand." I laughed so hard — No matter how much we thought it, the American teaching assistants would not have said that.)
Well, I feel like tonight's post is disjointed — because I'm currently horrified and saddened by how the present-day election is turning out. On the bright side, 31 years ago I got through daily headaches before Imitrex was available. So maybe I can get through this.