It's time for Project 52, Week 22!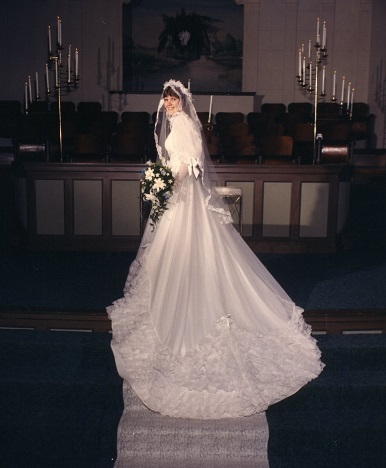 22 weeks ago, on my 52nd birthday, I decided to start Project 52 — for this year, I'm reflecting each week on one year of my life.
Last week I covered my only full year in grad school at UCLA. I started the year in a PhD program in Math, but figured out by the end of the year that I'd rather get out with a Master's. I also got engaged to be married to Steve Eklund.
This week I'm covering the year I was 22, from June 1986 to June 1987. Without a summer job, 1986 was the ideal year to go on a summer mission. I'd already decided to go before Steve asked me to marry him, and when he proposed, he told me I should still go.
The mission I went with was Door of Hope International. I'd long been interested in the work they did bringing Bibles to Christians behind the Iron Curtain, ever since a representative had spoken during a chapel at Brethren High School. I went to their headquarters in Austria, in the village of Spittal an der Drau, for six weeks and did office work and some computer programming for them. Different groups came through, getting ready for trips smuggling Bibles in custom-built RVs. For the six weeks, I'd walk to the post office every day, sending letters to Steve and hoping for some back. (They came in clumps.)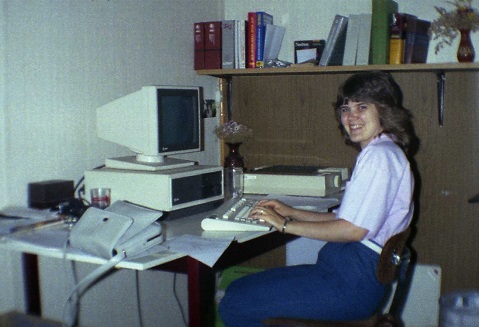 I fell in love with Austria. And the German language. And, well, everything about it.
This is Goldeck, the mountain behind the house where I was staying:
Here is a monastery at nearby Millstatter See. We had Apfel Strudel at a café by the lake.
And the lake:
Another day, we hiked by the Drau:
We often went to the castle in the village, Schloss Portia. The castle grounds were a lovely park.
But what I really really wanted to do while I was there was take the cable car up to the top of the mountain behind the house. (I watched this cable car every day.) I wanted to hike down. Wouldn't that be a perfect hike? Downhill all the way!
I did get a couple of fellow-travelers to go to the top with me, but they had no interest in hiking down. I'd have to come back some day! But here's the ride up the mountain: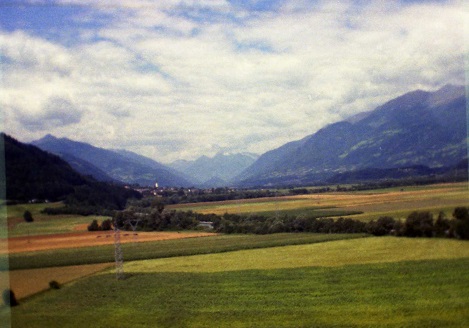 There's a station in the middle where you change cable cars. This is past that.
From this picture, you can see the village of Spittal an der Drau and, behind the ridge, the lake called Millstatter See.
On top, there was a hang-gliding competition going on. Those hang gliders were the only people I envied up there.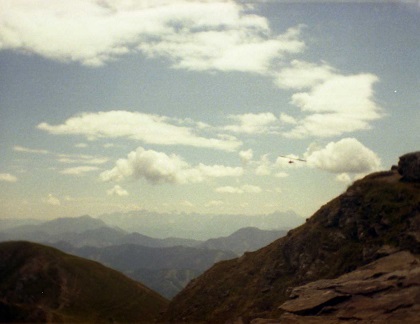 It was amazing. I walked around.
Found a quiet place where I could belt out "The hills are alive…"
And could even hear cowbells.
The ride down was beautiful, too.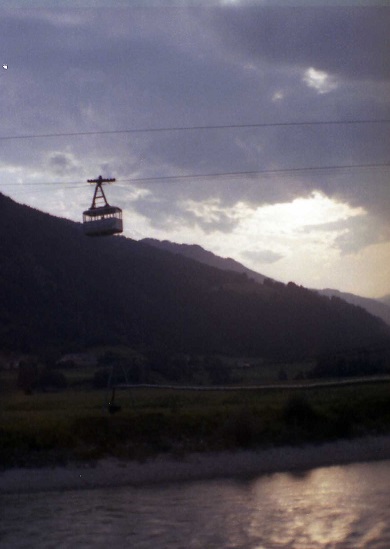 An incredible day, though I left with such a longing in my heart to come back some day and take the cable car up and hike down.
I finished up the trip with an excursion. These guys took me to Beograd, Yugoslavia, on their way to smuggle Bibles into Romania.
Here's the Danube seen from a fortress in Beograd:
They dropped me off in Budapest. Now, back in Los Angeles, for a few months my housemates had taken in a woman from Hungary named Kiri. Her sister Popi and her mother lived in Budapest. Popi was a professional tour guide who wanted to start leading tours in English. So I got my own personal guided tour of Budapest! As well as wonderful hospitality.
Popi's in the middle here, with her mother on the right. On the left is a friend who hung out with us, whose name I don't remember now. She didn't speak English, but we all had a lovely time together.
Just the girls:
She showed me all the sights in Budapest. I especially noted St. Stephen, the first king of Hungary, because I was missing my own Steve so much.
On my whole trip, I became a big fan of European ice cream. In my letters to Steve, I'd tell him about each wonderful ice cream discovery. Then I told him that I'd gained 50 pounds, and was somewhat offended when he believed me. (At the time, I could eat anything and didn't gain weight. It was nice while it lasted.)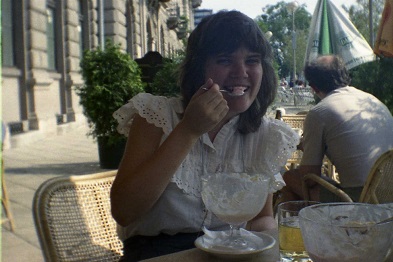 This is on a ferry on the Danube, with the Parliament building behind me.
This was on an island in the middle of the Danube.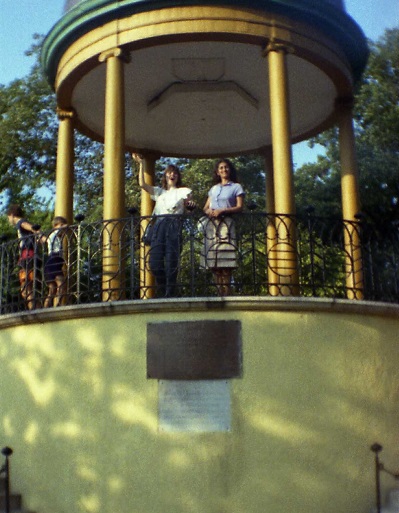 And this was there as well.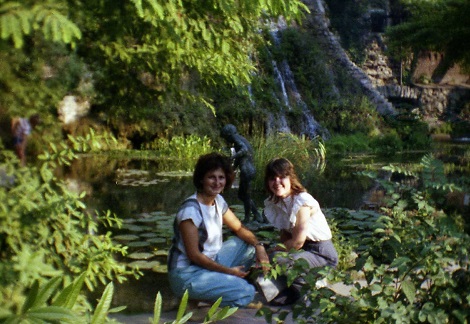 That night we played cards. This you can do even if you don't speak the same language! Lots of laughing.
And we also went to a café and then messed around at the castle overlooking the city.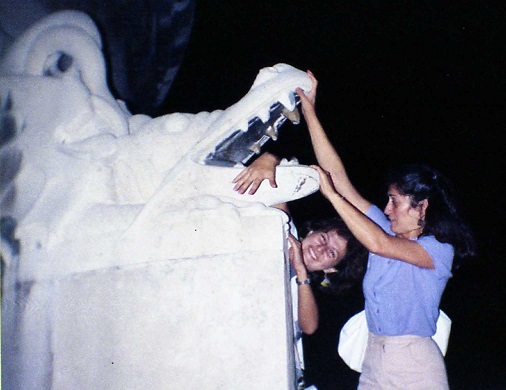 A little more sight-seeing the next day before going back on the train to Austria and then home.
I got back in time to be in my friend Jennifer's wedding. She modeled her dress at the wedding shower.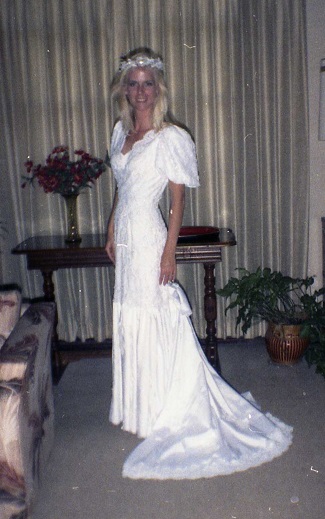 In September, my Grandma Hatch passed away. I was actually in the room with her when she died. My parents had moved her to a hospital in Long Beach, and I was visiting when she passed away. All but one of my Dad's siblings made it to the funeral.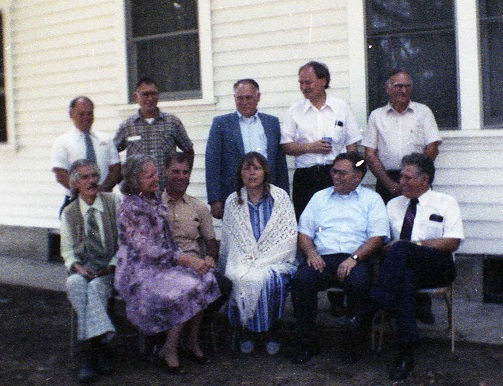 Here are the cousins who were there (by no means all the Hatch cousins). No, I can't quite identify everyone in this picture.
And here's my immediate family, with Becky's husband Dave, and my husband-to-be Steve included. Becky is pregnant with Jason in the picture, the first grandchild.
Then I went back to school at UCLA for one last quarter in my Math Master's program.
Meanwhile, Steve had kind of a rough time finding a place after he graduated, but eventually he got an apartment in downtown L.A. and got an office job at Payless Pet Supplies, where my roommate Karen worked. Unfortunately, it was a not-well-run small business, where the paychecks would often bounce. He finally quit just before we got married — but then found a job as a Messenger/Supply Clerk at Canadian Imperial Bank downtown. On the side, he performed with the Pacific Brass Quintet. They played in malls, especially at Christmas time, and gradually developed a good business.
At the end of the quarter, when I'd finished my coursework, I re-took my Analysis Qualifying Exam (having passed the Algebra Qualifying Exam). I did not pass! I'd try again in May.
And once classes finished, it was time for wedding showers!
Ruth threw me one.
With high school friends at Ruth's house: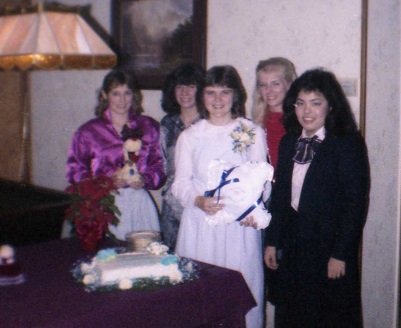 This is at Becky's house:
>
And for Christmas, we went to Steve's parents' house in Phoenix, and they threw us a shower.
I forgot to mention that on June 7, 1986, two of my housemates, Audrey and Joan, got married (each to a different man) in a double wedding. So we got new housemates — a married couple with a 3-year-old daughter moved in, Randy and Suzanne, and their daughter Sarah.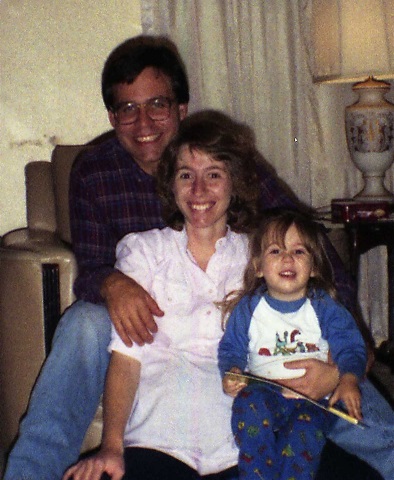 Here's Sarah with my stuffed animal collection.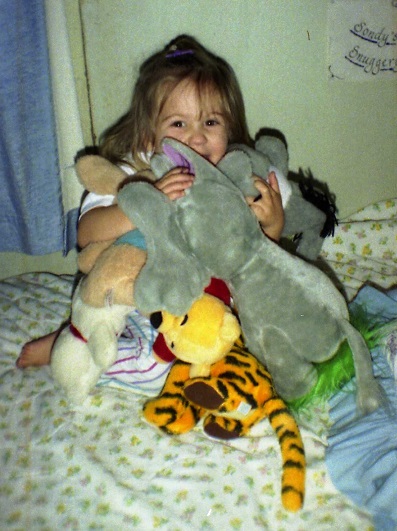 Then on January 3, 1987, I married my best friend.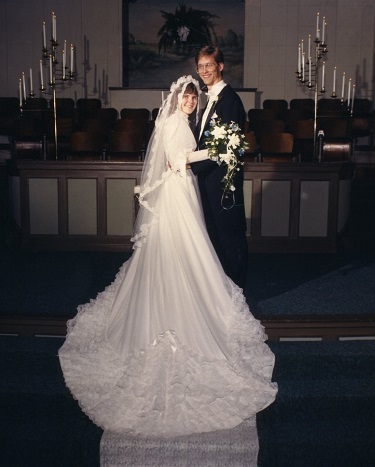 Here I am ahead of time with my sisters, Becky, Wendy, Abby, and Marcy. I had a hard time deciding who would be matron of honor, since I'd been maid of honor twice. Then it turned out that Becky was pregnant and expecting a baby two weeks after my wedding day — so I decided to ask Kathe to be my matron of honor and asked Becky to read Scripture in the service.
Here are the bridesmaids. Across the back, I've got Coral and Colleen, who were my Biola roommates, and were candlelighters. Then Ruth, Darlene, and Jennifer from high school, Jill from Biola, my sister Wendy, and Steve's sister Stephanie. In front is Kathe, friend since elementary school, and flower girls Abby and Marcy. I had two sets of flower girls and ringbearers, a dark-haired pair, Abby and Peter, and a blonde pair, Marcy and Robert.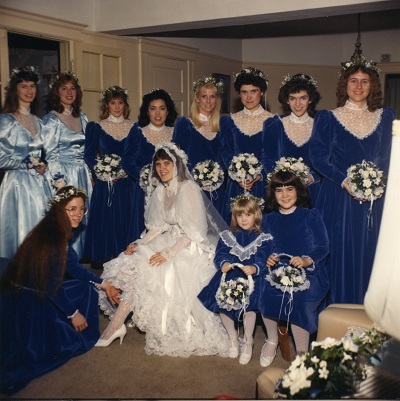 We got ready in the house where I was living, and walked half a block to the church. It was a very happy day.
Here are Robert and Marcy in action.
Since we met in the Chorale and Steve was a music major, we had friends doing the music, including a brass ensemble. My good friends Debby Scott and Debbie Olson sang. We also sang the hymns "O, the Deep, Deep Love of Jesus," "Take My Life, and Let It Be Consecrated, Lord, to Thee," and "Be Thou My Vision." Pastor Doug Moore married us.
And so the two became one. And, YES, I keep repeating this, but it was a very happy marriage for a very long time. I still don't regret that decision.
Here's my whole family of origin at the wedding.
Here are my housemates Tammy and Karen, who helped at the reception.
And this picture of my brothers always cracks me up.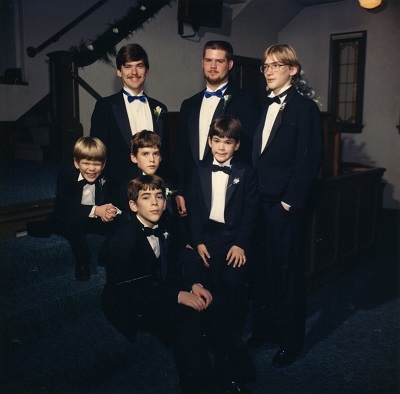 We spent our wedding night at the Ambassador Hotel in Los Angeles. The next day, we drove up to Yosemite, and we ended up driving into Yosemite Valley in a blizzard. My first time riding with Steve driving in a snowstorm — and he always got me there safely.
That blizzard filled the valley with snow — and then we had sunny, beautiful weather all week.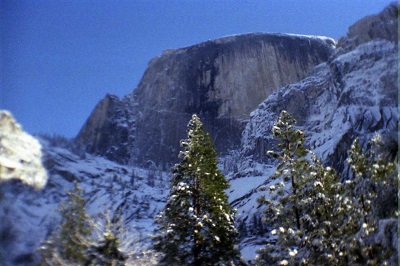 Of course, as a southern California girl, I was pretty excited by snow. This was our first snowman we built together.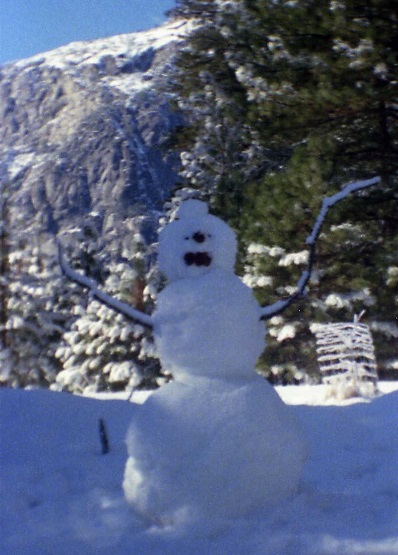 And we made snow angels.
We even took a snowshoeing class.
We were off to a wonderful start.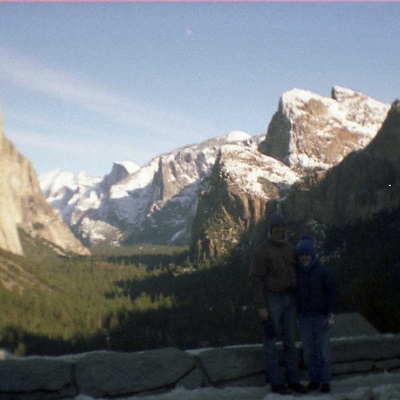 On the way home, only about 15 minutes from home, traffic on the Harbor Freeway came to a sudden stop. Steve stopped on time — but a drunk driver a few cars behind us didn't and rammed a line of cars into each other, including us into the car in front of us. And that driver was uninsured. (Good thing we had uninsured motorist coverage.)
I got whiplash and didn't want to leave it untreated this time, so we went to the doctor Steve had found in the phone book when he needed a blood test. Well, that doctor turned out to be an ambulance chaser, and had a lawyer on call. He had us come in for "treatments" twice a week — basically heating pads.
It did feel good — but the "pain and suffering" determination (and the doctor took a third and the lawyer took a third) ended up paying for our wedding, and my student loans. I felt slightly guilty about it — but since my insurance company wanted to triple my insurance when I got married, I didn't feel too guilty, and after that we switched to a cheaper insurance company.
A few weeks later, on January 22, my first nephew, Jason, was born. I had a baby shower for Becky in our apartment downtown. Here's Jason with my sister Marcy.
And in February, I started teaching back at Biola! That first semester after I got married, it was a temporary position, but I taught full-time in the Math and Computer Science departments. In my spare time, I studied and studied and studied for my Analysis Qualifying Exam. And third time's the charm — this time I passed with the highest score.
And so, on my 23rd birthday, June 14, 1987, I received my Master of Arts in Pure Mathematics from UCLA!
I liked having a hood!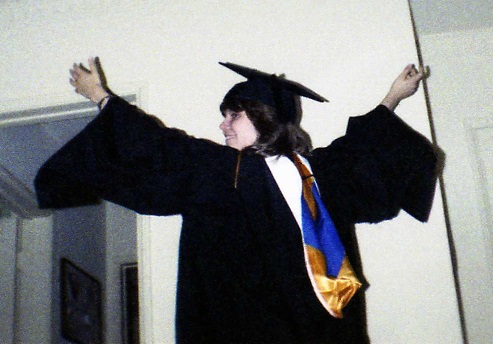 My parents and my sister Wendy (and Steve) came to my graduation.
And whew! That was a big year!