It's time for Project 52, Week 23!
23 weeks ago, on my 52nd birthday, I decided to start Project 52 — for this year, I'm reflecting each week on one year of my life.
Last week, I covered the year I was 22 and got married. That year ended, and this one began on my 23rd birthday, June 14, 1987, when I walked in graduation to get my Master of Arts degree in Pure Mathematics from UCLA.
That summer, my friend Jill got married — and I got pregnant! (No, those two things weren't actually related.)
[Now, I have to gripe here a little that I was made to feel a bit of an idiot for getting pregnant so quickly after marriage. Can I just say that birth control is not 100% effective, okay? I did see a doctor to get put on the pill — and was told that for women who get migraines, going on the pill gives her a higher chance of having a stroke. I listened to her and stayed off the pill — and I'm glad I did. 25 years later, I was having an irregular cycle, and a gynecologist wanted to put me on the pill. I mentioned this I'd been told so many years before. The new gynecologist said that's not an issue any more, because the pill has a lower dose of hormones now. Well, I took it without incident for a few months, but then let my prescription run out. In the few weeks I was off it, I had a neck injury, a vertebral artery dissection. Only I didn't know it. I just knew I had a bad headache that wouldn't go away, centered in my neck. But the day after I went back on the pill, I did, in fact, have a stroke.
All that is to say that using less reliable methods of birth control when we were young was actually a very good choice.]
We were still living in downtown Los Angeles. I was working at Biola, teaching Math and Computer Science classes. Steve was working as a messenger and supply clerk at Canadian Imperial Bank — and getting busier and busier performing with the Pacific Brass Quintet. I believe that was the first year they got a deal with Nordstrom and recorded a Christmas album, "A Nordstrom Noel," which was sold in Nordstrom stores. They performed in Nordstrom stores all over southern California (as well as other malls and shopping centers), especially during the Christmas season. (When Steve later joined the Air Force and got the day after Thanksgiving off, it was such luxury!)
When I called my Mom to tell her I was pregnant, she started telling me about how the month before she'd thought she was pregnant and was so disappointed when she was mistaken. 6 weeks later, she called and told me she was pregnant. I burst into tears.
If you don't understand how painful it was for me to have my mother pregnant with her 13th child the same time I was pregnant with my first, I'll just say, trust me, it was horribly painful. I had many dreams while I was pregnant that the baby was really my Mom's baby. But I am happy to say that after my baby was born, those dreams stopped entirely. But I didn't go visit my parents while my mother and I were both pregnant.
But we did go visit Steve's parents in Phoenix that Christmas. They were all ready to be doting grandparents.
Here's at our house before we went to Phoenix. I was cutely round at this point. It took a long time for me to show with that first baby. Those maternity jeans I'm wearing in this picture were size 4. (They're maternity jeans, but I don't think I could fit into them now!)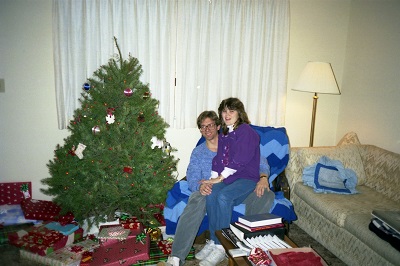 Our anniversary was in January, so we went to Big Bear and stayed at Knickerbocker Mansion.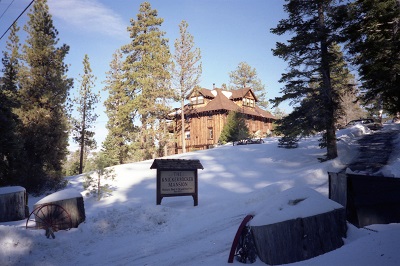 More frolicking in the snow together!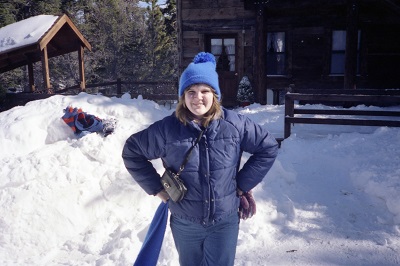 On the actual day of our anniversary, Steve's sister came by with a friend named Don Argus who was an architect and we all went to see a Frank Lloyd Wright House in the Los Angeles area.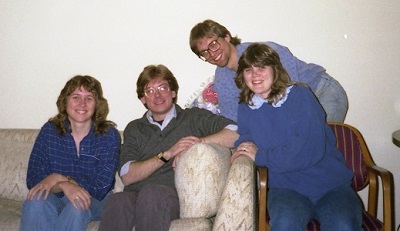 Though that night, Steve took me to a wonderful dinner show with singers.
We were both pretty scared about becoming parents, but I remember that time as very happy. I completely lost my headaches during the last half of that pregnancy. I thought I was cured. I later read in Oliver Sacks' book Migraine that this is common (and, oddly, the last half, not the last trimester) in a first pregnancy. (And indeed it didn't happen with my second.) It was glorious while it lasted. And definitely saved me more pain than a mere 12 hours of labor. (This also did not work in my second pregnancy.)
We were so young and in love!
I didn't get much bigger than this: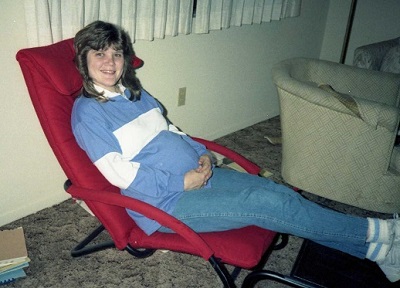 The church ladies threw me a baby shower. We were still attending First Evangelical Free Church of Los Angeles.
Speaking of church, I almost forgot to mention that before we even got married, Doris and Steve Rauseo invited us to join a couples' small group. It started up after we got married, and that way we had (slightly) older couples walking the journey with us. The group was Doris & Steve Rauseo, Audrey & Tom deRivera, Claudia & Fernando Calderon, and Sheri & Hank Winkenwerder. That group got us off to a good start as a couple. I often wished we'd had a group like that after we left Los Angeles, but I didn't find another one until after our marriage had ended. When we were part of that group was when Steve and I talked the most with each other about spiritual things, I'm afraid.
Anyway, Claudia was expecting a baby the day before me, and Sheri was due a month before. I was due on March 31st. But Claudia had the baby in the middle of February, with Sheri having her baby a few days later.
March 31st was Easter — so I'd planned to teach until Easter break. But after an ultrasound, the doctor moved my due date up to March 24. So we planned for my last day teaching to be March 18. Then the other professors would take over my classes.
There was no real precedent at Biola for an instructor to take maternity leave. I knew that staff got 4 weeks before and 6 weeks after. Well, like I said, I worked up until March 18 — and then Biola paid me full salary (minus what I got for disability — so I ended up with full salary) for the rest of the semester. I had the summer off before I had to go back to work, so I ended up with six months with my baby.
I know I gave tests that week before I handed over my classes, and I must have graded them before I left Biola, because I don't remember grading them later. However, I do remember that I hadn't done *any* nesting, and hadn't even done the week's laundry. But on Saturday, March 19, on Steve's parents anniversary, my water broke and we headed to the hospital.
I figured if Josh had come sooner, I could have quit teaching sooner, and if Josh had come later, I could have gotten a little bit ready for their arrival. But no, Josh was even at birth wrapping their grandparents around their little finger.
[This brings up some awkward language. So far, in Project 52, I've been calling my friends by the names they had at the time. Childhood friends get their maiden names until they get married. Kathy got her original spelling until she changed it to Kathe. Well, more than a year ago, my firstborn Josh changed their name to Jade and told me that she is and always has been female.
No, I did not see this coming. But I firmly believe that no one knows better than Jade what is true about herself. And — once I think about it, it does make sense. Though I would believe her even if it didn't make sense to me, because I'm not the authority here. Jade was an extremely sweet child. Now, I also believe firmly that boys can be and are very sweet. But, well, she says she's female, and it does make sense.
So — I'm going to call my firstborn child by the name we knew her by at that time, Josh. But I'm going to try to use the pronoun "they" in all its forms so as to avoid using the word "he" which we thought applied to her. Does that make any sense? If it gets hard to follow, I'm sorry.]
At 11:25 pm on March 19, 1988, Joshua Steven Karl Eklund was born.
I think I got to stay in the hospital a couple days, but then we brought our baby home, to a house unprepared.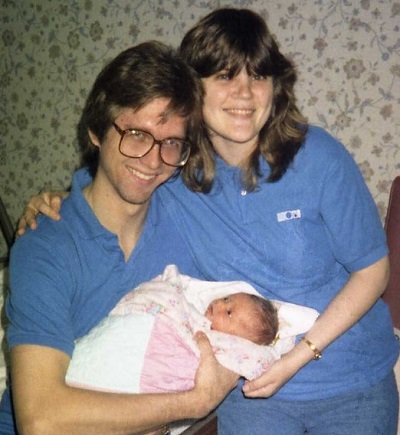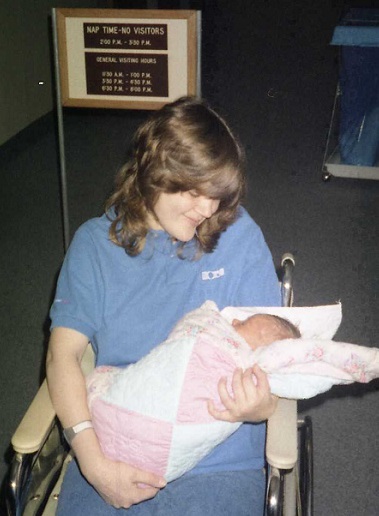 In those days you had to prove you had a car seat for your baby and knew how to use it before they'd let you go home. Josh was so tiny!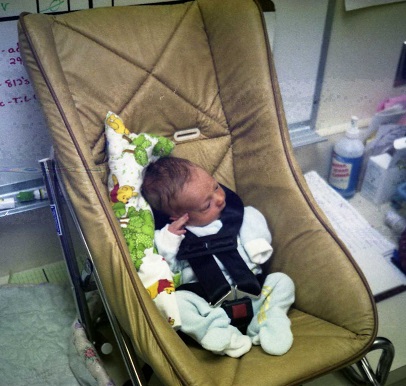 We had moved from Los Angeles to a 2-bedroom apartment in Whittier not long before Josh was born. The baby's room wasn't ready yet. I was going to get it ready after I quit teaching and went on maternity leave. My friend Ruth loaned us a cradle, which was just right for our tiny baby.
In those days, taking a picture inside always meant using a flash. I remember when Steve took this picture, because it woke Josh up — and Steve took it right before he had to leave for a brass quintet gig. There aren't too many pictures of Josh sleeping after this one!
Josh was born with bright eyes. The uncharitable called them bug eyes. I'm convinced their eyes were unusually developed for an infant, and the world was just so interesting!
On March 31, Easter Sunday, instead of being born, Josh had their first visit to church. Steve was performing with the brass quintet in an Easter service at another church. Steve's parents and sister had come to see the baby.
Steve's parents decided to be called Gram E. and Gramp E. (E for Eklund), and they were doting grandparents indeed. Since my own parents were busy with their own new baby (their 13th child, Melanie, was born on April 30, 1988.) — it did my heart so much good to see Gram E. and Gramp E. love on Josh.
We had lots of visitors. Here's where Doris and Sheri from my small group came and brought their babies. Doris had ended up getting a jump on the rest of us by adopting a baby, with a lot less than 9 months warning.

And I so remember when Josh started really intentionally smiling. It was the day they turned six weeks old — after sleeping through the night the very first time. I woke up at something like 7:00 am and hadn't heard from Josh and was afraid they were dead! But soon I heard little waking-up noises, and I felt so rested and wonderful after a *whole night* of sleep. Apparently Josh felt wonderful, too, because after eating, Josh treated me to smile after smile! I tell you, that was one of the happiest moments of my life. Well-rested and my baby was smiling at me! Heaven!
And this one I feel slightly guilty about. Josh would sometimes get stuck in the startle reflex. Here's a full-on Startle. They couldn't get themself out of this. And instead of picking them up and comforting them, I got my camera and took their picture. (But so cute!)
In May, Josh had their first plane ride when we went to Phoenix for Stephanie's wedding to Bruce Stockhouse.
With Gram E at Stephanie's wedding: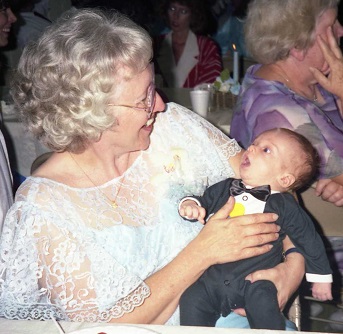 And I'll finish with a few more smiles from those early months: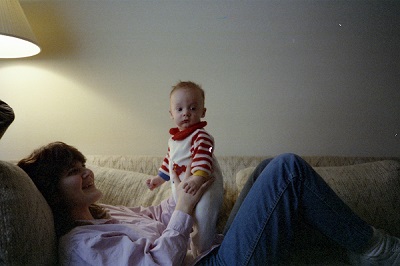 Here's Josh with Aunt Wendy:
And so I became a mother — of a brilliant and bright-eyed child who was already intent on finding out what the world was all about.