It's time for Project 52, Week 35!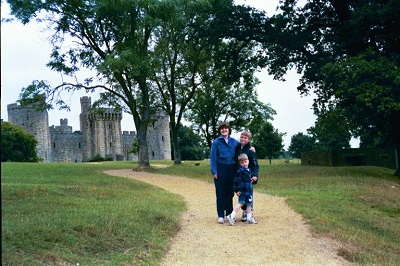 35 weeks ago, on my 52nd birthday, I began Project 52. Since there are 52 weeks in a year, each week I'm taking one year of my life and blogging about it. This week, I'm covering the year I was 35 — June 14, 1999, to June 14, 2000.
But the years we lived in Europe seem to be impossible to condense into one blog post, so I'm giving in and posting multiple parts each week. Last time, I only got through the first day of our vacation in England, when we roamed around Dover Castle.
We spent that night near Dover, and the next day, July 17, went to Castle #74, one of my favorite castles of them all, Bodiam Castle — certainly the most beautiful castle I've visited.
All around the castle are fields complete with sheep. And this castle has a moat (unlike most German castles where we lived.)
And a rather amazing thing — a year or two ago, while working in the Virginia Room on genealogy, I learned that the knight who built Bodiam Castle was my direct ancestor. (This is true for thousands of other Americans, mind you, but I thought it was cool.) He wasn't a very nice guy, and killed lots of people in France, but he did build an exceptionally beautiful castle.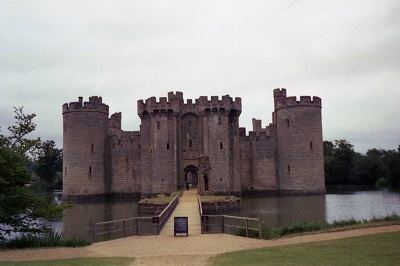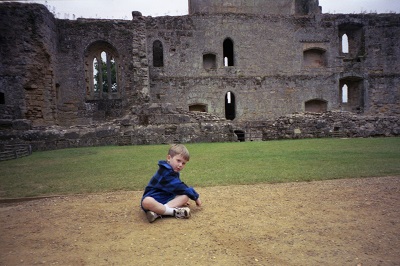 After visiting Bodiam Castle, we went on to Castle #75, Battle Abbey (which was fortified), where the Battle of Hastings was fought! The battlefield had a guided audio tour, so we could get a feel for how the battle went.
The audio tour took us all around the battlefield.
We gained an appreciation of how sloped the ground was.
And the tour brought us back around to the Abbey
This stone marked the spot where King Harold was killed in 1066. Believe it or not, my eyes got misty when I stood on this spot — because I'd recently read The King's Shadow, by Elizabeth Alder, which tells Harold's story. It was silly, because if Harold hadn't lost that battle, I'm sure I wouldn't exist — the majority of my ancestors are English, with plenty of Norman blood. But the story was so powerful, I couldn't help but mourn for Harold.
Here's Jade (then called Josh) listening to the audio tour.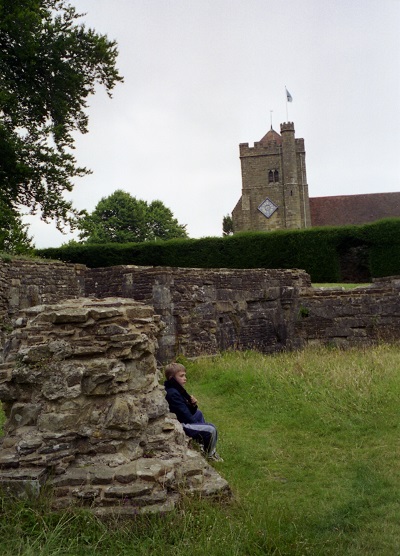 We went to a tea room in Hastings, where we had lunch and some fun with the statuary.
Next, we headed to Winnie-the-Pooh country! We visited the town of Hartfield, where A. A. Milne lived and explored the countryside where Christopher Robin used to play.
Here's the Enchanted Place at the Top of the Forest!
And the Poohsticks Bridge! The Poohsticks Bridge!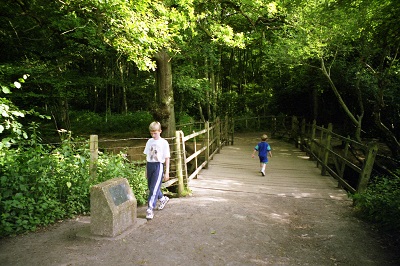 That night, we drove to where we'd rented a self-catering cottage in Wisbech, in the middle of the fens. It wasn't the most picturesque spot itself, but it was very central, for all our further travels.
On the 18th, we headed East. First stop was Castle #76, Framlingham Castle.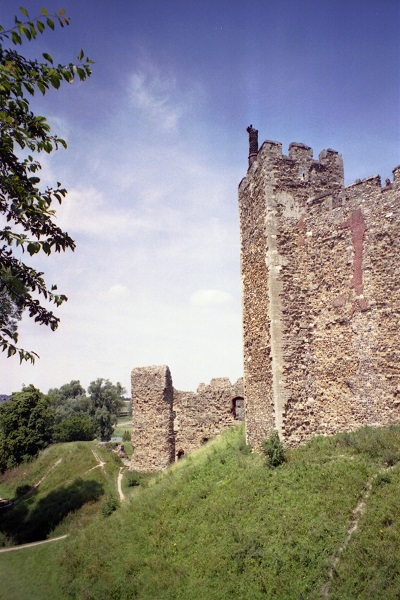 Framlingham had another audio tour. It was mostly a shell wall, which we could walk around. Framlingham had something like 17 chimneys (added later).
The view over the wall was lovely.
And here's the inside:
Sheep dog trials were happening in the field next to the castle! We watched for awhile from the wall.
Our next stop that day was Castle #77, Somerleyton Hall — more of a grand palace than the ruin that was Framlingham. But the grounds were simply lovely.
This tent was actually a tea room.
And the grounds had a labyrinth!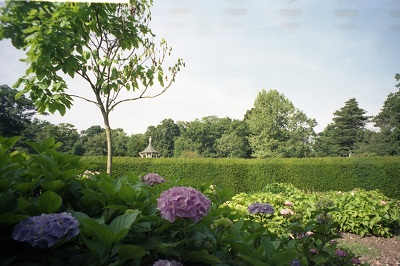 Josh made it to the center first.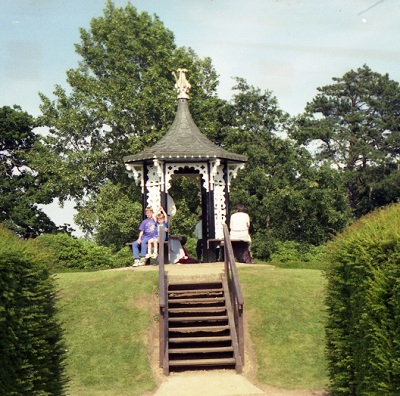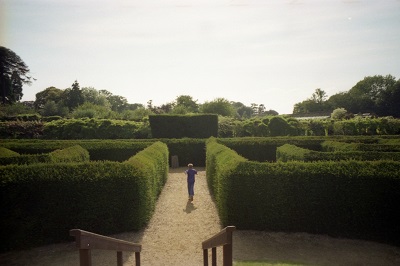 That covers the second and third days of our England vacation!
I did mention that England was one of my favorite places, right? I'd like to say it was my second-favorite vacation of all our years in Germany, but hmmm, our Bavaria vacation was great, too. (Tied for second, maybe?)
So anyway, next up will be Cambridge, London, more castles, Oxford, more castles, and the seaside. (Perhaps not all in one post.)