It's time for Project 52, Week 35!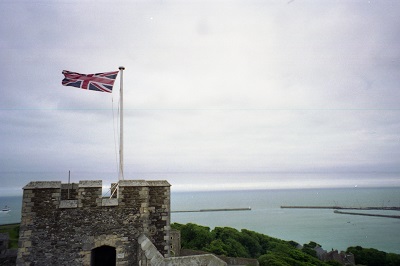 35 weeks ago, on my 52nd birthday, I began Project 52. Since there are 52 weeks in a year, each week I'm taking one year of my life and blogging about it. This week, I'm covering the year I was 35 — June 14, 1999, to June 14, 2000.
Now that I'm in the Germany years, though, I can't seem to cover a year in one little blog post. It makes me tired trying to post about all we did. No wonder I remember feeling a little overwhelmed! I didn't finish last week's posts until last night, when I finally finished up with Castles #70 and #71 that we visited the day before my 35th birthday.
To review: As the year started, Steve was still with the USAFE Band, stationed at Sembach Air Base in Germany. We loved it there so much, he'd decided to sign up for another 3 years. I had been working for a year now half-time at the base library at Sembach. It was as if the job were designed for me, I loved it so much. (And continually marveled at how much more I liked it than teaching.) We had lived for awhile in my dream house in Gundersweiler, Germany.
The catch to all this was that life was a little crazy. We were visiting castles. I was a Mom of two kids. I had a big house to keep up with. My headaches were coming back, since I'd stopped Inderal after I figured out it was giving me drug-induced lupus. And I was trying to be a writer. But it was hard to find time to write.
The good side? What a wonderful, wonderful place to live! And with Steve, Jade (then called Josh) and Timmy, the people I loved most. Steve was a great sport to do all the castling with us even though his job took him all over Europe.
I haven't mentioned yet that it was right around the time we moved to Germany that my friends started getting email. (Darlene had it before that, but she was the exception.) So I felt much less isolated from my friends than I had when we lived in Illinois. Plus the other folks in the band knew that your family was far away — so they were friendlier than the band folks in Illinois, as a rule. (Though some of our best friends in Europe, we'd known first in Illinois, so maybe it was just that we knew more people, right from the start.)
Plus, when I went to the SCBWI Writer's Retreat in Paris in 1999, I made actual friends who wrote children's novels! I remember this was also about the time I discovered Knitter's Magazine. Both things, in a rather silly way, made me feel like there were people out there like me. Kindred spirits.
And my best friend (and kindred spirit) in Germany and fellow band wife Jeanine Krause, started working at the Sembach Library that summer, sharing the job with me. That was a treat. (And sometimes we'd go into the library on the day it was closed and do photo album scrapbooking together.)
In fact, the first castle we visited when I was 35 was with Jeanine. It was Father's Day, June 20, 1999, and our husbands were marching in a parade in Boppard (on the Rhine River). So we went to the Fest together and watched the parade — and visited the Römer Kastel in Boppard while we were there.
The bus we took to the Fest in Boppard had one of my favorite words on it! (Sonderfahrt means "special trip".)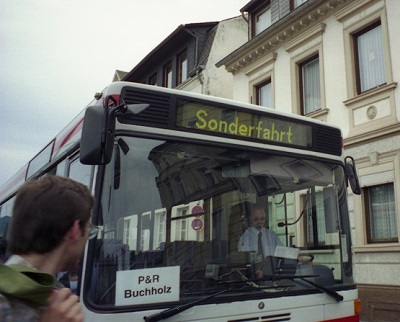 And here's the Römer Kastell. Just a little ruin in the center of town.
On July 2, we went to Holiday Park! I think it was a belated birthday celebration for Josh. We'd give them a choice of a party or a trip to an amusement park with one friend, so Josh chose Holiday Park with their best friend Ryan.
Holiday Park was a tiny amusement park very close to us. It didn't have a whole lot of rides, but it was empty! So we could go on the rides they did have over and over again.
Looks like Timmy lost a tooth!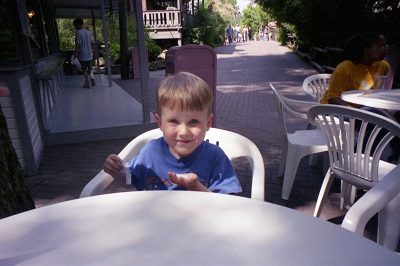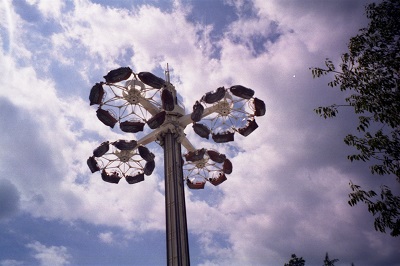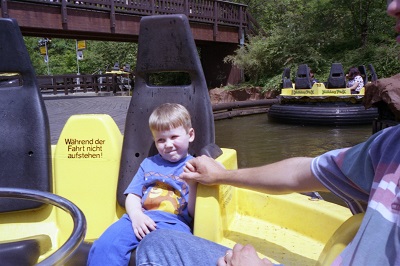 This was one of the most boring rides in the world, so the kids had fun posing:
There's a kid who's come to terms with getting wet! We went on this ride many times.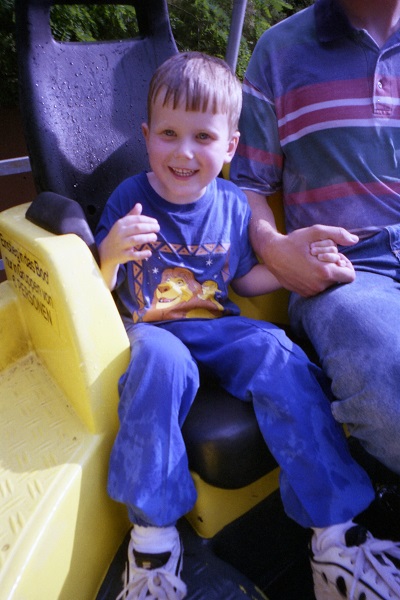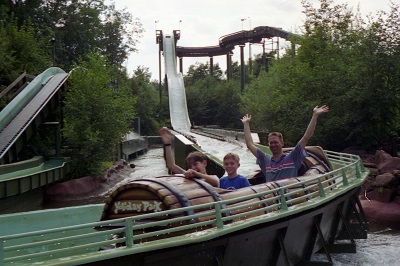 And after one more time on the rafts:
But then came our trip to ENGLAND!!!!
Our first summer in Europe, Steve's parents chose our vacation — to Sweden (which was amazing). The next year, I wanted to go back to Spittal an der Drau. The top priority, right after that, was going to England. We were there from July 16 to July 24.
And I've seen so many movies and read so many books set in England — it felt like coming home.
That first time, before Ryan Air existed, we took the ferry from Calais to Dover, which was actually very expensive — but it also meant we didn't have to rent a car.
Our first stop in England was Castle #73 — Dover Castle!
I liked Dover Castle a lot. A castle with a beautiful view (We could see all the way to France!), but also one that had an important function from the days of King Henry VIII all the way to World War II. Amazing.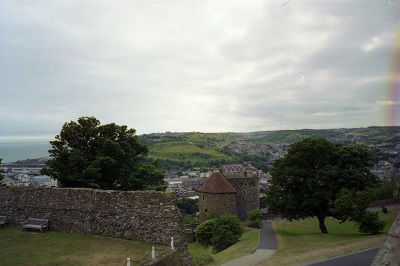 Okay, I'm afraid I'm going to stop there tonight. More about our England vacation is coming up!