It's time for Project 52, Week 35!
35 weeks ago, on my 52nd birthday, I began Project 52. Since there are 52 weeks in a year, each week I'm taking one year of my life and blogging about it. This week, I'm covering the year I was 35 — June 14, 1999, to June 14, 2000.
And this may be the year I can't get through in a week! It took me four posts just to cover our vacation in England. First, we roamed around Dover Castle, then we went to Bodiam Castle, Battle Abbey, Winnie-the-Pooh country, Framlingham Castle, and Somerleyton Hall, then Cambridge, London, Weeting Castle, Castle Acre Priory, and Castle Acre Castle, and finally Oxford, Castle Rising Castle, Leeds Castle, and the white cliffs of Dover.
We got back from England in time for Timmy's 5th Birthday on July 29.
The book Timothy Goes to School was a good choice, because Timmy was about to start Kindergarten!
My journal says that on August 2, my friend Jeanine really did get the other half of my job at the Sembach Library! I had been working 27 hours per week since January, and now could go back to 20. Plus, Timmy was about to start Kindergarten, so I was looking forward to having more times for things like writing.
August 11, 1999, there was a total eclipse of the sun happening in Germany. I looked carefully at maps, though the eclipse was definitely going to be visible in Kaiserslautern, it looked like Sembach, where we worked, would be right on the edge. So I wasn't sure we'd even get to see it if we stayed there. Kaiserslautern was having a fest on the hill above the city, so I took the day off and we went, with Jeanine and her husband, to Kaiserslautern to see the eclipse. We got special viewer glasses to be safe about it.
We were having a great time, and enjoyed the partial eclipse leading up to total.
And then — about one second before the eclipse went total — clouds completely covered the sun, and we couldn't see it at all! It even began to rain a bit. Yes, it got dark, but we didn't get to see the actual event.
The final straw to the story is that my co-workers who had been at work said that they and the library patrons just stepped outside and got to see the total eclipse just fine! No clouds covering the sun 20 minutes north of Kaiserslautern! Oh well!
(I'm thinking about going to Oregon to see the total solar eclipse in August 2017. But will my luck continue like this time?)
Still some more outings. We went for a hike on the Donnersberg — the large hill near our house that dominated the skyline — on August 20 and went up the tower at the top.
The kids are wearing shirts Steve got them on a recent Band tour to Budapest.
This is from our house in Gundersweiler. A balloon went right by!
Another Angel picture!
On Sunday, August 22, we decided to do some castling after church. We packed a picnic supper and visited Castle #84, Moschellandsburg.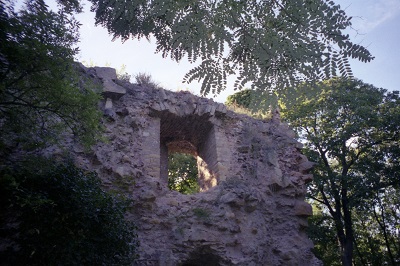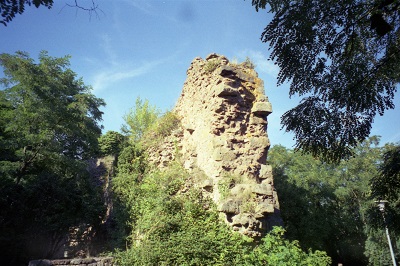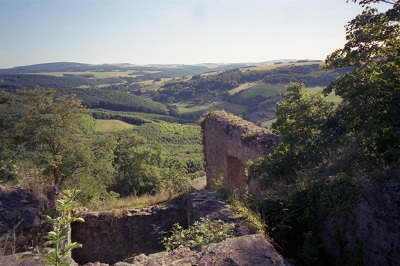 See how I fill the doorway!
I'm not sure what game they're playing….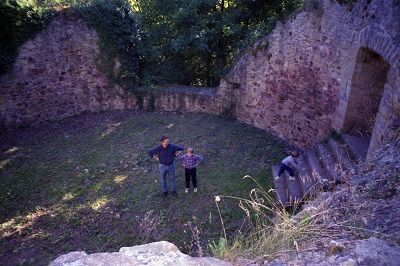 A beautiful spot for a picnic!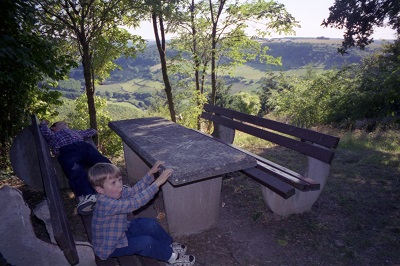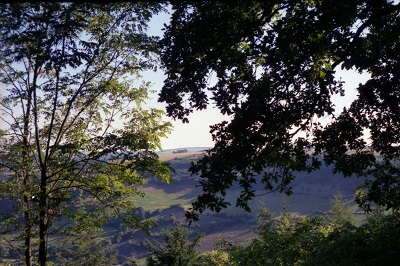 Interesting. Josh's first day of sixth grade was August 30…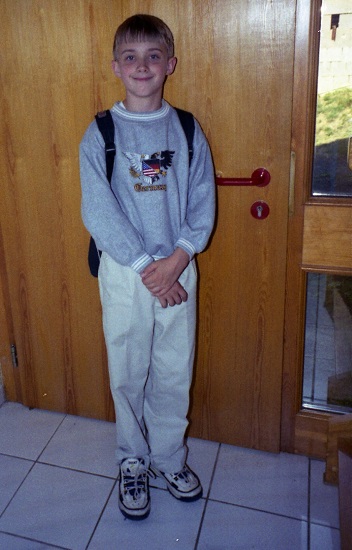 … but Timmy's first day of Kindergarten was September 7. And there was Orientation and a Home Visit in between.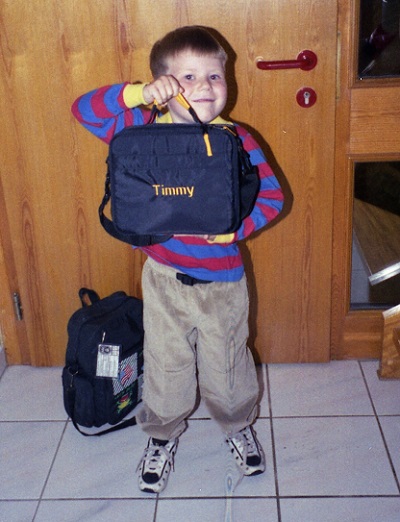 Oh look! I wrote in my journal about Timmy's first day of Kindergarten!
Timmy's favorite thing about the first day of Kindergarten was — the bus ride! He drew two pictures that first day — and they were both about the bus ride. The first was him and Josh and the bus driver on the bus. The second was of me waiting at the bus stop, angry because the bus was late! (And indeed it was — but I was worried, not mad.
And some about Josh:
Josh seems to like school well enough. He doesn't say a lot about it, though one day he did say, "I like art!" And that was very good to hear. Too bad that art will only last for one quarter. (He has Art, Host Nation, Spanish, and P. E.)

Josh has chosen to play oboe, thanks to Jeanine's urging. I'm a little taken aback. Somehow, I always expected him to play a brass instrument. Maybe he'll actually get his instrument next week.

This week ended up being a rough one for me. Getting the dryer replaced (It had a dead mouse in it.) was a huge hassle, that finally had me in tears. The bureaucracy can be so maddening! There was a Band Parents' meeting on Tuesday night, and any trip to the base seems like such a huge deal with that detour on the way, making it take almost 30 minutes to get there.

Yesterday was a good day at work, though. It's so nice to have Jeanine there! And it was a whole lot of fun ordering more McNaughtons than usual — and some old books, to fill in our collection. I love my job very much. In the morning, I had quiet Brandon McDonald laughing aloud at Story Time! (And last week, little Elisha cried when I left!) Jeanine gets Jeff more talkative than ever! We work well together.
That's all for tonight. Tomorrow will be the test to see if I can finish blogging about the year in one week — not even halfway yet. Coming up is another beautiful little local castle, Darlene's wedding, and a trip back to the States over Christmas.