It's time for Project 52, Week 39!
39 weeks ago, on my 52nd birthday, I began Project 52. Since there are 52 weeks in a year, each week I'm taking one year of my life and blogging about it. This week, I'm covering the year I was 39 — June 14, 2003, to June 14, 2004. I have now come 3/4 of the way through my life! Though I'm afraid I think of the year I was 39 as the last year of innocence. If I'd known how hard my 40s would be….
When I was 38, we made our final move during our ten years in Germany and moved to Sembach Village. Jade (then called Josh) started high school, and we extended one more year in Germany — so that we could extend three more years this year and finish our time in Germany when Josh graduated from high school.
According to my journal, the summer began with the new Harry Potter book, Harry Potter and the Order of the Phoenix. Instead of going somewhere to get it at midnight, Steve got a copy on Saturday morning (June 21) at the Sembach Shopette, and our family read the first chapter together (Steve reading aloud) during my lunch break. We continued our tradition of reading it aloud at bedtime, but were holding more marathon reading sessions than we had before.
The next week, Josh got their first job! It was a student job at the Bowling Center. Josh learned to cook food and take orders and set up bowling lanes. It was a six-week program, and they still got to go on vacation with us and go to Ireland for three weeks later in the summer.
Also that week, Steve found out he made Master Sergeant! It was the lowest percentage promoted in six years — which they had published in advance, so Steve didn't think he had a chance. Of course, he didn't actually get the promotion for a year (which is an honor — the order's by seniority). But he was happy about the increased responsibility.
Then the week of July 8 to 15, we vacationed in Scotland! Another wonderful UK trip. Now we'd visited England, Ireland and Scotland. (Some day, I very much want to go to Wales!) We touched castles 144 to 148: Stirling Castle, Edinburgh Castle, Urquhart Castle, Duart Castle, and Kilchurn Castle. My favorite of those was Urquhart Castle on Loch Ness. I'll now include some Scottish pictures.
The first day, we went to Stirling Castle. (Had I mentioned that Timmy got glasses?)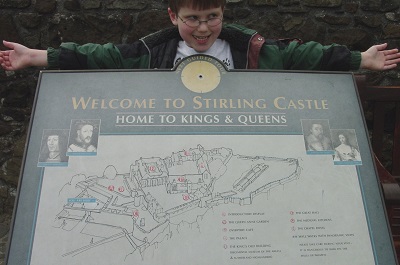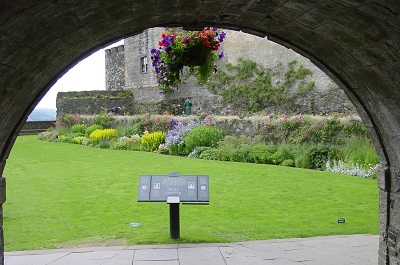 Stirling Castle had an incredible view.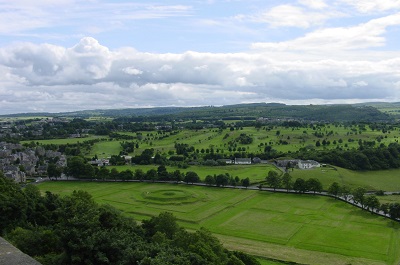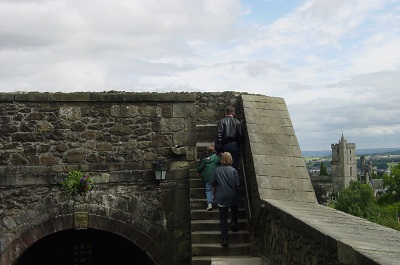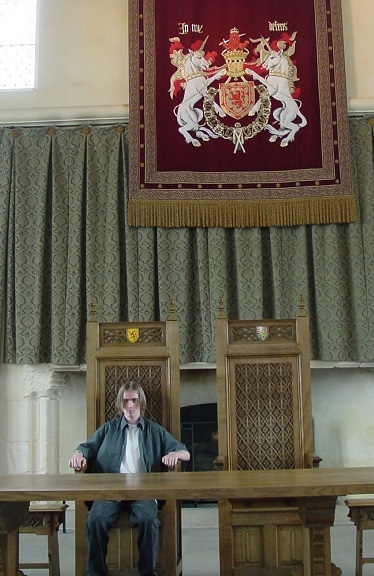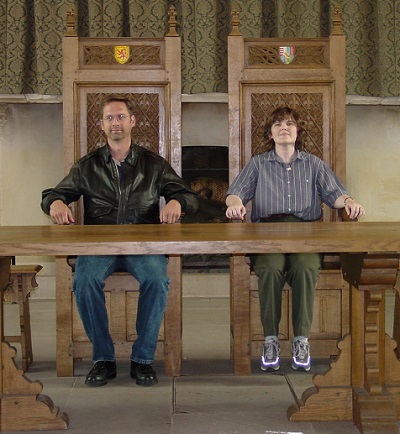 Here are my Three Wise Monkeys:
Here's the village of Culross, where we stayed in a B&B:
The next day, we went to Edinburgh.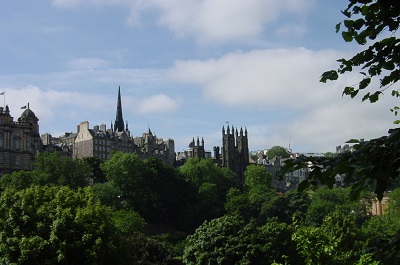 And that evening we rambled up the hill and through the lanes to Culross Abbey.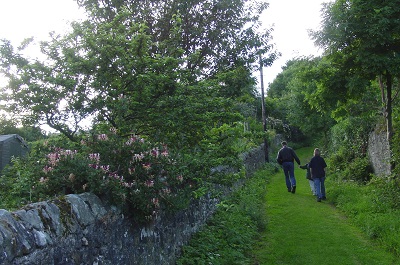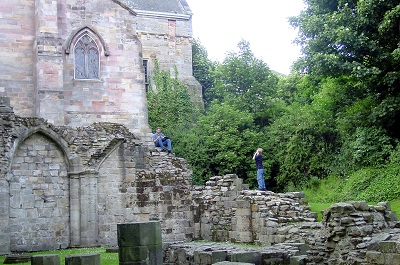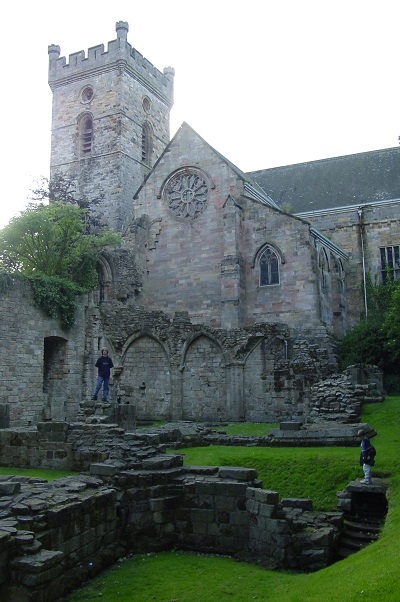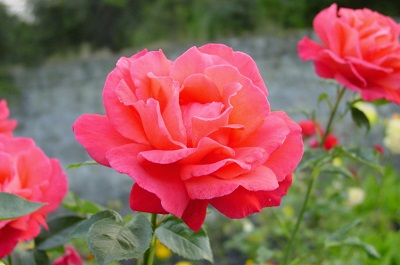 Genuine Scottish thistles!
The next day we headed north and stopped at the Scottish Crannog Centre, where we learned about prehistoric life in Scotland.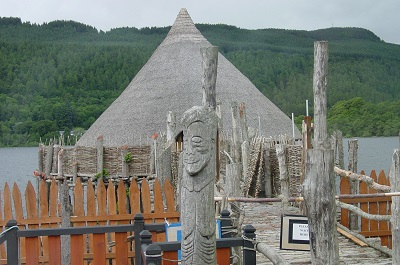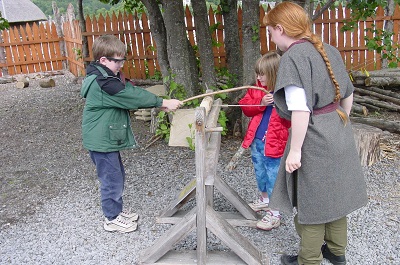 We arrived that night in Loch Ness! We had time to throw some rocks into the lake.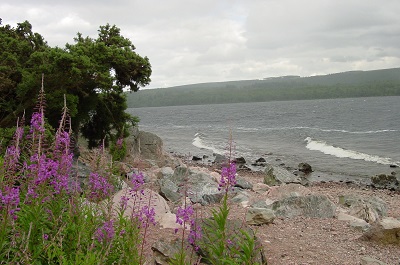 In the morning, we took a Nessie-hunting boat tour of Loch Ness. (So beautiful!)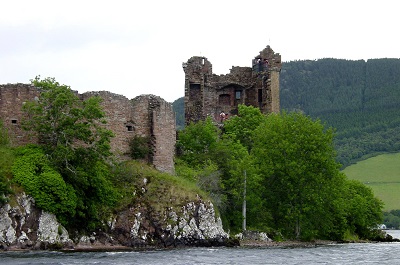 And what do you know?!! We found Nessie!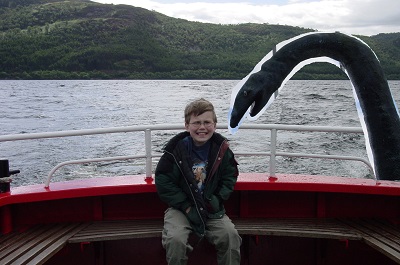 And in the afternoon, we visited Urquhart Castle on Loch Ness.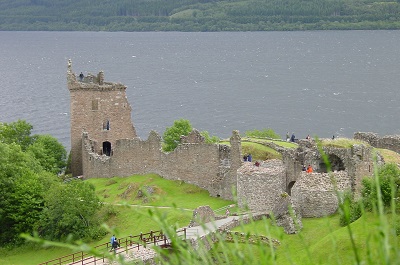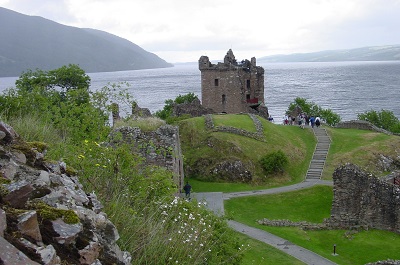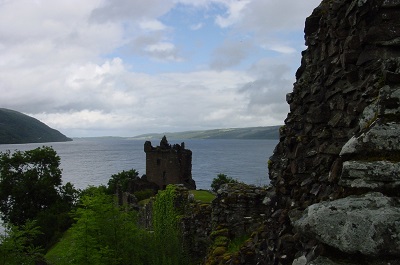 Our next adventure was a ferry to the Isle of Mull, where we spent a night.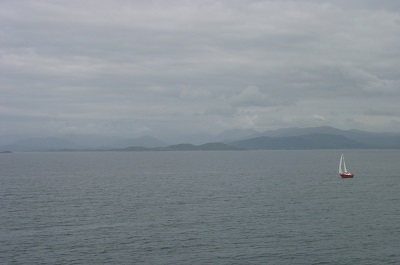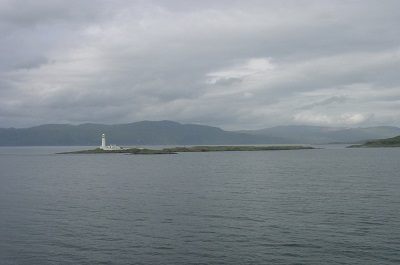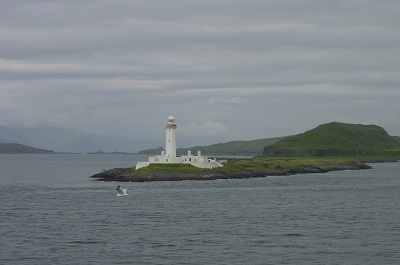 And of course our first stop on Mull was Duart Castle.
More Thistles there!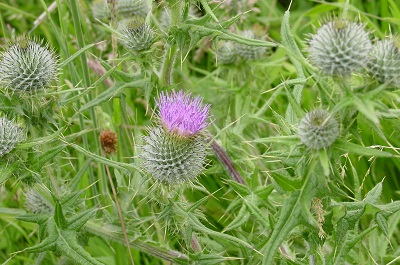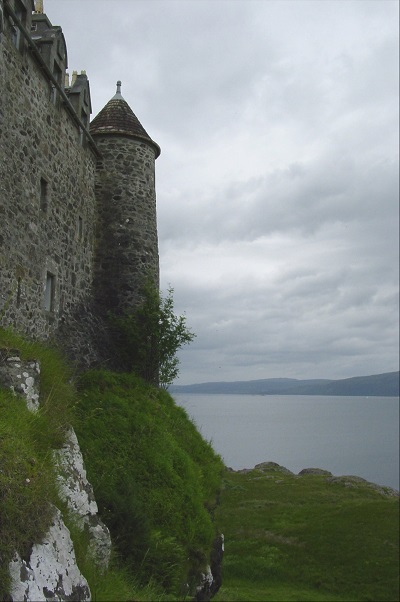 Here's what I wrote about our drive to our hotel, the Argyll Arms:
Then Steve drove an hour on the one-lane road to our hotel. The Isle of Mull is an amazing landscape. Tall mountains of dark green tower on either side of you, completely empty of any sign of human existence.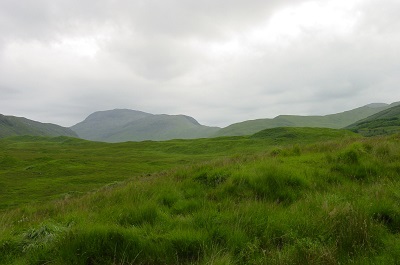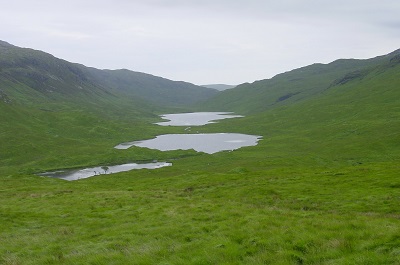 One thing I remember about the Argyll Arms was a truly awesome breakfast. (Though they are always good in the U.K.)
We also wandered along the bay in front of the hotel.
The next day we took a ferry to Iona Island, and from there a boat to Staffa Island, which has basalt columns just like the Giant's Causeway in Ireland.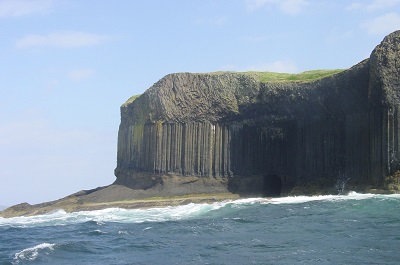 There's Fingal's Cave, which we got to go inside.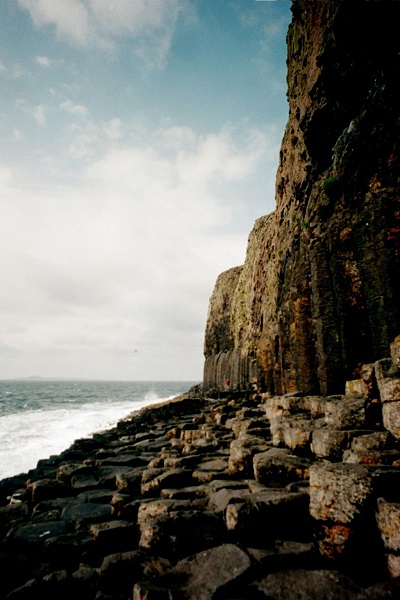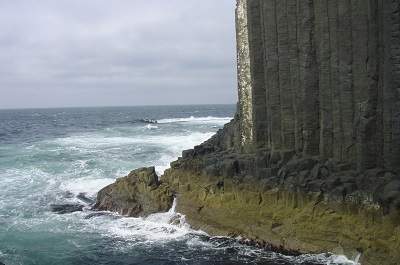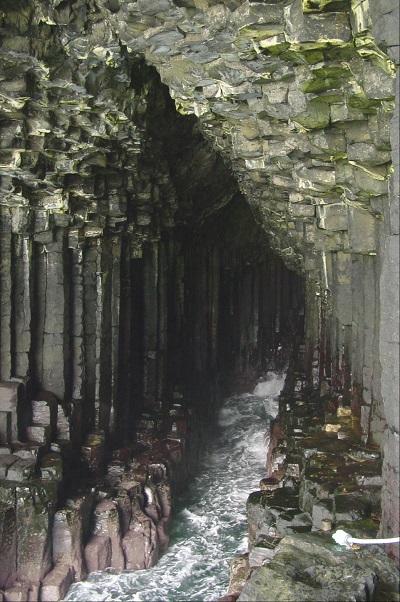 Watching the water go in and out of Fingal's Cave was impressive.
Then on top of the island, it's a huge grassy area. The rest ran to go see some puffins we were told about, but I was worried about meeting the boat.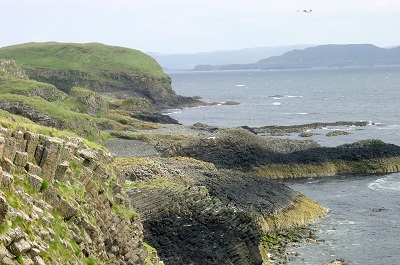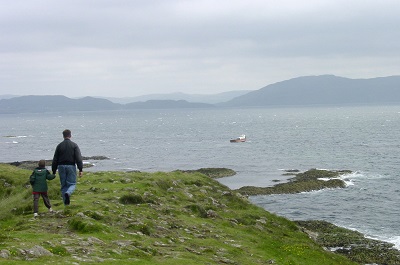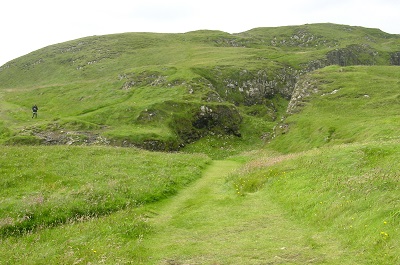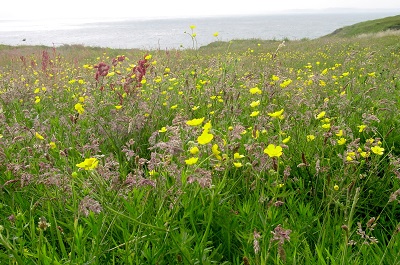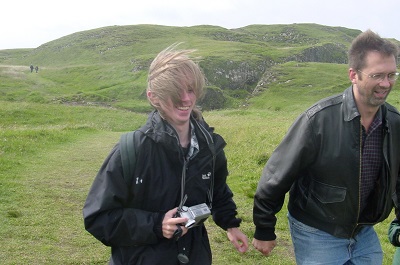 After Staffa, we wandered around Iona for a bit.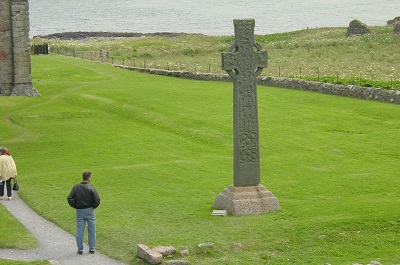 At a small museum on Iona: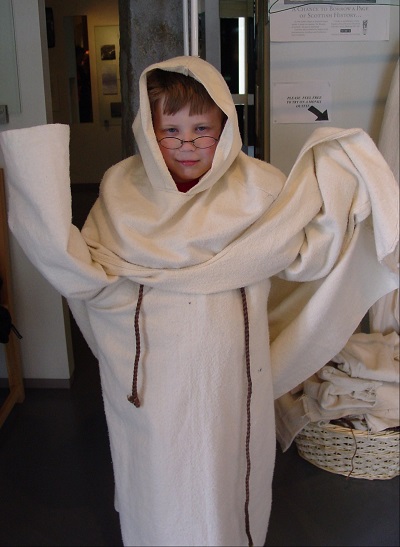 And back on Mull that night by the Argyll Arms.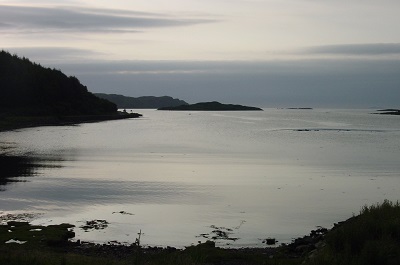 Poor Timmy got super sunburned that day!
But we had a wonderful sunset from our hotel window.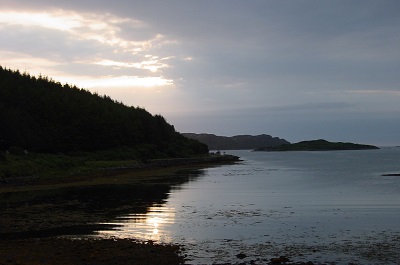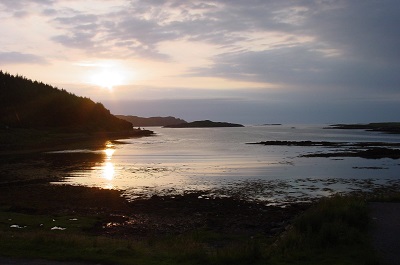 The next day we took the ferry back to mainland Scotland.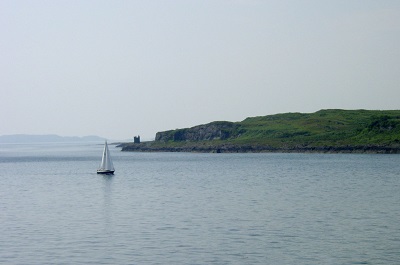 We headed south that day and stopped at Kilchurn Castle.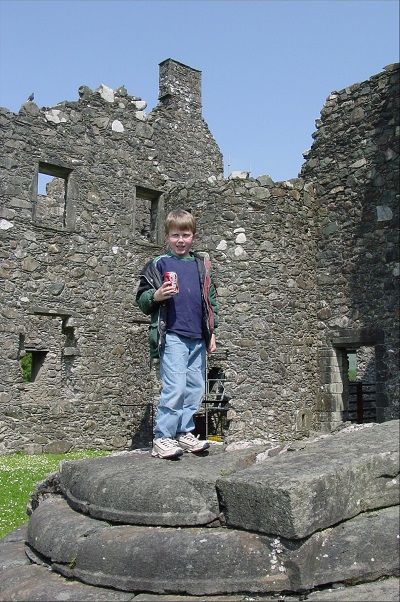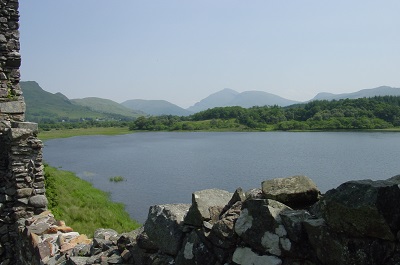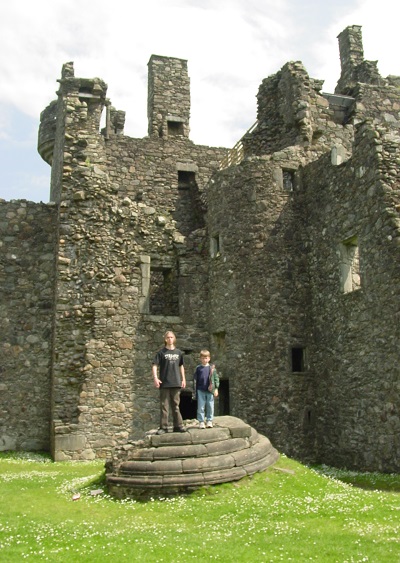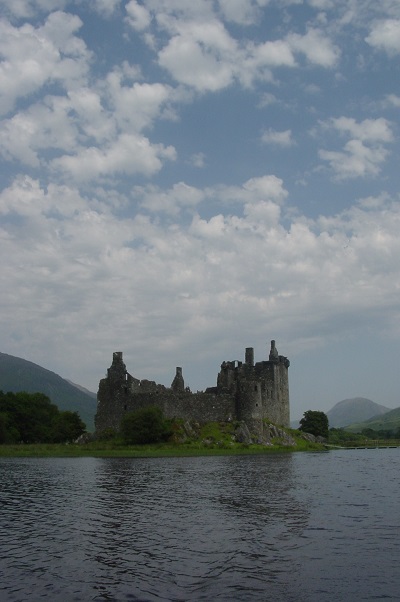 And then another stop on the bonny, bonny shores of Loch Lomond. (We'd gotten a CD of Scottish songs to play in our rental car.)
Our final B&B was at Largs, near Glasgow, but even nearer to the beach.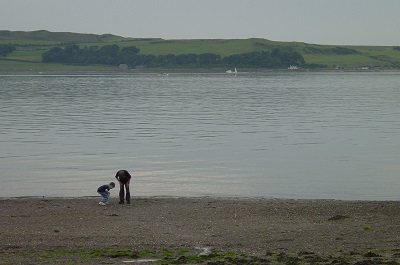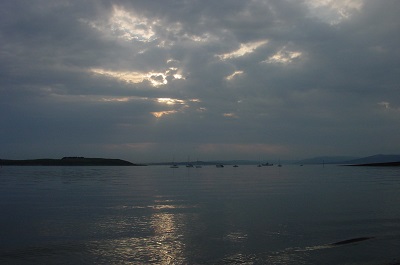 So that was our Scottish vacation. A truly lovely week!
When we got back, Josh headed to Ireland for one more summer session at Dublin City University's Centre for Talented Youth. (I think they did Scriptwriting that year.)
We had lots of flowers in our yard at Sembach, flowers I didn't plant but thoroughly enjoyed. I'll insert some flower pictures here and there.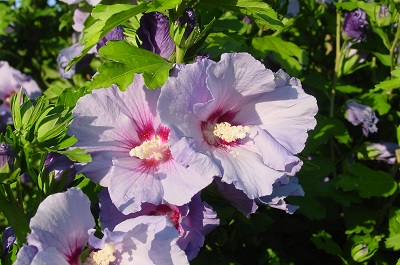 And Timmy turned 9 years old on July 29! We gave him the usual choice between a birthday party and a trip to an amusement park with a friend. And he chose — to stay home! He wanted to play the video games he presumed he'd get. And had a great time doing so! As well as a Bionicle board game.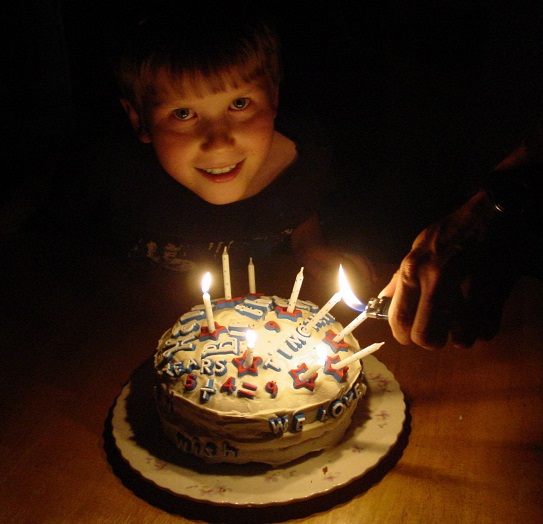 The rest of my life, I was still working at the Sembach Base Library, still loving it. By now I worked with a third band wife, Pat King, after Jeanine and Robin had moved on. Elfriede was still there. But now my boss was Rochelle, after Jeff and Mary had moved on.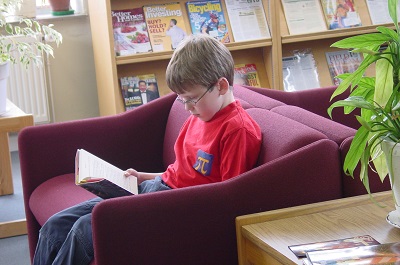 I was still writing Sonderbooks, now posting it as a website, still as a zine with issues. I posted Sonderbooks #59 on Timmy's birthday. I had taken a writing course in the Spring, which had given me an idea for a second children's novel, which I was working hard to find time to write.
And alas — looking at it now, I see that my marriage was really hurting. I didn't know it then. Yes, I write frequently in my journal about "lack of harmony" between me and Steve. And I was worried that he'd drink every night. But I also mention that I'm thankful that "we" are committed to our marriage. I had promised my kids we'd never get divorced, and I believed that Steve wouldn't ever do that. When we did have disagreements or tension, I'd think we'd worked them out. I write many times in my journals how thankful I am that my husband loves me. I may have been trying to convince myself — but I succeeded.
It bothers me going through these pictures, that in most of the ones I took of Steve, he's scowling at me. I liked to take his picture because I loved to look at him. But he didn't want me to. At one point he told me he didn't want to remember these times. (Sondy, how much clearer could he get?) I also notice that he didn't ever seem to take my picture…. Sigh.
But Steve also traveled a lot. That summer we had record-breaking heat, getting up past 100 degrees. The only time that happened while we lived in Germany. And Steve was in Finland, where it was in the 70s!
We didn't have air conditioning anywhere — normally it wasn't necessary. So we kept our Rolladen (thick metal blinds) closed and huddled in our house.
But on one of the hottest days of the year, I met my Aunt Linda, who was visiting in Germany, at Heidelberg Castle with Timmy. (Josh was in Ireland.) It was a bit amusing, because we'd also been to Heidelberg on our coldest day in Germany, right when we first moved there.
Then at the end of August, after Josh got back, we did something a little crazy: We tried out the Barefoot Path!
The website billed it as a 3 and a half kilometer foot massage. In practice? Ouch! The mud and water were bone-numbing cold. The sand was blazing hot. The grass might have felt good, but now it was dried up and prickly. And there were an overabundance of sharp little rocks. The best parts were crossing the Nahe River. It's water was lovely, cool, and clear, and you could see little fish swimming past your feet. There was a suspension bridge on the way back with nice smooth footing.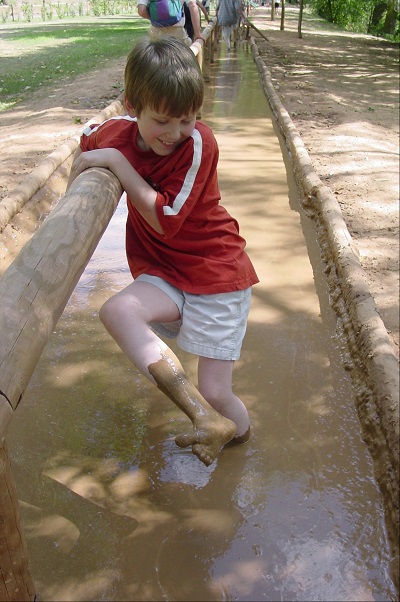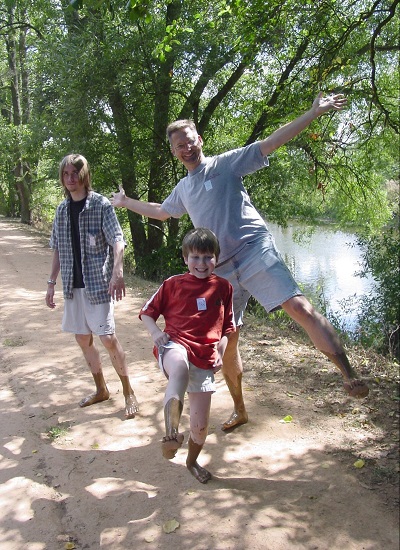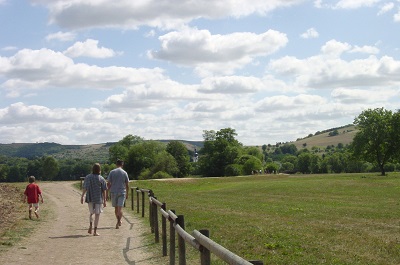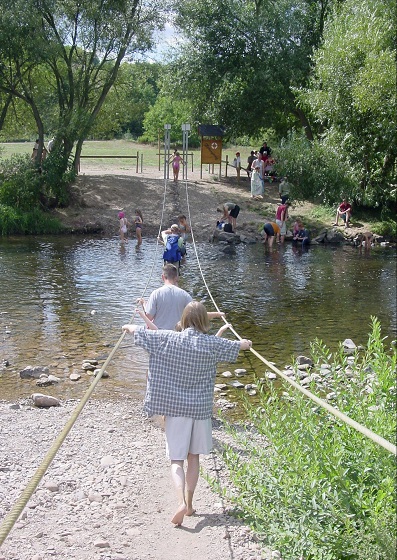 On the way back, we stopped at a Cloister Ruin from a monastery built in 1108, Disibodenberg. Since it was fortified, I decided to count it as Castle #149.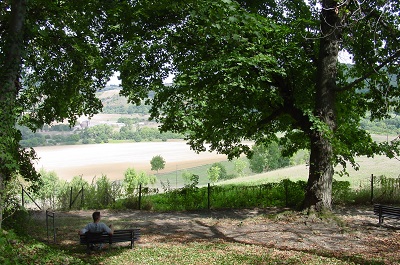 And look! Look! September 2003 was when I began designing my Prime Factorization Sweater! Here I am working out what colors to use for which numbers.
And in September, my sister Wendy came to visit! Wendy had moved to Bremen with her husband Roger. She came south to visit us! We took her to the Rhein River, and visited Castle #150, Burg Stolzenfels ("Castle Proud Rock"). (You can always find a new castle to visit on the Rhein River!)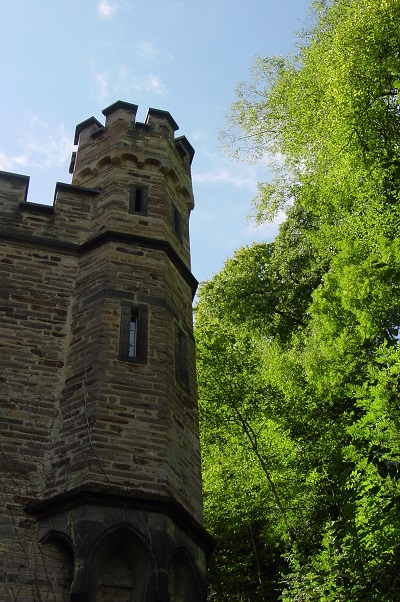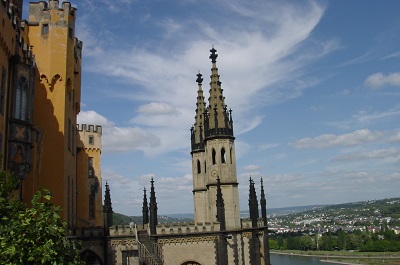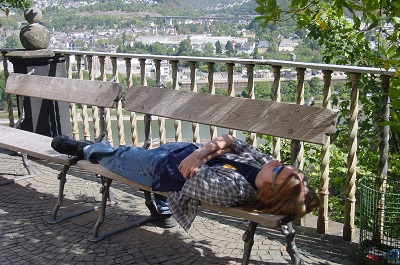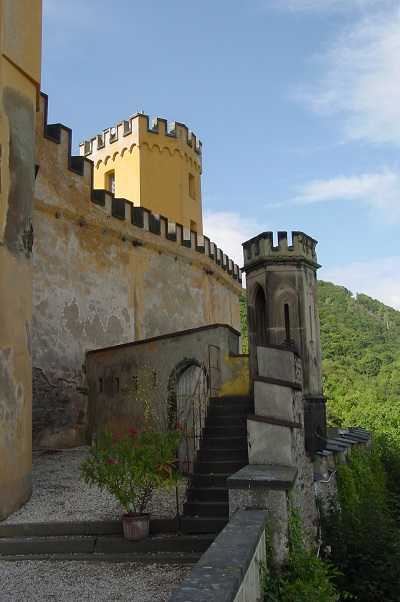 And then the next day, I took Wendy into Kaiserslautern and we toured the Kaiserpfalz.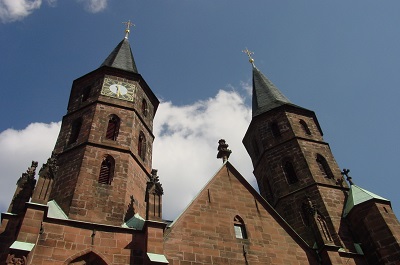 But after that, my journal talks about how good it is to have Steve back after lots of trips and NCO Academy. He took me to an opera in Kaiserslautern, and it was so nice to be with him. I was happy I understood the German übertiteln, too. Then the next day, we walked in the woods together near Sembach and discovered a secret tunnel-like path completely arched over with branches.
Oh and school had started. Timmy was in 4th grade and Josh in 10th grade.
And then in October, I took the train and visited Wendy in Bremen!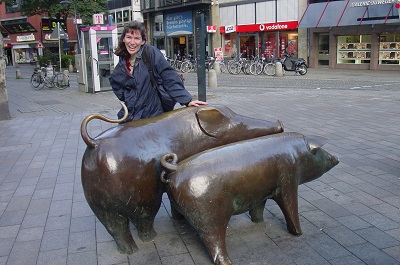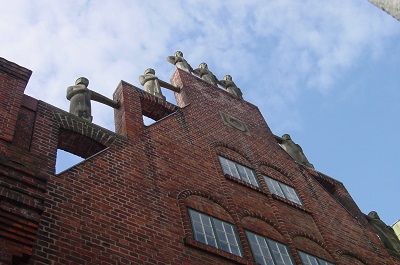 A couple of rare photos of our living room at Sembach.
For Halloween, we talked Timmy into trying Josh's old phone costume.
Josh tried something else.
We took a November hike on the Donnersberg.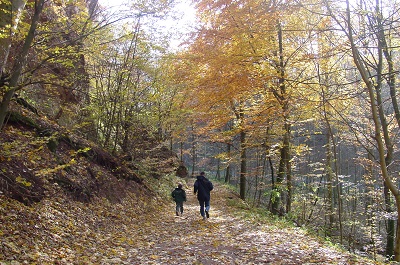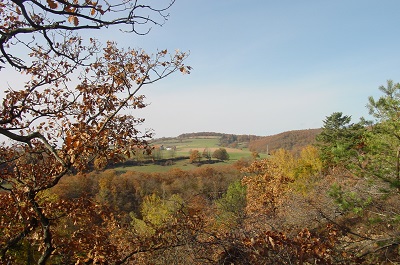 And there's Burg Falkenstein!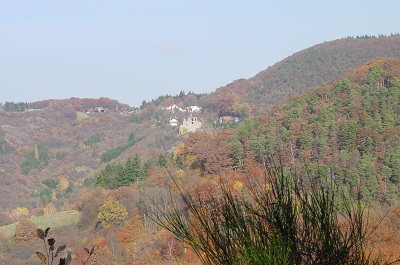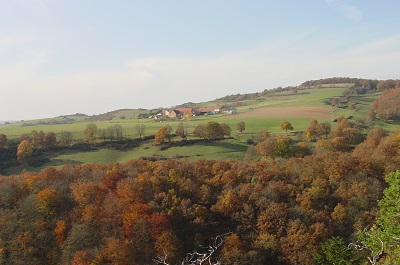 I have an interesting note on that page about the kids' teacher conferences. Timothy made the Gold Honor Roll. Then there was this:
Josh's lowest grade was a C in Honors English. I was all set to be upset about it, but when I went to the conference, the teacher raved about how great Josh is. She said he's the most popular person in class! He wowed them first when reciting a Shakespearean sonnet, then completely won their hearts reciting a Shakespearean sonnet of his own. The class voted on five people to represent them, and Josh got 23 votes out of 25! The next highest was 13! So I wasn't left with much to scold Josh about. He needs to do his homework! That was the problem in all the classes with grades below A's.
For Thanksgiving, the whole family visited Wendy in Bremen!
There was a Christmas Market going on in the main square.
Unfortunately, I had a headache the whole time we were there. I was also trying a new migraine preventative, Zoloft — which years later worked beautifully for me — but that time was awful and made me tense and agitated.
But then came December — and it was time for our trip to America, courtesy of the Air Force, when Steve signed up for 3 more years in Germany – to finish when Josh graduated from high school.
We went first to Phoenix, where Aunt Kay was visiting.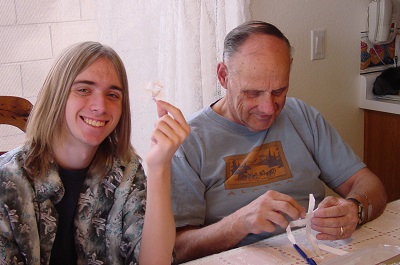 Stephanie and her family were there, too!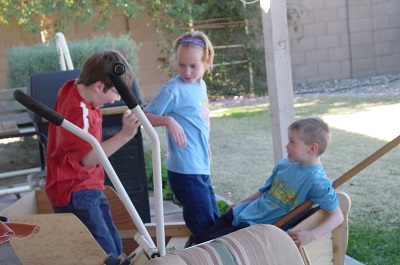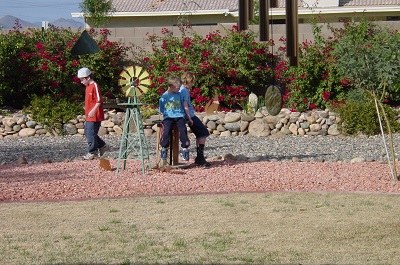 Here's the whole Eklund Family!
They took us to the Science Center.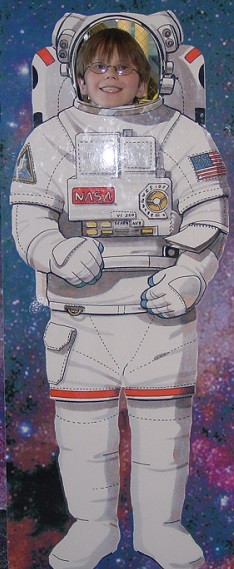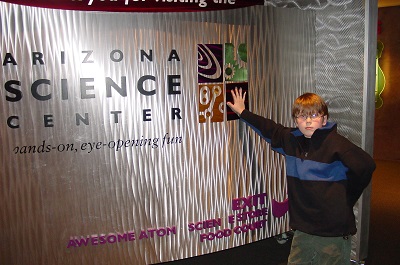 We drove to California, to Becky's house in Encinitas, in time for my Dad's birthday on the 28th.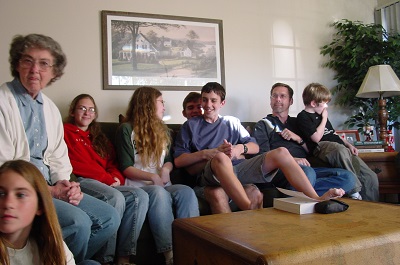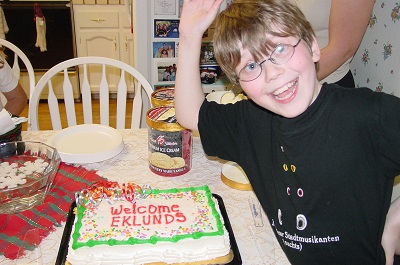 And of course we had to go to the beach!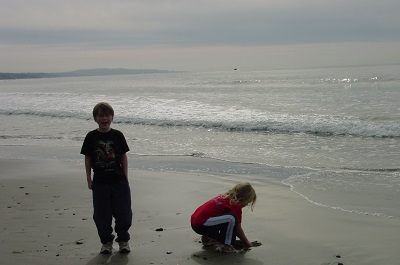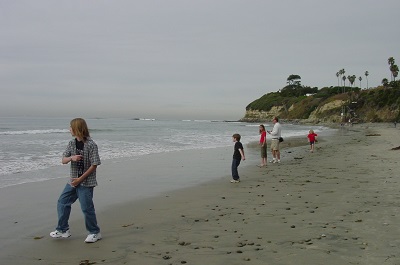 Tim demonstrated his pigeon-feeding technique.
Watch Kristen's face change!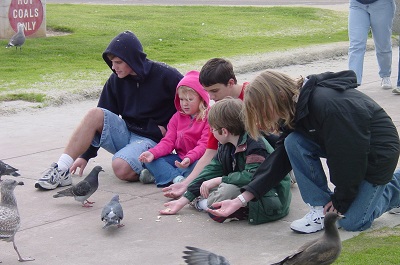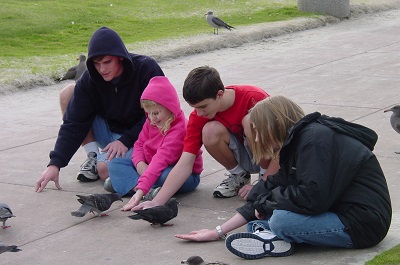 We went pedalboating on Mission Bay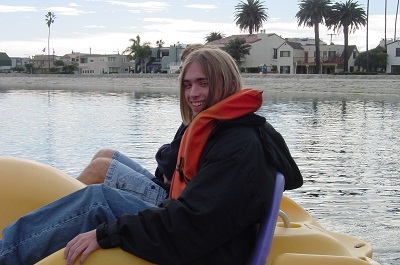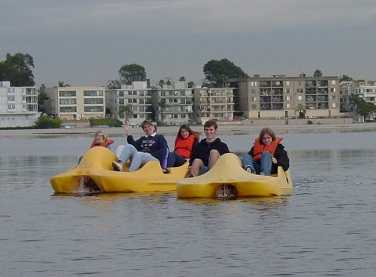 And that was the Christmas of Dance Dance Revolution.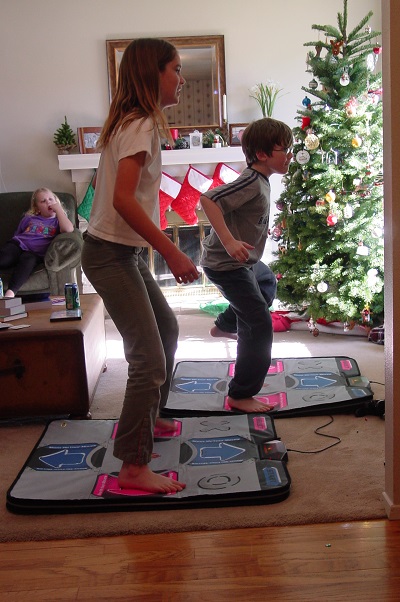 Next, we went north to L.A., where my Dad got us a hotel room in Redondo Beach right on the water near his workplace.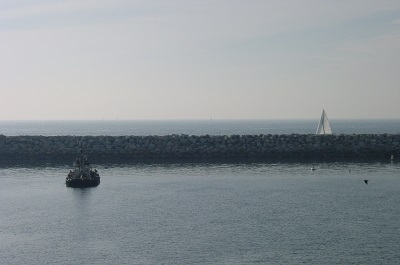 And we went to Ruth's! And so did Jennifer and Darlene!
By now there were a lot of kids!
Here's a fun picture. The other boy is Carl John, Jennifer's son, the same age as Tim.
I'd brought my Prime Factorization Sweater on this trip. My family thought it was very cool. But Carl John's the one who, when I showed it to him, said, "That's just weird!"
I had to admit he had a point!
We visited my brother Rick and his wife Pam in their apartment on Palos Verdes.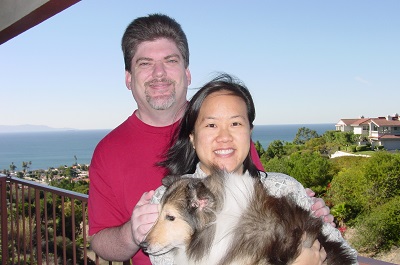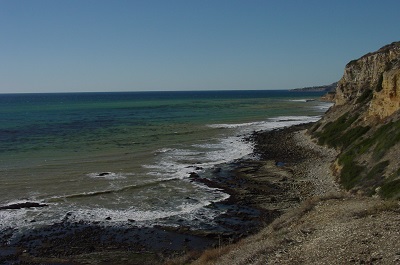 I don't know when I've seen Catalina Island so clearly.
In fact, it was our 17th wedding anniversary that day, so Rick and Pam kept our kids while Steve and I went out to dinner.
Darlene and Matt came to see us in Redondo Beach, now with little Ryan.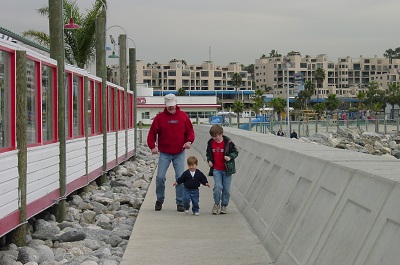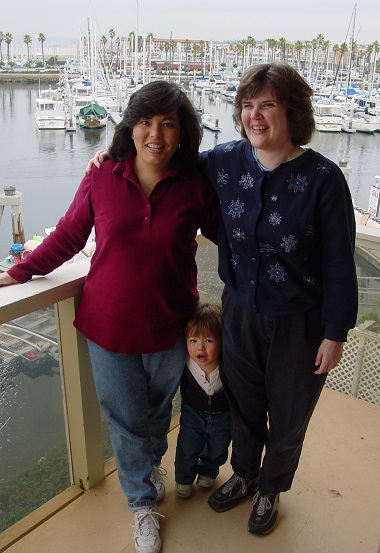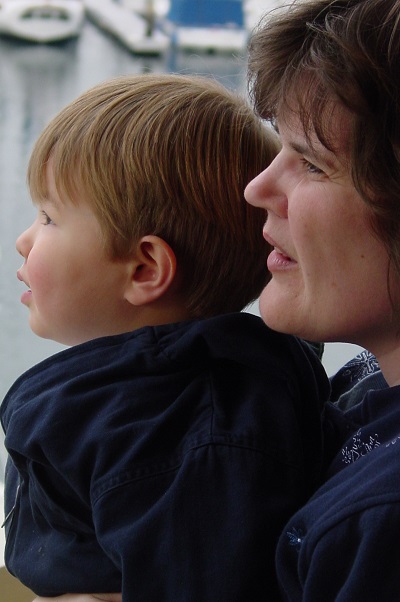 Later, Games at the Hatch House: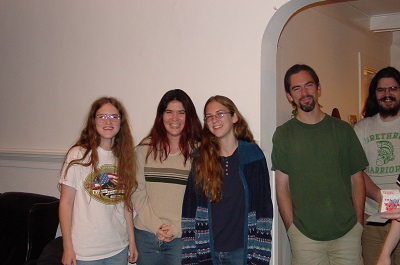 (That's Melanie, Abby, Marcy, Nathan, Peter, Ron, and Robert.)
On the way back to Encinitas, we stopped at the San Juan Capistrano Mission, where the swallows return every year on Josh's birthday.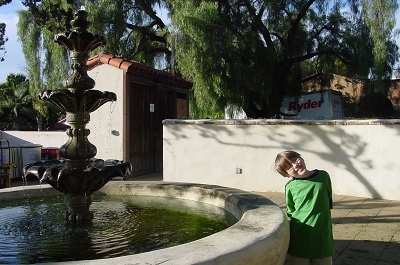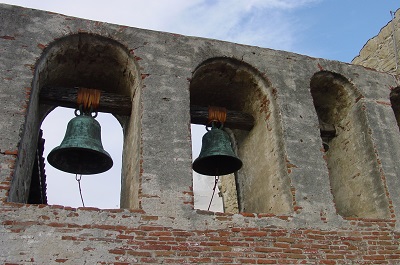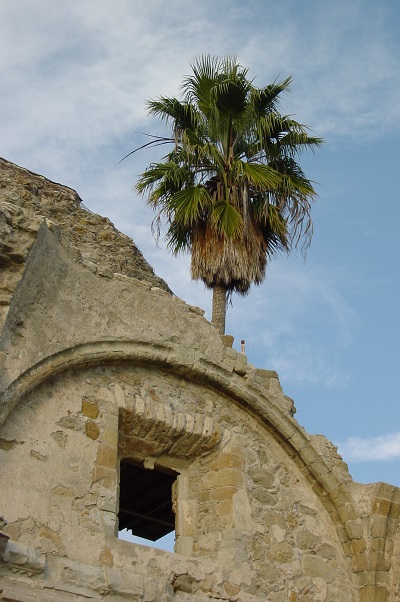 And more DDR before we went back to Phoenix.
In Phoenix, Gram E and Gramp E took us to the Wildlife Zoo.
Gramp E took Timmy to the park to shoot off some rockets and try his new scooter!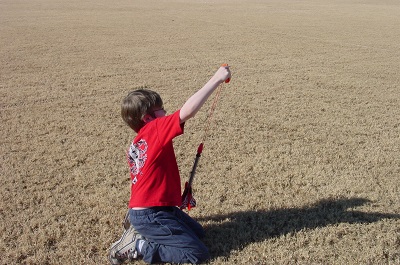 Okay, I'm going to have to stop there and call this Part One. I thought, because I had a snow day, that I could take my time and include all the pictures I wanted to. Oops! It's already midnight, so I need to stop! There are 10 photo CDs left for the year I was 39. I'm going to have to try to be more concise when I post Part Two!