It's time for Project 52, Week 28!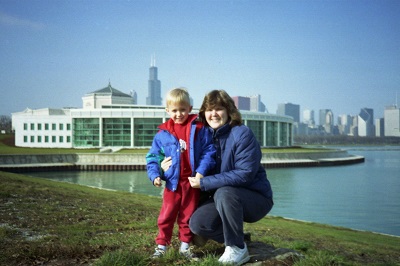 28 weeks ago, on my 52nd Birthday, I decided to start Project 52. Since there are 52 weeks in a year, each week this year I'm blogging about one year of my life. This week I'm taking the year I was 28 — June 14, 1992 to June 14, 1993.
Last week, I wrote about the year I was 27, when we moved from New Jersey to Illinois.
Thinking about this year, I thought, "Wow! That year, for the first time in our adult lives, we weren't going to school, didn't have a major move, and didn't change our family size." But I almost forgot that we did have a minor move — we moved on base from a duplex in Swansea to base housing on Scott Air Force Base.
I don't remember if there was just a year waiting list or if we had to wait until Steve was a Staff Sergeant — but we moved on base in August 1992. But we didn't have to change friends or jobs, so I don't even remember much about that move. Basically, it was a year of settling in and feeling at home in Illinois.
Now I have both a calendar and the old pictures to work from. Don't comment on my amazing memory — I wrote a lot on my calendar!
It looks like I was teaching a summer school Calculus 3 class — 6:00 to 10:00 pm, two nights a week, from June 8 to July 29. (So we moved during the break between classes.) Steve mostly watched Josh when I was teaching, but I see from the calendar that we'd found a teenage daughter of another band member to watch Josh when Steve was out of town.
Josh at 4 years old was still so imaginative. Still talking a lot about "the Joshua Costume" that "visitors" would wear.
I've been thinking a lot about "the Joshua Costume" this week. In so many ways, it's a metaphor for being transgender. The way it started was when Josh was pretending to be some other character and told me I was calling them by the wrong name. I said, "But you look like Joshua!" So Josh explained that there was a Joshua Costume they were wearing, but who they really were was this other character. (Maybe Piglet? Maybe Leonardo or Rafael?)
Well, when Jade was 27, she told me that who she really was, all along, was Jade. I realize that I hadn't known the right name to call her because she was wearing the Joshua Costume. It fit perfectly and grew over time, but the only way I know who's really in there is if they tell me.
I see that in June we were already playing Monopoly with Josh. This might have been actual Monopoly, since I saw notes for Monopoly Jr. earlier. I still say that board games are the best way to learn math skills! I do remember that Josh was pretty amazing playing with the large-denomination Monopoly money before they even started Kindergarten, so that would put it right about this time.
We still took lots of trips to Chicago to see Aunt Kay and get Steve a tuba lesson with Tommy Johnson. In June in Chicago we saw an outdoor production of "The Mikado" in Grant Park.
At the start of July, I stayed behind to teach, but Steve, Josh, and Steve's parents and sister went to Wisconsin to see Eklund relatives.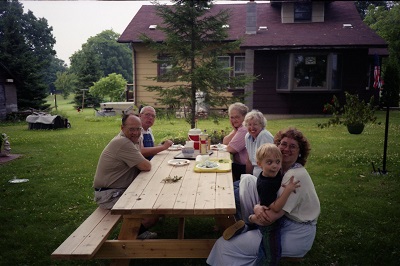 This picture was still in Swansea — making "Oobleck" — cornstarch and water to play with.
And Josh was really reading by this time.
Ooo! I wrote down more Josh quotes in my calendar. On August 8th, apparently I'd been talking with Josh about hours and minutes. I asked Josh, "How do you know that 30 and 30 is 60?"
Josh: "Because 3 and 3 is 6!"
And look at that! On August 16, I wrote that I "typed story with Josh." That was the start of a fun tradition. I had my typewriter out, because I was trying to do some writing. Well, Josh wanted to write a story. I tried to gently point them toward a plot. But we started with a character who liked to do something. I still remember how that first story went: "Record the baby kitten loved to jump. He jumped and jumped day and night without stopping!"
I tried to guide Josh by asking what Record wanted, what his problem was — and Record took his owner's address book, and accidentally threw it to the top of Mount Everest! So he had to jump up there and get it! (Josh's eyes had fallen on my address book in a slot high on the wall on a key caddy.)
So began a tradition of typing out stories. And then, since Josh could read, he had a great time reading them. Steve also started taking dictation. He didn't try as hard to keep Josh focused. The stories developed themes and motifs (like looking at the sun and screaming). Really fun.
The last week in August, I started my Fall semester of classes, teaching Calculus 3 on Monday Wednesday nights for 2 hours each night, and Trigonometry on Tuesday nights for 3 hours each night.
Shortly after that, Josh started going to Kinder Preschool two afternoons a week. Just enough to do a little social interaction. I remember I told the teachers he could read. Then a few months later they said to me, "He can read!" Um, yeah, that's what I said.
It looks like on September 1st, we bought our first pet — Bluefish (named by Josh), a fish for Josh that was blue.
We drove out to Carlyle Lake for some hiking.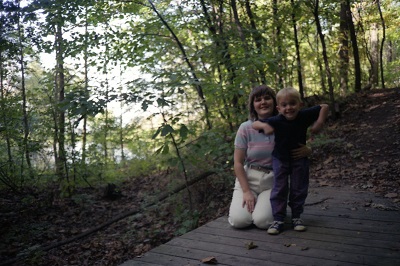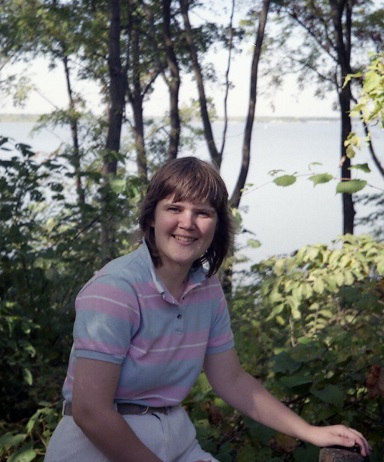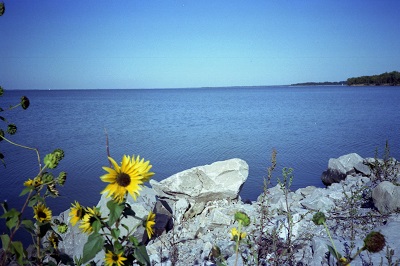 I loved the sweet gum trees out our windows at Scott AFB. Of course, living on base, we had to rake up the leaves.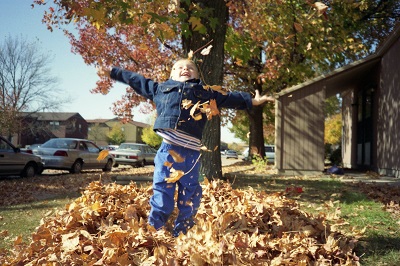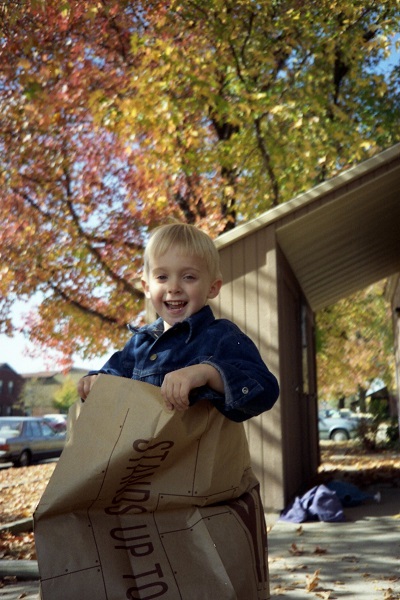 We used the costume Gram E had made for the Kinder Preschool Halloween party.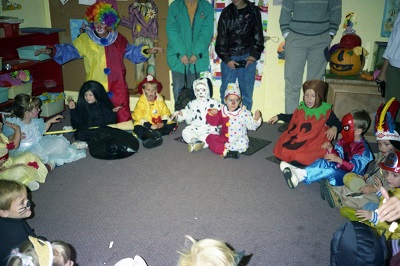 And a Jack-o-Lantern costume for Halloween night.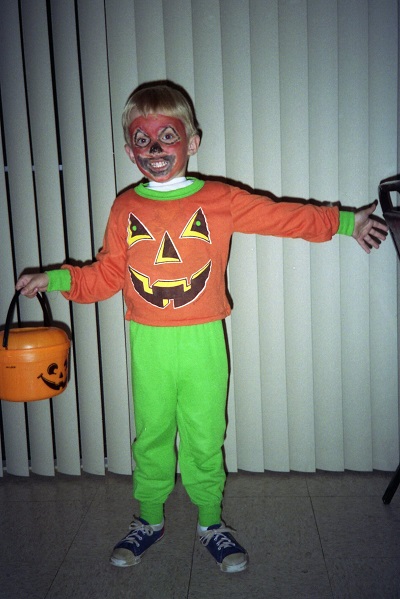 For our long weekend on Columbus Day, we went to Shawnee National Forest and the Little Grand Canyon Trail.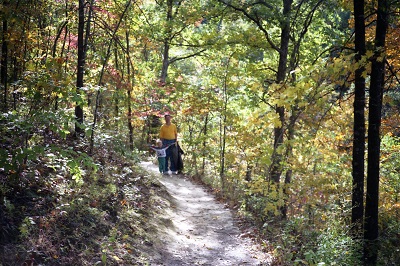 Then at the end of October, we explored Illinois some more. Since I taught Monday through Wednesday, one Thursday Josh and I drove up to Quincy, Illinois, to see Steve finish up a tour with the band. We got to bring Steve home with us and went back by way of Hannibal, Missouri, and looked at Mark Twain Cave.
Meanwhile, I was attending a weekly Ladies' Bible Study on Thursday mornings and starting to walk around the base regularly at night with a friend named Dian Lewallen (from church).
We kept making trips to Chicago, and in November we visited the Planetarium (picture at the top) and visited the Rauseos, who we'd known first in California, then visited in Maryland, and now had moved to Wheaton, Illinois, where Steve Rauseo was teaching at Wheaton College.
More 4-year-old Josh quotes!
On Steve's birthday, November 30:
Me: "It's a good thing Daddy was born, or you wouldn't have been born."
Josh: "… It really takes mothers to have children…"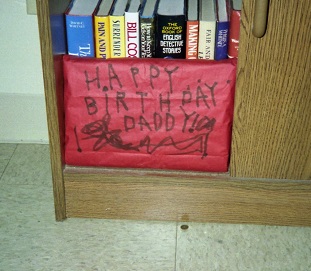 On December 6:
Me: "But tickling you is such fun!"
Josh: "It's boring for me. And discouraging."
(Well, then.)
And the year before we'd stayed in Illinois to try to get a white Christmas? This year, our relatives wouldn't let us stay away, so we drove out to Arizona and California. (And, yes, they got the most snowfall of the entire winter while we were gone.)
Pictures from our trip:
We went to Disneyland with the Frieses:
This picture feels typical. Josh is hugging the character, while Jason's having a conversation with him.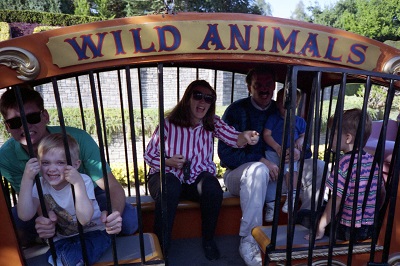 We were spending our nights at Becky & Dave's house, and went to the beach with them.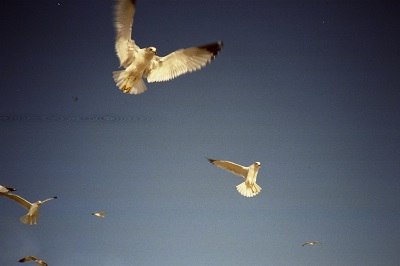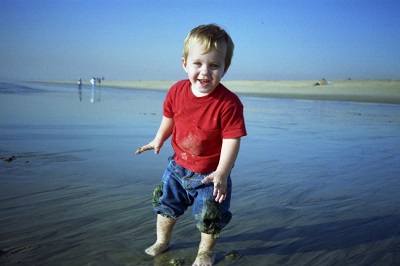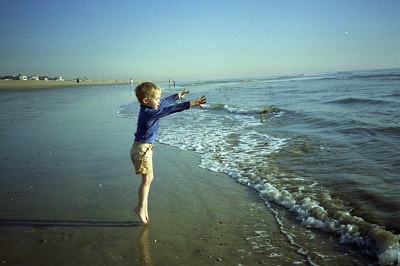 Christmas Day, the entire Hatch family was there, so we had to take pictures.
Here we are, from oldest to youngest. Rick, Becky, Sondy, Wendy, Randy, Ron, Jeff, Nathan, Abby, Peter, Robert, Marcy, and Melanie: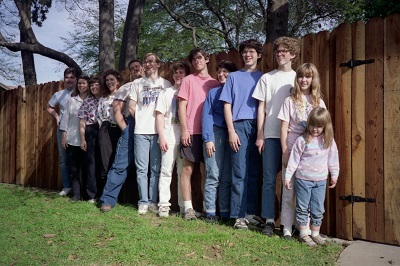 Then we added in Mom and Dad: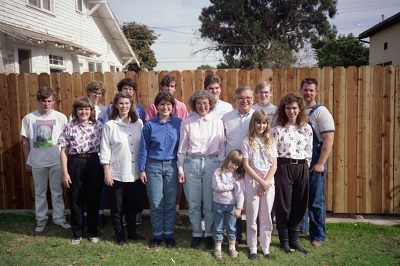 Then we included spouses (Dave and Steve) and grandkids (Jason, Josh, and Michael).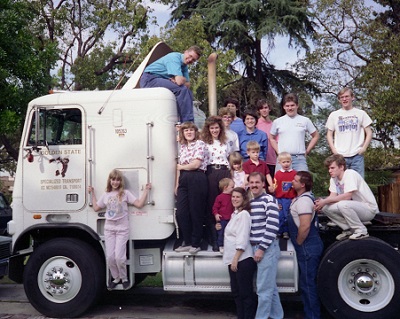 Josh with their six-weeks-younger Aunt Melanie: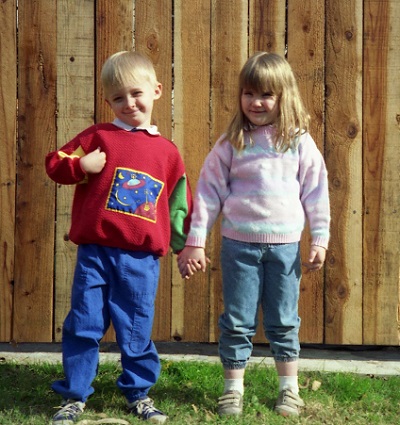 And here's our family: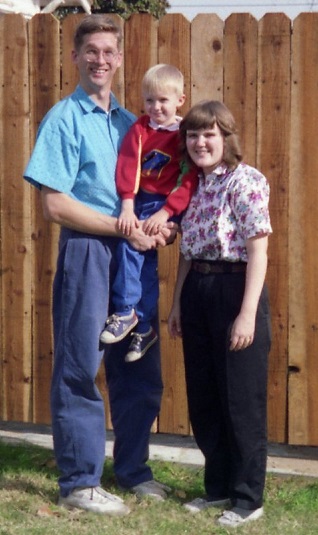 Inside, Josh played piano with Aunt Linda (who taught me piano once upon a time).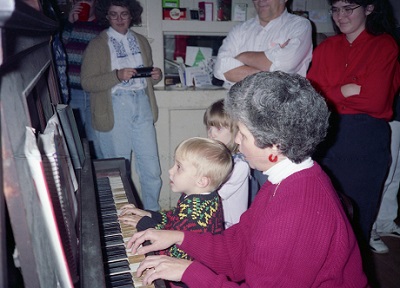 And this is fun. Those stories we'd typed that Josh wrote? We assembled them in a notebook, and then Josh read them to the crowd on our trip, to great acclaim. Everyone enjoyed the 4-year-old logic involved.
We went to church that Sunday at Evangelical Free Church of Los Angeles, where we were married. We saw our friends Claudia and Fernando afterward, with their kids Luis and Antonio, who was one month older than Josh.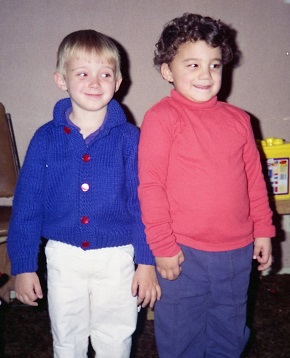 And Darlene was in California for Christmas, too! We gathered at Ruth's house, with another high school friend, Jennifer Ferber.
Here's the obligatory picture showing how TALL we are:
Our family:
Ruth and John with Josh:
And here's typical Ruth. Which one's the kid, again?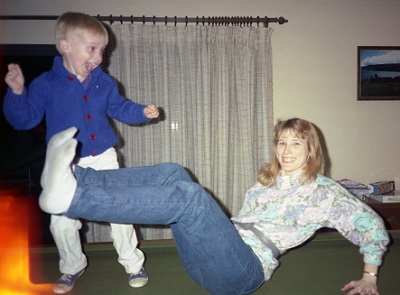 Of course we also spent time in Phoenix with Gram E. and Gramp E.: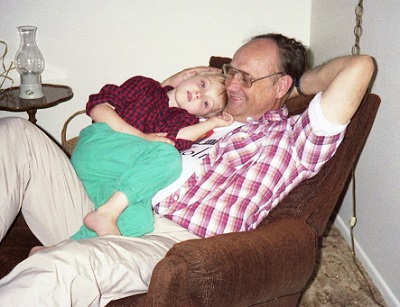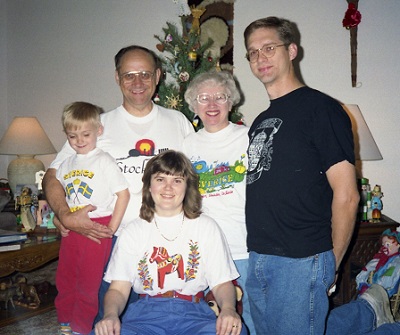 And we drove through Dallas on our way there and back and saw my Biola roommate Coral and her husband Jo and daughter Sophia.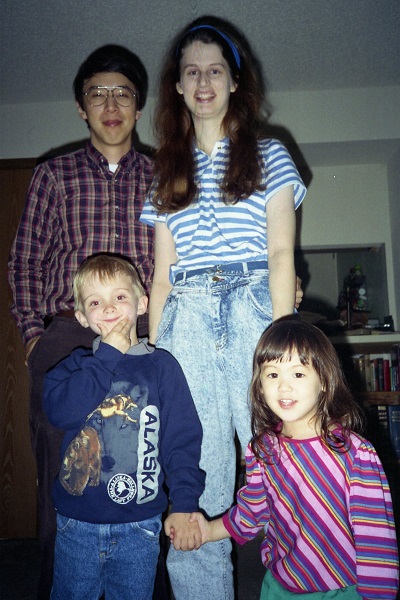 When we got back, classes began on January 14th. A cool thing happened that semester. My last semester's Calculus 3 students had specifically asked that I teach their next class, Differential Equations. It was a small class — 7 students — but they already knew and liked me. It felt so good to be requested. I also greatly preferred teaching such a small class. It never felt like I was getting up in front of a big group. That semester I taught Calculus 3 again from 8 to 10 on Mondays and Wednesdays, and Differential Equations on Tuesdays from 7 to 10.
Now, since I was part-time, the only way I got a paid day off work was if it snowed. In February, I finally got two snow days on the 15th and 16th, with 5 inches of snow.
This one's on our back porch.
There was a great place to go sledding at the other end of Scott Lake.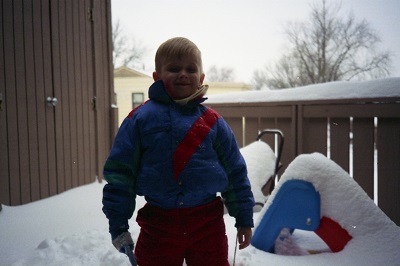 We got another snow day February 25. That day I typed and mailed a story for publication. (It was never accepted. But I see I was doing it. And it was a much longer process then.)
I believe this was a Calvin & Hobbes inspired snowman.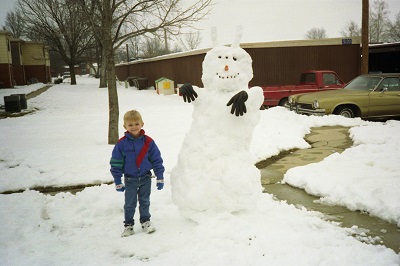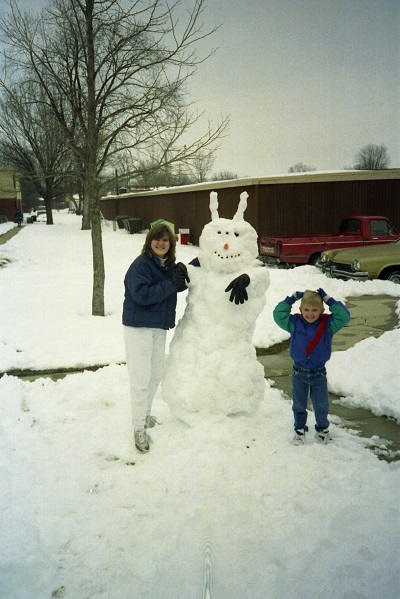 Josh turned 5 in March. Church kids and a band kid came to the party. (The band kid also went to Josh's preschool.)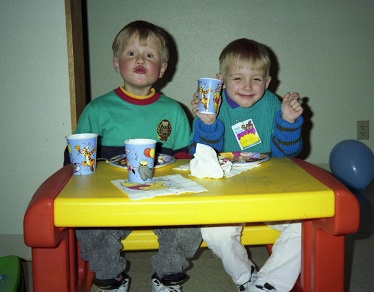 We still read books at bedtime. In this picture, they're reading Where the Wild Things Are, of course!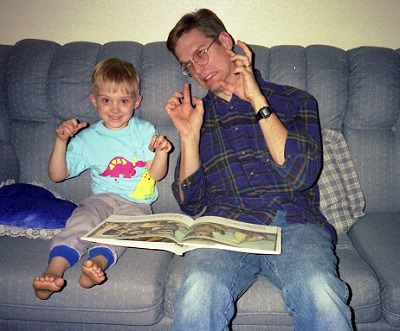 And my first niece, Megan Michelle Friese, was born in April that year. I cross-stitched a blanket for her. The way I remembered it, cross-stitching this blanket and not having to frame it was the thing that got me started knitting. But I found a picture of the first thing I'd knitted in last week's post. So maybe it was having knitted and not framed things that got me to cross-stitch a blanket instead of a picture.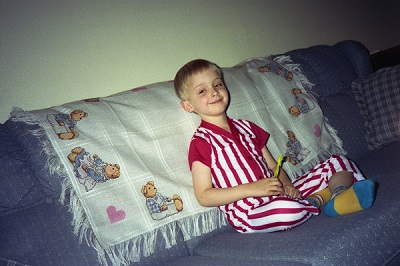 Stephanie came to visit in May. This picture was taken at Cahokia Mounds.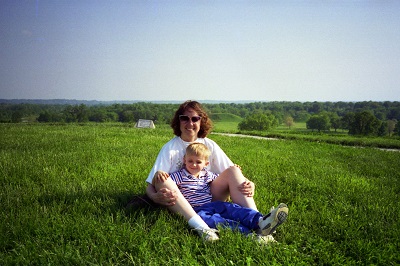 I suspect this picture shows that we'd been playing Animal Concentration.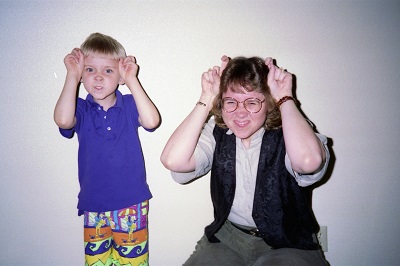 And that was about it for the year I was 28! We were busy and happy. We had an adorable 4-year-old, attending preschool and taking piano lessons, reading and playing games. We had a nice circle of friends from church and/or from the band. We got to visit long-time friends. I was teaching night classes and working on my writing and being a Mom. I was still getting lots of headaches, but visiting the Headache Treatment Center in St. Louis and trying different preventatives without much luck at that point. Steve was doing lots of tours with the band, but we still often went to concerts to hear them.
But mostly, yes, that year was about my sweet, bright, intelligent, always learning, always observing 4-year-old. I had always wanted to stay home with my kids. At least I got to spend the days with Josh. And that was a lovely time. When I think of time with Josh that year, I always picture them with a smile. Even though I still wasn't crazy about teaching math to a bunch of people who didn't necessarily want to learn it (the Diffy Q class being an exception) — getting to teach night classes gave me more time with my kid, and that was such a gift.