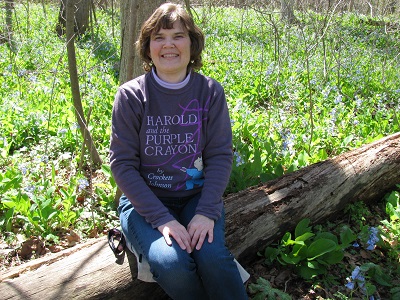 Merry Christmas and Happy New Year, my Friends!
What has 2018 been about for me? Newbery, Newbery, Newbery!
That's right! I'm on the 2019 Newbery Medal Selection Committee, and it seems like everything I've done this year was about that. Our job is to choose the most distinguished American children's book published in 2018, and in quest of that I've read more than 100,000 pages from about 600 picture books and 300 longer children's and young adult books. Publishers have mailed almost 700 books to my house – and basically, I'm eating, sleeping, and breathing books! And I love it!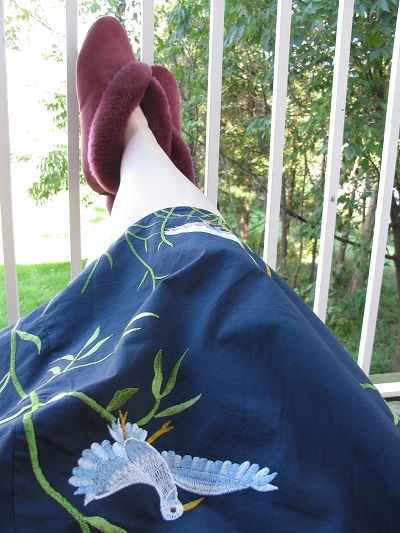 With that in mind, my main trips this year were to American Library Association conferences – Denver in February, where I got to see my brother Randy and his wife Vickey, and New Orleans in June. I'm looking forward to making our decision in Seattle at the end of January. Once the decision is made, I'll rent a car and go visit my kids in Portland, as well as some siblings and little nieces.
I'm still Youth Services Manager at the City of Fairfax Regional Library. I started a Newbery Book Club at the library, and have also visited some local schools to talk about the award process. I've used this year on the Newbery to catch up on my website – I have almost finished posting all the reviews I wrote in 2016 and 2017 on sonderbooks.com. Never mind that I'll be behind again after our winners are announced. I've read some fantastic books – it will be great to be allowed to talk about them.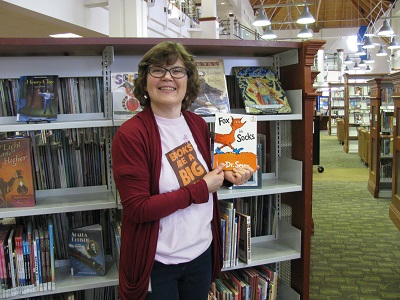 Zephyr is the name my transgender daughter is using now, and she hopes to soon make the name change legal. She's still living in a house with my brother Peter and four other transgender women. Zephyr tells me that most of those women came to Portland after being rejected by their families for being transgender. So I want to make very clear that not only do I believe Zephyr that living as a woman more truthfully reflects who she is – I am proud of her for living authentically. I'm also proud that this year their home served as a refuge for people who needed one when right-wing extremist groups demonstrated in Portland.
Tim has been working as a contractor for Intel for a couple years now, and just got a permanent job as a Quality Assurance Engineer for a tech company called Arris. He'll start early in 2019. He came out and visited me (okay, and other Virginia friends) this summer – it was great to see him.
I still live in my lovely condo-by-the-lake and take lots of pictures of the great blue heron that likes to fish in the lake. I've enjoyed this Year of Reading tremendously! Be sure to check back after January 28 to find out which books we honored!
Much love,
Sondy
Last year's Top Ten list still applies!
TOP TEN REASONS I'M THRILLED TO BE ON THE NEWBERY COMMITTEE:
10. My employers are even bragging that they've got a librarian on the Newbery. Wow!
9. I get to be in the Room Where It Happens.
8. Reinforces that I made a good decision becoming a children's librarian.
7. My library system is funding my four trips to ALA conferences for my committee service.
6. I get to discuss children's books with experts who love them as much as I do.
5. Publishers have mailed me piles of new children's books.
4. This turned my Empty Nest into an asset instead of something to mope about.
3. Forever, the shiny sticker on our winner will remind me of this wonderful experience.
2. A fantastic connection for talking with kids about the Newbery Medal and great books.
1. Books, books, books!
I've gotten to spend all my spare time this year reading – without guilt!