I'm taking a long time to write about ALA because life is interfering.
I got RIF'd from my job as a Youth Services Librarian, but I was fortunate enough that the county found me a job as part of the RIF process.  I'm a Management Analyst for the Office for Children, Provider Services.  I'll be managing data, but I will probably also get to talk to providers about Early Literacy and how the libraries can help them serve the children under their care.
I'm a little bit annoyed that my new job is at the same paygrade as the Librarian position.  It does not require a Master's degree, like the Librarian position did.  It doesn't supervise anyone.  It doesn't deal with the public.  It's much less stress and much better hours.  The catch, of course, is that I feel a tremendous calling as a children's librarian — ALA confirmed that strongly.
It turns out that the county sets the pay grade based on what the surrounding counties pay the same position.  So it's not that this county undervalues librarians — it's that librarians are undervalued as a profession.  However, it is enough to get by on, as long as I'm still getting child support, and my Dad is helping me pay my student loans.  But the nice part of keeping paychecks coming is that I can pay rent.  Yay!
And in the meantime, I've been applying for corporate and school librarian positions, and now have an interview for a Youth Services Manager position in a neighboring county!  So we'll see…  Maybe I can get back to being a children's librarian.
And I love meeting authors!  That's what the YA Author Coffee Klatch is all about.
I admit that Sunday morning, I had a lot of trouble getting out of bed.  I had very much wanted to go to the first hour of the session "Children's and YA Book Blogs: Enhancing Library Services."  But alas!  Trying to get there by 8:00 only meant that I was there on time for the 9:00 YA Author Coffee Klatch, which I'd bought a ticket for.
The worst thing was that they didn't even bring coffee to the tables — you had to stand in line.  I wasn't early enough to want to risk not meeting an author for the sake of coffee.
Basically, we had an extra seat at each table, and we had 6 authors spend 10 minutes with us.  It wasn't time to really talk to them — they talked about their books.  But it was cool to meet them, and they talked me into reading some of their books.  Here are the authors I met that morning:
Carrie Jones was tremendously nice and did talk me into getting a signed copy of her book later.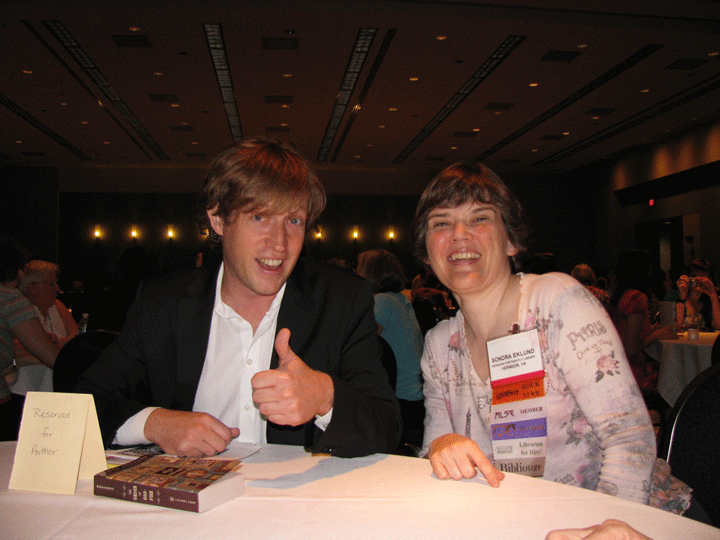 James Kennedy was a lot of fun.  His book sounds quite bizarre — the perfect thing to give my son for his 16th birthday.  I decided then and there to be sure to go to the author's book signing and purchase a copy.  I thoroughly enjoyed James Kennedy's sense of humor, and am looking forward to reading the book myself.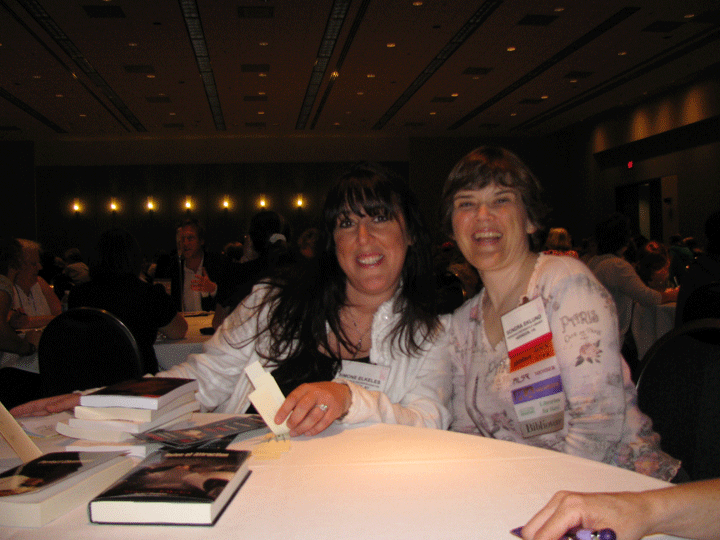 Next, we met Simone Elkeles.  I later saw her book signing and bought a copy of her latest book.
Next was Holly Black.  I already had her latest book, White Cat, in one of the piles in my bedroom.  After she talked about the book, I planned to put it on the top of the pile.  Sure enough, since then I have read it, and it's intriguing and fabulous.  Holly talked about how in that world, people can curse you by touching your skin with their hand.  So everyone wears gloves, and seeing bare hands feels far too intimate.  Fascinating!  My review is coming soon.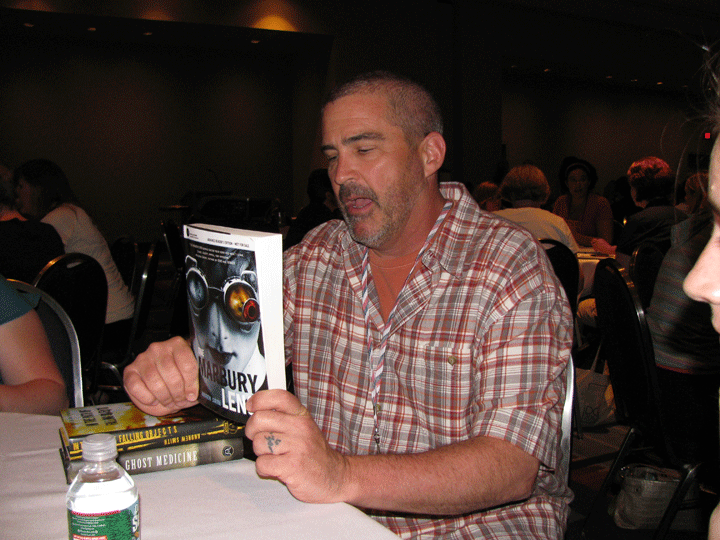 Here's Richard Smith, pitching The Marbury Lens.  He made it sound fascinating, but a little on the scary side for me.
This is the amazing Laurie Halse Anderson, who just keeps winning awards.  She pitched Wintergirls, telling us some background behind it, and also the upcoming sequel to Chains.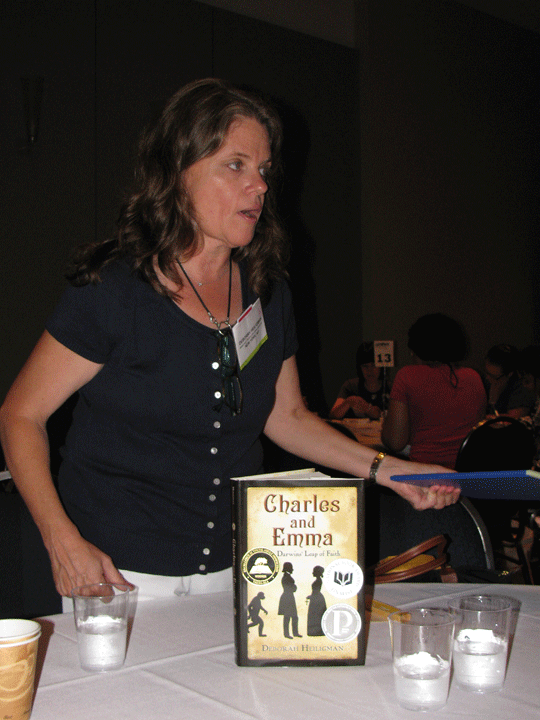 Deborah Heiligman had one of the most interesting stories-behind-the-book to tell.  She was a religious studies major, and her husband had written an award-winning book about evolution.  Charles and Emma is the story of Charles Darwin's marriage to a deeply religious woman, and how their partnership made both of them better people.  Deborah Heiligman convinced me to be sure to pick up a signed copy later.
Then came Carol Lynch Williams, pitching her new book, Glimpse.  I have heard good things about her earlier book, Chosen, and was convinced to give her books a try.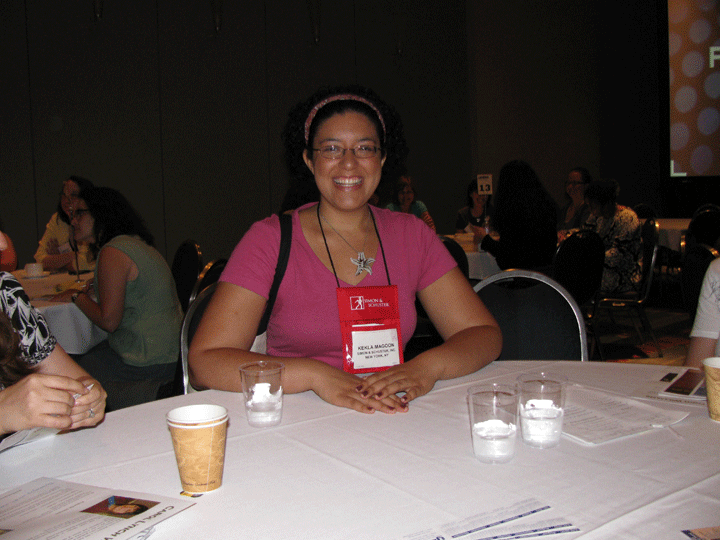 Finally, our table was visited by Kekla Magoon, another author whose book, The Rock and the River, I've heard great things about.  That's the only problem with ALA:  My list of books I really want to read gets so much longer!
After the authors had visited tables, all the authors (there were lots more) posed for a group shot: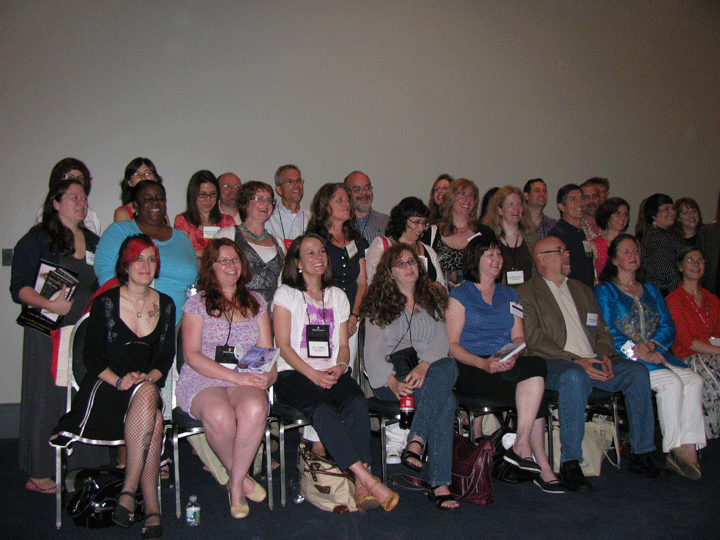 I was thrilled to meet some of them, like Rebecca Stead (!) in the milling around afterward.
All in all, it was a great time to meet people who have done it — they have gotten published!  And they are nice people, who enjoy talking about their work.  I wanted to read books by all of them!