Well, I wanted to blog all about ALA — and now it's been a couple of months.  However, I really do want to relive it and post all the pictures with authors I admire.
Sunday after the YA Author Coffee Klatch, I was in a mood for author signings!  I went to several and got signatures but not pictures, but did get a few pictures with authors whose books I'd already read and enjoyed:
Here I am with Jessica Day George:
Here's the review I'd recently written of her latest book, Princess of Glass.  I was happy to get a signed copy!
Another author I met was Tom Angleberger, author of The Strange Case of Origami Yoda.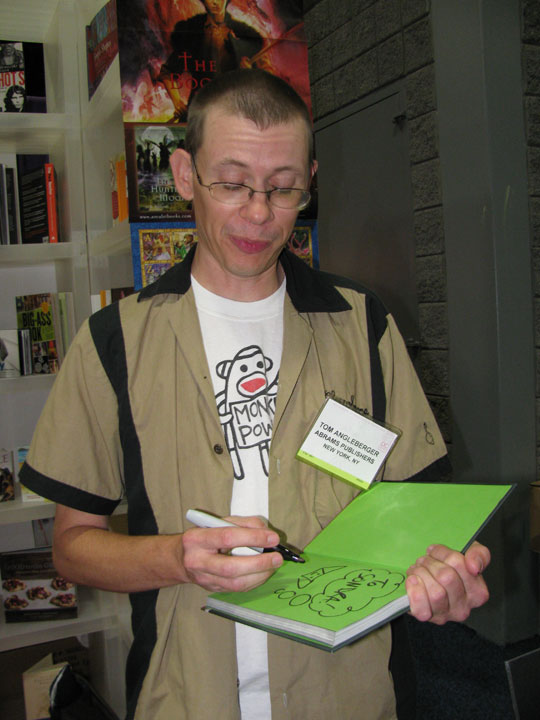 One session I did want to be sure to go to was to hear Will Shortz speak.  Yes, he's a big famous puzzle guy now, but I remember doing his puzzles in Dell Magazines when I was a little girl.  (Sure enough!  When they talked about his bio, he worked for Dell Magazines in the 70s.)
I thoroughly enjoyed his talk.  He told some secrets about making puzzles, and ended off with a competition between the two sides of the room.  (My side won!  Woo-hoo!)  I had some signings I wanted to get to and didn't want to wait in the long line after that, and he was signing crossword books, not logic puzzles or the types of puzzles I prefer, so I went back down to the exhibits.  But here he is signing books:
Back at the exhibits, I almost ran into Mo Willems and Jon Scieszka.  I couldn't stay away from that!  I did some serious lurking and picture snapping.  I got to tell Jon Scieszka that I have more brothers than he does.  (Hey, you think of whatever you can say.)  And I told Mo Willems that I was wearing his Elephant and Piggie design t-shirt yesterday.  (Oh well.  He said he would have signed it.)  Oh, and I talked to Casey, Jon Scieszka's daughter.  She was very nice, and I'm going to watch for her graphic novel coming out soon.
Here are the pictures I took while lurking: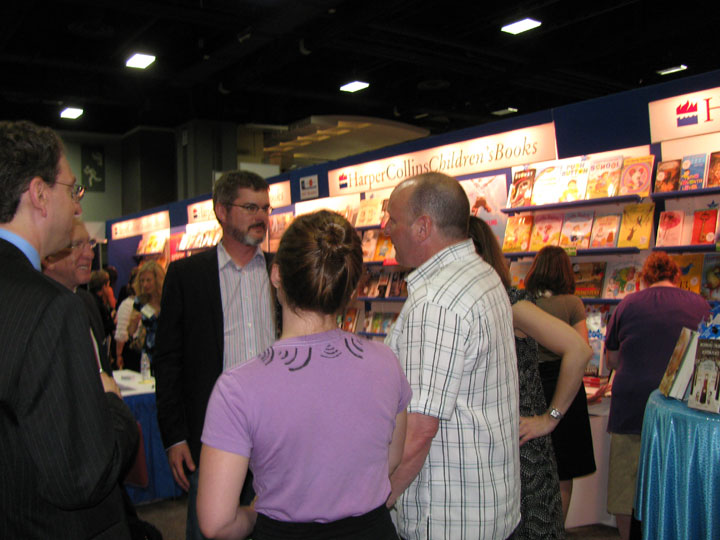 Mo's on the left, Jon's on the right, and Casey's wearing purple.
I always say that Jon has the smile and laugh of a mischievous little boy.  His daughter agrees that he never grew up.
I think they were discussing the Book Cart Drill Team Championships that afternoon, which they would host.  I saw them host it three years ago, and was very very sorry to miss it this time — but I was scheduled to go home and get the shawl I accidentally left at home, but while I was at it take a little nap and change clothes for the Newbery/Caldecott Banquet.
On the way back to the car, I stopped at a Bookmobile that had been set up with a project to record hundreds of people's voices reading The Wizard of Oz.  It was a lot of fun — I've read the book aloud to both my boys and loved it as a child myself.
Imagine my delight, though, when the person who walked into the booth after me was Grace Lin, scheduled to receive her Newbery Honor Award that very night!  For the book Where the Mountain Meets the Moon.  I was so excited to meet her, the person reading ahead of me had to do a couple extra takes because I was too noisy.  But when the production is finished, I'm reading the page right before Grace Lin!
Here I am with her, thrilled to meet her: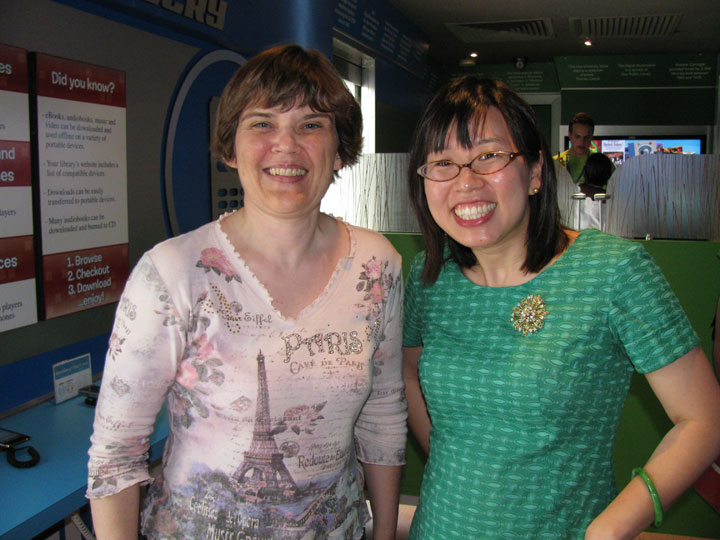 And here she is reading her page from The Wizard of Oz: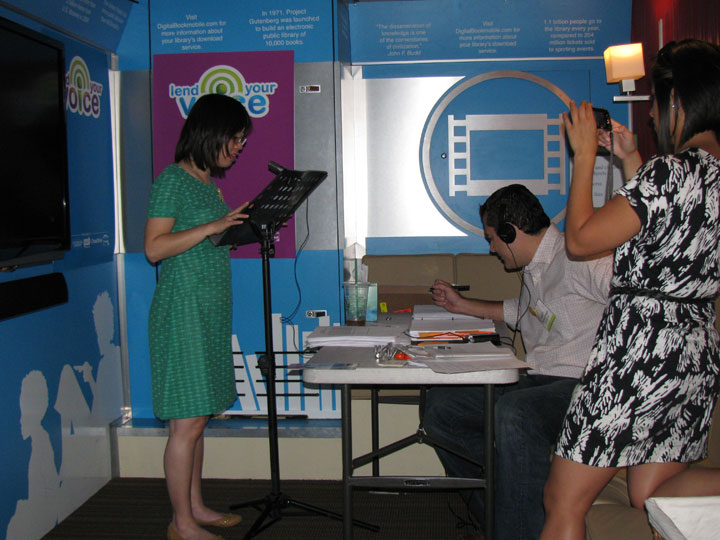 So, like I said, I'm disappointed it's taking me so long to post about ALA, but now I'm up to the highlight of the whole weekend.  My next post will be about the Newbery/Caldecott Banquet.