It's time for Project 52, Week 44!
44 weeks ago, on my 52nd birthday, I began Project 52. Since there are 52 weeks in a year, each week I'm taking one year of my life and blogging about it. This week, I'm covering the year I was 44 — June 14, 2008, to June 14, 2009.
Last time, I talked about Fall 2008 and Phase 7 of my divorce. (I also listed the phases I'd been through. Still several to go!)
Also that Fall, my youngest son Tim, now 14, started at Thomas Jefferson High School for Science and Technology. By the end of the semester, he was in danger of getting low grades in English, due to not turning in homework. It's a magnet school, so they had criteria that if your GPA got below a certain level, you'd have to leave the school. I was worried about Tim.
Here's what I wrote in my quiet time journal during Thanksgiving break. It was based on Philippians 4:6-7, so I was laying out my requests.
Father,
I want to be a good mother to Tim. My requests are:

That Tim would get his homework done.
That Tim would take responsibility for his own work.
That we would still have a good relationship when we're done.

Oh Father, thank You!

While I was still praying (writing the above), Tim came out, presented to me rationally and clearly why my monitoring him and interfering was not working, and we're friends, and we made a deal that I will not interfere with his doing homework this weekend.

Thank You, Lord, You answered while I was still praying!
Essentially, I made Tim the same offer I'd made many times to J. when they were in high school: I would allow them to manage their homework – but if their grades dropped, I would step in and start monitoring.
The crazy thing: Tim took me up on it! I NEVER again had to nag him about doing work while in high school. He didn't do every single bit of homework, but he totally took responsibility and knew what he was doing. A very cool thing was that his friends helped him with this. And that's where going to TJ was helpful. The friends Tim made there were highly motivated people. Mostly with much pushier parents than I was. Tim's friends helped him become a conscientious student. Wow!
That Autumn, I also did a lot of hiking across the road in the woods at Frying Pan Park.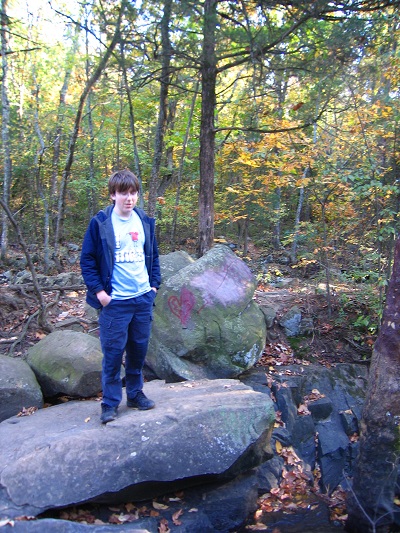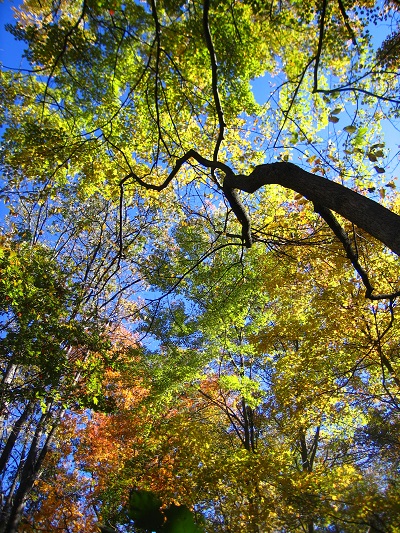 On one of the weekends when Tim was visiting Steve, I visited my friend Phoebe, from Sterling Library, at her home in Point of Rocks, Maryland, and we walked along the Potomac.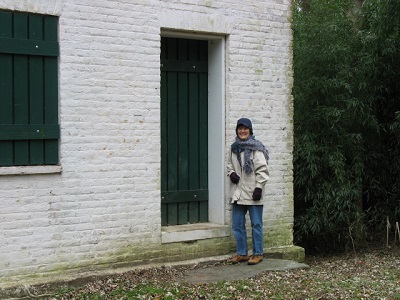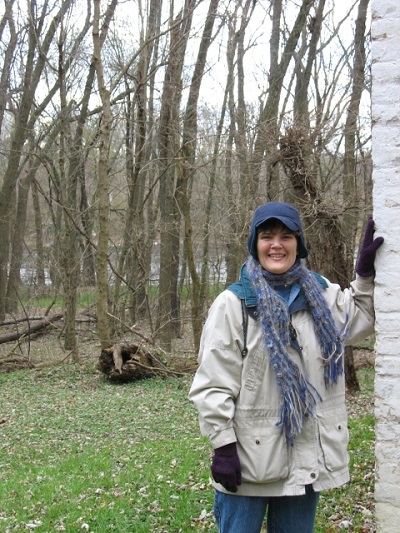 Now, regarding the divorce, when Steve had a fight with his lawyer and refused to sign the agreement our lawyers had drawn up, the case was dropped, and we entered
Phase 8: Visitation Pause
Steve did not get a new lawyer after he had his lawyer parted ways. Steve told me that he fired his lawyer. My lawyer told me that Steve's lawyer said he was planning to quit if Steve didn't sign the agreement, once he and Steve had a shouting match when he learned about Steve's affair from reading my Discovery. But anyway, Steve didn't have a lawyer.
But shortly after the case got thrown out, Steve told me that he wanted us to work out a custody and visitation agreement. He presented me with one that he'd written, which wasn't acceptable to me, and wasn't in proper legal format. I asked why not use the one I'd spent thousands of dollars for my lawyer to write, and which his lawyer had agreed to, which I had already signed and had notarized. But Steve said that one wasn't acceptable to him.
And then Steve said he wasn't going to host any more visitation unless I signed an agreement.
Well, that was an empty threat. Tim was pretty stressed from spending every other weekend away from home and trying to keep up with his homework. Although I didn't want this to be permanent, I just couldn't feel sad that I was going to get a break from dealing with visitation. And I certainly wasn't going to sign an agreement I didn't agree with.
But things had really deteriorated between us. I had persisted in periodically telling Steve I still loved him and wished him the best – and he told me I lost email privileges. So we were trying to work out visitation schedules via phone calls or letters.
I didn't like phone calls, because Steve would yell at me. One time he swore at me and then said, "See what you made me do? I hope you're happy!" So – I stopped answering if he called. He could leave a message.
And niggling in the back of my mind was the fact that Steve had told me he'd once had a plan to kill me. I was starting to be afraid to be in his presence. Many times when we tried to meet part way, Steve wouldn't be where he said he'd be when he said he would, and communication was so cut off. So all this added up to I stopped offering to help with the driving.
Oh! I have to mention another wonderful author whose books I must have first read during Fall 2008 – several books about verbal abuse by Patricia Evans. SO helpful! I hadn't even realized that what Steve was doing could be called verbal abuse, because it wasn't usually name-calling. But Patricia Evans explained that when someone tries to define you in ways you disagree with, that's abusive. It was VERY helpful for me in dealing with the messages from Steve to understand why it hurt so much when he told me things like how I was trying to start arguments.
The fact is, Steve could not actually read my mind and actually did not know my motives.
[These books are WONDERFUL, by the way, and I can't recommend them highly enough. They're even good for people not in an abusive relationship to help watch their own words and stay civil on the Internet. Follow the link to my reviews and I highly recommend all of Patricia Evans' books. Thank you, Thank you, to my friend Marilynn for recommending them to me!]
Steve had one last visitation over Christmas, so I had my first Christmas alone. But before Tim left, we had a pre-Christmas together. A big hit was the Flying Monkey, Flingshot, from Think Geek. (And Tim's wearing a Think Geek t-shirt featuring their mascot, Timmy the Monkey.)
Here's my 2008 Christmas Letter. It actually was a good year, despite all the drama with the divorce. I had now been a Youth Services Manager and a Librarian for almost a year, and I was loving it.
Here I am wearing a scarf my staff member got me in India.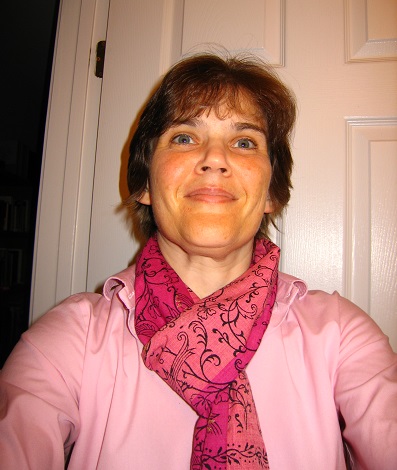 I was still worried about money. I'd switched dentists, thinking a "participating provider" would be cheaper – but didn't realize they specialized in finding expensive work to do. I ended up charging a thousand more dollars to pay for the work they did. Before I discovered that I wasn't supposed to pay what my insurance refused to cover – that was part of being participating. It was a mess. I went back to my wonderful dentist Kathe had recommended, Dr. Wanda Garrett, long may she live and work!
But when I was fretting about money, I felt God gave me these verses:
"You will eat the fruit of your labor;
blessing and prosperity will be yours."
and Deuteronomy 16:15 —
"For the Lord your God will bless you in all your harvest and in all the work of your hands, and your joy will be complete."
[Spoiler Alert: I was reflecting this morning that while I still have far more debt than I would like – far more – It is very nice not to live with that fear that something could easily happen and I might not be able to pay my rent. I have a good job and I am slowly, slowly paying off that debt and paying my bills.]
So, as 2009 began, things had deteriorated so badly that Steve was demanding that I sign a legal agreement or he wouldn't do visitation with Tim. I told him that any negotiations about a legal agreement, he would have to talk with my lawyer about. I was hoping he'd get a lawyer, but he didn't. He also didn't ever tell us what he specifically didn't like about the agreement she'd already drawn up and his lawyer had agreed with. He only insisted that I sign the one he'd written. So we were at an impasse.
And Steve berated both of us for keeping him from his son.
Now, that didn't have a whole lot of sting. I was perfectly willing for Tim to visit Steve. Withholding visitation until I signed his agreement was entirely Steve's idea.
Meanwhile, it was such a nice break not to deal with this.
Tim and I had fun in January during a really cold spell hiking on top of the frozen Frying Pan Creek.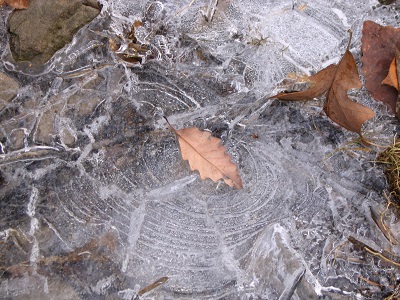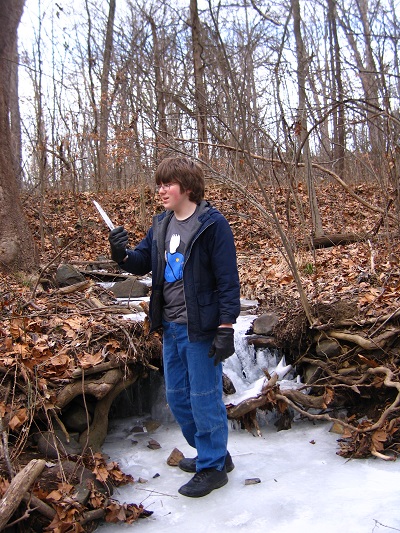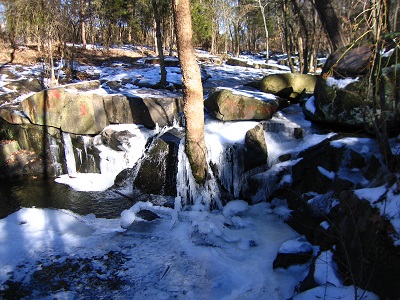 Oh, and Steve marched in Obama's Inaugural Parade in January 2009! I like the post I wrote about it. I was learning to get some joy out of the situation!
And my sister Abby came to visit! She was looking into grad school possibilities on the East Coast. And we learned that one of the best possible days for coming into DC was President's Day – especially a month after the whole country came to visit for the Inauguration. The city was empty!
This picture is actually Abby and Tim, not me and Tim:
We went to the Library of Congress!
The reading room was open! And I got to pretend I worked there!
More fun in DC.
And here's a new shrug I knitted with yarn from a local yarn shop.
Meanwhile, Steve was still trying to get my lawyer to write a new custody agreement. Even though she'd already written one. I wasn't going to pay her to draft a new one. He was welcome to hire a lawyer to do so, and then we could make revisions. Or he could say what revisions he wanted with the one already written.
Now the problem with having Steve communicate about the legal agreement with my lawyer is that of course she charged me for the time it took to read them and respond. But looking back, it was worth every penny. He spent much of his time berating her and me for not doing what he wanted. It was nice having a buffer, though I did wish he'd get his own lawyer to tell him that he was being unreasonable.
And looking at the old emails, it turns out that March 2009 was when Steve told me that for years, I'd been making him miserable. Present tense. Here's what I said to my girlfriends about it:
His saying on the phone that I have been making his life miserable for several years now — It was very present tense.
 
It's weird to me that that statement made me feel better.  But instead of hurting like the ones in his letter to my lawyer, it just struck me as so ludicrous!  I have not lived with him for three and a half years, and he still believes, that I am, present tense, making his life miserable?!!!
 
I thought up a response that I would love to tell him.  (Don't worry I won't!)  I would laugh heartily, and say, "Steve, you are not making MY life miserable!  In fact, the cruel things you did have driven me to God.  And right now my life is going far better than ever before!"

"Steve, I still don't want a divorce, because I still believe that's wrong.  I do hope that some day you'll decide to come back to your family and share in all the joy that our lives are full of now."
 
You can see why this would not be a good thing to actually say to Steve!  But you can also probably see why thinking it out makes me feel very, very good!
 
I guess what it boils down to is that the letter and the phone call made me feel sorry for Steve, which is a much more pleasant emotion than anger and frustration.
That phone call was when I tried to arrange for Tim to see the movie Watchmen with Steve. It's a comic Steve recommended. I offered to do some of the driving. But Steve would only do it if I would do all of the driving, and I wasn't willing or able. We were back to our impasse.
And – I started looking for a less expensive place to live. And I found one! A townhome for rent in Centreville, costing $440 less per month than the apartment in Herndon, and much cozier. And since it was a private rental, the rent didn't go up every year, either.
Once again, Gateway folks helped me move. Though I had a couple of weeks of overlap and did lots and lots of trips myself, moving little things like boxes of books.
Here's what I wrote about my new home. It felt like a symbol of my joyful new life.
Here's the tree next door and the front of my new home.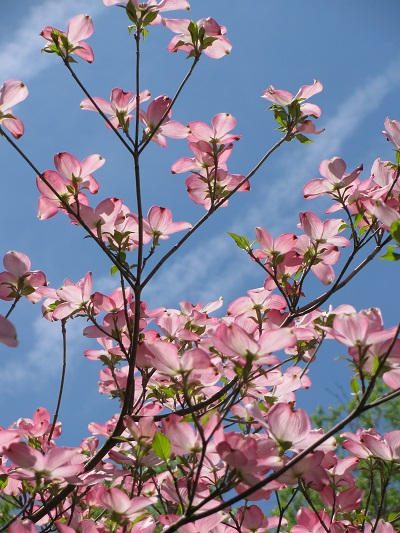 At the end of March, when I was getting ready to move, this happened:
Oh, and on Sunday, God spoke again.  I'd been asking Him again, "Did I REALLY hear you right that You are going to transform Steve and restore our marriage, because I can't imagine a healthy marriage with him.  How would that be possible?"  The answer was in a sermon on Ephesians 3, culminating in "Now to him who is able to do immeasurably more than all we ask or imagine, according to the power that is at work within us…."  and the sermon was about how God transforms us from the inside out.

But it was also clear that I am just to trust that God will do it, but not try to monitor the process.  To not worry about trying to manufacture love for him in preparation for that day.  The whole thing will be God's astonishing work.

And then this week I'm working on being thankful for the blessings God's giving me now.
Dear Reader, I have a very different interpretation of what that meant looking at it now! God did something I didn't ask or imagine — a beautiful life as a divorced woman! [On the NEWBERY COMMITTEE, no less!]
Now, on immediate guidance I was correct. I was to let Steve go. And notice all the blessings God was pouring out on me. And I had the assurance that God would do something awesome in my life, something beyond what I could imagine. On that, I was absolutely right!
When we moved in during April, Tim still wasn't doing any visitation. His grades had improved greatly, and he seemed less stressed out, too. So he didn't seem to be suffering from the pause. Steve was still calling him almost every night.
On April 27, 2009, I got a letter from Steve. He'd been to see the base legal office and was making vague threats about seeing me in court, mixed in with lots of accusations. When I told my girlfriends/advisors about it, I told them also about how every time Steve would make a legal threat, God would send me the verse "no weapon forged against you will prevail" from Isaiah 54.
And then I checked my Page-a-day Promise calendar for the day. I laughed aloud! Here's what it had for that day:
No weapon forged against you will prevail,
and you will refute every tongue that accuses you.
This is the heritage of the servants of the Lord,
and this is their vindication from me,
declares the Lord.

–Isaiah 54:11
And on May 1st, Steve decided to resume visitation. I refused to help with the driving any more, because I didn't feel safe being near Steve. Well, Steve took issue with that! But from then on, Steve picked up Tim and dropped him off from my house in Centreville. And we no longer had to try to negotiate a place and time to meet. And I wasn't afraid. And Tim got good time with his Dad in the car.
That put us into the next phase of the divorce:
Phase 9: Limbo
Still married. Steve had no lawyer. No legal agreement signed by Steve on either custody/visitation or equitable distribution of property.
Tim spent every other weekend with Steve, and Steve did all the driving.
And that was how the year I was 44 finished up.
I was still happily working at Herndon Fortnightly Library, though, sadly, we'd had budget cuts and lost my fabulous 15-hour Information Assistant in the children's department.
I was attending Gateway Community Church and Rachel and Mark Morgan's small group. I was already friends with some other women having marital difficulties and we were encouraging each other.
I was still standing for my marriage and praying that Steve would have a change of heart, but I was more and more glad I wasn't living with him then. I'd learned about verbal abuse and could now recognize it in his emails – but that didn't make it stop hurting each time I read words of accusation and blame.
I'd learned from Tim that Steve was planning to retire February 1, 2010, and I wasn't sure what that would mean as far as child support. I was pretty sure Steve probably wouldn't give me the marital share of his retirement money if we weren't divorced. So I was starting to stew and trying to remember to pray.
And, Spoiler Alert, since then, God has truly done exceedingly abundantly beyond all I asked or thought at that time.
My 45th birthday fell on a Sunday, and Darlene and two other ladies from church took me out to eat for lunch!
And John Maulella gave the message and mentioned a verse that I'd long loved, Isaiah 43:18-19. I decided it was the perfect passage for my birthday.
Isaiah 43:18-19
 
Forget the former things;
do not dwell on the past.
See, I am doing a new thing!
Now it springs up;
do you not perceive it?
I am making a way in the desert
and streams in the wasteland.