Merry Christmas! It's been a good year! As the years go by, I'm losing physical addresses, so I like to post my Christmas letter on the web to send to my online friends. I always like summing up the year and remembering the ways I've been blessed.
2012 is the year where Tim's age has 3 prime factors, Josh's age has 4 prime factors, and my age has 5 prime factors! Woo-hoo! But even more exciting than that was Tim's graduation from Thomas Jefferson High School for Science and Technology. He is now a student at the College of William & Mary in beautiful Williamsburg, Virginia, not too far away, and nice and close to his Dad. It seems like a great fit. Students don't have to declare their major until the end of their Sophomore year, and he's taking classes in English, Computer Science, Physics, and other subjects he finds interesting.
Meanwhile, Josh is all grown up and settling down in Portland, Oregon. I'm a little jealous – I'm going to have to find lots of excuses to visit.
And I'm so happy in my Librarian career. In September, I promoted to Youth Services Manager at City of Fairfax Regional Library, the branch where I was already working. My two years not (officially) working in youth services showed me that's definitely where I belong.
Looking back on the year, that career kept me busy traveling all over the country. I went to ALA Midwinter Meeting in Dallas in January and met up with a good friend. Then I went to PLA Conference in Philadelphia in March and drove through lovely Longwood Gardens on the way home. Next was ALA Annual Conference in Anaheim, California – I got to stay with my sister Becky, and I stayed an extra week to see my family and some long-time friends.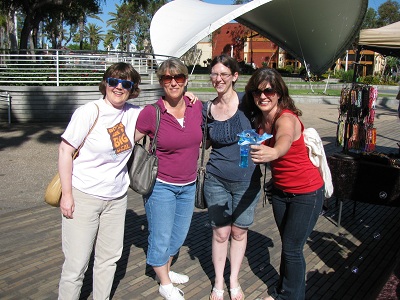 With Three of my Sisters in Long Beach
Still not done, I went to New York City in September to KidLitCon – for bloggers who write about children's books. And I finished it off with VLA Conference in Williamsburg in October, with a chance to see Tim already in college a month. Hmm. No wonder I'm not feeling any urge to travel for the holidays!
I'm also getting involved with children's book awards. I went to a seminar about book evaluation committees in January, and have been active in Capitol Choices, a DC-area group, all year. Now I'm finishing the year on a panel for the Cybils Awards, choosing the best Middle Grade Science Fiction and Fantasy books of the year. It's so much fun knowing I "should" be reading!
I'm still so thankful to be alive and functioning after last year's stroke and am much more healthy than this time last year.
I do feel very blessed and have so many reasons to rejoice! Wishing you a joyful and blessed Christmas,
Sondy Eklund