It's time for Project 52, Week 31!
31 weeks ago, on my 52nd Birthday, I began Project 52. Since there are 52 weeks in a year, each week I'm taking one year of my life and blogging about it. This week, I'm covering the year I was 31, June 14, 1995, to June 14, 1996.
The previous year, our second child Timothy was born after a pregnancy finishing up on bed rest and a very difficult labor. I didn't bounce back quickly, what with starting to work again when Tim was 3 weeks old and, I see now, plenty of postpartum depression.
But around the time I turned 31, my journal sounds a little less frantic. I did teach summer school that year, which meant 8 hours per week of classes instead of 4 hours per week, so essentially working full-time for a couple months. Hmmm. That's probably why there's not much at all written in my calendar or journal for June and July 1995. (The entry that sounded so much calmer was before summer school had started.)
I'm going to try to just summarize this year, but I have a whole lot of cute kid pictures to share.
My journal does say that this was the time — before he'd quite learned to talk — that Timmy threw amazing, head-banging temper tantrums. What can I say? He was precocious. But those did get better a few months later when he started talking and could tell us what he wanted. And my goodness, he was cute!
We went on a short vacation to southern Illinois that summer. This picture cracks me up, because it's so typical of my kids at that age. Jade (then called Josh) was quietly reading a book, and Timmy was getting into something, exploring!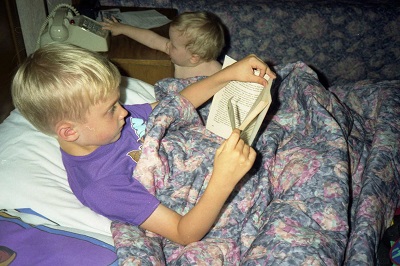 We went hiking, trying to find "Old Stone Face," and I almost got heat stroke.
The next day looking at these Cypress trees was nicer.
At the end of July was Timmy's First Birthday!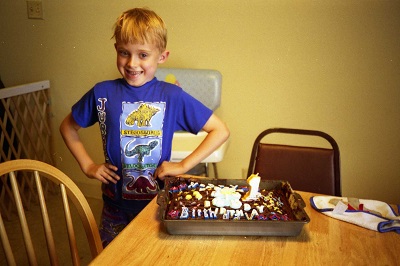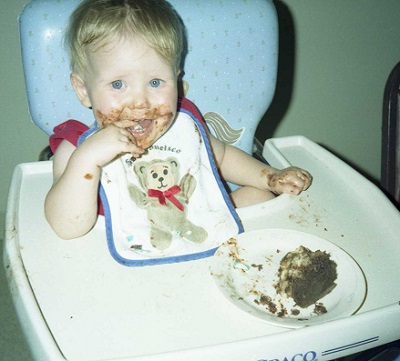 My kids were cute at this stage!
Josh was 7 years old and losing teeth!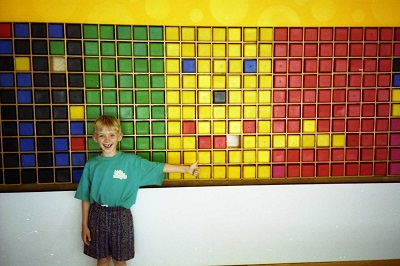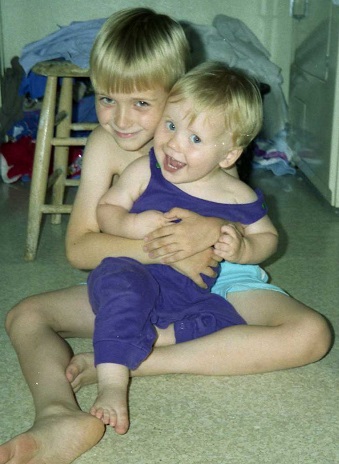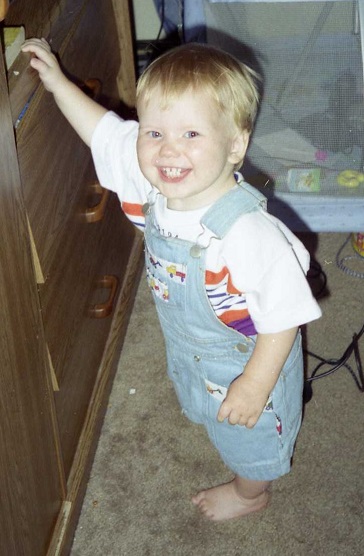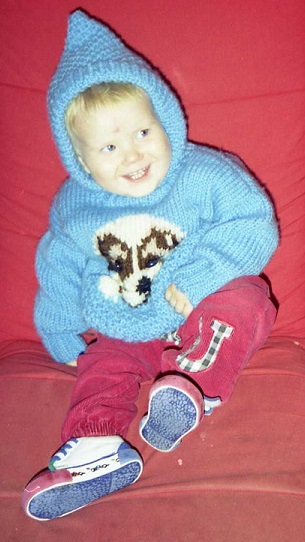 Of course, most precious are the ones of Josh with Timmy.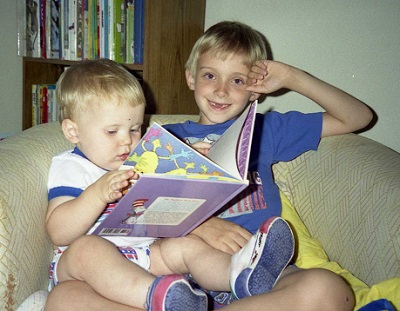 I'm not showing nearly all of the messy eating pictures!
Stacking cans was a favorite activity. (My Mom was the one who taught me to keep cans in a low cupboard because they make great toys.)
And in October, Kathe and Darlene came to visit! Kathe brought her son Tim, who is 6 months older than my son Timmy.
Rub-a-dub-dub, Two Tims in a tub!
For Halloween that year, this time Timmy was a clown, and I bought Josh a cell phone costume that really rang. They wore it a few years, and loved to make it ring after saying "Trick or Treat!"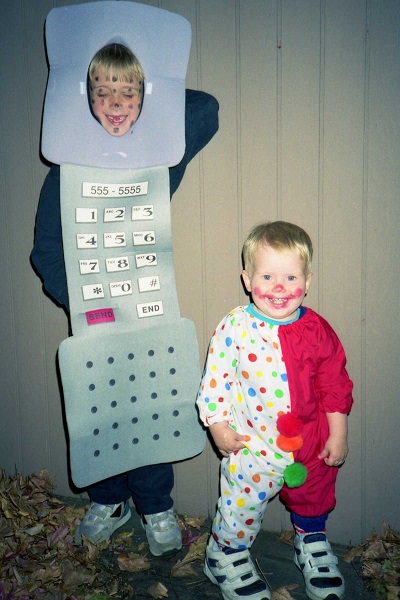 In the Fall, we again went hiking to find Old Stone Face, and this time we found it! (We'd walked right by it that summer in the heat.)
And again this year we took pictures for our Christmas cards at Carlyle Lake.
Timmy still enjoyed stacking cans: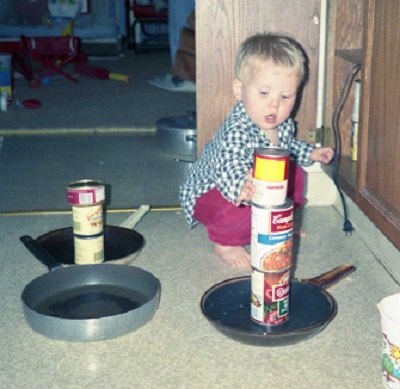 I had to include one picture with Timothy screaming. He was climbing over Josh, trying to get at the computer. Look how patient sweet Josh is being!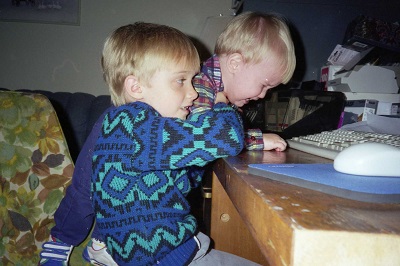 We went to Aunt Kay's for Thanksgiving again:
Just more sweetness:
While they played video games, Josh used to give Timmy a controller that wasn't hooked up!
Along about this time, the possibility came up that Steve might get to transfer to the USAFE Band in Germany. So when we drove out west for Christmas, we knew it might be our last trip in awhile. We saw lots of friends and family. I'll show some of the pictures that came out the nicest.
Gramp E. and Gram E. welcomed us warmly to Phoenix.
Cousin Karli and her parents were there, too.
All the grandkids so far!
Our next stop was my sister Becky's house in Encinitas. They took us to the beach.
My parents and some siblings and cousins came down as well.
This next picture reminds me of two stories about Timmy and cars, which he loved.
We were driving into San Diego from Phoenix, and Timmy was getting really fussy. Well, then we turned onto an 8-lane freeway and were suddenly surrounded by cars — and he was amazed and overwhelmed. He'd never seen so many cars at one time in his life!
At Becky's house, Timmy really loved Michael's bucket of cars. He wasn't talking a lot then, but he was pulling the cars out of the bucket one by one and saying "Caaaaar!" with each one and setting it down.
I noticed what he was doing and commented on it, and the next car he pulled out was the Batmobile. This time, he said, "Ooooooo!"
It's my cousin Carmen talking to him in the picture. Timmy could say her name!
With various family members, including my Aunt Linda and cousin Kristi:
A trip to the Botanical Garden in Encinitas gave us some nice shots.
Megan, Megan, already a rebel!
Becky was expecting her fourth child, Kristen, in the Spring.
And we spent more time in Phoenix before we drove home: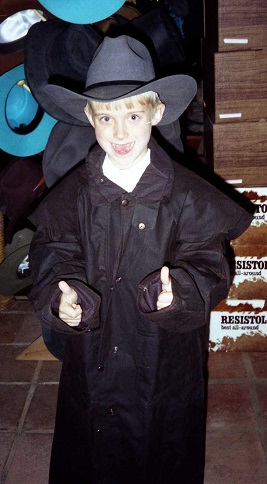 When we got back, it was back to teaching Statistics and Calculus (2 nights per week, 4 hours per night). Steve was also taking classes still, 2 nights per week. Because of my job, he got very cheap tuition ($2 per unit) at Belleville Area College, and ended up finishing an Associate's degree in Computer Science before we left Illinois. I was never quite sure why he didn't try for a Master's degree, since he already had a Bachelor's degree in Music. But I believe he is now working in the computer security field, so perhaps it was just as well. And it did make my job more valuable. Though it doesn't look like we got too many evenings together.
I guess when babies get where they can reach the top of their heads, they like to put things there: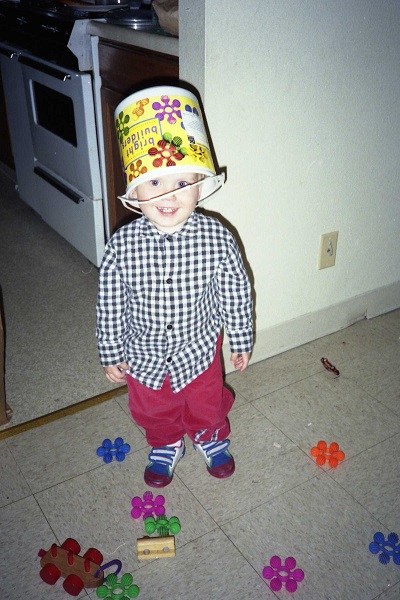 But this was the stage where anything Josh could do, Timmy wanted to do, too. Josh always liked to pose for pictures with their thumbs up. Timmy thought he was doing the same thing, but it was an odd twisting of his hands with fingers up. So cute!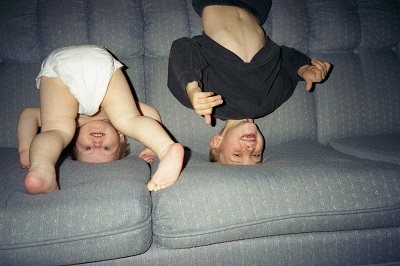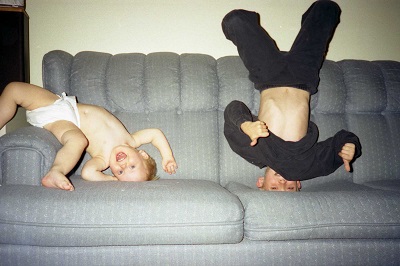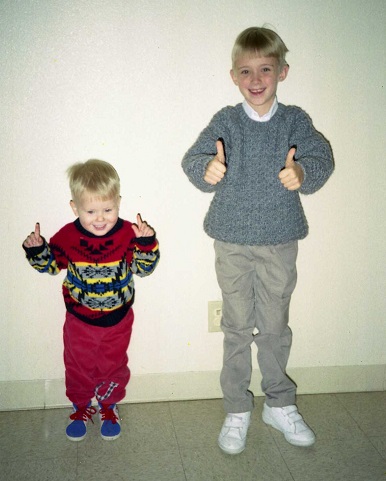 But my absolute favorite picture of Timmy imitating Josh was this one below. We always prayed with Josh at bedtime. You can see Timmy trying to figure it out:
Josh was also the age when a towel after a bath becomes a cape.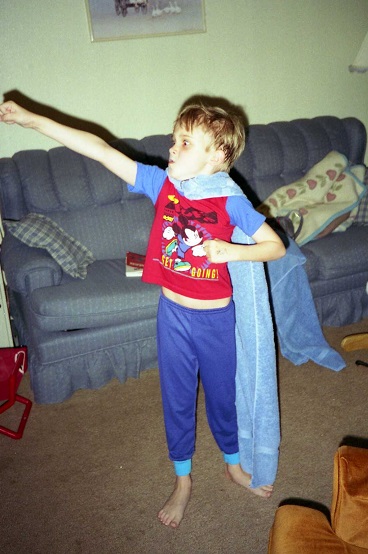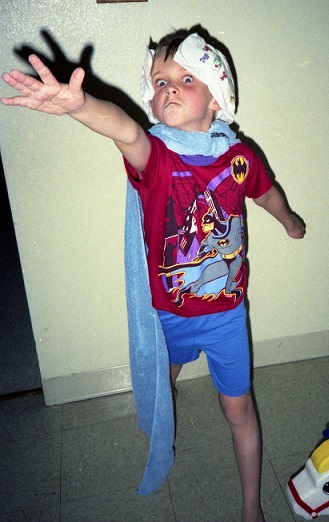 Just more fun: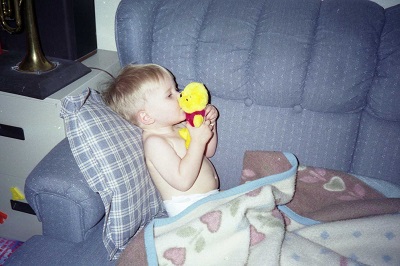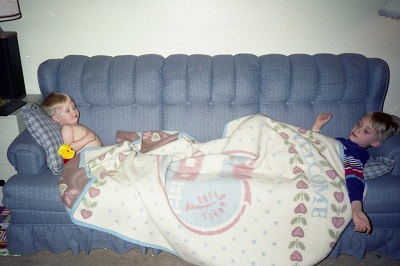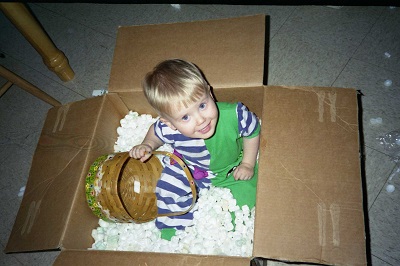 Josh turned 8 years old in March and had another Chuck E. Cheese party.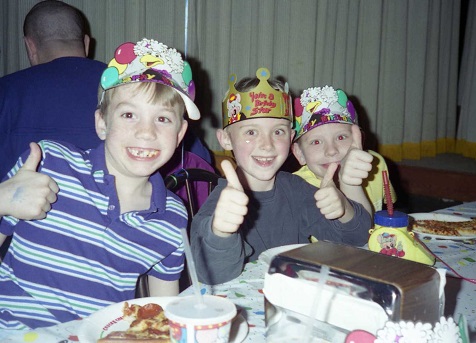 We went to Aunt Kay's again for Easter.
While we were in Chicago, we visited the Sears Tower:
Timmy still really liked to jump on Josh.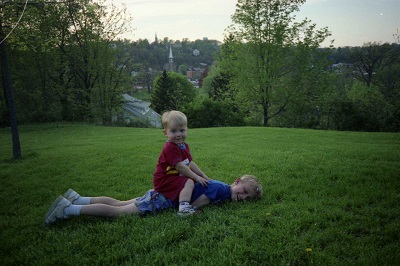 And more simple fun: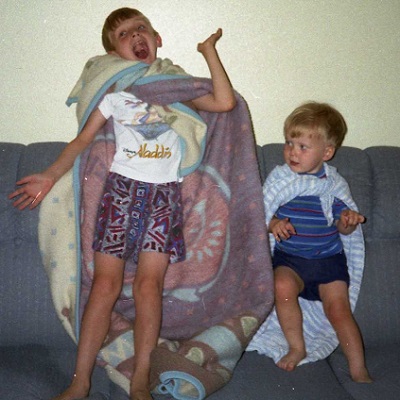 In March, we'd found out that yes, we'd get to move to Germany in the Fall. I was so excited about that.
Although I believe in enjoying where you are and what you do — I was very pleased to get to quit teaching. (I'm an introvert and don't like getting up in front of a bunch of strangers who don't really want to learn math and having to be their adversary and test them.)
I was very pleased to get to leave Illinois. (My friends and family were far away. I really do prefer the coasts. We'd been there 5 years, and that seemed awfully long.)
I was very pleased that I'd get to stay home with my kids. I didn't know how long that could last, but Steve did get a Cost of Living Allowance in Germany that might make up for losing my job when we moved.
And — Germany!!!! I'd spent 6 weeks in Austria back in 1986, and I'd fallen in love with the German language. And Europe itself. And I was just so excited.
Here's part of what I wrote in my journal on my 32nd birthday:
"It's my birthday again today! I'm 32! And I'm happy. 🙂 Lord, it's going to be an exciting year for me. I am thrilled about moving to Germany. And the rest of my life is going well. Steve and I are deeply in love; class is going smoothly; Steve is finishing his AAS degree; I'll get to quit teaching soon; Timmy & Josh are lots of fun; my photo albums are meaningful; and I hope to get going writing soon. I am so happy about all that You are doing for me now, Lord."