It's time for Project 52, Week 43!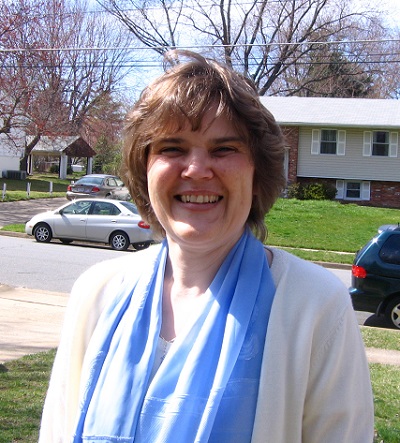 43 weeks ago, on my 52nd birthday, I began Project 52. Since there are 52 weeks in a year, each week I'm taking one year of my life and blogging about it. This week, I'm covering the year I was 43 — June 14, 2007, to June 14, 2008.
Last time, I covered moving to Virginia in August 2006. Tim started 7th grade at Rachel Carson, I found an apartment and a used car and took three quarters of online classes with Drexel University, working on my Master's in Library and Information Science. In May, I finally found a half-time library job!
I enjoyed working at Sterling Library very much. My supervisor, Anne Lee, and the other children's staff person, Bethany Hait, were both Christians and good listening ears and encouragers. And they also loved children's books!
And that June, I went to my first ALA Annual Conference! It happened in Washington, DC, that year, so I signed up before I even got the job. (And had to pay for it myself.)
And look! It turns out that blogging about that ALA Annual Conference was one of the very first posts on this Sonderjourneys blog!
That reminds me – one of my best classes in library school was Website Design. (Or at least one I've used most.) That was when I revamped my Sonderbooks website from this look to this look. My friend Debbie Gregory enjoyed doing logo design, and she made me a new logo and thanked me for the opportunity!
I also added four blogs – This one, Sonderjourneys, which would have been a travel blog if I were still in Europe, but modified to talk about metaphorical journeys, too. I also started a Sonderquotes blog for quotations I like (which I have collected since high school), and Sonderblessings as my own personal reminder to be grateful. (Sonderblessings recently broke, so I had to start over with it, unfortunately.)
The fourth blog is just sonderbooks.com/blog, where I write and store my reviews before I get around to making a page for them on the main site. Yes, my life would be simpler if I didn't make a webpage for each review and just switched to the blog only. But I can't quite bring myself to do that, and I enjoy the lists of reviews in each category. That year of 2007, I didn't get a lot of reviews posted, but I came back to it after I finished grad school.
Anyway, that happened in the summer. But the year I was 43 started off nicely. Tim's last day of 7th grade was June 18. Then June 22-25 was ALA Annual Conference in DC. I got my first taste of Free Book Frenzy! And got to meet authors! And saw the World Book Cart Drill Team Championships, emceed by Mo Willems and Jon Scieszka!
Here I am with one of my much admired authors, M. T. Anderson: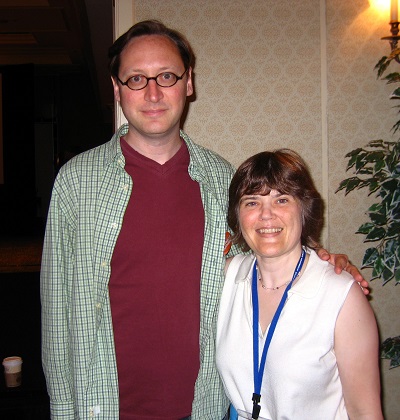 And below is with Gene Luen Yang:
The highlight, though, was going to my first Newbery/Caldecott/Wilder Award Banquet. I heard Susan Patron give her acceptance speech for winning with The Higher Power of Lucky, which I'd read for a Children's Literature class in library school. And I was so happy to be becoming a Librarian! I was so proud and happy to have this calling, to be among my people! And at the banquet, it dawned on me that I was now part of the group that actually chooses the Newbery winner! I still had no clue how you could get on that committee — probably wouldn't have dreamed of such a chance – but it was thrilling to be part of that. [I will find out if I get on the 2019 Newbery committee tomorrow by the way!]
On June 27th, Josh arrived for a short break from school! (Full Sail went year-round and finished up in two years.) I didn't write much in my calendar that summer – too busy with school (only two classes) and half-time work. So I don't know how long Josh stayed, but only that it wasn't long.
On June 28th, though, God gave me some comfort. I say this:
I was feeling discouraged, and You reminded me that I could ask You for a word of direction. And You answered me quickly, lovingly, generously, eagerly.
It was primarily through a book Loving Your Spouse Through Prayer, by Cheri Fuller, as well as Pastor Ed's sermons. But I was convinced that God gave me these verses in Jeremiah 31 as encouragement and about my beloved husband Steve, who was still in Japan and still very angry with me.
The Lord appeared to us in the past, saying:
"I have loved you with an everlasting love;
I have drawn you with loving-kindness.
I will build you up again
and you will be rebuilt, O Virgin Israel.
Again you will take up your tambourines
and go out to dance with the joyful…."

This is what the Lord says:
"Restrain your voice from weeping
and your eyes from tears,
for your work will be rewarded," declares the Lord.
"They will return from the land of the enemy.
So there is hope for your future," declares the Lord.
"Your children will return to their own land.
"I have surely heard Ephraim's moaning:
'You disciplined me like an unruly calf,
and I have been disciplined.
Restore me, and I will return,
because you are the Lord my God.
After I strayed, I repented;
after I came to understand,
I beat my breast.
I was ashamed and humiliated
because I bore the disgrace of my youth.'
Is not Ephraim my dear son
the child in whom I delight?
Though I often speak against him,
I still remember him.
Therefore my heart yearns for him;
I have great compassion for him." declares the Lord.
I wrote about these verses on my blog, though not explicitly mentioning how I believed God was saying these verses were about Steve.
Looking at these verses now? Well, there was indeed hope for my future and indeed the Lord has loved me with an everlasting love. It was indeed time to begin going out to dance with the joyful.
And I hope with all my heart that one day my ex-husband will return to God, who I am absolutely sure has great compassion for him.
And here's the shower curtain I put up in my bathroom, giving me affirmations to look at every single morning:
On July 29, 2007, Timothy turned 13 years old, and I had two teenagers! This only lasted for eight months, and Josh was off at college, so I got off really easy!
Steve sent Tim a wii, and he opened it while on the phone with his Dad.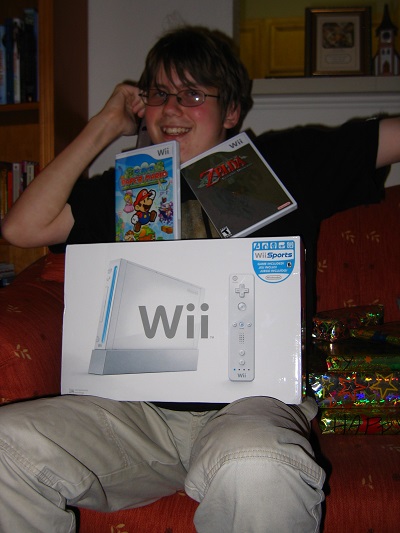 There's a little more insight into my "waiting for Steve" that summer in an entry on August 1st. First, I was worried about rent going up. But I also was thinking about a book called The Gaslight Effect. Here's what I wrote in my Quiet Time journal:
It's not my amazing love that will bring Steve back. It's Your amazing love.

But a big illustration is this:

Trying to convince Steve that I am right to have felt bad about his cheating would be like trying to convince a toddler that he can't stay up all night and all day.

Of course I felt bad about it!

But if Steve wants to believe I was wrong, he will choose to believe that, and arguing won't change his mind.

Steve is not one who magically understands, and he is a habitual liar.

Yes, I am much happier out of that relationship.

But God is still telling me to wait for Steve.

God can transform Steve's heart, as He has transformed mine.
So, yes, I understood that the relationship we'd ended up with wasn't healthy. But I had seen how much Steve had changed…. And I knew that God can change hearts…. And I believed God was asking me to wait for Steve.
And you know what, Dear Reader? I think I was probably right that God was asking me to wait for Steve. And in that waiting, God was shaping me, teaching me, walking with me.
Here's an update I posted for family and friends in mid-August.
And it looks like on August 27, 2007, Steve was back in America. He got posted to Langley AFB in southern Virginia – about 3 hours away from Tim and me.
I was glad he had chosen to be in the same state to see Tim. The Japan assignment was originally meant to be 3 years, but the band there got reduced in size, so there was no longer a tuba position. I felt like it was God's orchestration, and my hopes were high.
I took Timothy down to see him and spend a week with him. (This ended up being the only time I drove all the way down there.) Steve drove Tim back.
When I saw Steve, I gave him a big hug, which he did not return and stood stiffly for. But just feeling my husband again brought back so many memories. You can be sure I cried about that when I got home! (Part of the problem was I just plain missed Steve-as-he-once-was. I missed my best friend. I missed his companionship. I missed living with him.)
After Tim got back, we visited Great Falls! It was a lovely day. It turns out I was already spotting great blue herons.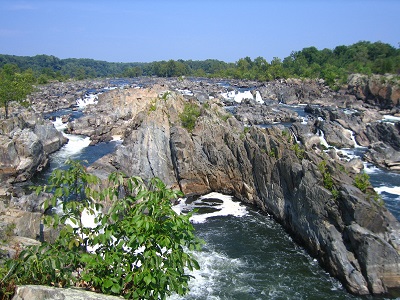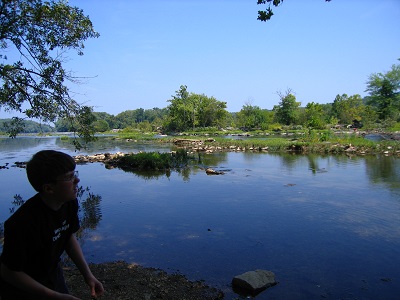 Here I am with Tim at Gateway's Mother-Son Bowling event:
Tim started 8th grade. They actually had a system in place for 8th graders to take Algebra 2, so I got Tim set up with that. It wasn't nearly as uncommon as it had been for Josh at Sembach.
On September 28-30, I went to Steven Stosny's Compassion Power Boot Camp in Maryland. It was amazing. Intended for couples, it teaches you in specific ways to transform your own anger into compassion by affirming your own core value. It was the principles in his book Love Without Hurt with face-to-face practice. I was glad I went even though Steve had no interest (and was indeed offended when I suggested that he go).
After the boot camp, I wrote in my quiet time journal:
Father,
I feel like You haven't brought Steve back yet because I still need a safe place to recover. Thank You for giving me a chance to heal.
And that weekend, something significant happened. I had one of my most uncanny answers from God.
First, I found out (probably from Timothy?) that Steve had moved out of billeting and was staying with a woman he'd worked with in Germany and had admitted to me he was attracted to. (Her mother was living with her, too, so it may have been completely innocent.) I was upset. I was really tempted to call someone at the band at Langley AFB and make sure they knew he was married and ask what he's allowed to do – or something.
Here's what I wrote about what happened after that:
Father,
You did something amazing yesterday.

After hearing that Steve's staying at Gail's house, I was upset. I wanted to rage and storm, to do something to mess up his chances of having another affair.

But I know that's a bad idea. I asked Becky and Kathe and Patricia to remind me why it's a bad idea. While writing, I was wondering. Were You maybe trying to give me another message? Should I instead be separating myself more from Steve so as to more fully follow God? My other friend thought my rainbow story might just mean a happy ending for me – not necessarily a restored marriage.

So I thought through what I believe You're telling me. I wrote it out in the e-mail to my friends like this:

I believe God is telling me:

— Steve is heading for a humiliating disaster.

— Steve will repent, and will become a leader and a witness.

— I should NOT go down to Egypt for help. (Langley AFB!) The work will be GOD's, not mine.

Then I prayed about it. I said, Lord, I'm really wondering if I heard You right. Are You really telling me that Steve's going to repent, or did I misunderstand? Lord, if these things are really what You're telling me, I could sure use a confirmation. Maybe in tomorrow's sermon?

Well, the confirmation came quickly, graciously, precisely, and clearly.

When Pastor Ed started preaching today, he had up on the very first screen Isaiah 55:9-11 — The verses about repentance that God first gave me for Steve, on the page of my Bible where I'd written Steve's name, next to the verse I was thinking of when I mentioned "a leader and a witness."

On a later screen was the verse "Do not go down to Egypt for help."!
[Dear Reader, I still think that was way, way too specific to be a coincidence. I am absolutely sure that the advice "Do not go down to Egypt for help" was very very important for me to try to follow!
As for the other things: Just a few months ago, God gave me a way to reinterpret the "leader and a witness" verse — I'll cover that in Week 52!
But I still hope that Steve will indeed turn back to God some day. It does not mean he has to turn back to me. I do believe God has His hands on Steve's life.
And I also believe that the effect of those words – for me to wait for Steve, trying to still be loving and kind toward him – was what I needed to do at that time.]
About that time, money problems started. When Steve was in Japan, he was getting a $2136 monthly housing allowance for Timothy and me (the DC rate), plus a single housing allowance in Japan, plus a Cost of Living Allowance for Japan, plus a meals allowance, plus basic pay. When he came to Virginia, most of those allowances switched to just a regular with-dependents housing allowance. So, naturally, he cut the money he was giving to me. By a lot.
Then in November, Steve bought a house. He only gave me $600 that month, since he told me he needed money for closing costs. With my half-time income, I barely had enough to cover rent.
I was going to finish my Master's in Library and Information Science in December, so I was already looking for full-time librarian jobs.
And Steve filed for divorce. This journal entry on November 5 makes me smile:
"A kindhearted woman gains respect,
but ruthless men gain only wealth."

Father,
This seems like an appropriate passage for having just learned that Steve filed for divorce and is going to pay me as little as possible….
And then my sister Becky felt God gave her a message for me: "The message is that God keeps his promises, no matter how impossible they may seem."
Oh, for a fun interlude. I was still loving my job. I created an "LM Birthday Party" for L. M. Montgomery and L. M. Alcott on November 30. (Louisa May Alcott's birthday is the 29th, and Lucy Maud Montgomery's the 30th, the same day as Steve.) The library had lots of busts of authors, and had one of Louisa May Alcott, so we dressed her up for the party!
December was tough. I had to find a lawyer. I was very worried about money. I was finishing my degree, but I really needed a full-time job.
But at the same time:
My home fellowship group gave me a gift because they said they wanted me to have money to get gifts for my kids. Dear Reader, they gave me a thousand dollars! I was blown away by their generosity and their compassion for me.
I finished my MLIS coursework on December 8, 2007, and applied for a full-time librarian job in Lovettsville with Loudoun County Public Library the same day. Lovettsville was very far west. It was a pretty but long drive out to it. I'd have to commute while Tim was in 8th grade.
And then my parents also gave me $1000 for Christmas. And my Dad agreed to pay my lawyer bills — with a $7500 down payment. (At the time, we hoped that would be the full fee. Not even close.) At the same time, my old car was having lots of trouble — and needed $1000 of repairs.
I didn't like getting money from people. It was all part of the process of being humbled! But it did remind me that the one I could rely on to care for me was not Steve, but God.
And it turned out that Steve's lawyer told him he should be giving me more money. He didn't make up for the months he hadn't been. But at least I didn't have to take him to court about that.
I had a second interview for the Lovettsville job. More car trouble. Meetings with the lawyer to respond to Steve's divorce complaint. Yes, these things drive a person to turn to God!
Oh, this is a nice entry on December 21:
Thank You, Father, for the miracle that Steve's own lawyer advised him to give me more money.

Now I don't need to — okay, I never needed to — worry about whether or not to file a pendent lite suit asking for more support.

Father, thank You for so many reminders that You are looking out for me.
And at Christmastime, I got to be with both Tim and Josh.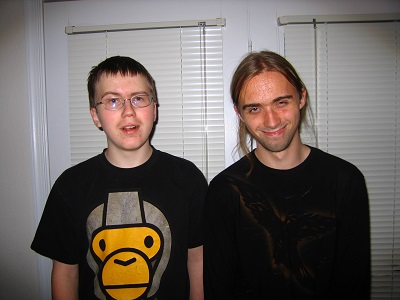 My wonderful co-workers at Sterling Library (who included another avid knitter) got me this beautiful self-striping yarn when I finished my MLIS degree!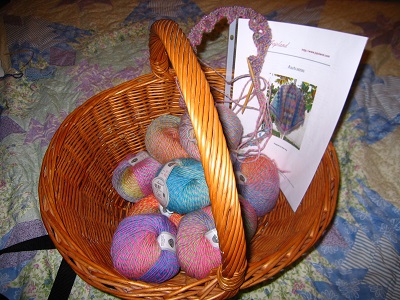 Troubles continued. There were big bright spots, but also days like this:
Father,

Yesterday I learned that I didn't get the Lovettsville job, and the day before my car began overheating after a very short drive.

All this makes me scared for the future — paying rent and buying a car. Give me wisdom about the car, Father.

But thank You that You will not only supply all my needs but You will bless me with abundant provisions. I will eat the fruit of my labor.
On January 15, 2008, I had another job interview, this time with Fairfax County Public Library. I almost hadn't applied, because it was for a job in Springfield, a good 45 minutes away from me. But when I got to the interview, they said they were interviewing for three Youth Services Manager positions! And one of them was at Herndon, the very closest library to my house! (The only library even closer to me than Sterling Library.)
Meanwhile, my car was doing terrible and overheating. When I looked up the light that had gone off — on the way to taking Tim to his Algebra 2 exam – the manual said that when this light goes off, you should get out of the car and stand far away from it! Ummm, I needed a new car!
On January 20, I went all by myself (after doing a little research) and bought a 2002 Prius at a dealership. It had 126,000 miles on it, so I was afraid it wouldn't last the four years it would take me to pay it off. But that car was a wonderfully good purchase! I am still driving it, though in the last couple years it has started needing much more expensive repairs. I now have 219,000 miles on it, so I still haven't driven as much as it was driven before I got it. I hope it will last until I finish paying off my student loans for library school! But so far, it has been wonderful. I love my pretty, pretty Prius!
And I really got the job at Herndon Fortnightly Library! Less than 3 miles from my home. I was now an official librarian, with a job and everything!
A Youth Services Manager, with two part-time staff under me. (Both were older than me, just like my supervisor at Sterling was younger than me. Well, that only recently changed when I now finally supervise someone younger than me!)
It was yet another job that came at exactly the right time and seemed to be exactly the right job for me.
This was my first full-time job since I was an instructor at Biola, right after we got married. I had never thought I'd have to work full-time again. But you know what? It was also the first I felt I had a career. And that felt good! And as a librarian – I felt a strong calling to this work. Wow! What a concept!
And on February 19, 2008, the day after President's Day (which Sterling Library paid me vacation time for), I began working for Fairfax County Public Library as a Librarian I, Youth Services Manager.
Meanwhile, I was having pretty awful interactions with Steve. But my friends were helping me try to respond with grace, especially my email mentor Patricia. And my small group was so supportive. And I was getting weekly encouragement at church. And you better believe I was faithfully having quiet times. And God was good.
Oh, I like this entry from March 18:
Psalm 138:5

"May they sing of the ways of the Lord,
for the glory of the Lord is great."

Father,
I don't know what You're doing in my life. But may I let You do it.

I have a feeling, if I stand back, I will see — many, many will see — Your great and awesome hand at work.

If I meddle and try to ensure my rights and my happiness — well Your wonderful ways may not be so apparent.
And in March, my parents came to visit! Tim and I took them into DC.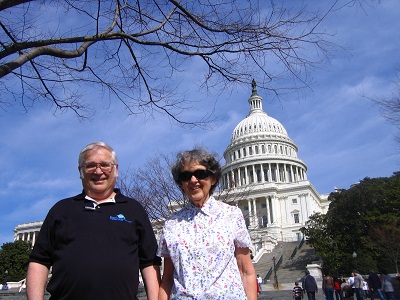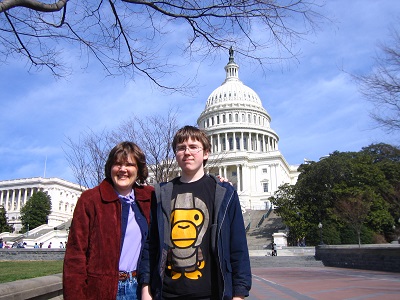 But the part of that visit that I loved was that my parents started talking about when I was a baby! (Not when one of my little siblings was a baby.) I was born in DC, and we tried to find the hospital. (Even though my Dad is responsible for many of the equations used by GPS devices, we didn't have one in our car in 2008.) We came close to finding the hospital, but not quite.
But then we drove into Maryland, and drove past the house where we lived when I was born! My parents were talking about what it was like when they were young parents and the neighbors they'd play cards with. And it was a real treat.
That Easter, Kathe had me over to celebrate with her family.
And in April, we learned that Tim had been accepted to Thomas Jefferson High School for Science and Technology – rated by U.S. News and World Report as the very best high school in the country! Originally, I'd thought I'd only stay in Virginia while Tim was in middle school a couple years to lick my wounds. But now that Tim was going to TJ – I decided I could stand Virginia for 4 more years!
That also meant I would need to stay in Fairfax County, but I wouldn't need to stay in the same school district. My rent kept going up, so I started looking for a cheaper place.
Meanwhile my lawyer and Steve's lawyer were trying to negotiate an agreement. I was still praying that somehow, by some miracle, God would stop the divorce – and change Steve's heart.
Oh look! It turns out that April 18, 2008, was the day I began my annual tradition of going to see the bluebells at Bull Run! I heard about it in a Newslink email for all Fairfax County employees, and it was quite close. I believe that first year, I went for a quick hike before an appointment with my lawyer. (This year, 2017, I just visited the bluebells last Sunday!)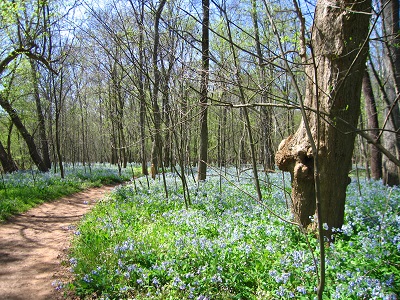 I went to a Michael W. Smith concert on the mall in DC, Reign Down USA, all by myself. It was a beautiful worship experience, and I prayed with a volunteer about my marriage.
In May, I finished the shawl from the yarn my Sterling Library friends had given to me!
And I got my hair cut quite a bit shorter. I guess I was trying to be more professional-looking.
When Tim brought home this project from 8th grade Art class, I claimed it for myself! It's still in my office at the library.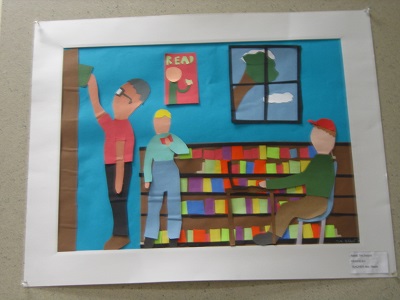 But the big event of the year happened on my 44th birthday. I graduated with my Master's degree!
Yes, I'd finished the coursework in December 2007. But Drexel didn't hold a December graduation. When I found out that graduation was happening on my birthday that year — especially since I'd gotten my Math Master's on my 23rd birthday – I decided I just had to go to Philadelphia to march in graduation!
I met many of my online classmates for the first time!
And it was a nice end to an extremely tough year — but the year when I completed my Master's degree and became a full-fledged librarian.