It's time for Project 52, Week 45!
45 weeks ago, on my 52nd birthday, I began Project 52. Since there are 52 weeks in a year, each week I'm taking one year of my life and blogging about it. This week, I'm covering the year I was 45 — June 14, 2009, to June 14, 2010.
Last time, I covered how I began Phase 9 of my divorce – Limbo. Steve and his lawyer had a disagreement and the case was dropped. But now Steve was pressuring me to have my lawyer draw up a new custody and visitation agreement – even though she already had one that I had signed. Finally he agreed again to do visitation, but I was no longer willing to help with the driving.
But the rest of my life was going well. I'd now been a full-fledged Librarian and Youth Services Manager at Herndon Fortnightly Library for more than a year. I still loved the job. Tim had finished his first year at Thomas Jefferson High School for Science and Technology. And we had moved to a nice rental townhome in Centreville, costing less for a nicer place.
Jade (then called Josh) was living with my parents in Los Angeles. The idea had been to get a job with the film industry, but instead J. had started working for my brother Jeff, writing software that makes graphing calculators easier to use.
That summer was laid-back. Tim took two weeks with Steve in July. And then he had his 15th birthday.
I took a week off work and had a simple vacation. I worked on unpacking (still) and writing, but we also did some day trips. First was a hike at Manassas Battlefield Park, which ended up being only 5 minutes away from us.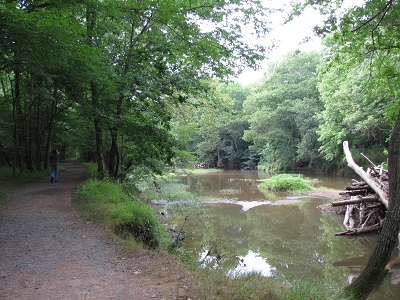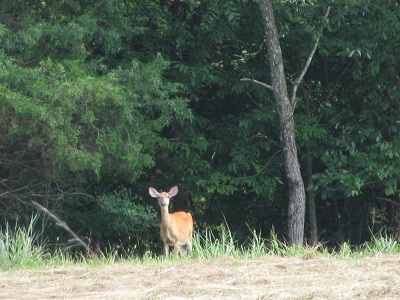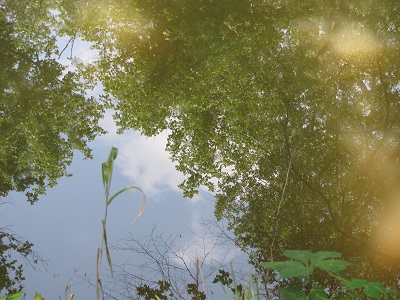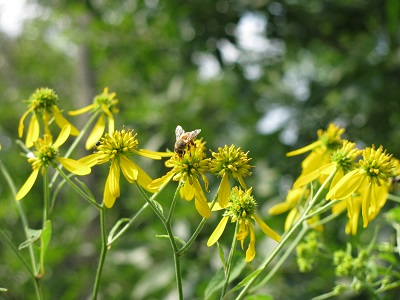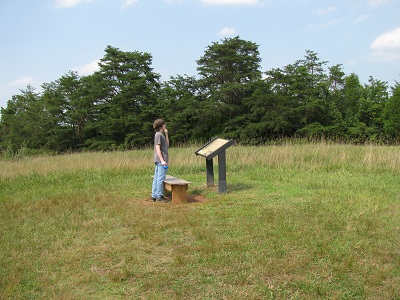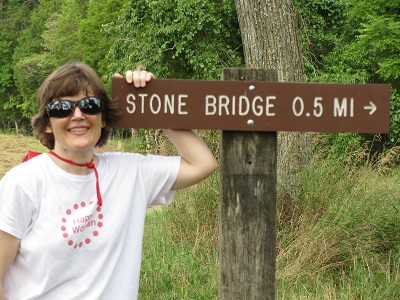 I did a couple more days of unpacking and organizing, then on August 6, we went to Shenandoah National Park. I tried to follow directions to get to Rose River Falls, but instead hiked down a fire road on the other side of Skyline Drive – but had a lovely time.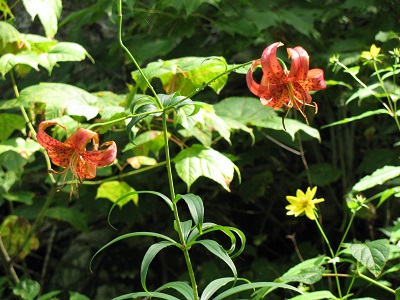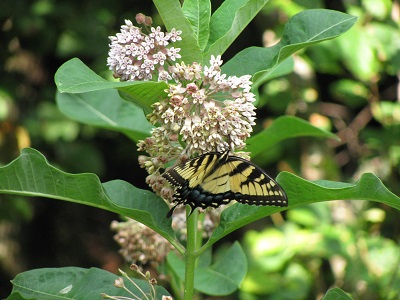 I was so bothered, though, by the bit of the instructions I'd missed, that we went back to Shenandoah National Park two days later and this time successfully found the path to Rose River Falls.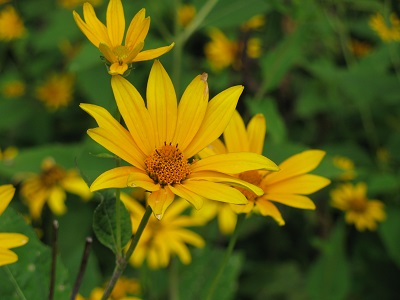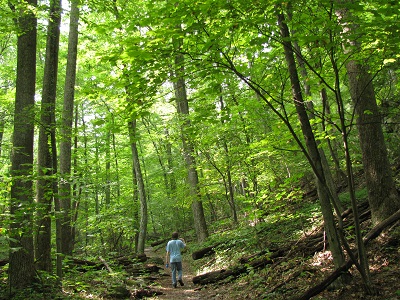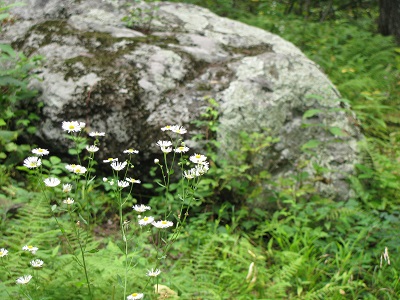 After our long hike, we were relaxing at the lodge overlooking a large meadow, and saw a bear!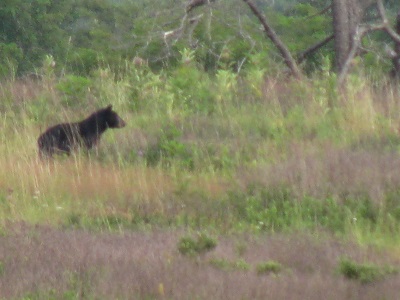 So it was a nice and low-budget week off, and I did make great progress getting my boxes unpacked and making my home feel more like home.
The next week, my friend-from-high-school Susan Leinen came to visit! She and her husband Randy took me out to eat, and we visited Sully Plantation and then went swimming at Darlene's house.
Meanwhile, I was still agonizing about things with Steve.
Before I talk about that though, let me draw back and talk about the big picture. From the vantage point of 2017, when I think of this time I think of it this way: God answered my prayer and miraculously stopped the divorce case Steve filed against me. Then, in Year 45, He was gently and slowly bringing me to understand that Steve had truly changed, and it was time for me to file for divorce. In 2017, I'm so glad that happened. And God was gracious to me about bringing me to that place.
Back in 2009, I was doing plenty of agonizing. Here's a journal entry from July 28, 2009:
I miss my husband! I can't seem to forget the good times, the loving words, the life we built together. Then I remember the cruel things. And my mind goes in circles.

Lord, it would be so much easier if I could forget him. So much easier to go through life not thinking about him.

Lord, back when I was a teen I asked and asked you to make [someone] "like" me. Finally, I asked You to change my heart instead – and You did. He was my friend from then on, and that friendship no longer caused me pain.

But, Father, I promised to love Steve, so it seems wrong to ask You to change my heart toward him.

Still, give my heart peace, Father. Help me be able to let him go.
That summer, Pastor Ed was preaching out of Ephesians, and I was having my quiet times there. On August 16, looking at Ephesians 5, where they talk about people with sexual immorality, the words jumped out at me: "Therefore do not be partners with them."
Was it time to divorce Steve? At the very least, I shouldn't be partners with him as he was living a life rejecting God.
I decided, for now, to take it as another indication that I should work on letting Steve go.
And meanwhile, I was trying trying to be loving and forgiving toward him and to "live as children of light." But how to do that while still being hurt with his words?
As the summer went on, I had asked Steve to give a week's notice about when he would come pick Tim up, and he wasn't doing it. It did dawn on me that with Steve doing all the driving, a week's notice as to times wasn't nearly as important.
But Steve sent another letter saying that my reasons for not sharing the driving were not important compared with Timothy's best interests. Never mind that I thought my reasons were in Timothy's best interests.
Then I journaled:
Ephesians 4:31 –
"Get rid of all bitterness, rage and anger, brawling and slander, along with every form of malice."

Lord, help me to get rid of bitterness. Help me to forgive and give me joy in its place.

Yesterday I got another letter from Steve. Father, it hurts, hurts, hurts when he implies that I would not even act according to Timothy's best interests.

Father, speak through my advisors. I don't think I should even answer his letter. If I should, let me know. But I don't want to defend my actions to him. Bottom line, I'm not helping with driving any more because I'm afraid to be in his presence. And his showing no compassion for me has added to that fear. It is not in Timothy's best interests to have his mother afraid for her life with his father….

Give me wisdom, Lord, how to act, toward Steve, and toward Tim.

Thank You that You are helping me be a good mother and a beautiful person.
And that was when the "shining like a star" story happened that I shared when I told My Story at church. Here's the blog post I wrote about it on August 23, 2009.
Basically, I had an odd prompting to pray that the verse Philippians 2:15 would come up in the sermon, and that would be a sign from God that I was not, actually, a bad person and a bad mother, but that God was making me shine like a star.
And that exact verse was part of the closing song.
And I felt so loved.
Of course, the punchline was that it also helped confirm that I should not argue with Steve about his letter. I knew that was the best advice, but the whole passage starts with "Do everything without complaining or arguing."
Here's what I wrote in my journal after that church service:
Father, You're saying to me through this:

I love you, Sondy.
I care about the details of your life.
I care about your emotional pain.
I know it's difficult, and I'm giving you extra grace, holding you close to me.
I am making you shine like a star in the universe.
You will help hopeless and broken people be hopeless and broken no more.
You don't need to argue your case.
I am making you shine.
In September, Tim started tenth grade, which went better for him than ninth grade. He got into AP Computer Science, because he'd enjoyed his computer project the year before.
On September 26, I went to the National Book Festival. The thing that made my day was when I got in line to get a book signed by Shannon Hale, and she knew who I was! I'd reviewed her very first book, The Goose Girl and named it the best book I'd read that year. Over the years, I'd been a huge fan, and we'd even exchanged some emails. But I was tickled to death when she immediately recognized my name. "Of course I know who you are!"
That was the year I figured out the best way to enjoy the National Book Festival – Get a seat in a tent and stay there. The children's authors ended up being great speakers! I got to hear Mo Willems!
Steven Kellogg was a dynamic speaker!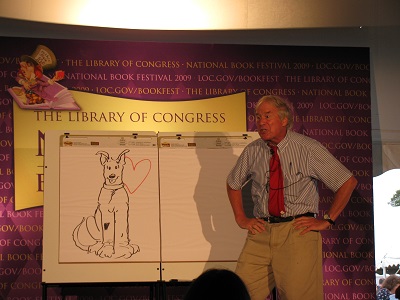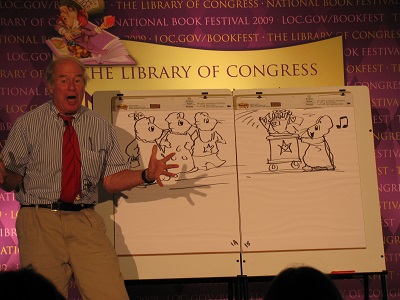 And I got to see Jerry Pinkney present The Lion and the Mouse before it won the Caldecott Medal!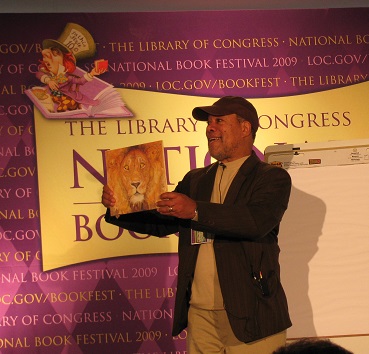 And Jon Scieszka and David Shannon spoke together, sharing their new book, Robot Zot.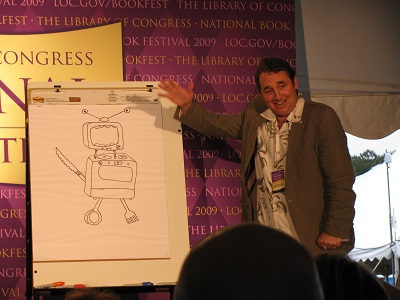 So good things were happening, mixed with agonizing about Steve, and – a return of my headaches. I got an 8-day long one in September – the first bad headaches since I'd started on the preventative Zoloft back in 2005 after Steve started his affair. I'd quit taking the Zoloft in 2008, but the effect had lasted – at first.
Here's an email I wrote on October 3rd that had a nice summary of how things were going.
I found a new Life Group!  And I think it's a great fit.  It meets Friday nights at 7:00, like the other group I tried, and is only a mile further away – but it's in the opposite direction, closer to my work.  And I would be one of the younger members, definitely not the oldest, in this group.  And my good friends Kristi and Marilynn, who have given me advice about Steve, are in this group.  And another sweet older lady who has been divorced.  Definitely people who can give me help and encouragement.  And I really like the leader of the group, too.  So I'm excited about the good fit.
[My new home was too far from Ashburn, where Rachel and Mark Morgan's group met. And now I was wanting to be out of the house on Friday nights, so that Steve could pick up Tim without me being around.]
 
Last night Steve didn't get Tim until about 8:45 (I had him call me).  The time seems to be different every week.
 
I still feel a little guilty about how MUCH driving Steve is doing — but the lack of interaction is so much better.  I think if a judge ever orders me to share in the driving, I can insist that Steve also be ordered to allow me to e-mail him — trying to arrange that by snail mail was just ridiculous.
 
Today I got the syllabus for my class on the Newbery Medal!  I'm excited!  It looks like I will have to be adjusting my reading significantly for the next 6 weeks.  I'm supposed to read one winner from each decade it has been given.  But mostly I can pick out books I'd been meaning to read for a very long time, so that's cool.  I may have to stop myself from reading more than one!  And of course fitting in time for class discussion may be a big challenge.
[That was a really great online class. I was already thinking about trying to get on the committee some day. In fact, I was applying for the second time to go to the William Morris Seminar in January to be trained for committee work. But I didn't get accepted until the third time I applied.]
 
And today I'm on the 4th day of a headache.  It feels exactly like that 8-day one — definitely lower level than the norm for me, fluctuating in intensity, not affected at all by medication, but persistent.  It's possible that this one is hormonal — since all week I've been off hormones – this is the week with the fake birth control pill.  But I'm thinking such a drastic change in my headaches should probably be checked.  I'm due to get my blood pressure rechecked anyway.  I will ask her to check my thyroid.  Otherwise, I just don't know what's up with this.  I was doing so well for so long, and these are quite different from my "normal" headaches.  A rule of thumb is that you should always get checked if there is a change in your headache pattern — and this is definitely a change.  I don't think stress or lack of sleep or allergies or anything like that would account for it.
[I'd started on birth control pills to try to adjust some super long cycles. I asked the gynecologist about what a doctor had told me years ago – that people who get migraines are at higher risk for stroke if they go on birth control pills. She said they're lower dose now, so it's not a problem. Umm, I don't think she's right about that. It did make my cycles much better – but I'm not sure it was worth the stroke I had later.]
 
Other than that (which is kind of major), I'm doing great.  Excited about the new Life group, excited about the class, excited about the Kidlitosphere Conference in two weeks.  Oh, and did I tell you?  Thursday night it was finally cold enough to try out my new fireplace — so I began burning the book The Giving Tree.  (I say "began" because it turns out I should put in some kindling.  But it was fun burning it a page at a time!)  It's a nice symbol that I am NOT choosing that pattern for a relationship any more.  Seemed like a kind of ironic way to celebrate Banned Books Week!  (Other people are welcome to read the book, I'm just burning my personal copy — actually Steve's personal copy!)
Ah! The Ceremonial Burning of The Giving Tree. I still had the copy I'd given Steve when we were dating in college. It was inscribed, "May you never grow up!" I felt like I'd asked him to leave me and chop me down and take all my apples!
So during Banned Books Week 2009, I did the only book burning I've ever done – and it felt lovely!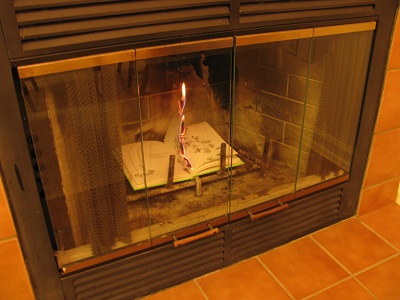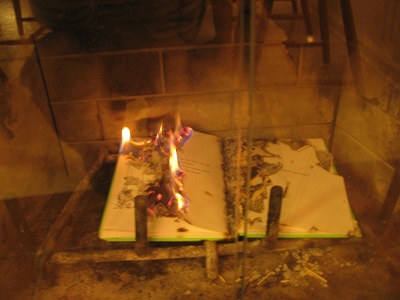 And on Columbus Day, Tim and I did more quick hiking at Manassas Battlefield Park.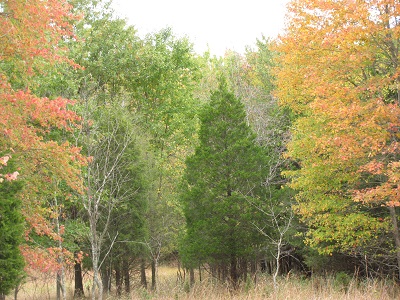 And it's getting late! So that will be all I'll cover tonight.