It's time for Project 52, Week 45!
45 weeks ago, on my 52nd birthday, I began Project 52. Since there are 52 weeks in a year, each week I'm taking one year of my life and blogging about it. This week, I'm covering the year I was 45 — June 14, 2009, to June 14, 2010.
Last time, I got through the first part of the year. I was still in Phase 9 of my divorce, a weird sort of Limbo. Now that I think about it, burning the copy of The Giving Tree that I gave to Steve in college was symbolic of what I was learning that year.
Is it possible to love someone, and yet to stand up for yourself and not let them cut you down and take all your branches and all your fruit? I believe that it is possible, and that's what I was learning.
But now I'd like to backtrack a tiny bit to October 11. I had started a separate journal listing times I felt God was telling me something. And there's an entry on October 11, 2009, that goes like this:
I asked God for a verse for my librarianship. To help wipe out any resentment that I'm working full-time. I was thinking in the next week or so.
[Interruption from the present: When I read this I had completely forgotten about that resentment I'd had. I had never expected to have to work full-time while my children were in school. My own mother had never worked at all. I was working full-time because Steve had left me, and there was some resentment lurking in my heart.
But I'm happy to report in the present that fighting that resentment worked! Now I'm so happy about my career. Why, I'm even on the Newbery Committee!!!! (You knew that would come up again!) Continuing:]
But the thought came to me even as I was turning to the "Promise of the Day," and I felt this verse was given to me:

Psalm 86:17 —
"Give me a sign of your goodness,
that my enemies may see it and be put to shame,
for you, O Lord, have helped me and comforted me."

My whole new career as a librarian, all my connections as a writer and a blogger — all those things are a sign of God's goodness to me.

The best revenge is living well? Yes, God being good to me will put Steve's ill will to shame.

But indeed, the Lord is helping me and comforting me and showering me with signs of His goodness.

Thank You for my full-time job, Lord.
And that very week, I got to go to my first KidLitCon in Arlington, Virginia!
I'd started Sonderbooks in 2001 as an email newsletter and eventually converted it to a website and blog. Well, around 2006 and 2007, when I was busy moving back to America and attending graduate school, there'd been an explosion of blogs about children's books, the Kidlitosphere. I'd been somewhat unaware, because of those details like my marriage falling apart and moving and going to grad school. But now that the dust was settling, I was finding out what's what.
And going to Kidlitcon was wonderful! Children's book bloggers are people who love children's books enough to spend their spare time reading and talking about children's books – just like me! So October 17 was when I met many Children's Book Bloggers who are still my friends and who I've worked with on Cybils committees or seen again at other conferences or friended on Facebook.
That was when I met Susan Kusel, whose footsteps I'm following. Susan had just been accepted to the William Morris Seminar on Book Evaluation – and I had just been rejected. But the next time I tried, two years later, I got it. After that, Susan was on the ballot for the Caldecott committee the same year I was first on the ballot for the Newbery committee. Susan was elected, and I was not – but the next time I tried, three years later, I got it. So Susan's just paving the way for me! Also, Susan had a children's literature book club that met one Sunday a month that I attended for awhile.
I was also still thrilled to meet authors. I had just read and adored Diana Peterfreund's book Rampant, so I was so excited to meet her!
I'd also found Laurel Snyder's book Any Which Wall to be completely delightful.
And I loved Elizabeth Scott's book Stealing Heaven.
And I'd read Letters from Rapunzel, by Sara Lewis Holmes, just before the conference.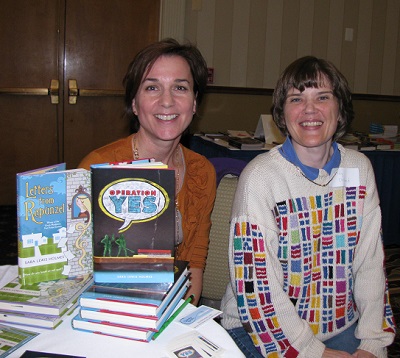 So KidLitCon had me energized and inspired. I told all about it in this blog post. And yes, I was wearing my Prime Factorization Sweater in all the pictures, so I wrote a post explaining my Prime Factorization Sweater.
Now, I hate to admit this – but in general children's literature folks and librarians don't get super excited about my Prime Factorization Sweater. They are wonderful people, but many of them are sadly blighted when it comes to math. I did explain it to Greg Pincus, who was appropriately enthusiastic, and maybe more would have been excited if I had dared to explain it. (Greg had done a talk in which he mentioned both knitting and Fibonacci numbers, so I had to explain it to him.) Anyway, this particular blog post was due to get attention when I finally found its true audience a couple years later.
Right after Kidlitcon, I got a 10-day migraine. My headaches were definitely acting up again. But I was still taking an online class about the Newbery medal and reading a Newbery winner from each decade of the award (since 1922).
On the 25th, I went for a hike in the beautiful Fall forest there in Centreville.
As I left, I took a picture of the tree in front of my own home.
This California girl still gets very excited about Fall Color!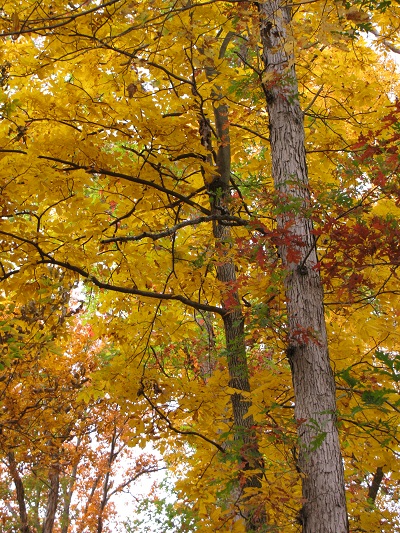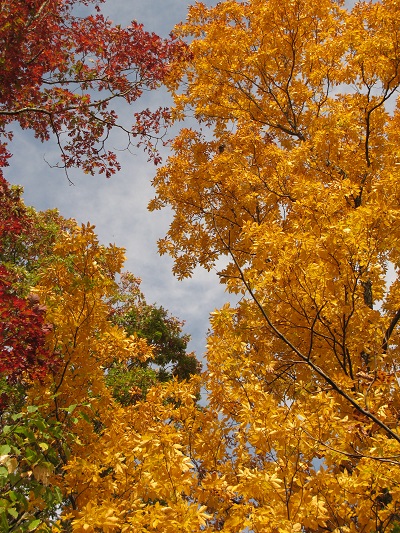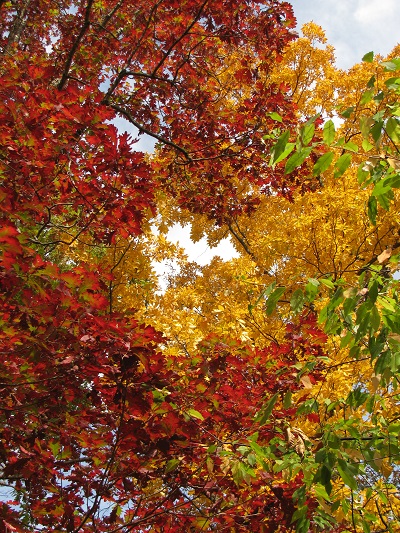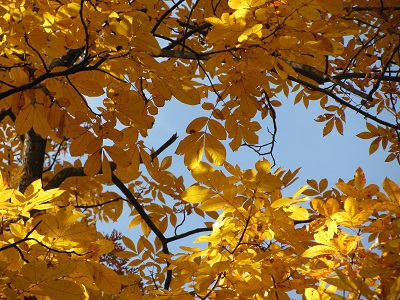 And I saw a mother deer and her fawn!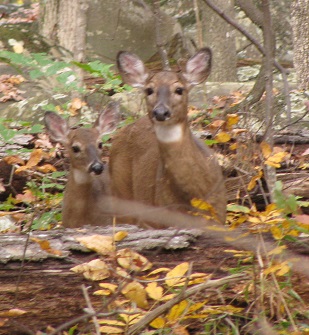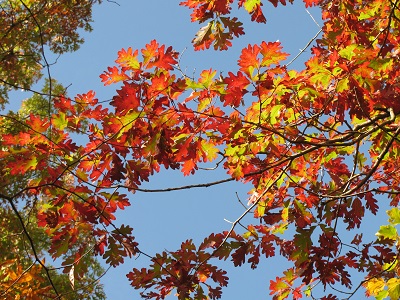 Then November started with a 10-day headache. Then two days off – then a 36-day headache, or at least 36 days in a row where I wrote "headache" on my calendar. Yikes! No, I wrote in my blog on Thanksgiving Day that it was "only" a 14-day headache.
In my quiet times that month, I'm still regularly agonizing over the question of whether it was time to file for divorce and divorce Steve. I still believed God was going to bring about a change of heart in him. But for now, he was not someone I wanted to be partners with. I wanted to express love to him – but he wasn't seeing anything I did as loving.
Lest you think I was dealing with the headaches well, here's what I wrote to a friend:
Well, now I'm on Day 3 of a new headache.  And my patience with it is going very quickly.  This one is more a "normal" headache — bad — than the earlier ones.  On the good side, it is responding to the rizatriptan, though not going away completely.  I suspect the problem is hormonal this time, since last night my ovary was aching, or at least something in that exact location.  Urgh.  Today I'll try again to make a neurology appointment.  (They've been putting me off, because I will probably have to go with a civilian provider.)
 
Today I woke up with it pretty bad, but knew I had to open.  I was going to leave when my boss came in, but then someone else called in sick (sounds like flu), so I think I'd better not.  The triptan is kicking in, anyway.  And tomorrow I'm only working 4:00 to 8:00.
 
But it's really frustrating.  This morning I thought about going to an emergency room and saying, Get rid of this headache.  But how would I get home if they drug me?  And besides, when I did that back when I was a 23-year-old, they almost gave me a heart attack and didn't get rid of the headache anyway.  That was when I learned that I should not take Demerol and Vistaril.
 
I'm realizing that this is the first time I've had prolonged bouts with headaches since Steve left.  So it's the first time I've had to fight off the chant in the back of my mind:  This is what Steve was going to kill you for.  It was when I was having prolonged headaches that he decided everyone would be happier without me.  So I can't even look back with longing at the times when I thought Steve was caring for me when I had headaches.  He was definitely not doing it compassionately, if that was his solution.
 
Okay, so those are the thoughts haunting me — but definitely ones I can do without.  No, it's not easy tending a sick person, but maybe that's why we put "in sickness and in health" in our wedding vows.  A kind person does not abandon (or murder!) someone for being sick.
I got another letter from Steve pressuring me to have my lawyer write up a new separation agreement according to Timothy's best interests (as if we didn't already have one written with those in mind) and that I should share the driving to show Tim "an example of adult cooperation." I emailed Steve a short response, including that I had shared the driving for more than a year and Tim had seen exactly what level of cooperation Steve had responded with.
This, then, is the email I sent my friends and advisors on November 7:
Dear, wonderful and kind friends,
 
I'm sorry.  The votes were two against and one okay, but I sent the e-mail anyway.
 
To me, it was the equivalent of saying, "Do not talk to me like that."
 
Although it is not good to engage in argument with an abuser, I do think there are times to say, "Do not talk to me like that."
 
In me, it feels very much like standing up for myself.  I don't care that he won't hear it, but perhaps after reading what I wrote, repeating the lines about "adult cooperation" will begin to sound foolish to him, so perhaps he will move on to other lines.
 
But it's mainly a declaration for me:
 
I will not allow my teenage son to see his mother acting like a doormat.
I will NOT allow my teenage son to see his mother acting like a doormat.
I will not act like a doormat.
 
Not saying anything really felt to me like cowering in terror of him.  I needed also to say that I am not afraid of you, and I am not going to let you tell me how I should act.
 
And not accepting e-mail is ridiculous and uncooperative, so I sent it in an e-mail.  He can feel free to ignore it, but I felt very, very good to send it.
 
I think I'll be able to restrain myself for quite awhile again now!  (We'll see!)
 
Okay, enough of that!
 
Today I went for a walk in the woods right by our house.  The leaves are mostly gone, but there are still some left, and I got some truly beautiful pictures.  I'll post them on Facebook one of these days.
 
The headache is still eating most of my energy and stamina, but I did also get the grocery shopping done, with Tim's help.  (I always like it when he comes along.)  Tomorrow I have to work at the regional library.  I think I will take a Maxalt in the morning.  The other four times I took it with this headache, it did help for awhile, and that should get me through the work day, I hope.
 
(Rachel, when I went to urgent care on Thursday, my blood pressure was actually quite low, so I don't think that's it.  They gave me a shot of an NSAID, which took away the headache for about 4 hours.  Anyway, I have an appointment with neurology at Bethesda on November 18.  If this is from a hormonal fluctuation, it should STOP by then.  If not, well I'll have that much more reason to tell them that they should take it seriously.)
 
Anyway, the walk in the woods made Steve seem trivial.  But it's also where I decided that, yes, I would send that e-mail for my own sake, not being afraid of his reaction.  I like my life.  I can walk in beautiful Autumn woods!  I take gorgeous pictures!  I am making friends in the library world!  (One of my classmates in the Newbery class, who has a kidlit blog with quite a following, just friended me on Facebook.  And that's just one of many, many connections I've made lately.)
 
I just finished going through Ephesians in my quiet times, and thought that in between a next book, I'd do a little word study.  I was playing with ideas for words to look at and ended up choosing "stand."  The first instance in my mini-concordance was Exodus 14:13 — "Do not be afraid.  Stand firm and you will see the deliverance the Lord will bring you today.  The Egyptians you see today you will never see again.  The Lord will fight for you; you need only to be still."
 
I know, it's definitely open to debate — but for me, sending that e-mail felt like taking a stand.  Now I will work on being still.
 
Thank you for your advice, your love and prayers!
And it seems to me that email sums up well where I was in November 2009. And now it's late, so I'll have to save the rest – the resolution of the headache and the decision to divorce Steve – for another installment.
I do want to say though that I'm struck by three things when I think of Year 45:
1) I'm so glad I got divorced!
There are many reasons for this. Even though we had years of a good marriage, even though I will always feel affection for Steve because of those years – he is no longer a good partner for me.
It is so good now, in 2017, to no longer face a barrage of anger and abuse, even if it was only in letters then.
You can try to be loving, compassionate, and kind. But there is a time to let go.
If God had answered my prayers with a dramatic change of heart in my husband and a restored marriage (and God often does this! I've seen it!) – well, knowing who I am, I then would have had so much less compassion for other marriages. I would have thought I know what you should always do. You should always pray until God restores your marriage! I no longer think it's so simple. And I know I'm not a model.
But God is gracious.
2) God so gently led me to the place where I was willing to file myself.
He answered my prayer against the divorce when Steve filed – that case was thrown out. But then God slowly and gently brought me to where I was willing to file. I felt guilty at the time. But I'm glad I did file. And God was gracious with me.
3) I had so many good advisors!
I sent every letter from Steve past several people and my own proposed responses as well. They helped tremendously. I knew I was not alone, and they gave me new perspectives and brought me out of my own head.
And more about all that in the next installment….