It's time for Project 52, Week 52!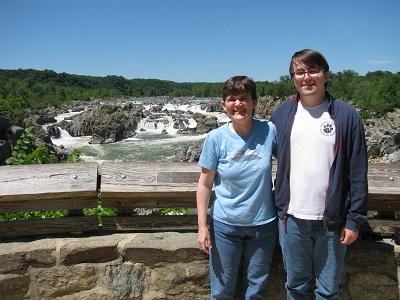 52 weeks ago, on my 52nd birthday, I began Project 52. Since there are 52 weeks in a year, each week I'm taking one year of my life and blogging about it. This week, I'm covering the year I was 52 — June 14, 2016, to June 14, 2017.
So, yes, I am now 53 years old – and it's time to finish up Project 52!
After all this time, the year I was 51 was the first year I couldn't cover in a week, but on my birthday I did finish talking about my interview in Eugene, Oregon.
And my 52nd birthday was when I conceived of Project 52. When I hear the number 52, all my classes in Probability (taking them or teaching them) make me think of the number of cards in a deck, so I also played some games of Solitaire to celebrate!
But I also went for a hike at Great Falls, and I was happy that this time, Tim joined me.
I learned that herons flock to Great Falls on my birthday every year (Or at least both times I've gone to Great Falls on my birthday).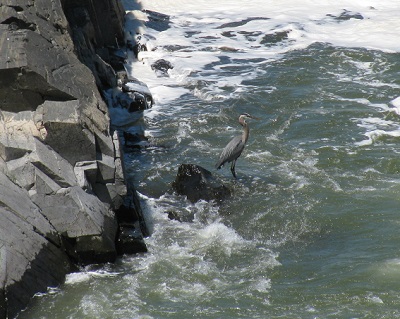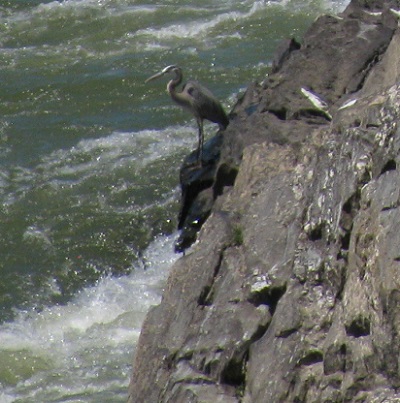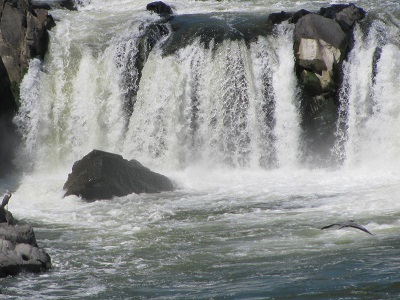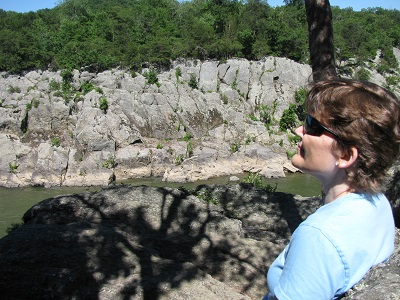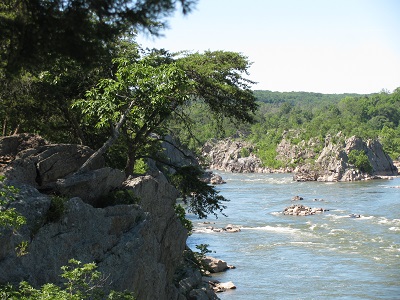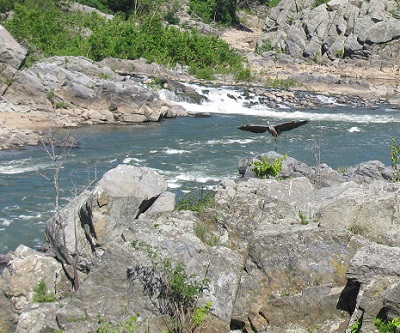 A heron's behind me.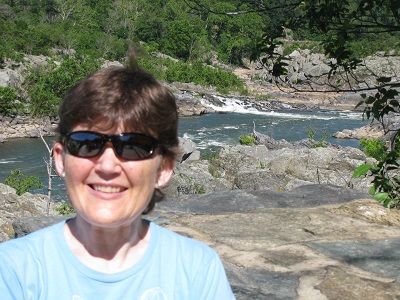 And this one highlights the new opal earrings my friend Lauri Ann gave me for my birthday: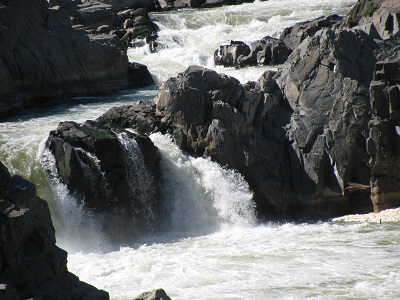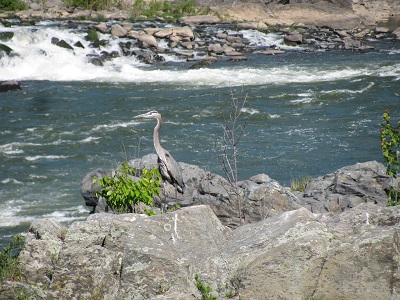 We light our candles in binary.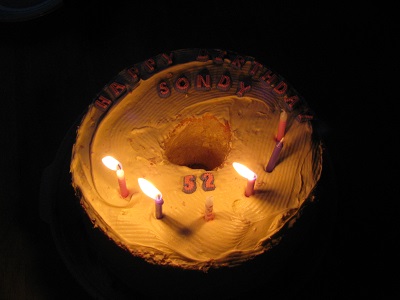 It was nice to have Tim home to sing to me.
Interesting – today in 2017, I decided to skip this month's Capitol Choices meeting, because I desperately needed to sleep late, since I'm in the middle of booktalking. What's interesting is that I did the same thing for the June meeting in 2016. I love booktalking – going to the local elementary schools and talking about the Summer Reading Program and about books they'll enjoy reading – but it's exhausting. In 2016, Karen and I were the only children's staff, since Mary had recently retired, and we hadn't yet hired Amanda. So the two of us did all the booktalks that year.
Here are some pictures of my balcony flowers and my lake from that weekend. I was still loving my beautiful home.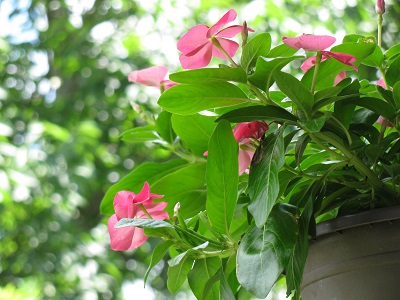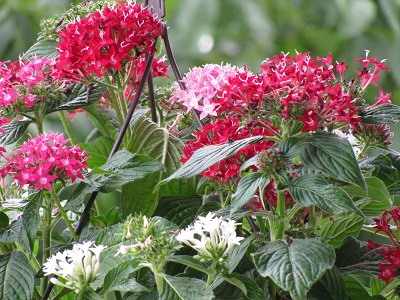 And apparently I still hadn't closed down my online dating profile. I was thinking I'd been off it longer – but on June 18, 2016, I tried my first Reverse Image Search – and learned that the attractive guy who sent me a rather incoherent message was definitely a scammer. His picture was taken from one of a male model. No wonder he looked good but didn't sound good!
I was still torn, though, because the same day was a day I played games of Dominion at my friends Alexis and Chris's house, with Laura and Charles and John – whom I'd met on OKCupid. That still seemed like a win for online dating – having gained such good friends.
But on June 22, I disabled my OKCupid profile "for awhile." I don't think I've enabled it since. I was getting tired of the scammers. And I decided it was time to take seriously what I thought God had answered me: to "wait on the Lord."
Also on June 22, I had my last hour working on the Information desk with my good friend Paul – He'd gotten transferred to a different library branch, closer to his home. But at the same time, we'd gotten a wonderful new branch manager, Laura (See, I'm mentioning you, Laura! But you really are wonderful!), and I was hiring a new staff member, Amanda – who also turned out to be fantastic.
I caught my car's odometer on a palindrome! I hope my car keeps running until I pay off my library school student loans!
I love the late June flowers by my lake!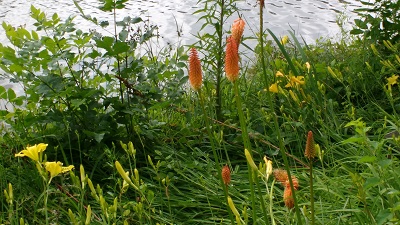 On Independence Day that year, I made a cake for Tim, because I was going to be in California on his birthday, at my niece Megan's wedding. We hadn't gotten a flight for Tim, because we hadn't known if he'd be in Oregon yet or not. He was talking about going to Oregon anyway – but I told him my heart would break if he left while I was in California. So he promised to wait until after I got back.
But we had a nice birthday celebration. We played a silly game of Dominion, using all Village and Pillage card sets.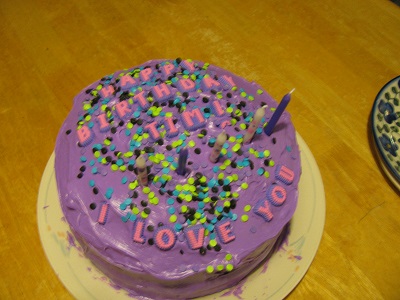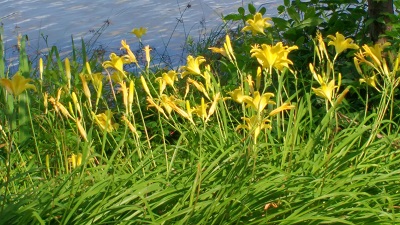 That summer I'd signed our library up to do "Maker Camp" – expecting to get instructions. Well, we didn't – so we had to make something up! And we managed it, using the system 3D printer for three of the six programs. But it was an added challenge that summer!
In July, alas! We learned that the Friday night gaming would be coming to an end. Mike, who hosted half the time, was moving to Washington state. Paul didn't want to host every week – so the group petered out. So now not only did I not see Paul at work, I didn't see him weekly at gaming. (We still email, though. He's one of my most faithful friends about answering emails.) I see that my last night I won both games I played decisively – Dominion Adventures and Concordia. I get a little smile out of the fact I recorded that.
And on July 9, 2016, I bought Tim a ticket to Portland. Sigh. He'd decided it would be easier to find a job if he was out there, and I had to admit, he had a point. He'd found a housemate – a friend of my sister Melanie. So he wouldn't be putting financial pressure on Jade and Peter by staying with them – they still were unemployed. But I did make sure the ticket was for after I got back from California to go to Megan's wedding.
I had started Project 52, and it meant a lot that in July, my Dad posted several baby pictures of me so I could use them! Never mind that a few were of my sister Wendy, and he hadn't realized it! In my big family, it felt super nice to get that much attention.
I was thinking a lot about my coming Truly Empty Nest – but church friends and a timely sermon helped remind me that I am Not Alone.
On July 11th, Amanda began working at City of Fairfax Regional Library. I'd forgotten that on her very first day, I had her help at my Colors and Codes program – teaching kids to make coded messages using prime factorization. I did lose some of the kids – it would be better with an older audience. But Amanda was a good sport about finding out her boss was a math nut right on the first day!
On the 17th, I caught pictures of a hummingbird enjoying my balcony flowers!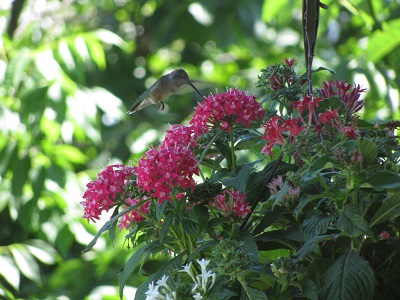 On July 22nd, I drove out to Maryland to hear my Dad give the keynote speech at the Chappell Natural Philosophy Society conference! (Basically, it's a group of people who don't agree with Einstein's theories.) He received a Lifetime Achievement Award! I almost felt like I understood his talk! (And people there seemed to follow it much better than I did.)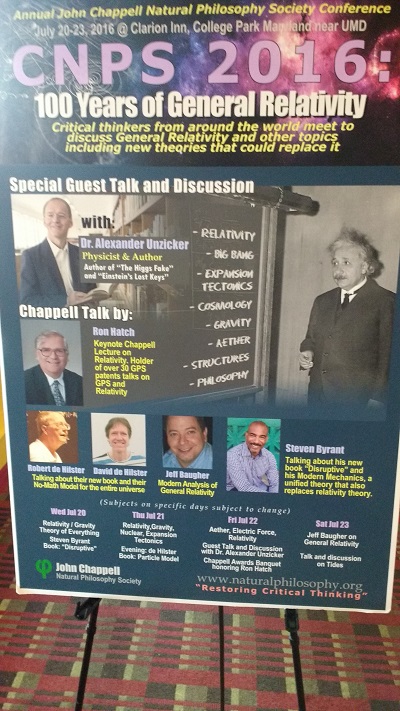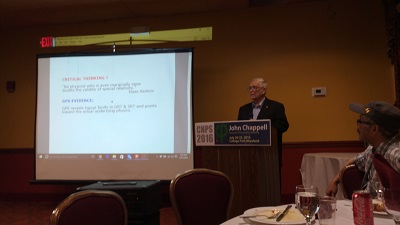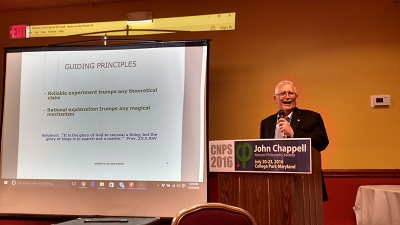 I brought Dad home with me and took him to the airport the next morning. It was great to see him! And of course, I'm so proud of him! I hope some day his theory gets wider recognition. (And just today he gave me the latest version of a paper to proofread. My Mom used to do that – now it's a privilege to me to get to.)
And on July 27, I flew to California! It was nice to have Tim there to drive me to the airport. My Dad picked me up and drove me to Rick and Pam's house, just a mile from my parents' house, which was full of young families.
The next day, I hung out at my parents' house.
I was shocked that they'd cut back "my" jacaranda tree – the one whose blossoms I used to enjoy out my window. It used to be the biggest jacaranda tree I'd ever seen. They said it was rotten in its core. I hope it survives such a drastic cut back!
I spent some delightful time playing outside with my sister Abby and niece Arianna.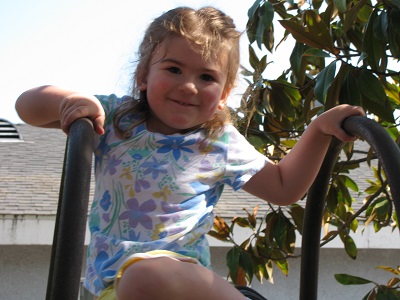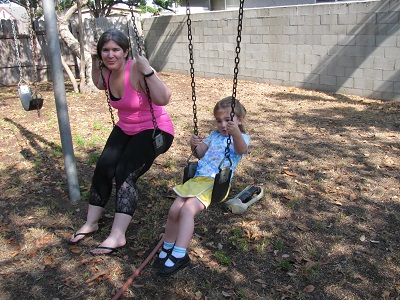 Arianna was playing with the seed pods of the eucalyptus tree, calling them "Pum-pums." It was adorable.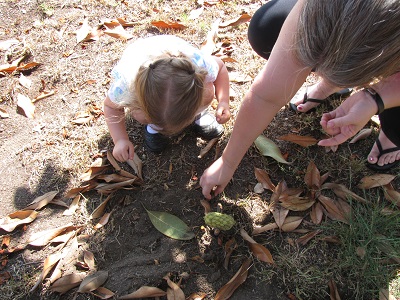 And this was when I met baby Meredith! She was only 7 weeks old.
Laura and Meredith:
I enjoyed that my Dad had plaques from when he was on the cover of GPS World.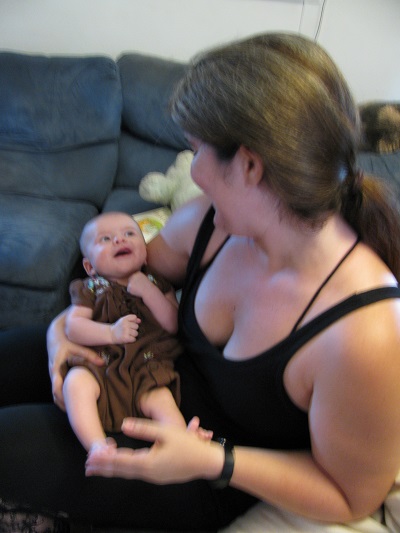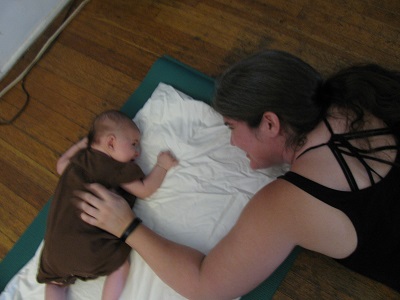 That afternoon, I went through my parents' old photo albums and scanned lots of pictures for Project 52. It was actually a lot of fun – and I was doing it in my childhood home. People who later commented that I have a good memory – I also have a Mom who was very very good about dating her photographs. That told me a lot!
And that night, I finished sewing in the yarn ends for the Fibonacci blanket I'd knitted for Meredith!
And July 29th was the day of Megan's wedding! We assembled at my parents' house, and I ended up riding with Rick and Pam to the wedding. Ron joined us on the way back. Marcy had arrived, bringing only Zoe – so we were overflowing with adorable Babyness.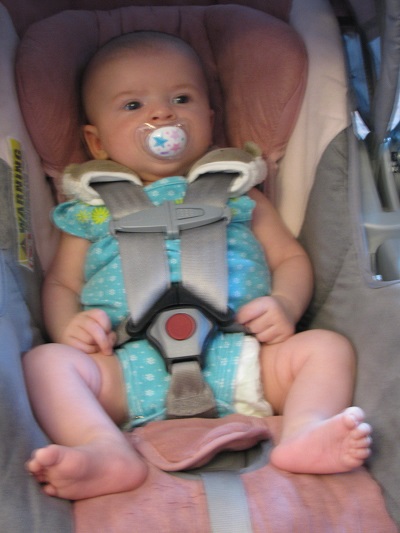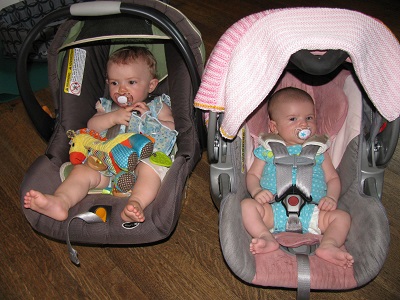 Seeing my Mom was hard for me. Since I hadn't seen her in a year, it was really obvious to me how much worse she was – so much less talking. The only time I heard her talk was at the wedding when she was watching sweet, happy Zoe and Mom started saying, "Look at her! Look at her!"
Mom with Abby:
Rick and Pam: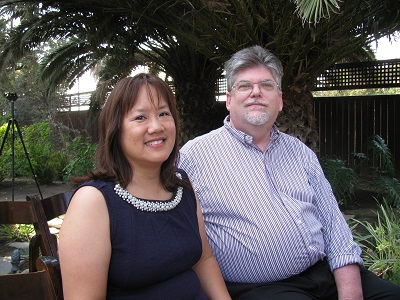 Zoe was sitting in her car seat, playing with a water bottle and with her feet! And making happy noises. She was being utterly adorable. (This is why I had complete sympathy for my Mom telling us to look at Zoe.)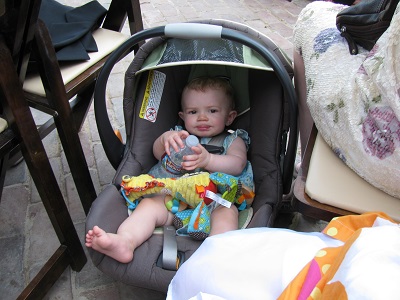 While we were waiting for the wedding to start, Arianna wanted a little attention.
Meredith was being calm and quiet.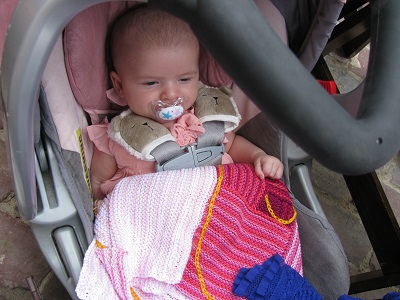 And Zoe was entertaining herself, adorably happy, singing a baby song.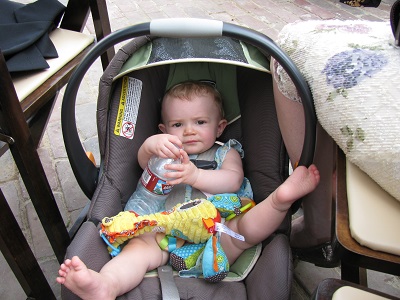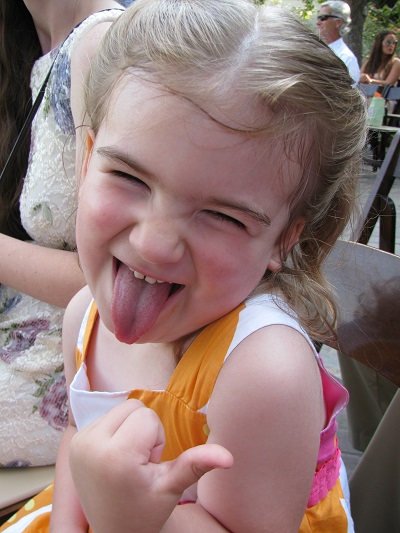 Arianna with her Daddy (Robert) and her Uncle Nathan looking on:
Zoe was getting happier and happier as the wedding was about to begin!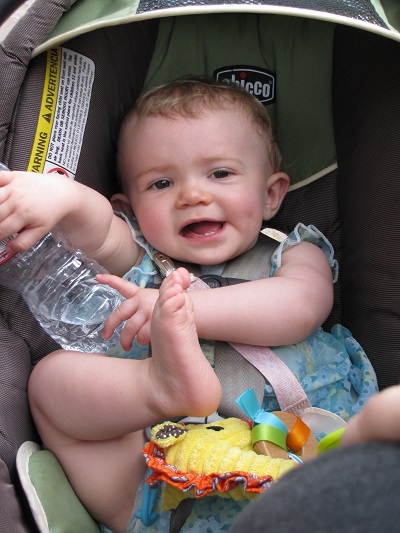 Here's Kristen, watching for her sister Megan to come down the aisle.
And here comes Megan!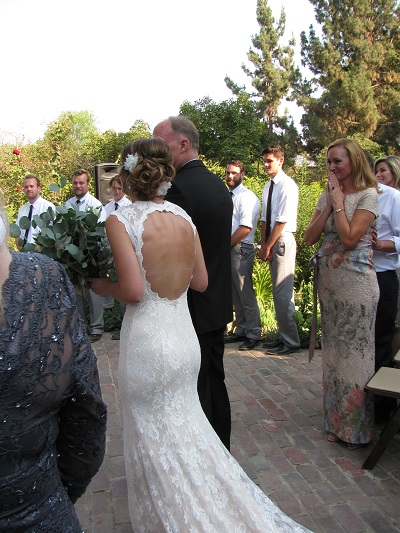 Dave got to have a part in the ceremony.
I'd learned when I was in Oregon in May that Zoe likes to hold onto her ears when she's tired! So adorable!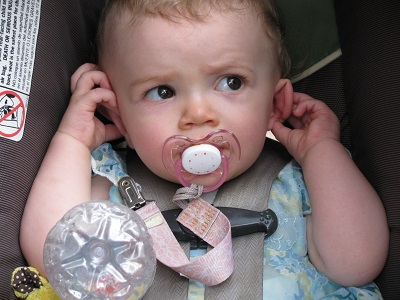 Kristen was such a beautiful maid of honor!
Such a beautiful ceremony!
One baby slept through the wedding!
Time for pictures!
Here's the couple with Dave's side of the family:
And here are Becky and Dave with all their children – and the new son-in-law. First, a silly picture:
Now being nice:
Laura and Meredith:
Moms and Babies:
Dave's parents joined the family picture: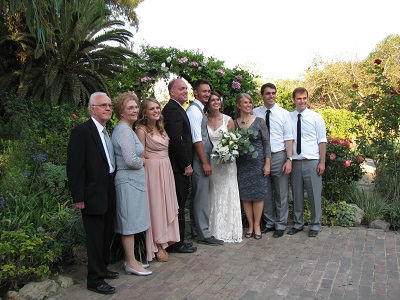 (I was in some family pictures, but didn't get any of those taken with my camera.)
Happy parents with the happy couple: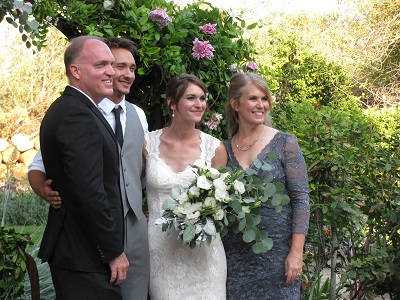 And then Meredith was sitting there being so cute, making the blanket I'd knitted look so beautiful: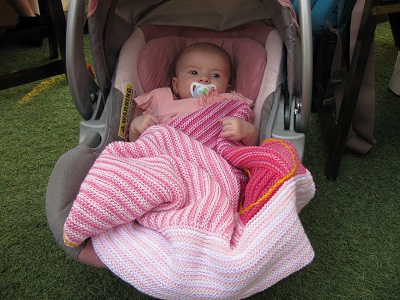 She started smiling!
And making happy noises!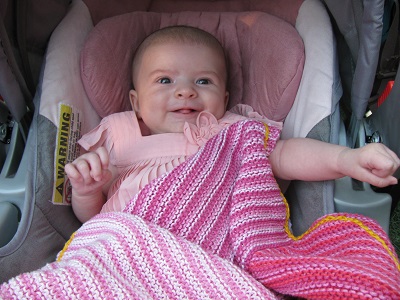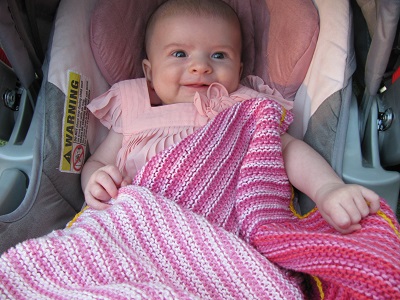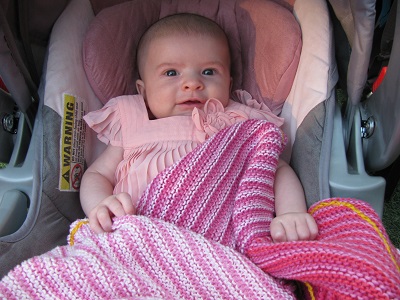 Here's my nephew Jason and his girlfriend Laura:
Becky, the Mother of the Bride!
Arianna had a Bouncy Castle to play in!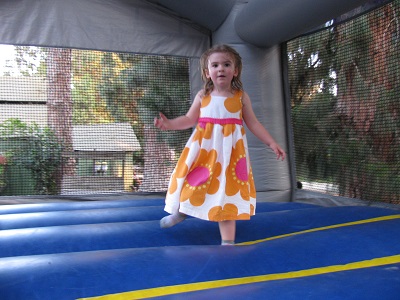 Megan and Zak at the reception:
And back at the tables, little Zoe was playing with her feet again: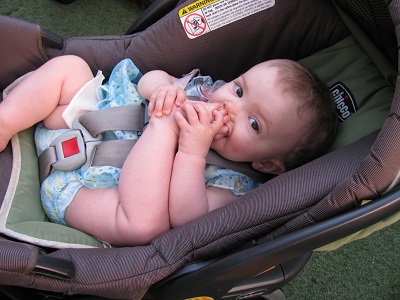 Laura and Meredith:
Jeff, Rick, and Pam:
My Dad was adorable, playing with Zoe!
And Meredith was still beautifully modeling the Fibonacci Blanket.
Robert's family took to the dance floor a little early: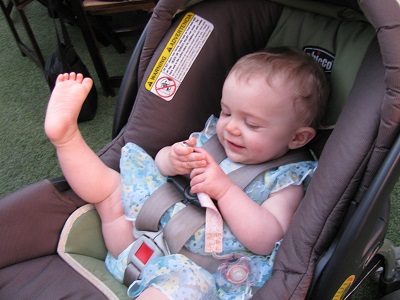 Arianna got several people to dance with her. First was Abby!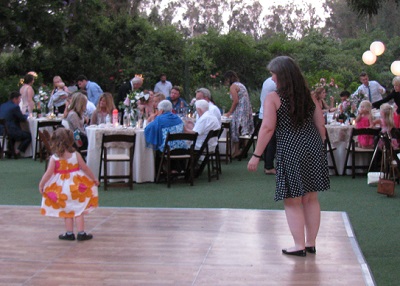 Arianna dancing with Grandpa was especially sweet!
Later she enjoyed Daddy's shoulders:
Michael and Megan, Brother and Bride:
On Saturday, Ruth picked me up and took me to her house. We watched the movie "Miracles from Heaven" and went out to eat, then stayed up doing a puzzle of Jerusalem. We had a great time just talking with each other.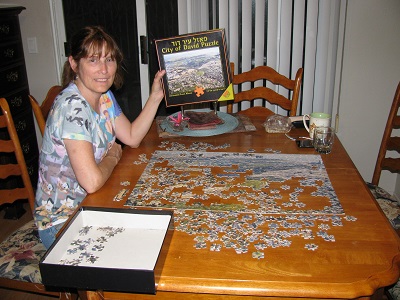 On Sunday, Ruth took me back to my parents' house. Aunt Abby was the one playing with Arianna again:
Though I helped Arianna do a puzzle.
Then Becky and Dave drove me down to their home in Encinitas. We listened to the Hamilton cast album during the drive. (I had to buy it for myself later!)
I spent most of Monday in Encinitas. Becky and I played some Splendor, then went out to eat and to the Botanical Garden there in Encinitas.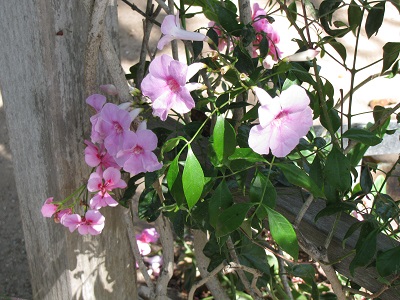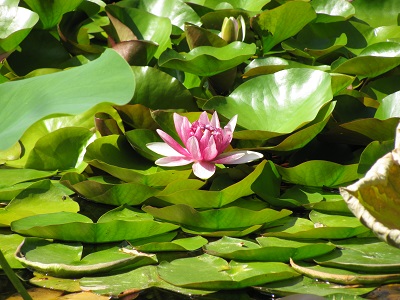 That night, Becky drove me back to Wilmington and we listened to the rest of Hamilton. The next morning, Dad drove me to LAX, and I flew back home.
So that was my 2016 trip to California – short, but packed full of time with family.