Last Thursday, I took the day off work so I could go see the bluebells at Bull Run Regional Park on a week day, when it wouldn't be too crowded.
I first heard about the bluebells at Bull Run in 2008, when I had only been working for Fairfax County Public Library a few months. They mentioned them in the county employee daily news email. I'd made some half-hearted efforts to go see the cherry blossoms in DC, but I don't do crowds, so that wasn't working out. But these were even close to where I lived. I went to see them and was astonished by the sheer quantity of flowers growing wild in the woods. Ever since, I have tried to go every year.
A couple times, I went to a different park where I was told they have bluebells. And last year, Bull Run Regional Park was closed to cars for the pandemic, so I found a different park where the hiking trails are close to the gate so I could walk in. Those other parks are nice, and have thousands of bluebells, but Bull Run Regional Park has millions of bluebells. (And I'm a math person. I understand the magnitude of that claim!) The sheer astonishing quantity of bluebells growing wild in the woods can't be beat.
Years ago, I visited Keukenhof Gardens in Holland at tulip time, and I think that's the most beautiful place in the world. But what I love about the Bluebell Trail is that these aren't weeded and pruned. These don't grow in careful rows and every wilting blossom isn't pulled off. The bluebells were planted by God, and they bring an amazing month of beauty each year. They aren't perfect and planned, but they are exuberant and joyful.
The first few years I walked among the bluebells, I was sad my then-estranged husband wasn't with me. We'd done a lot of hiking together in beautiful places in Europe. But I eventually I realized that, with no one walking with me, I could take pictures to my heart's content, and no one would get tired of waiting for me.
This is the first time I've been to the Bluebell Trail at Bull Run Regional Park since I bought my new camera in the summer of 2019. So, okay, I went a little crazy snapping pictures. I finally checked the number when I got home and had taken three more pictures and laughed when I saw 702.
I'd like to say something profound about walking among the bluebells. But when I go and start taking pictures, other thoughts go out of my head. It becomes about catching each beautiful cluster of blossoms I see, and getting the big sweep of purple flowers as far as the eye can see through the trees, and experiencing breezes through the still bare trees with blue sky and sunshine on the bright green leaves, and hearing the river by the trail and birds singing in the trees.
In fact, I think taking pictures gets me out of my head and into the moment. It's not exactly mindfulness, because I can suddenly discover I have a headache after a couple hours of snapping pictures in the sunshine. But it brings me out of myself, into a moment of beauty.
I've found that I love taking close-ups, zooming in on the beauty of individual clusters. They get overlooked in the big picture, yet they are so exquisite.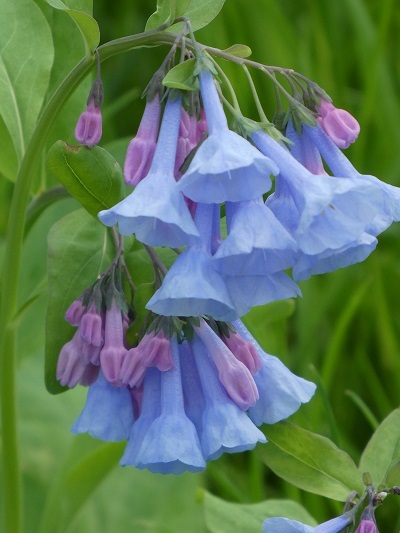 But the big picture, the sweeping panorama of small purple flowers as far as the eye can see through the woods, on both sides of the river, that is part of the incredible beauty of the place. Trying to capture that is even more difficult, because I can't put in the gentle breezes or the sound of birds singing.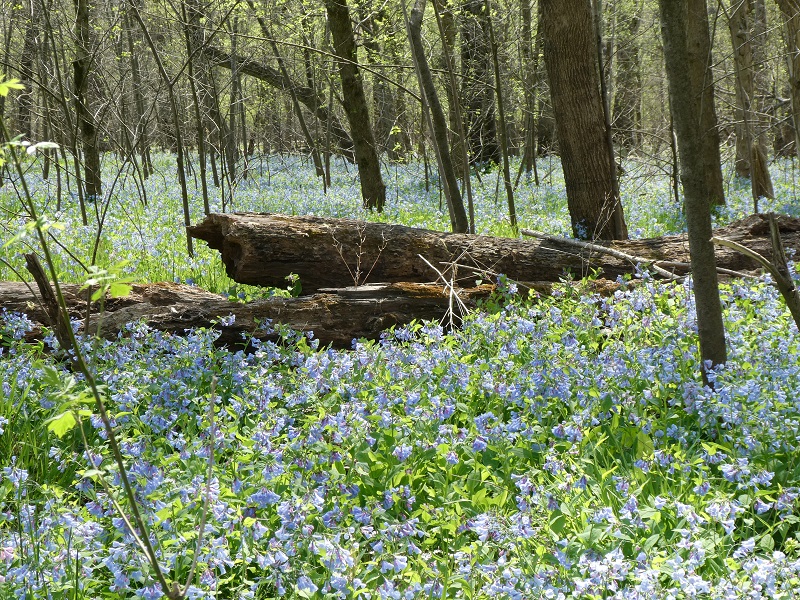 Somewhere in between, pictures close but not zooming in show the joyful profusion of blooms, the sheer exuberance of the flowers.
So I'm not sure I hit anything profound. And maybe if I were less trapped in performance mode, I wouldn't need to take pictures to focus in and experience beauty. But I had an amazing time among the bluebells enjoying the beauty God has made. And now I'm attempting to share some of that beauty with others. Let me show you a relative few of the pictures I took, wandering among the bluebells on a beautiful day.