It's time for Project 52 – Week 16!
16 weeks ago, on my 52nd birthday, I decided to start Project 52 — for 52 weeks, I'm going to reflect each week on one year of my life. I'm enjoying it a lot — a chance to look back and reflect on where God has brought me.
Tonight I'm covering the year I was 16 and a Senior in high school at Brethren High School in Paramount, California — June 14, 1980 to June 14, 1981.
The picture above was the only one I could find from that year with me in it. (Though if I looked in my yearbook I could find more.) That's taken at Hume Lake during the summer — I'm in the front left corner of the front "human chariot." My friend Darlene is on the front right corner, and Jennifer's right behind me.
I did go to church camp at Hume Lake that year, but didn't participate in Summer Servants again. I think I might have begun working at McDonalds that summer, which would have explained why I didn't have time for Summer Servants.
My mind has drawn a veil over working at McDonalds, so I won't talk much about that! My Mom used to say that her Dad used to say that you should start with a bad job to learn to appreciate good ones later, and at least McDonalds makes me appreciate every other job I've ever had. I started there the same time my sister Becky did, though we didn't usually work the same shifts.
I remember my Senior year as being pretty wonderful. At last I was at the top of the heap! No brothers and sisters went to the same high school with me. Now Rick and Becky were both attending Biola University — still living at home, but commuting out to La Mirada.
I love my brother and sister, but did have a tendency to feel overshadowed. So being a Senior myself was a big deal.
Also, that year T.G.I.H.A.C.O. had graduated and was gone — I had to get over him. The Church Guy I Had a Crush On still went to my church and was going to Biola, so I saw him occasionally, but had to put my focus elsewhere, and that was a good thing.
Looking back, I was too busy having a great time to pine over guys that year. In fact, there were a few guys in my circle of friends and the people I hung out with. I did get a date to the Junior/Senior Banquet (and I had the year before, too), so that was something — but not the boyfriend I wanted. But looking back, okay, I didn't find someone who loved me romantically — but I had a large wonderful group of people who loved me and cared about me as a friend. Hmmm. That's kind of like my life today.
I do think that having a large circle of close friends and acquaintances you care about is a side effect of going to the same Christian school for six years. Many of my classmates from Brethren are my Facebook friends today — Our graduating class had about 85 people, and we got to know one another well.
Let's see… my Senior year had so many good things. For academic classes, the highlight was AP Calculus — the only AP class that Brethren offered. There were five of us in the class — myself, Christine Van Aalst, Alan Purucker, Casildo Guerrera, and Gabriel Hui. I started listening in Math Class that year! The wonderful and quirky Miss Royer was our teacher — and she got married after we graduated. She was older, so this was a big deal. Her name thenceforth was Mrs. Smith. But I did love Calculus class and got a 5 on my AP exam. The seeds of the math major I was to become were sown.
My other achievements in math were getting the top score on the MAA exam for my high school for the third year in a row — and winning a silver pin. I'd been on the Math Team all four years of high school. That year I did a chalk talk on De Moivre's Theorem. I didn't win an award at the Math Field Day that year, but I had the year before on the Binomial Theorem, and I did progress to the finals. Oh, and I won all three of the pencil-games tournaments at the end of the year — Five-in-a-row Tic Tac Toe, 3D Tic Tac Toe, and Hex.
And it wasn't just about doing well in math — Math was fun! I do think that taking Calculus over a whole year in high school rather than a semester in college (or Trigonometry… or Algebra II) gives you more time to really enjoy it, see how awesome and fun it is.
And I was in Choir again, and the ensemble Ecclesia. I was still taking voice lessons. When our choir sang at my church, I got to sing a solo, and I sang a solo at the choir festival in the springtime. I was never a star — but I did enjoy that. And I've always loved singing in choirs, especially choirs that sing to the Lord.
My Senior year I also took Drama class. I was in two plays that year, and in both got the second-best female part — the best going both times to Debbie Carmichael, who totally deserved them and who is still acting today. The Drama class did a version of Pilgrim's Progress written by our drama teacher, and I was Hopeful. The choir did our annual "May Festival" — with acting and singing — and I was the mad scientist Dr. Kreps, which was a silly and fun role.
Here's a picture from choir tour to San Francisco:
The friends in the picture are Kristen Harris, Darlene Sasaki, Ruth Douglas, Lorie Gibson, and John Roussopulos. This is the first picture I've come across of Kristen — she was one of my best friends that year. We had P.E. together that year (some of the only Seniors in that class) and we used to sing 2nd Chapter of Acts duets in the locker room — much to the annoyance of everyone else. We used to have a lot of fun debating which of us was the most beautiful and which was the most humble. We were so superlative in both, it was hard to decide!
Next are a couple of pictures from Senior Ditch Day at the end of the year to Laguna Beach: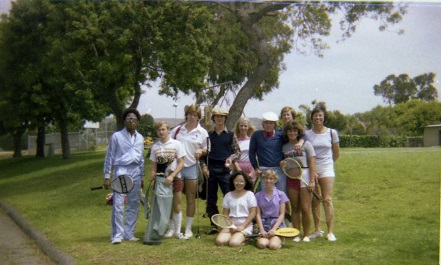 Seeing Dan Deguisne in the first picture (third from the left), I'm reminded that he drove us to school that year. He probably drove his brother Terry and my sister Wendy (8th grade) as well, but I don't remember that so much! I still did not have my driver's license.
Baccalaureate that year (a church service honoring graduates) happened on my birthday, so I was actually 17 and a few days when I graduated. I was co-valedictorian with Gail Karber and Marty Rindahl. I gave a speech where I referenced Psalm 84 (I was memorizing in Psalms that year):
"Blessed are those whose strength is in you,
who have set their hearts on pilgrimage.
When they pass through the Valley of Trouble,
they make it a place of springs;
the autumn rains also cover it with pools.
They go from strength to strength,
till each appears before God in Zion."
And I have to say that, looking back on the pilgrimage of my life, God has made each Valley of Trouble a place of springs and has brought me from strength to strength. Little did I know then what I was in for! But God has been faithful.
However, looking back on that year: What great friends I had! (And still have! Those friendships lasted.)