It's time for Project 52, Week 15!
15 weeks ago, on my 52nd Birthday, I decided to start Project 52 — For 52 weeks, I'm going to reflect each week on one week of my life.
This week, I'm looking at the year I was 15 and in 11th grade — June 14, 1979, to June 14, 1980.
My sister Becky came to visit me last weekend (I mean this weekend, during my 53rd year.), and it reminded me that Becky was a huge part of my life growing up — pretty much until I moved away from California. This was a good thing, but it also always felt good to do my own things. In a big family, it's very easy to feel overshadowed, and I think I enjoy doing independent things on my own more than most — in part as a reaction to that.
But the summer after I turned 15, I started on something that Becky was not doing — Summer Servants.
We'd started at First Baptist Lakewood the summer before, but the summer before my Junior year, I wanted to do Summer Servants — an intense 6-week program where you went on *all* the youth group trips as well as a training week at the beginning and training in between trips. The leadership expected us to be evangelizing new kids who came to camps and on trips.
In the beginning week, we learned to share our faith with strangers using the Four Spiritual Laws. Yes, I went on day trips — one was to a beach — and accosted strangers with a partner and "led them to Christ." No, this does not suit my personality type. I wonder what happened with those people all these years later.
Some good things Summer Servants did was have a big focus on each person having daily Quiet Times, spending time with God, good teaching, and getting me out and among other kids my own age. Darlene was going to my church by this time, but I don't think anyone else from my high school was in Summer Servants, so I made some new friends.
And — I gained a second crush! One for church and one for school (same TGIHACO from previous years). Interestingly, they both had the same first name. But it was pretty harmless, since neither one was "interested" in me in that way. At least with the guy from church, we had some great conversations about spiritual things. I knew he had a heart for God. And he actually stayed a great friend.
[A few years later, when I was in college and getting sad about how this guy still didn't "like" me, a friend suggested that instead of praying God would change his heart, I should pray that God would change my heart. I did, and God did. I liked him very much, but no longer had a crush on him, and it no longer hurt that he didn't "like" me that way. Though I might have done well to hold out for a guy with a heart for God like he had.]
But the trips with Summer Servants were memorable and wonderful. And I started bringing my camera!
Oh, and that was also when I learned that if you brought a magnetic chess set on a bus trip, you stood a great chance of getting to sit next to an intelligent guy! (Including the one I had a crush on.) I played many chess games that summer and enjoyed who I ended up sitting next to that way. Of course, it probably didn't help me seem very attractive that I won most games. And it also probably didn't help that I enjoyed winning. But what can you do?
Our first trip was to Ensenada, Mexico. The girls slept in this hangar, and the boys in tents outside.
I remember praying Psalm 91 about the "terror of night" — bugs! But we were fine.
I don't remember all we did there, supposedly helping missionaries, but we did make a trip to an orphanage.
The blonde is Yvette Gold, another junior in Summer Servants with me.
For our next trip, we split up the boys and girls, and the whole youth group was invited. I don't remember where the boys went, but the girls went to Kings Canyon.
I think that trip was only a few days, and a beautiful place and a good time — but one night I decided to sleep in the bus instead of the tent — and woke up with 50 other girls trying to sleep in there, too — It was raining! That did not work. And I felt like I was there first, but that logic didn't work, alas!
And then, in the middle of the summer, Kathy came to visit!
By now, Kathy had moved from Catalina Island to the East Coast, to College Park, Maryland. But she came back for a trip, and we got our foursome back together and went to Disneyland.
Here are Kathy and Abby on Dumbo:
And here are the four of us, now nearly all the same height: Kathy, Abby, me, and Darlene:
Kathy's visit hit a time when the Summer Servants were at home, and all during the summer we had Wednesday Night extravaganzas at church. They involved crazy games. We were all on teams — I was on the Gold Team — and always a meeting at the end that included a testimony and an invitation. Kathy came on Wednesday night:
The next trip was the big summer camp trip of the summer, Hume Lake!
My sister Becky went on this trip, and so did lots of other folks from Brethren High School, including my friend Jennifer. I'm not sure if Darlene went that year, but she did the next.
Wild games were also the norm at Hume Lake:
As well as great speakers and big meetings. But we also had lots of fun on our time off, doing things like hiking to the Little Brown Church. (This is Valerie, a 12th grader at Brethren):
We also went rowing:
The final trip of the summer was just for Summer Servants, summing up the summer. We stayed in a cabin near Lake Tahoe:
Here's the place where I'd have my Quiet Times when I was at Tahoe:
On our last day at Tahoe, we went tubing down the Truckee. I *loved* it! The part I did was mostly calm and peaceful and wonderful — ending with rapids, which I loved even more.
But we stopped at that point and let people who didn't want to navigate more rapids stop and go back to the bus. The rest was more rapids. Well, I was starting to feel sick and was really tired, so I went back to the bus and slept. I was always sorry afterward that I did that — because I proceeded to get super sick anyway. Might as well have gone — I couldn't have been any sicker!
The next week was one of the most painful of my life.
I'm not sure if the pain was quite as bad as the previous year when I was sick for a week because of a sunburn, but it was close. I came down with pleurisy — which is a searing pain in the lining of your lungs every time you breathe. Like with my sunburn, I slept in my bean bag chair — this time because it didn't quite hurt as bad if I didn't lie flat.
For years after that, whenever I got a bad cold, I'd get occasional lung pain, which always frightened me that I was getting pleurisy again — though I never actually did. [And how lovely to realize, now, that it's been decades since I felt that kind of pain in my lungs.]
And we had one more trip that summer — but this time a family trip. Our family actually tried camping in a tent!
There were still ten children — Rick (now in college at Biola but living at home), Becky, me, Wendy (now in 7th grade at Brethren), Randy, Ron, Jeff, Nathan, Abby, and Peter. It was around this time that the habit of family summer vacations, most commonly to visit Grandma Bates in Oregon, had pretty much stopped. But we did try camping at Crystal Lake.
And Becky and I went for a hike!
Once we reached the summit, we refused to believe the distance we'd traveled was as small as the sign said:
After that eventful summer, I started 11th grade, with Becky in 12th grade. We were both in A Capella Choir together — and that year I got chosen for Ecclesia, the smaller ensemble. Jennifer was in Ecclesia with me. Becky and I were both taking voice lessons with Miss Wells by then, and we sang a duet at the ACSI Choir Festival in the Spring. That was just one of many duets Becky and I liked to sing together over the years. Since Becky played the piano, we would sing Second Chapter of Acts songs together. We also had a book of Bill Gaither songs with parts that we'd sing from. This was just the natural result of all our years of singing hymns together in the car on the way to church.
That Fall, Becky was chosen as Homecoming Queen! I was so happy for her! I walked around crying. (I hope I wasn't trying to put the focus on me. I was genuinely happy for her.) Now, it did perplex me how everyone at Brethren seemed to think Becky was so "sweet," but well, she didn't give me her public face. Anyway, since no one at all had ever complimented me on my looks (that I remember), perhaps it is no wonder that I focused more on intelligence.
That year I took Math Analysis with the 12th graders. I kept my rivalry going for top scores with Glen Gibson. I also took Physics — and there were only 2 girls in a class with about 20 boys. Yes, I did enjoy those proportions. Mr. Elliott, who'd taught Chemistry the year before, was the teacher. I kept trying to suggest that we should go to Magic Mountain for a Physics field trip, but he never did go for it.
Have I mentioned that by this time I was a roller coaster fiend? With Magic Mountain my favorite amusement park because it had the most roller coasters. But living in southern California, we got lots of chances to visit all the parks. Here's Darlene after "Encounter 80" — where lots of area churches got together and went to Magic Mountain. I think that was the year that Colossus opened — one of my favorite roller coasters of all. (Though much much better years later when they let you ride it backwards.)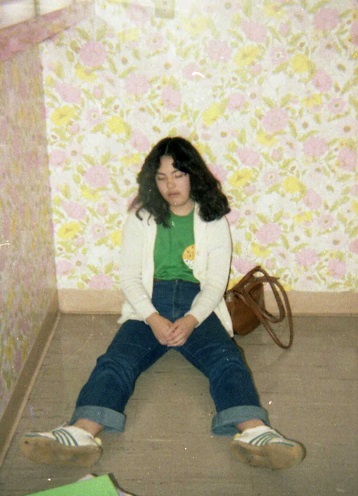 And this was probably some type of ditch day, but here's Darlene and Ruth and Ruth's brother Tom at Knott's Berry Farm, with Montezuma's Revenge in the background:
And here's Ruth at a trip to Universal Studios:
And there was another Youth Group trip in winter. Ruth and Darlene went with me to Winter Camp.
Oh, and that must have been the year of my disastrous day of skiing!
Every time I fell down, my skis fell off. Well, my first time on the ski lift, just as I was getting ready to sit on the lift seat — they stopped it because it hit some other lady. So instead of sitting on the seat, I sat down in the snow and my ski came off. So the guy running the lift picked me up, put me in the lift, and handed me my ski. So I went up holding one ski terrified I was going to drop it. Of course I fell down at the top, getting off with only one ski.
Some day I will have to take actual ski lessons. That time we tried to have Ruth show us how and, well, it didn't work. (Ruth and I don't actually think the same way. I want step-by-step how-tos. Ruth wants to wing it. That didn't work well for me.)
But the rest of Winter Camp was super fun. My favorite thing was innertubing down a hill!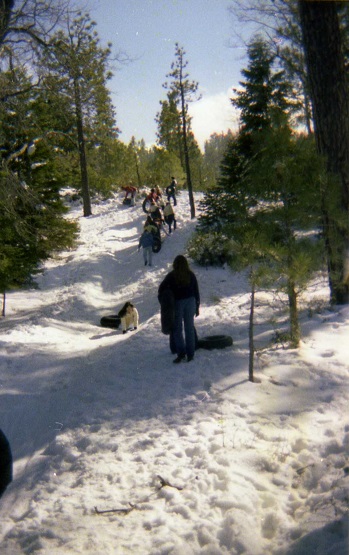 Here are Darlene and me going over a "jump"!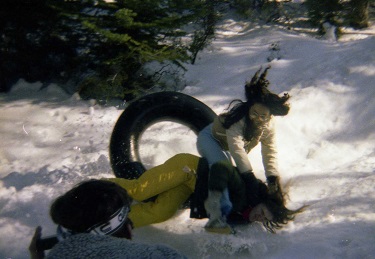 Winter Camp included more meetings with great speakers and singing. Here's Becky and some other friends:
Here are Darlene and Patty with a snowman that was the best we could do. We didn't know anything about snow, but this was not good packing, so we just piled up some chunks.
And we also had good times in our cabin. Here's Darlene:
And here's the entire cabinful of girls:
Look at that! By then I had given up my glasses. I started wearing them in 4th grade and quit in 11th grade because my eyes had gotten better. [I was very sad at 50 or so when I learned it was a continuum — the eye that was most nearsighted at 15 is the least farsighted at 50. By now at 52, I need to wear glasses all the time again. But it was a nice respite.]
And I found this picture of a view from my window taken that spring:
Here's a picture of Senior Square after the traditional toilet papering at the end of the year.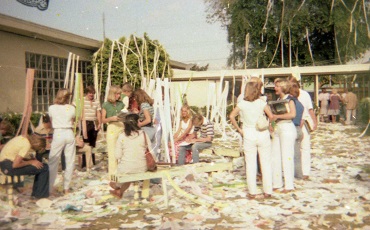 I was super sad about that year's seniors leaving, including TGIHACO. But there was also excitement that now we would be Seniors and that thrilling feeling of independence with no older siblings at my school.
I was a Junior Honor Guard at graduation. Since they didn't count P.E. in GPA, I was tied with straight As. I was very sad that they were leaving — but that day, two days before I turned 16, I got my first kiss. Tracy Bunn was going around giving hugs — and kisses — much to my surprise. But I was a bit satisfied that I could not, after all, say I was "Sweet sixteen, never been kissed." Though a surprise kiss when you aren't expecting it — and don't respond — definitely wasn't the best kiss I've ever gotten. But it was the first.
Looking back over the whole year, that was a good one! One of the lovely things about all the church activities was that it was cool at that church to be wholeheartedly seeking to please the Lord. They caught us young. In fact, it was either that year or the year before that I got baptized.
And God was good to me. Yes, I kept praying for a boyfriend. But I had so many good friends and so many interesting activities. Lots of friends and lots of fun.