It's time for Project 52, Week 33!
33 weeks ago, on my 52nd birthday, I began Project 52. Since there are 52 weeks in a year, each week I'm taking one year of my life and blogging about it. This week, I'm covering the year I was 33 — June 14, 1997, to June 14, 1998.
Last week, I covered moving to Germany when I was 32. But alas! It took me three posts to cover the whole year. I don't want to actually spend three nights writing each blog post, so I learned I'm going to have to cut down the number of pictures I post. Somehow. This is hard, because my heart lifts every time I look at the pictures from our time in Germany. The only thing that saved me last week and allowed me to finally finish was that I never did scan a whole chunk of pictures from 1997.
So I'll see if I can summarize. (Ha! I have my doubts.)
The setting: We were living in Leithöfe, in a 3-bedroom apartment on the first floor of a house where our landlord and landlady lived above us. We had large windows in every room, and were perched halfway up a hill, with a gorgeous view out the windows. We could even see the Air Force Base across the valley — but had to go around the hill to get to it.
I got to quit teaching when we moved to Germany, and it was lovely to be home with 2-year-old Timmy, and home in the evenings with 3rd-grader Jade (then called Josh). We had a wonderful evening routine of often going for a walk up our hill after dinner, or maybe playing Monopoly Jr. together.
There were some negatives. I still got waves of mysterious pain in my joints. I thought I was getting lupus. (It turned out to be drug-induced lupus, but I didn't know that yet.) I had days when I just felt sick. A draggy malaise. (It gave me permanent sympathy for people with rheumatoid arthritis or lupus or fibromyalgia.) Kind of too bad that the whole time I got to be at home with my kids, I had drug-induced lupus. But overall, it was a wonderful time.
And despite all his traveling with the USAFE Band, Steve was willing to go castling with us on his days off. Which I appreciated very much. A lot of the other spouses would go traveling together — but I liked that we could do it as a family. We'd already touched 21 castles before my birthday in 1997.
My 33rd birthday fell on a Saturday, and Steve had to work in the evening. But before he left, we went for a walk on our hill, and the weather was simply glorious! (I remember as a child living in Kent, Washington, the weather was always wonderful on my birthday. Well, Germany has a similar climate, and it seemed to work that way in Germany, too.)
Here are some pictures from our walk that day. (I got just some of those pictures scanned.) And look at me, I can't resist posting the pictures I have from that glorious day. I think they begin to express how lovely it felt to climb that hill and be on top of the world.
Our house is the one in the center with the dark wood under the peaked roof.
The next day was Father's Day, and we had a picnic lunch to celebrate. More enjoying the lovely weather from our beautiful new home.
Now, this is still the time period where I don't have many rolls of film scanned, so I'm just going to list the castles we visited.
Castle #22, Burg Frankenstein (really!), June 28.
Castles #23-25, Burg Altdahn, Burg Grafendahn, and Burg Tanstein, July 8. These three castles are all right next to each other, near the town of Dahn, and I do have some pictures from that visit.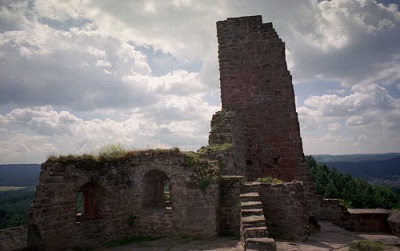 One of my scariest moments ever when castling happened when I'd taken Timmy to the top of the tower, and I was trying to navigate these ancient, terribly worn stairs — and Timmy had a meltdown. I was afraid I'd drop him. I finally stepped back and cooled down — and took his picture.
A lovely castle on a lovely day.
On July 15, we picked up Steve's parents at the Düsseldorf airport, and they took us on vacation! In fact, we stopped for lunch at Castle #26, Burgturm Davert.
But we spent that evening in Bremen!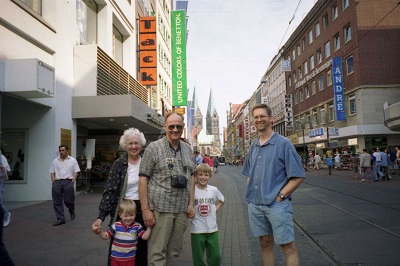 The cool thing about Bremen was that when we told Josh we were going to move to Germany, Josh's teacher told them about the statue in Bremen of the Bremen town musicians. So we made sure to visit it.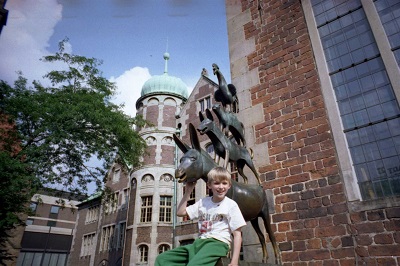 The next day, we drove into Denmark, and visited LEGOLAND!
(That's the only picture scanned so far from LEGOLAND, but a cute one!) The funny thing about LEGOLAND was it made me notice that from living in southern California, I'm used to lots of people at an amusement park speaking a different language from me. (At Disneyland, it's Spanish.) What I wasn't used to was lots and lots of blond children who looked just like my kids! Both Steve's parents are of Swedish descent, so my kids are half Swedish, and fit right in with all the Scandinavian children.
We visited Roskilde, Denmark, and the Viking Museum there. We rode a ferry and went to Sweden. In Sweden, we got to take part in a family reunion and meet many of Steve's Dad's cousins. (There are ten cousins in a picture, which I don't have scanned.) We saw the little red house called Lövudden where Steve's grandfather was born. We stayed and talked and talked until very late — but the sun didn't set!
On the way back, we visited Castle #27 — Kronborg in Helsingör, Denmark — the setting for Shakespeare's Hamlet.
Castle #28 was Burg Nohfelden, and Castle #29 was Burg Rheinstein.
Then on August 16, we took a train to Koblenz and visited Castle #30, Kurfürstliches Schloß, and Castle #31, Festung Ehrenbreitenstein. We also visited the Deutsches Eck, where the Rhein and Mosel Rivers meet, and the Schängelbrunnen.
But we decided after that day's outing that it was much simpler to drive our own car. We didn't have to worry about missing the evening train, and we didn't have to pay for 4 tickets, and we didn't have to walk around the city once we got there. So we didn't do much train travel after that, except when I made journeys by myself to Paris later.
The Moore family — the pastor who married us — visited Germany at this time. I met the family at the Frankfurt Bahnhof, where Connie and Krissy caught a train to Brussels, and then took Doug with us sight-seeing, and he spent the night at our house. Steve was in Italy at the time, but got back that night. We took Doug to the airport in the morning. For the sight-seeing, the kids and I took Doug to our favorite castle on the Rhein, Burg Rheinfels, and we had dinner in Otterberg next to the beautiful Cistercian church.
I do remember that Doug asked how Steve was doing spiritually, and I couldn't really answer him. We usually attended the Baptist church out by Ramstein, and I was singing in the choir. But Steve had told me at one point that he wasn't even sure he was a Christian any more. I hadn't pressed him, but remembering that conversation reminds me that I took a lot for granted. But we were both still very happy about being in Europe, and so far he didn't begrudge me all the sight-seeing and castling I wanted to do.
Castle #32 was Burg Wildenburg, a castle fairly close by that we visited on a Saturday, September 13.
Then Steve had a long weekend September 27-29, and we went into France! (Josh's school was super understanding about letting kids off for "educational family trips." They understood those were way more meaningful to the kids than classes, at least in elementary and middle school. I appreciated that attitude so much!)
I wish I had scanned the pictures from that trip! We went into Alsace, and besides fall color in the trees, all the windows were decorated with flower boxes. It was so beautiful!
I took 2 years of high school French, but Steve had taken 4 years, so he was pretty good at communicating. On the way to Alsace, we first visited the Black Forest and the waterfall at Triberg in Germany. Then we crossed into Alsace.
Alsace is a tourist destination — for Europeans, not Americans. We followed signs and saw a couple of very cool things: The first was Montaigne des Singes, Monkey Mountain, where they give you a handful of popcorn and you go walk among a bunch of gibbons (I think it was) and feed them the popcorn. They lift it right out of your hand. Well, except for one mean monkey who'd pat at your hand and make you drop all the popcorn so he could have it.
The other tourist event was an eagle show, Volerie des Aigles, at a castle, Castle #35, Chateau du Kintzheim. This all happened on September 28, along with visits to Castle #33, Haut Koenigsbourg, and Castle #34, Oedinbourg.
On the 29th I finally have some pictures. We followed signs to a Cascade.
And then we had a picnic next to a small ruin, Castle #36, Chateau de Hell. (Really!)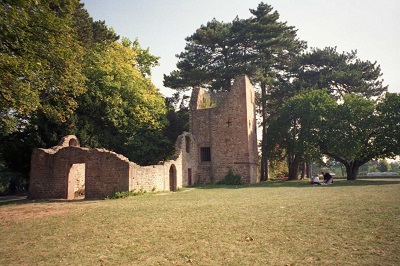 In between, we did more hikes around our hill. If you didn't go straight up, there were actually hiking trails all over the hill. Remember that hiking map I bought when we first moved to Germany? It helped.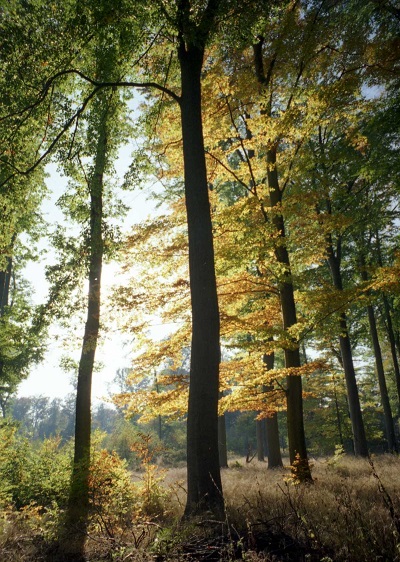 I was impressed by these mushrooms!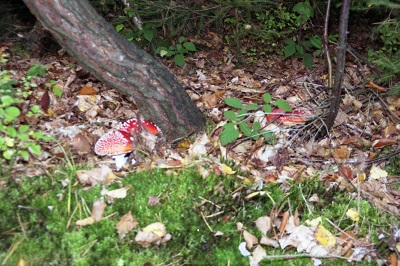 We took a trip to the Mosel River on October 6.
We visited Castle #37, Schloß Schöneck and Castle #38, Ehrenburg: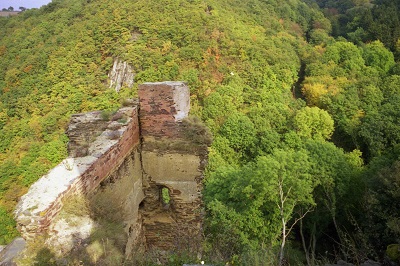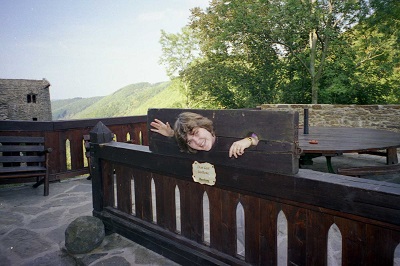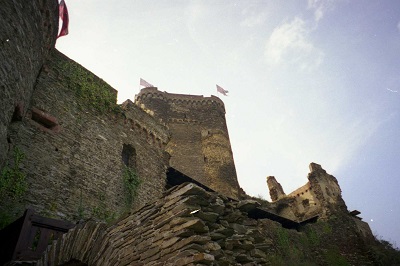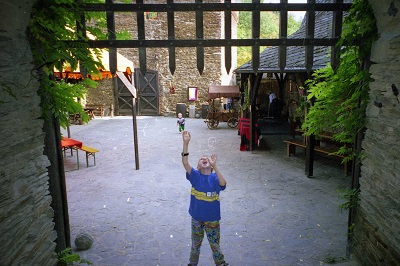 And finished the day at Castle #39, Burg Eltz: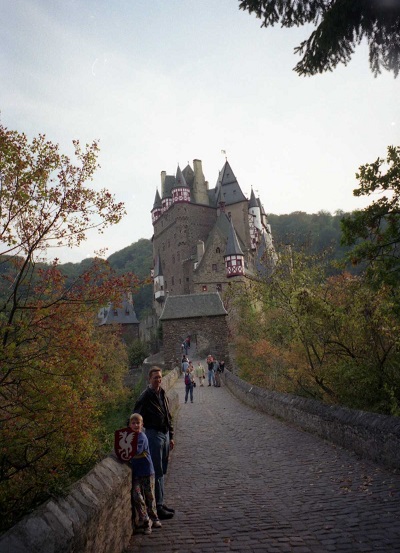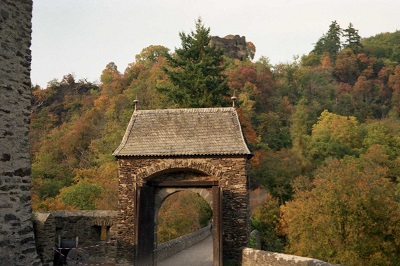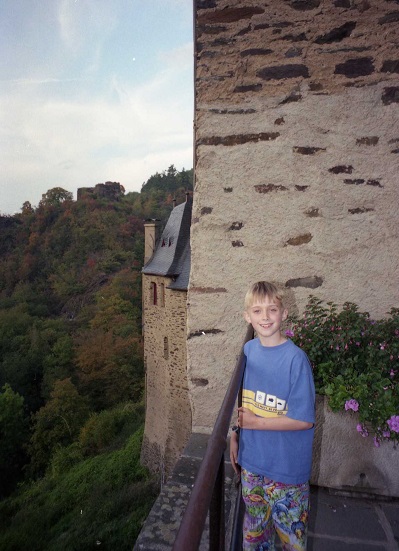 Two days later, on October 8, Steve had the day off, and we went to Castle #40, Burg Stauf:
I hope by this time you get the idea why I SO LOVED living in Germany! We were doing awesome vacation after awesome vacation! To this day, I think castles are awesome. And we could just pick a spot on the map, and go see a castle! It was a huge adjustment when I moved back to the States to realize that a 3-day weekend no longer meant I could take a little trip to France.
November 1, we visited Castle #41, Burg Neuleiningen — the first castle we'd seen after moving to Germany, visible from the Autobahn.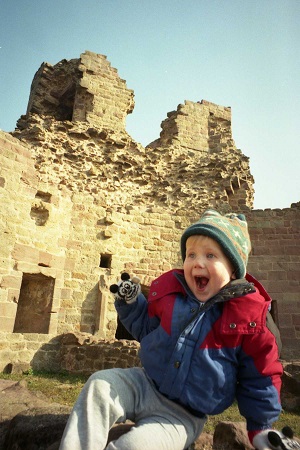 And by now Jerry had moved in! Jerry was Steve's friend from the band at Scott AFB. Steve talked him into coming to Germany, and he moved in to the 1-bedroom apartment next door to ours in the same house. Here's Jerry on a hike with us through the Leithöfe woods.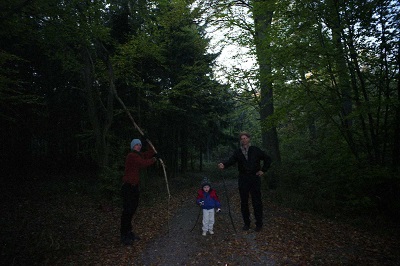 I was still knitting: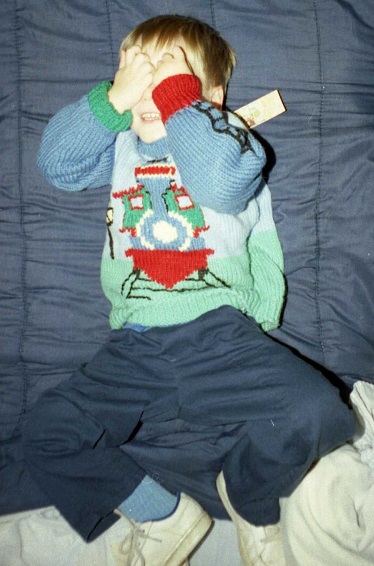 And then our friend Jody came to visit! Jody the Band Spouse from our first assignment in New Jersey!
We met her in Luxembourg and then took her home. (It was a rainy day, so I didn't take many pictures, but was charmed with Luxembourg.)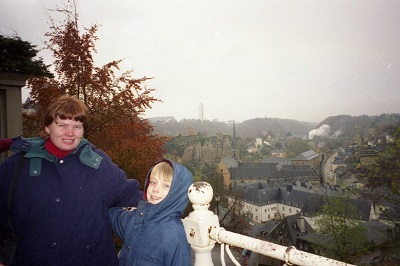 Luxembourg City is a walled city, so we counted it as Castle #42. (A beautiful city, too.)
Castle #43 was another walled city with Jody, Rothenburg ob der Tauber.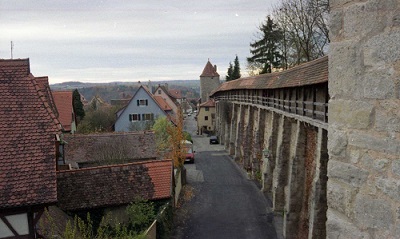 On Monday, November 17, we took Jody to the Rhein River.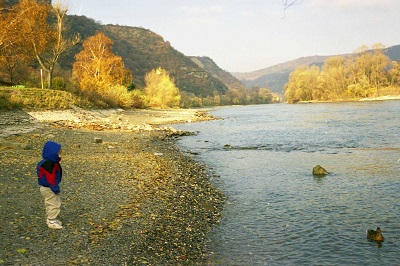 And visited Castle #44, Marksburg.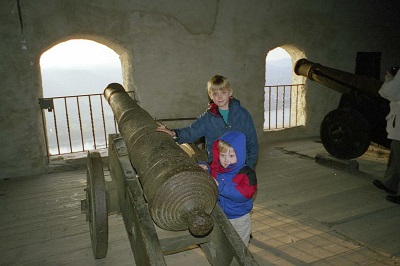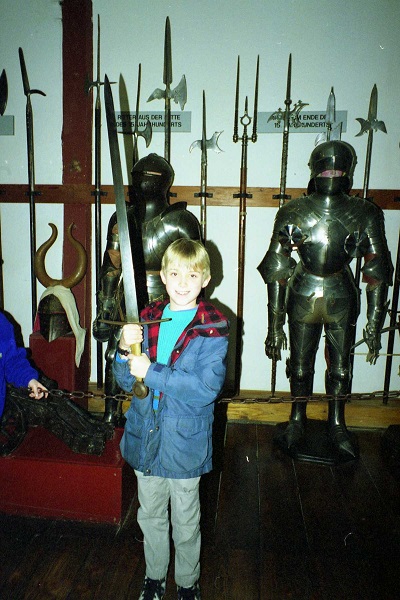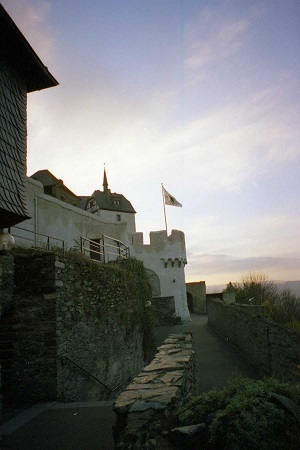 On the 19th, we visited Castles #45 and #46, Schloß Rheingrafenstein and Burg Rheingrafenstein, but by the time we got there, it was already getting too dark for good pictures.
We took a break from castling during December. That was the Christmas when Timmy was 3 and full-on into pretending. Like Josh, I brainwashed him into having his first person he pretended to be was Piglet from Winnie-the-Pooh. By Christmastime, he was consistently Pooh, and could even spell his own name, P-O-O-H. I was Piglet. (Which sometimes really bothered me when he'd call me from his room. "Piiiiglet!") Josh was Christopher Robin, and Steve was Tigger. We actually put those names on our Christmas presents.
That Christmas was the first year I put a Top Ten list on my Christmas Letter. Here are the Top Ten Ways You Know You've Lived in Germany for a Year:
10. You no longer even think about asking about the Band's schedule for the day after next.
9. You don't pronounce "Burg" and "Berg" the same way.
8. You stop gawking at the scenery on your way to work or school.
7. You no longer say, "Let's stop at a German restaurant for a quick bite to eat."
6. Someone asks you how far away something is, and you answer in kilometers.
5. You can pronounce "Gewerbegebiet" correctly on the first try.
4. You lose interest in a building when you find out it's only 100 years old.
3. Your idea of a kid's meal is Pommes Frites (French fries) with ketchup.
2. You don't hesitate to drive your car through narrow openings, as long as you have a few inches to spare on either side.
1. You cross into Luxembourg, see the speed limit is 120 kph (75 mph) and say, "Uh oh. I'd better watch my speed."
In January, we got to castles again. On January 10, we visited Castle #47, Burgruine Hohenecken, right there in Vogelweh village, near the BX.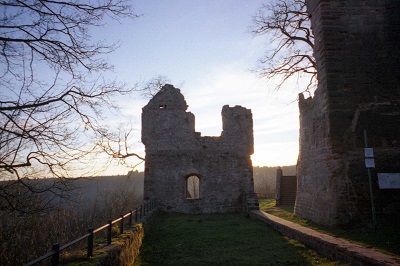 Steve had a band trip to Luxembourg at the end of the month, and on January 28, we met him there. After all, I'd driven myself to Luxembourg twice before to pick up Jody and take her back to the airport. (It was about two hours away, on empty Autobahns, which you could take at high speeds.)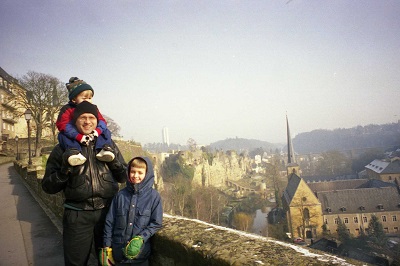 I heard the Louvre is free the first Sunday of the month — so I had the brilliant idea to drive to Paris! It's "only" 6 hours away. We got off to an early start and Steve and I each drove 3 hours, with him navigating the Paris traffic. We even found a good place to park ahead of time on a map.
This time Josh really did get their head between the pyramids!
The first catch was that it ended up costing us $40 in tolls and $50 in French gas. (We could buy cheap American gas — about 10 times less expensive — on base in Germany, but not in other countries.) Then when we got to the Louvre, they had just opened a new exhibit, and all of France was there to see it! The line was two and a half hours long! But a helpful person at the Tourist Office directed us to walk through the Garden of the Tuileries to the L'Orangerie, an Impressionists Museum.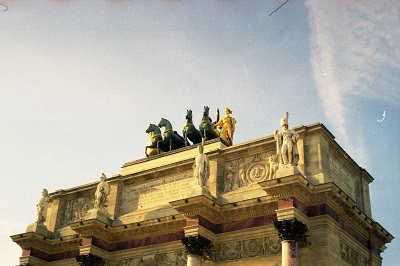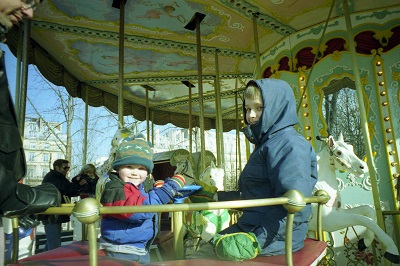 We had a lovely walk through the Tuileries, and the L'Orangerie was a lovely, peaceful museum. The most amazing thing was in the basement. Two large rooms have their walls filled with paintings of Water Lilies done by Monet. The walls are curved outward, and you feel like you're in a capsule submerged in an aquarium. It's astonishing and peaceful. I hadn't realized the paintings are so enormous.
The other catch was that on the way home, Steve and I were having such a good time talking with each other, I missed a turn and didn't figure it out until much later. So the cost and gas went up yet more. We didn't get home until 1 am, so my bright idea didn't seem so bright.
On February 10, we visited Trier, which was once a Roman capital. Castle #48, the Porta Nigra, was our oldest castle so far. We also counted Castle #49, Palais Kesselstatt, and Castle #50, the Amphitheatre, which was once part of the city fortifications. I got a weird feeling when I realized that Christians had actually died there.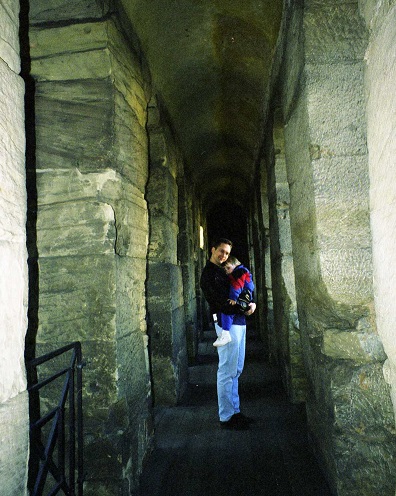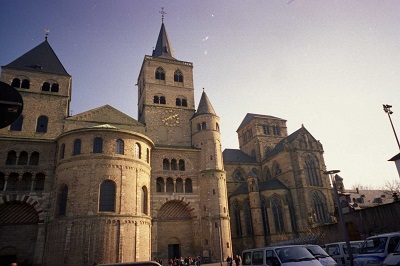 Still some silly times at home in Leithöfe:
And we celebrated Josh's 10th Birthday at the base bowling alley. Ryan Scott was already their best friend.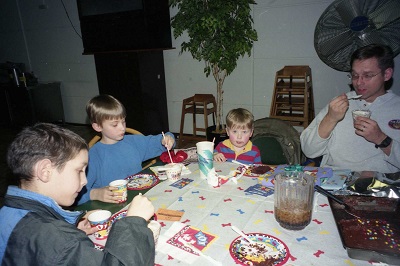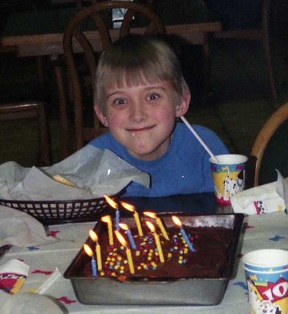 On April 6, we visited Castle #51, Burg Ruppertsecken.
And I need to post a few pictures showing how gloriously beautiful Leithöfe is in the Springtime.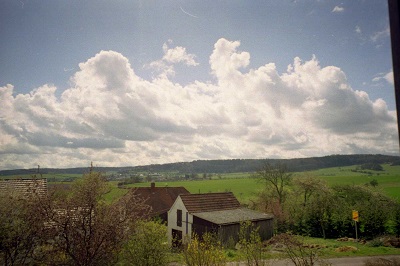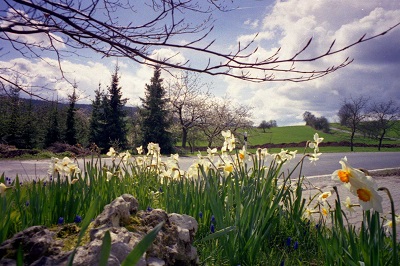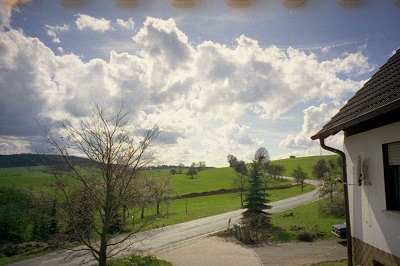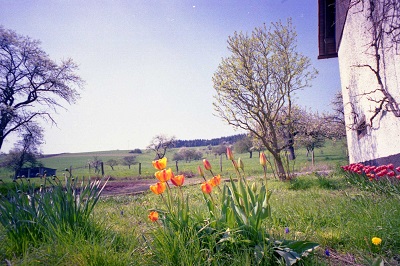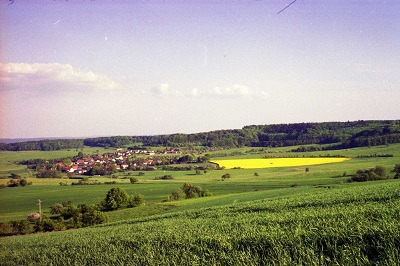 Toward the end of March, a band spouse, Donna Crump, who worked full-time at the Sembach base library, was leaving Germany (with her husband). I thought about applying, but so liked being at home with my kids. Then they cut the job into two job shares, each half-time, and the job got more tempting.
Then our car broke down. It ended up being easy to fix, but I realized that if we had to buy another car, then I would need a job — that's how tight we were cutting things. So why not apply for a job I was awfully sure I'd love?
The interview with Jeff Conner happened on April 10. I was already a regular library customer, and I had Spouse Preference and a Bachelor's degree, which was a requirement. Donna had probably put in a word for me. The interview almost wasn't even an interview — he told me how the job would work. I found out the same day I got the job!
What's more, the first person I shared the job with wanted to work every weekend. So when I started at Sembach Library, I had a regular schedule, working Tuesday, Wednesday, and Thursday, 6, 6, and 8 hours. And the very next week I found a home day care provider, Miss Angie, recommended by another Band wife, who would watch Tim 20 hours per week without charging me a full-time rate.
But then we got some bad news. On April 30, our landlady told me that we were going to have to move.
She cried when she told me. Silke's father was getting married so her parents were getting divorced after years apart, and Silke's mother had to sell her old place. She was moving in to our apartment.
Steve took it harder than I did. It helped that I saw Silke's tears. I think Steve was upset that Jerry got to stay in the 1-bedroom apartment. I felt like getting that apartment was such a miracle in the first place, surely God would provide again. I began looking for a new place.
And on May 5, 1998, I began my first job in a library, as a library technician at Sembach Base Library. Here's what I wrote in my journal:
"My first week of work at the Sembach Library is complete, and I love it! Today was the best day of all — I'm settling into the work and can enjoy it. And every day I've come home with a book or two — or many. I can't seem to reshelve books without finding many that I want to take home with me." (This problem has persisted.)
I say later in the journal, "I don't feel like I 'found' this job. I feel like God found it for me and presented it to me as a special gift."
May 10th was Mother's Day — and of course I asked to go to a castle! We went to Castle #52, Burg Trifels.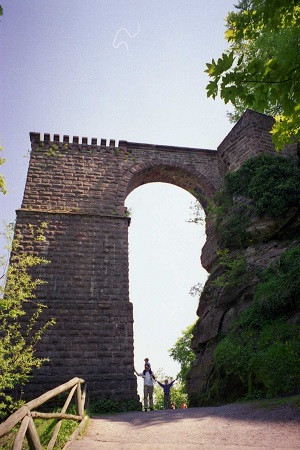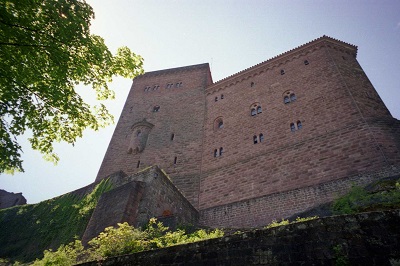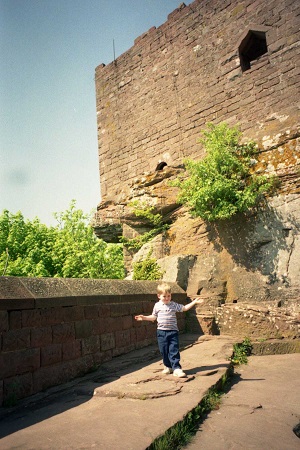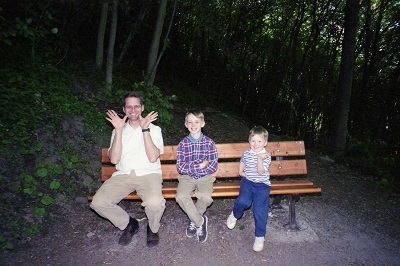 After that, Steve was working 6 day weeks, and I was working three days a week, and Timmy was trying to adjust to daycare. And we needed to find a new place to live. We thought we found one — but none of us was happy about it, and it felt so depressing.
But meanwhile, we had company! My friend Karla from high school came to visit. We took her to the Rhein River for Castle #53, Burg Pfalzgrafenstein, the one on the island in the middle of the river.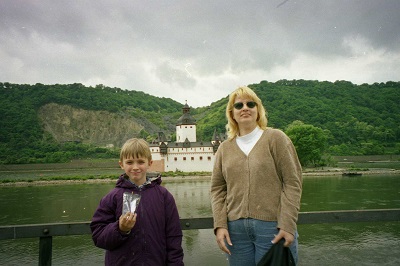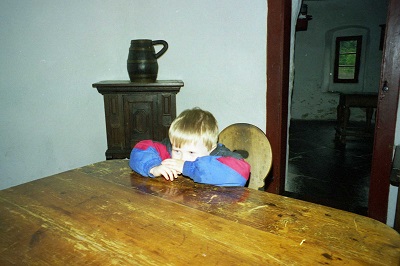 And after that, we had dinner at Burg Liebenstein, Castle #54.
And we made a trip to Worms Cathedral, not real far from us, even though we couldn't count it as a castle.
Still discouraged about finding a place to live and with Steve out of town, I went to the base housing office one more time — and found a listing that sounded interesting out in Gundersweiler. Here's where I write about that:
At the housing office, they had some new listings, and I was able to make one appointment. On the way, I passed through another village with a house for rent, so I decided to try to find it and see if it would be worth pursuing.

Just as I was about to turn around, I found the street. The house was on the very end, and when I saw it, I was so dazzled, I felt shaky! On a hill, it had a view and large windows — what we knew we'd miss from Leithoefe.

After I got Josh from school, I brought him by the house because he was very sad about having to move, and I wanted to cheer him up. Well, as soon as we parked in the driveway, who should pull up but the owners from Stuttgart, there to clean since the previous renters had moved out the day before.

Once we saw the inside, I was hopelessly hooked on this house. It had FIVE bedrooms, two big bathrooms, a basement, and a windowed "nook" where we eat looking out on meadows and hillside. Yes, we took it — The catch being that we had to move the very next weekend, and we did it ourselves because the Air Force wouldn't pay.

At first, it seemed like terrible timing that this happened right when I was starting a new job, but it turned out that it costs a little more than what the Air Force will give us for rent — so without my income, we wouldn't have dared take it.
And so that was how we got to move into my dream house — Of all the places I have ever lived, the house in Gundersweiler is my favorite. Here are views of it shortly after moving in: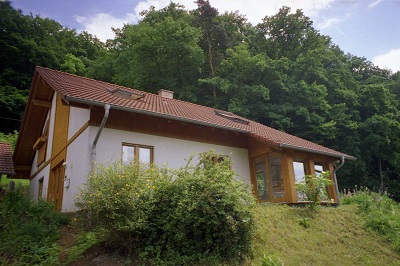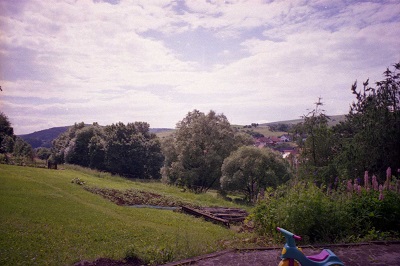 So — I ended my 33rd year with a new job and a new home, still completely in love with living in Germany.