It's time for Project 52, Week 34!
34 weeks ago, on my 52nd birthday, I began Project 52. Since there are 52 weeks in a year, each week I'm taking one year of my life and blogging about it. This week, I'm covering the year I was 34 — June 14, 1998, to June 14, 1999.
Now, this week I've decided to give up on the idea of posting about the whole year in one night. I'm going to spend about an hour and a half, and probably won't get very far…. But being 34 was a good year to think about.
I had just begun working at Sembach Base Library in May. Last time, I talked about how I almost didn't take the job. When I did, it felt like such a gift from God. It felt like the job was made for me. Surrounded by books! Half-time, so I still had time with my kids! Jade (then called Josh) could walk to the library after school! It was a job share, so I actually got Holiday time and Sick Leave! I did story times! I even found a way to do some programming!
The first reason I got to program was that they were hand-writing overdue notices. I made an Access data base to print them and put the overdue books in order so we could check the shelves without having to use the cards. Believe it or not, at Sembach Library, they were still filling out cards with your name and address on each card and the title, author and call number of each book you were checking out. At first, they wouldn't let me make a data base for check-out — since they'd bought a computer system and it was supposedly coming. But there was no way I was going to take the time to hand write overdue letters when I could invest a little time in making a program to do it for me. So that was the first thing. I loved having a small chance to program again.
When I started, my job was shared with a woman named Sonja. (How's that for confusing? Sonja and Sondra started at the same time. At least no one ever called me Sandy!) I'm afraid that Sonja did not really like the job and complained a lot about it. Which was a drag, since I was so completely thrilled to have it. Staffing at Sembach was always an issue. When we were fully staffed with a librarian, our German library assistant Elfriede, and two half-time library technicians, we got by okay. But when we were in between librarians or technicians — it was really hard to cover the hours. I went through 5 librarians in 8 years, and 5 job-shares. Jeff Conner was the librarian who hired me, and I really liked working with him.
But my dear Elfriede! The treasure of Sembach Library! She'd been working there 26 years. She is an exuberant, delightful single lady who drives a little red convertible (very very fast) and has never grown up. She loved to feed me, going to the "coffee place" (bakery) for lunch and would always bring me back a pastry. It made her genuinely happy to feed me, so I didn't want to hurt her feelings and refuse.
As the years went by, Elfriede became my biggest fan. And you know what? it's good to have a fan! In turn, I am a fan of Elfriede, one of the most delightful people I have ever known. She was the constant over my eight years of working at Sembach Base Library.
But we also had a new home! We'd gotten kicked out of our apartment in Leithöfe, but found this wonderful house in Gundersweiler to rent, just when I got a job so we could afford it.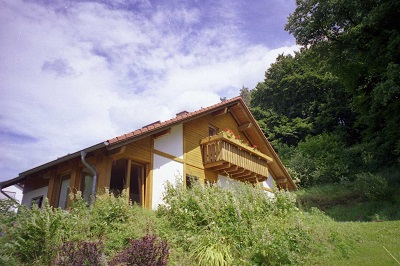 The Gundersweiler house was incredible inside and out. Take a look at this incredible bathroom!
Yes, that's a heated towel rack.
I *loved* the German toilets that came out of the wall. You could mop under them so easily. No ridiculous screws that catch dirt. All simple as can be. Sometimes I'd wonder what would happen if one clogged, since the mechanism was in the wall. Well, ten years in Germany, and we never once had a toilet clog! (German bathroom technology is wonderful!) (After I moved to Virginia, a toilet clogged when I wasn't home, and Tim didn't have a clue what to do. He'd grown up in Germany, so that was his first clogged toilet.)
Yes, it takes three photos to show the whole spacious and luxurious bathroom!
And on my birthday, June 14, there was a Balloon Fest going on! It was across the valley from our house. I took this picture sticking my head out the bathroom window.
And then we decided to go for a walk up our hill. This was a longer walk than the one up our hill in Leithöfe. But incredibly spacious once we got up there. In the first few pictures, there are dots in the sky that are the balloons still taking off.
We tried to re-create the previous year's picture.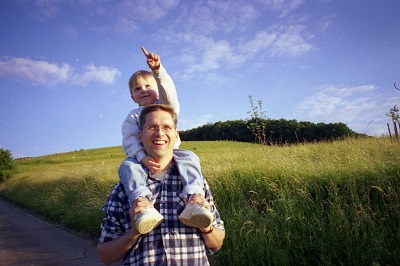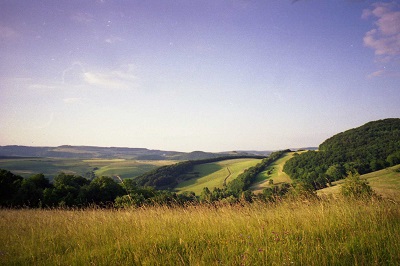 Like in Leithöfe, walking up there felt like being all alone on top of the world.
I love this one of Josh! I'm afraid we did find a tick on Josh's back that evening.
And that night, they made me a birthday cake. I love the beautiful windowed nook where we kept our table.
And that July 4th was noteworthy. While we were moving our stuff from Leithöfe to Gundersweiler, we kept passing a sign that said "Bungee Jumping in Gehrweiler July 4!" (The sign may have been in German, but that was the gist.) Steve knew that he always worked on July 4, so he said that if he wasn't working, he'd go bungee jumping.
Well, that year July 4 was on a Saturday. The official U. S. holiday got moved to Friday so people could have a day off. Steve and the Brass Quintet played a party at the Paris Embassy on Friday — and was home on July 4! So we went to Gehrweiler, and Steve really did go bungee jumping!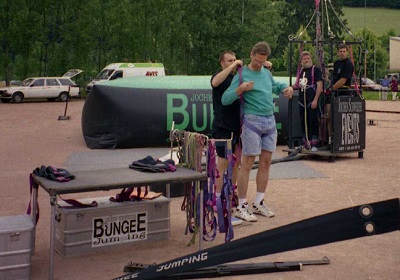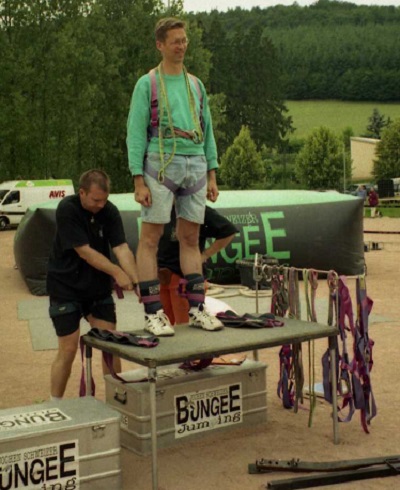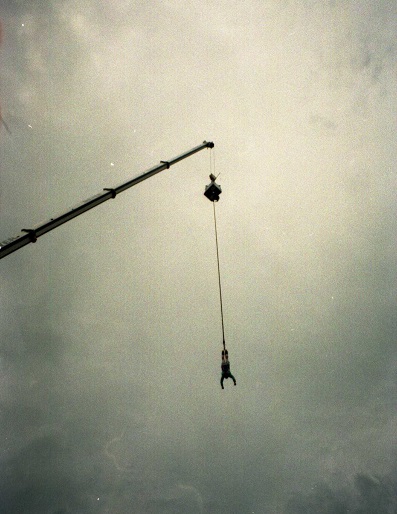 A couple other band people were there, and that was the day I met Jeanine Krause! Jeanine was married to Nick Althouse, a trumpet player in the band. It quickly became apparent that Jeanine was a kindred spirit. You'll be hearing more about Jeanine! She was my first best friend in Germany.
And after bungee jumping, it was a Saturday in July, so we went to the Rhein to see The Rhein Aflame!
On a lot of Saturdays during the summer, Germans shoot off fireworks from castles! It's dramatic and exciting — and they ended up being the most amazing fireworks I've ever seen on the 4th of July. We didn't take a cruise to see them, since that ended up being expensive and would go late. Instead, we went to a Fest taking place by the river in Bingen. From there, we could see fireworks going off from four different castles. It was amazing.
Here are the kids messing around in the afternoon when we were still figuring out what we were going to do.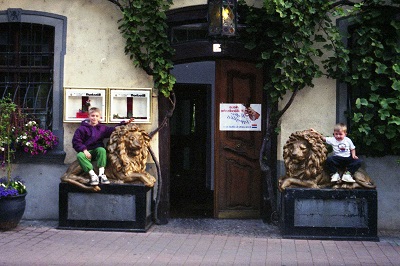 And we were still enjoying our home. The first time there were horses in the pasture next to our house, I had to take a picture!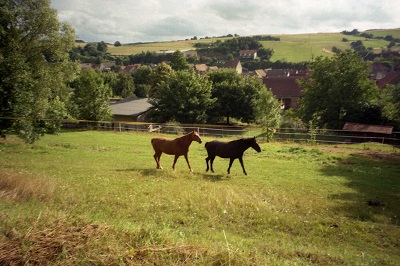 And there was a soccer field down the road where we flew kites.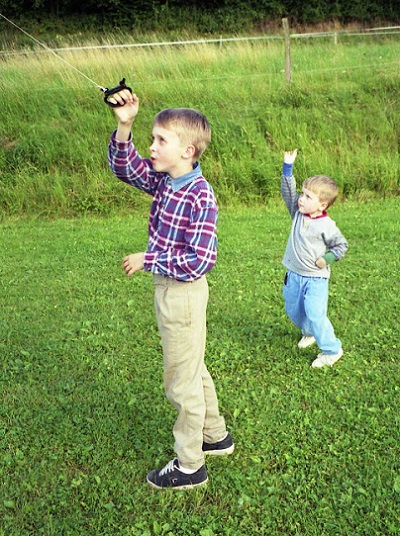 Another thing that happened about this time was I found out what was causing my joint pain. I'd been having joint pain and malaise since just before we left Illinois. I thought I was getting either rheumatoid arthritis or lupus, and the symptoms seemed to fit lupus best. Well, I got in with a German rheumatologist in Mannheim, and he ran a bunch of tests. I see by my journal that I also finally asked a lot of people to pray.
The rheumatologist told me that although some things were elevated, they were not at the level they would be if I had lupus. He sent me away and said, "Check your medication."
Well, I was now working in a library! We had a Physicians Desk Reference. I looked up Inderal, the migraine preventative I'd started taking six months before I had any joint pain symptoms. It said that in "very rare cases", it may cause drug-induced lupus! So — I stopped taking Inderal. It took a couple months, but my symptoms completely disappeared, never to return. Yep. That was it.
I wrote in my journal, "I went from thinking I had an incurable disease to one with a simple cure: Stop the Inderal. What's more, my headaches had gotten so much better during my time not working, it looks like I'll get along fine without the Inderal. So a shadow that's been hanging over me for the last two years has been suddenly removed. And I feel so thankful." (Alas! I was naïve about the headaches. But so thankful about the drug-induced lupus.)
I haven't gotten very far tonight. But let's see if I can get through the year if I post a little bit each night….
Tonight was about just how happy I was to start my wonderful made-for-me job and to move into my dream home. I barely got through a month….