I'm telling about my 55th Birthday Adventure to Prince Edward Island with my friends Darlene and Ruth. We drove up from Virginia to Canada on a late September weekend. On Monday, we visited Green Gables Heritage Place and walked on the trail through the Haunted Wood to Montgomery Park and L. M. Montgomery's Cavendish home. We finished the day with a short drive along the shore where we saw a fox. On Tuesday, it rained, so we visited museums — first L. M. Montgomery's Birthplace and then the Green Gables Museum at Silver Bush.
Tuesday evening, we went to see Anne of Green Gables: The Musical in Charlottetown. I'd purchased the tickets before our trip. Since Darlene's 55th birthday was right at the start of our trip, and Ruth's 56th birthday was soon after our trip, I wanted to think of something I could get for both of them – and I decided that tickets to a show would be perfect. They were!
I'd tried to decide whether to see Anne of Green Gables: The Musical or another show called Anne and Gilbert. But when I learned that Anne of Green Gables had been running for 55 years, and we were celebrating all being 55, the decision was made easily!
I'd gotten directions on my phone at the cottage where we had internet access. And my phone had gotten us to the cottage in the first place. But we hadn't gone far before I had no connection, and my phone directions stopped. Fortunately, I had a map of the island that I'd gotten from tourismpei.com. But even though I'd been in Canada two days by now, this was my first clue my phone wouldn't work.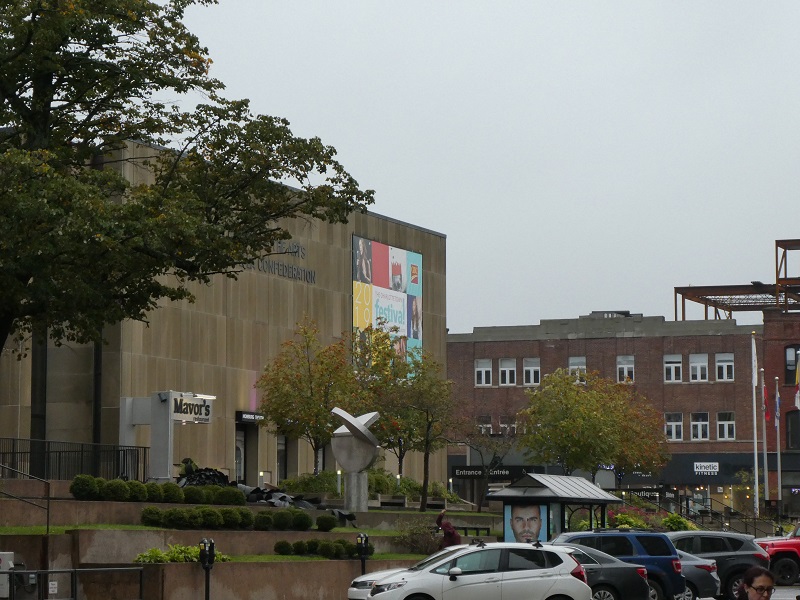 [Somewhere I should mention that my Dad had surgery on Monday to remove a growth from his colon that was very likely cancer, but in the very early stages.  The surgery had been put off until six months after he'd had a stent put in, so he could go off blood thinners, but it was very minor laparoscopic surgery.  I'd seen a post on either Monday night or Tuesday morning that the surgery had gone well, so I was relieved about that.]
Anyway, I was very frustrated to have my GPS quit working, especially the one time we were driving into a city, but we did manage to figure it out. We parked near the theater and found a likely-looking restaurant. That was the one time we ate at a restaurant on our whole trip, and it ended up being a lovely meal.
At the musical, I had gotten us the cheapest seats – in the front row! I was afraid the view would be terrible, since they were in fact among the cheapest seats, but it was great to be able to see all the expressions on the faces. We could also see right into the orchestra pit, and it was fun to watch the musicians, too.
A girl from Prince Edward Island who knew many of the actors ended up sitting next to me. She had already seen the show dozens of times and was super fun to talk to. I felt good about getting the front row seats!
We loved the show. Now, I have to say that as a fan of the book Anne of Green Gables, of course no musical would be perfect. The trouble is that the book covers years of Anne's life as she grows from a little girl to a college student. It's hard to catch that in a couple of hours. The kids in the school seem very childish at first and then quickly switch to romantic thoughts, whereas the book clearly covers years.
But I did love that they caught a lot of the key scenes – dyeing her hair green, accidentally setting Diana drunk, hitting Gilbert over the head with her slate, and so much more. I did think all the actors were wonderful, particularly the leads. Matthew and Marilla were just right. I liked the way Rachel Lynde had a whole gaggle of Ladies' Aid folks along with her.
We loved every minute of it, and I'm so glad we added that into our trip.
And it started pouring on the drive back to our cottage, but we did make it back! It had been a busy and wonderful second full day on Prince Edward Island.