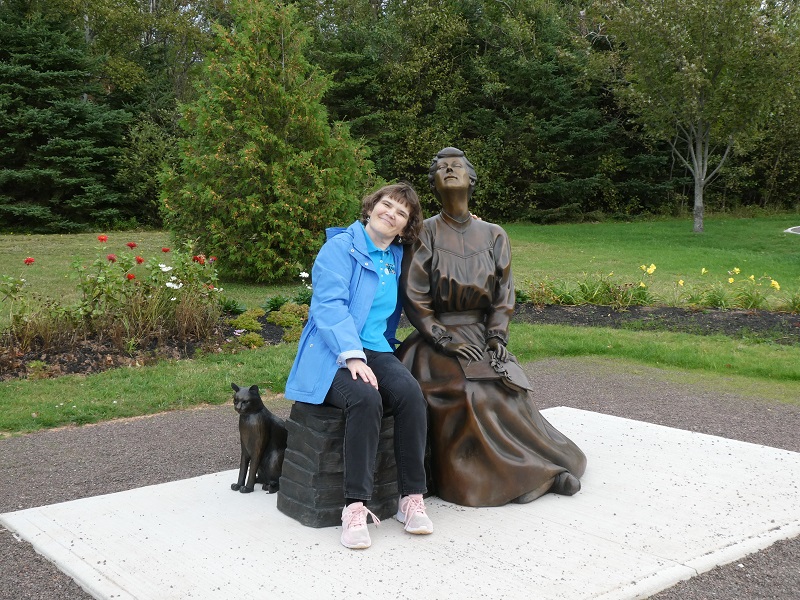 Emmanuel — "God with us" — that's what I'm clinging to this Christmas season, along with other tidings of comfort and joy.
I've decided that 2019 was an overdramatic teenager of a year — very big good things and very big bad things. Maybe 2020 will calm down!
I'll go in opposite chronological order, to cover the bad news first, so I can finish with the good news.
On November 30, my mother passed away after more than ten years with Alzheimer's. She'd been on hospice for two years, and this was not unexpected. The lovely part was that the day after Thanksgiving, my family in California came together to celebrate, as is our custom. My mother's sister, Aunt Linda, came to watch Mom and she brought her violin. Mom's sister and her children stood by her bedside, playing and singing hymns. Believe it or not, when they finished, a rainbow came out. The next morning, Mom went to heaven.
That was expected and really should be thought of as a blessing at last — but it was made harder because my father, who had been tenderly caring for her for years, passed away unexpectedly on September 25th, in the hospital from a blood clot two days after minor surgery.
So it feels like a wallop for my twelve siblings and me. The gathering of family at Dad's memorial service was beautiful. But when my mother passed away, too, this time I didn't have the luxury of the Denial stage of grief, and it hit hard right from the beginning. We did want my Dad to have a nice rest after all his work caring for Mom — and he has gotten that rest. Rather than seeing Mom off, he got to welcome her into heaven.
Another tough thing that happened this year was that the church I'd been attending since I moved to Virginia, full of people who love me and support me and got me through my divorce, that church officially adopted a policy that essentially says LGBTQ people are sinning. I strongly disagree with the policy, believing it is neither biblical nor kind.
The good side of that was that I joined Floris United Methodist Church, just fifteen minutes down the road. I heard the pastor making some of the same biblical arguments I'd been making about how Christians need to be inclusive. And to my delight, it turns out this church has an outstanding choir — and I hadn't even realized how much I'd missed singing in a choir, joining the voices of others singing praise to God. Singing in the amazing Christmas cantata brought light to an otherwise dark December.
And that brings me to good news! I actually got the news of my father's passing when I was on one of the best vacations of my life, traveling in Prince Edward Island with Darlene and Ruth, two of my childhood friends. There are two weeks of the year in late September and early October when we are all the same age, and we spent a week in PEI to celebrate being 55. We saw the L. M. Montgomery sites and beautiful scenery from all over the island. And we enjoyed spending time together. I wrote about the whole trip, with pictures, on this Sonderjourneys blog.
And the year started off with the amazing and wonderful experience of meeting with the 2019 Newbery Committee and deliberating in a locked room in Seattle to choose the most distinguished American children's book of 2018. Our winner was Merci Suárez Changes Gears, by Meg Medina. One of the things the main character deals with in the book is her grandfather developing dementia, so that hit home.
After choosing the winner in Seattle, I got to visit my kids and my siblings and little nieces in Portland, Oregon. It was lovely to see them! Tim had started a new job, still doing computer work, and I saw his new apartment. Zephyr announced that she's planning to marry Lily Dear in December 2020, and I got to meet Lily and welcome her into the family! Speaking of welcoming into the family, as of November 2, I will have to talk about nieces and a nephew in Oregon, because Robert and Laura had their third child, little Martin.
In June, we got to celebrate with the Newbery winners at ALA Annual Conference in DC, which ended up being a great big celebration to cap off all our hard work.
And the other amazing thing that happened at ALA Annual Conference was that I was given the 2019 Allie Beth Martin Award from the Public Library Association! This award is given "for extraordinary range and depth of knowledge about books and distinguished ability to share that knowledge." Who even knew such an award existed? I was blown away to be nominated by my own library system, and then winning it felt like serious validation that I made the right choice switching careers when I was in my forties.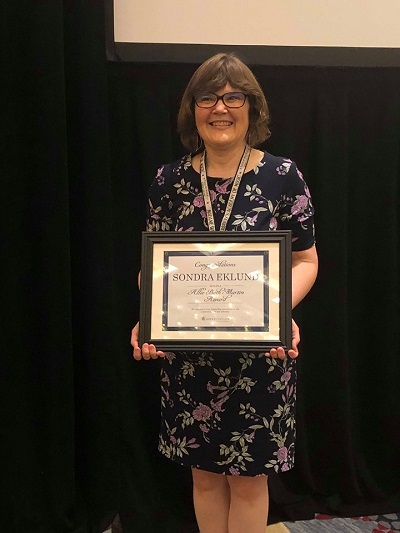 So, those are just the big things of the year — but they were very big things!
2020 will start with my mother's memorial service on January 4th and finish with my daughter's wedding on December 21st. I'm hoping in between will be plenty of love and joy.
To those reading this, thank you for your love and friendship! All that 2019 held was enhanced by the many dear friends rejoicing and weeping with me.
May this Christmas season bring you the comfort and joy of the knowledge that God is with us.