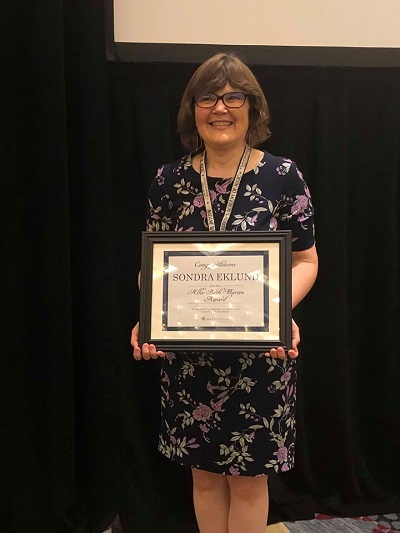 The second day of ALA Annual Conference 2019 began with the PLA Member Welcome Breakfast — where I received the 2019 Allie Beth Martin Award. This award is given for "extraordinary range and depth of knowledge about books or other library materials; and distinguished ability to share that knowledge."
I agree with the Newbery Honor winners that it's a real treat to be given an award that doesn't require a speech. In many ways, my work on the Newbery committee this year made my knowledge of books easier to come by, but I felt like the award also gave me some credit for the Sonderbooks website I've worked on since 2001. Who knew they gave an award for being obsessed with books?
All year I'd thought of getting on the Newbery committee as validation that I made the right choice in becoming a librarian. And since I wouldn't have become a librarian if I hadn't gotten divorced (probably would have continued to work in libraries part-time), it was also big strong evidence that God can work even bad things together for good.
Winning this award put a capstone on those things. Yes, being a librarian is my calling! How lovely to have this reinforced!
I was allowed to invite four guests, and since the conference was in DC, they were able to come. First, with my supervisor, Gary Goodson, who wrote my nomination:
I also invited Jessica Hudson, our library director, who had the idea to nominate her people for Public Library Association Awards, and Nancy Ryan, who used to work with me at my first Fairfax County library and suggested me for the award. My co-worker Suzanne Lapierre was at ALA that day and also came along.
And Fairfax County Public Library won *two* Public Library Association awards. This group won an award for a program series about fake news.
And the speaker at the breakfast was Ann Patchett!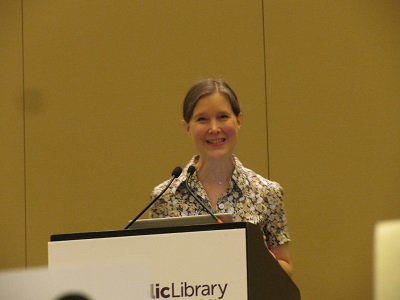 She did a powerpoint presentation, and promised a list of the titles she mentioned on her website, annpatchett.com
She didn't want to talk about her new book, which would be full of spoilers, so she talked around it, talking about her life interviewing other authors.
Interviews are great for authors, not so great for the store (more work!).
She talked about authors she's met. She loved J. K. Rowling's The Casual Vacancy, which she got to read early and was later panned by critics. But she hadn't read any Harry Potter books, so maybe her lack of expectations helped.
Alan Alda changed her attitude to interviewing. He says to be prepared, then leave all the preparation behind and be completely in the present.
Her book Commonwealth was an autobiographical novel. None of it happened and all of it was true.
Then she interviewed Zadie Smith, who was very kind. She said that the mother in the book is the mother I'm afraid of becoming.
So she wrote a novel about her deepest fear — becoming a horrible stepmother.
She reread Angela's Ashes to review how to write in first person.
Then she was distracted by children's books, writing one illustrated by Robin Preiss Gleisman. And Sandra Boynton loaned her a house to work on her novel.
But she threw it away.
Then an interview with Barbara Kingsolver told her to go back to what she threw away.
And Kate DiCamillo gave her the ending of the book — after just hearing what it was about.
And she told a super interesting story of the trials and tribulations and many attempts to get that novel right. Meanwhile, she did multiple interviews and had 10 different houseguests in the month of April alone.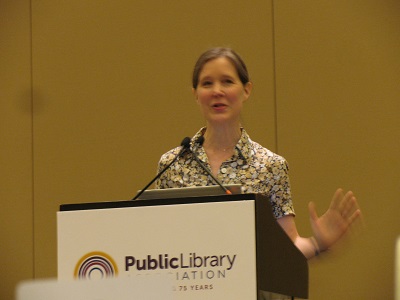 Afterward, she signed Advance Reader Copies for all of us!