On Sunday of ALA Annual Conference, I had big plans. I had a full day's schedule worked out and was planning to change clothes for the banquet in a hotel restroom. And I managed to get out of bed. And I thought to myself Why? And I went back to bed.
I ate a late and leisurely lunch and got dressed for the banquet and left around 3:30 to get to the 5:00 Cocktail Party for those sitting at the HarperCollins table, including Catherine Gilbert Murdock, Brian Lies (Caldecott Honor winner), their family members, and some more committee members.
The party was on a top-floor terrace of the same hotel where the banquet was happening. I do not know why I did not take any pictures. It was lovely.
Around 5:45, we went to the Green Room. There, lots of pictures were taken. I'll just include ones I took, though many of them aren't very good. (My camera doesn't do a great job in low light.)
First, we met the John Newbery Baby! Yes, Emily gave birth the Saturday before deliberations began on Friday! Yes, she came and deliberated! And her baby is completely adorable!
With Lali:
With his Mom: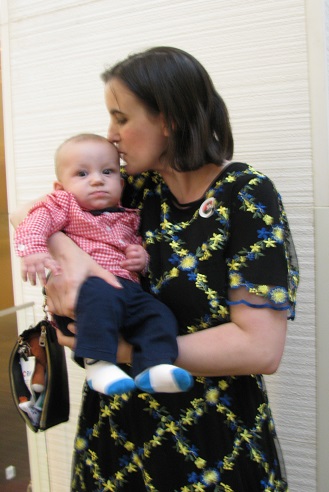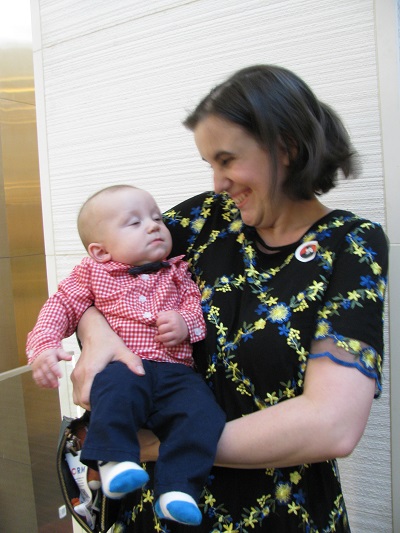 I was all dressed up:
Ellen Riordan, our committee chair, with our winners: Catherine Gilbert Murdock, Veera Hiranandani, and Meg Medina: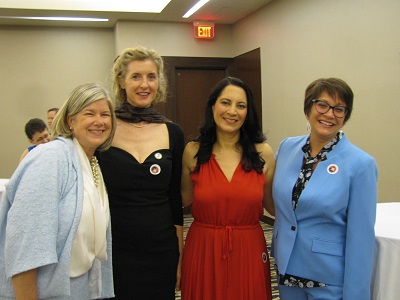 All the winners! Left to right, back row: Veera Hiranandani, Christopher Myers, Catherine Gilbert Murdock, Oge Mora, Brian Lies.
front row: Grace Lin, Meg Medina, Sophie Blackall, Juana Martinez-Neal
With Meg (and noticing we have almost identical glasses):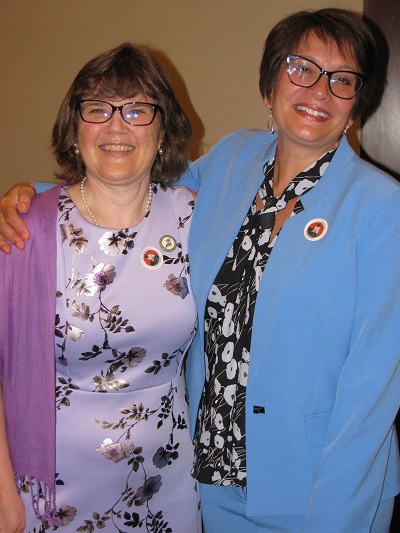 With Veera and Catherine: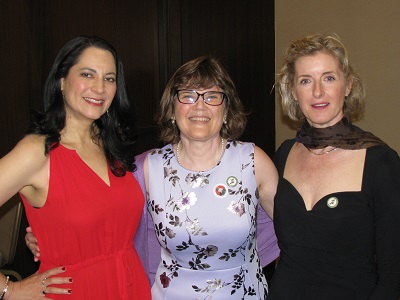 At the banquet, I got to sit next to Catherine! There are always really wonderful programs made by the Caldecott Medalist.
With Ellen during the break after the meal:
I decided for once not to take notes on the speeches, because they had a card with links to the speeches on the table, and I knew they'd be printed in Horn Book Magazine.
First was Sophie Blackall's Caldecott Speech:
Then Ellen took the podium to give out our awards!
There we are! (Rats! I was in a hurry to take the picture before standing up, so it's blurry.)
I got a close up look at Catherine's Honor Citation!
(I tried to take Veera's picture collecting her citation, but it came out too blurry, alas!)
Then it was time for Meg's speech!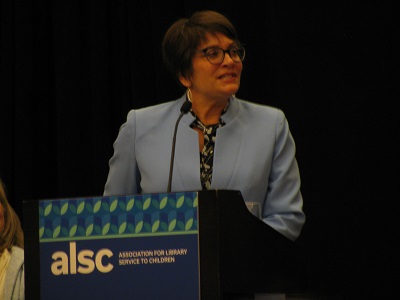 I noticed I had a nice angle on some committee members and Meg's daughter watching the speech:
A couple things happened at the actual speech that weren't in the pre-written speech that is on the website. Meg did name all committee members in her speech — but instead of listing our full names, she called us all by our first names, and she used Sondy for me instead of Sondra. She also mentioned the amazing evening we'd had together the night before.
Another thing was that the night before Candlewick had given us bicycle bells in honor of Merci. Written on them, it says, "Take a deep breath and ride" — Merci Suárez
Well, naturally I brought mine to the banquet to ring every time the crowd was applauding Meg. Toward the end of the speech, she thanked Candlewick for the bicycle bells, and naturally I rang the bell then — but this time everyone heard me do it and the entire enormous ballroom laughed! (I immediately hid the bell and pretended it wasn't me.)
The next speech was Christopher Myers accepting the Children's Literature Legacy Award on behalf of his father, Walter Dean Myers.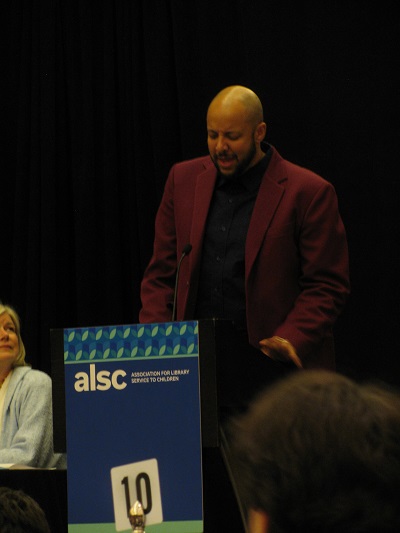 And finally, when the banquet was all done, I got a picture with one of my all-time favorite authors, Shannon Hale!
The whole thing added up to an amazing evening, the culmination of our two years (really) on the Newbery committee!