It's time for Project 52, Week 48!
48 weeks ago, on my 52nd birthday, I began Project 52. Since there are 52 weeks in a year, each week I'm taking one year of my life and blogging about it. This week, I'm covering the year I was 48 — June 14, 2012, to June 14, 2013.
Last time, I covered through the summer. I'd brought my son to the dorm at the college of William and Mary, and I'd been hired as Youth Services Manager at the City of Fairfax Regional Library – the job I still hold today.
In September, I started meeting with a realtor and a mortgage broker (from church)! to look into purchasing my own home, now that I no longer needed to live in Fairfax County for the sake of Tim's schooling. Fairfax County is too expensive for me – and I hoped to live closer to my church, Gateway Community Church in South Riding.
Also in September, I learned that third time's the charm – the third time I'd applied, this year I'd been accepted to be a Cybils panelist! I was chosen to judge books for the first round of the Cybils Awards – Children's and Young Adult Bloggers' Awards – in the category of Middle Grade Fantasy and Science Fiction. So I would read as many books as I could in the months of September through December, and we would choose seven Finalists, to be announced on New Year's Day.
Yay! I'd be required to do lots of reading! One thing I like about judging book awards is that you're supposed to feel guilty when you're not reading, instead of the other way around!
And I went to KidLitCon that year! It was happening in New York City!
Our speaker at dinner on Friday night was Grace Lin. She brought her adorable baby!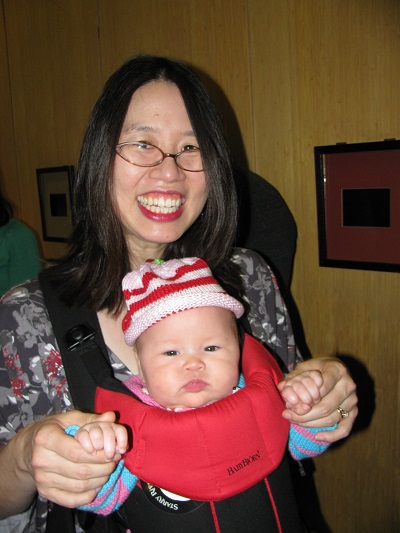 We met at the New York Public Library on Saturday. Of course I had to make a pilgrimage to see the original Winnie-the-Pooh and his friends.
I was also thrilled to see the lions, Patience and Fortitude.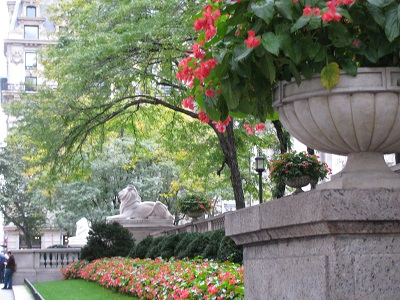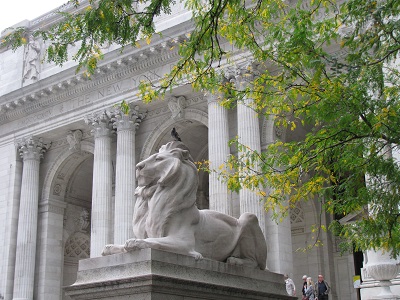 I was happy to again have Lisa Song as my KidLitCon roommate. In fact, she found us a hotel in Brooklyn, and together we navigated the subway into the city, which saved us some money.
Pam Coughlan, Mother Reader, who also works for Fairfax County Public Library was "auctioning" some Advance Reader Copies she didn't want. (On Friday, we'd gotten to do some publisher previews.)
Betsy Bird, of School Library Journal's Fuse 8 blog, was the host.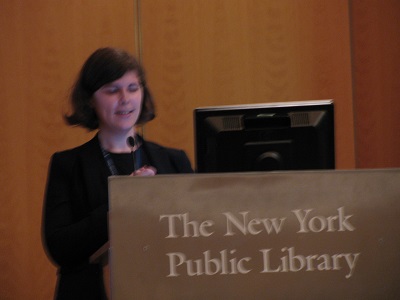 And Maureen Johnson was a speaker.
On Sunday, I had a late flight, so I enjoyed walking around Central Park!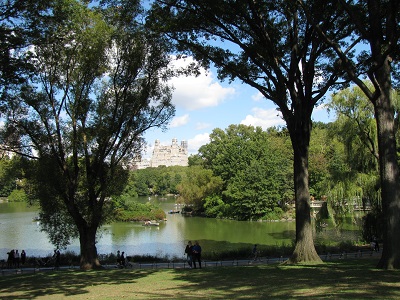 That Autumn was filled with things I didn't take pictures of. I looked at homes. I read books for the Cybils.
In October, I went to the Virginia Library Association conference – happening in Williamsburg! So the lovely thing about that was that I was able to spend time with Tim. I also did a preconference with Soroj Ghoting about the new Every Child Ready to Read kit by ALSC. It's for encouraging parents in reading, talking, writing, singing, and playing – in order to get their children ready to read when they get to school.
That November was when my little niece Alyssa was born, my sister Marcy's daughter. And I knitted her a coded blessing blanket! Here's the mathematical explanation.
And the next baby was expected by my brother Robert's wife, but we didn't yet know the baby's gender. I began planning a prime factorization blanket for this baby.
Meanwhile, I was doing lots of praying, still, about Steve. I finally got to the place where I felt free to pray that Steve would come back to God – but not that he would come back to me. And people were starting to talk with me who were having marriage problems. And I was able to respond with so much more compassion than before my own marriage fell apart.
I like what I wrote in my Quiet Time journal on December 2nd. It summarizes the way I was thinking at this point.
Isaiah 7:9
"If you do not stand firm in your faith, you will not stand at all."

Lord,
I was struck by that verse in the sermon today. Does that mean I should keep "standing" for my marriage the way Rejoice Ministries defines it?

I really thought You were telling me that my marriage would be healed. I had a whole dream of Steve coming back because of my self-sacrificing love.

But I do think You told me to offer my marriage to You, as Abraham offered Isaac, knowing that I could receive it back from death, if that is Your choice.

And after the divorce, I am sure You gave me the verse: "Steve is joined with idols; leave him alone!"

So where do I stand now? Well, if God brings Steve back, I still think God could work the miracle of making me love and trust him again.

But I do think it's possible God will bring someone else into my life.

But I will not pursue that.

What have I learned?

— God loves me. So much. He made me with all my quirks and loves me for who I am, not in spite of who I am.

— I can't control other people. Even telling them what they should think is not my place.

— Sometimes divorce is a good thing. This one comes hard, but I think it's true.

— Forgiveness is so important.

Steve did not ruin my life, even though he wronged me deeply. Neither did Amy. And Steve gave me so much.

— God is good.

— Life is good.
Here's a picture from the library Christmas party that year. I work with wonderful people!
In January, I made an offer on a townhouse-style condo in Manassas. And it was accepted! I was excited – it was a nice place. But the more I looked at it, the more I realized it was really awfully far from both work and church. But I thought that was the only place I could afford to buy something. At least it was a home!
Now there was a little problem with their FHA certification, but it was supposed to get recertified soon.
Well, instead, after the home inspection happened – the FHA financing fell through.
I was disappointed. Back to the old drawing board.
And then, at just the right time, this home where I live now came available.
One look out the window at the lake – and it felt like more than I imagined, God's special gift to me.
Now, I have to mention that my Dad generously provided the down payment – and through Kyle Jessop's company, I got a 2.75% interest rate on my mortgage loan! So low that it will never be a good idea to refinance, no matter how much I'd like some spare cash.
It was a good time to buy.
It was the start of new things.
And here's what I wrote on March 22, 2013 after our regular Friday night small group meeting. (I'd been meeting with the Maulellas' group for a few years now.)
Lord Jesus,
Thank You for speaking to me tonight.
It's been an encouraging week.
I'm on the Newbery ballot!
I'm buying a beautiful home!
I'm doing Math programs at the library next week!

But – I also had that vestibular migraine happen, and it scared me. I became afraid and discouraged. Voices of discouragement rose up. That it's arrogant to rejoice in God's blessings. Who do I think I am?

As we were praying, I asked You to speak to me. I expected something quiet and private.

Instead, Terri Eagle said she tried to pray for other people whose needs she knew, but she kept getting an image for me – of a wilted flower, straightening up and standing tall. That it's time for me to bloom.

To me.

Then Lee told me he had a verse for me, Psalm 40:1-3 —

"I waited patiently for the Lord;
he turned to me and heard my cry.
He lifted me out of the slimy pit,
out of the mud and mire;
he set my feet on a rock
and gave me a firm place to stand.
He put a new song in my mouth,
a hymn of praise to our God.
Many will see and fear
and put their trust in the Lord."

And – the whole group prayed for me.
And one brother called me beautiful.
And I felt loved by You.

Whatever's going on with my head, I will be okay.
You are making me bloom.
You're giving me a new song.
You're expanding my territory.
You're giving me beauty for ashes.
You're enlarging my tent.
The hills are bursting into song.
I still found time to do the Bluebell Walk at Bull Run before I moved! That year I was early, and was fascinated by all the buds.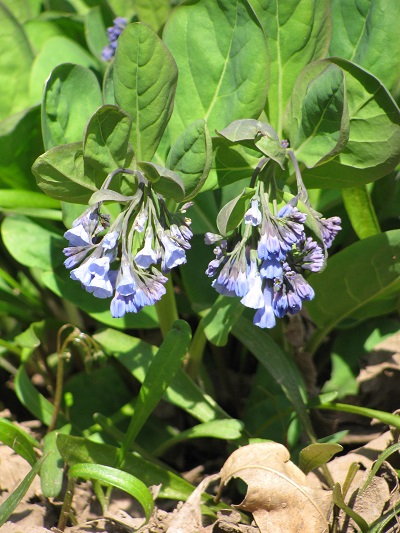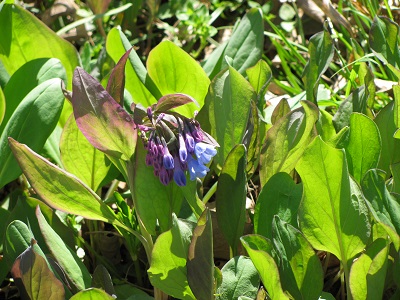 And I had to take last pictures of the blossoms outside my door in Centreville.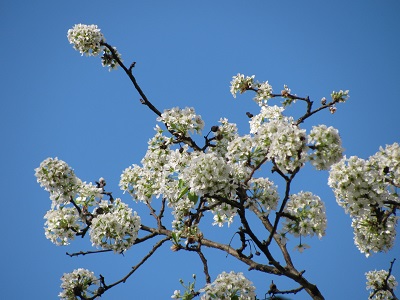 And on April 19, 2013, I became a home owner!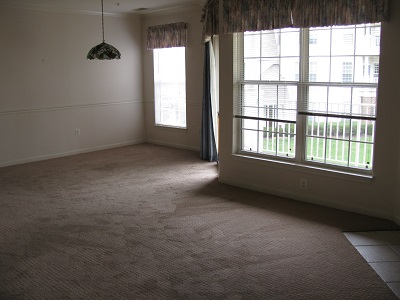 And – Gateway folks came in a crowd to help me move in!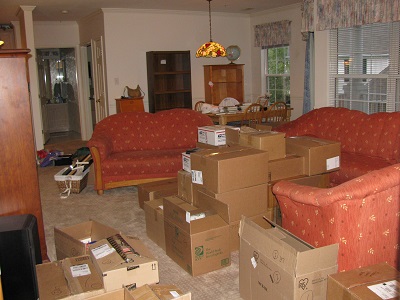 Here's what I wrote in an email to a friend after Moving Day:
I'm really moved in!!!  On Saturday, TWENTY-FOUR people from my church showed up at various times to help me move in!  That includes 3 kids and 3 women, and 18 big strong men!  It was amazing!  I felt so cared for!  And then after church Sunday, three different ladies grabbed food at Panera and came over to eat it and enjoy the view.  I hope to do that often.
 
The lake view is so lovely!  I can just sit and stare at the lake from my balcony and my soul is fed!
It wasn't long before I bought some balcony furniture and balcony flowers.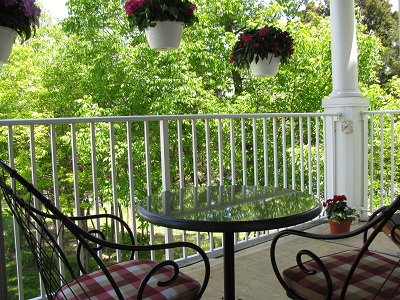 In May, I did get the very sad news that I had missed being elected to the Newbery committee by 15 votes! And it was already too late to nominate myself for the ballot the following year. But, spoiler alert: I was finally elected to the Newbery committee in 2017! And that's a better time anyway, since my nest is even emptier. Makes the empty nest an asset instead of something to be sad about – all the more time to read!
I did say to a friend, "I am reminding myself that it took me 3 tries to get to attend the William Morris Seminar, 3 tries to get chosen as a Cybils judge, 3 tries to be Youth Services Manager, and 4 offers on houses — and all worked out for the best in the end."
Indeed!
And – with my wonderful lake outside my window, I started walking, using a walking program in the book Walk Your Butt Off. And – I did lose weight, but even better was that I gained some energy and felt like I gained back some of the fitness I lost when I had my stroke two years before.
When the realtor showed me the home, she told me there was an "egret" who lived at the lake. She also told me a story that egrets mate for life, and when one dies, its mate stays where they last nested. Okay, that story is totally bogus. And we usually see great blue herons at the lake. (Sometimes a white egret.)
But the truth is – at least one great blue heron likes to frequent my lake, and right away I was thrilled every time I spotted him.
Here's the very first time I got his picture on May 28. Spot his head poking up from the bushes?
When Tim got off for the summer, he enjoyed the balcony.
And then I finally captured some good shots of the heron. I actually saw the heron posing on the wall and ran back for my good camera.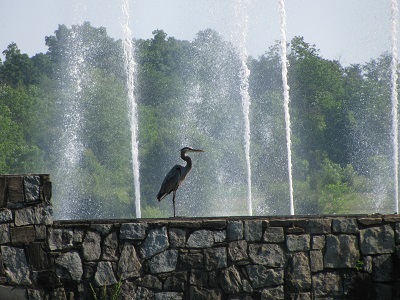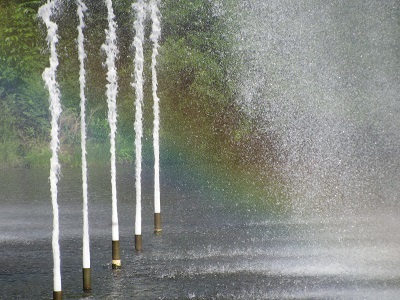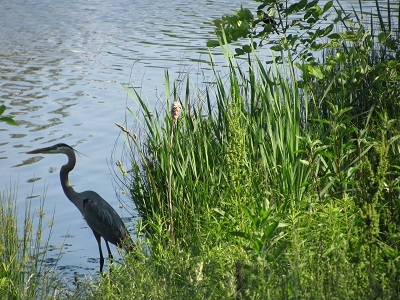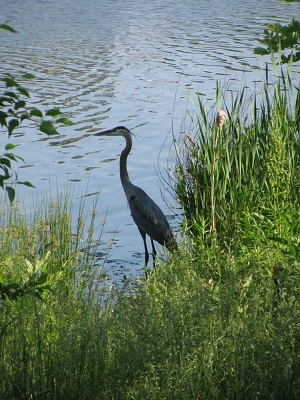 I also loved the way the flowers by the lake seemed to change each week, always beautiful.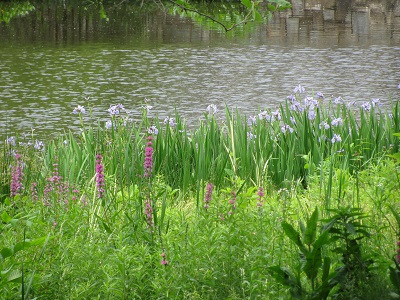 And my 49th birthday was extra special. I told about the Bluebird of Happiness on this blog.
In summary, my friend Lauri Ann sent me a birthday gift of this antique locket worn by Jo Stafford, the person who recorded "The Bluebird of Happiness."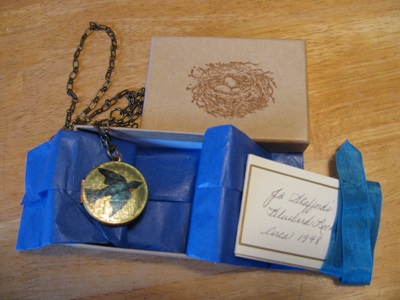 And on my birthday, after a Capitol Choices meeting, I went to Great Falls. And I discovered that flocks of great blue herons hang out there! So I decided that instead of a bluebird of happiness, I had a great blue heron of happiness!
I was taking all these things as signs of wonderful new beginnings.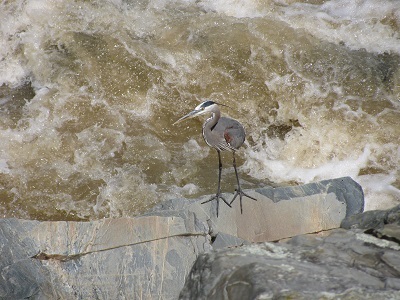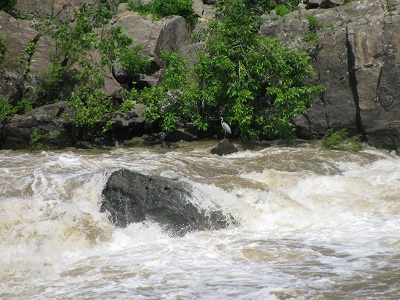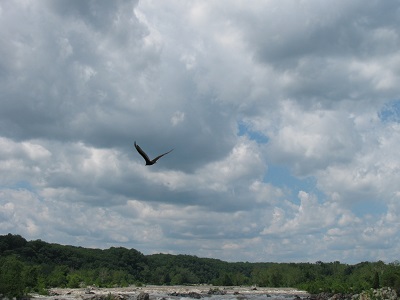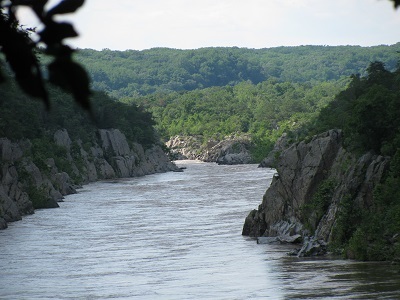 I enjoyed tampering with this photo.
And this may have been the year Tim and I began our tradition of lighting candles using binary. Instead of lighting 49 candles (so many!), I lit them to show 11001, which is 49 in binary.
It was a Happy Birthday, and I was ready for new beginnings!