It's time for Project 52, Week 49!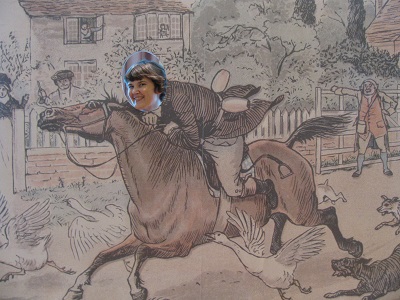 49 weeks ago, on my 52nd birthday, I began Project 52. Since there are 52 weeks in a year, each week I'm taking one year of my life and blogging about it. This week, I'm covering the year I was 49 — June 14, 2013, to June 14, 2014.
I covered my 49th birthday last time, and talked about buying my lovely home by a lake. I'd started walking regularly, and was regaining my fitness level after my stroke two years before.
Once again, the first big event of the year was a trip to ALA Annual Conference. This year, it was happening in Chicago. There was a preconference on Friday celebrating 75 years of the Caldecott Medal, happening at the Art Institute of Chicago.
I went to a reception there the first night I arrived. I loved Paul Zelinsky's Z Is for Moose shirt!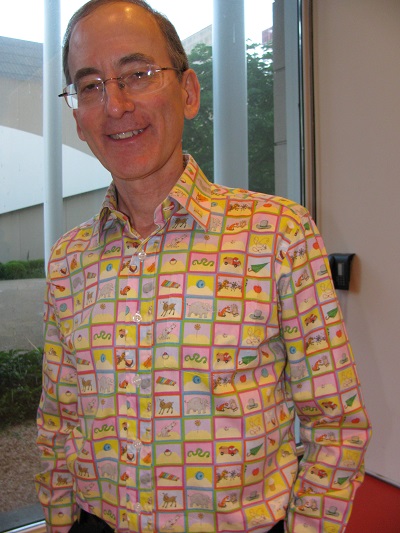 And here are the wonderful speakers for the preconference:
Top row: Chris Raschka, Paul Zelinsky, Leonard Marcus, Marla Frazee, Brian Selznick, and Kadir Nelson
Front row: Peter Brown, Pam Zagarenski, Melissa Sweet, Erin Stead, and her husband, Philip C. Stead.
And from the side:
On the day of the preconference, Paul Zelinsky had more Caldecott clothing – this time a tie he'd painted with the actual paints he used on his Caldecott Medal winning book Rapunzel.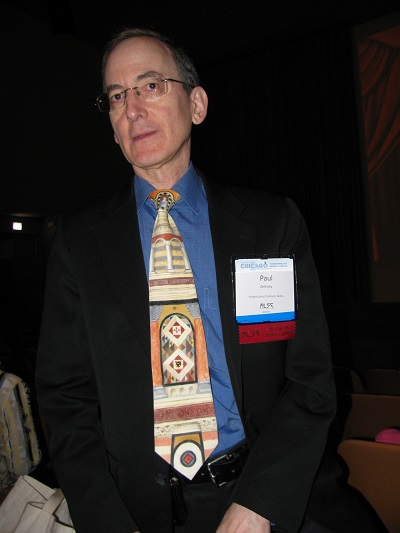 It was an awesome Preconference, which I posted all about.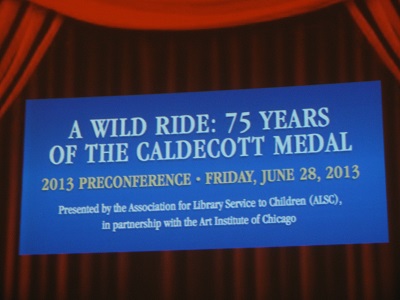 Here's the inevitable First Night Loot picture, from the famed Running of the Librarians:
Lots of great programs happened on Saturday, and I got to meet Elizabeth Wein!
Highlights from Sunday included hearing Temple Grandin speak.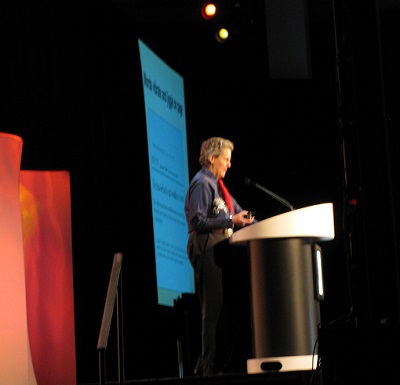 And lunch with Rebecca Kai Dotlich, Nikki Grimes, and Kiera Parrot.
It was the 75th year of the Caldecott Medal, so the Newbery/Caldecott/Wilder Banquet was dominated by Caldecott décor and clever Caldecott costumes.
Roxanne and Monica honored Black and White, by David Macauley.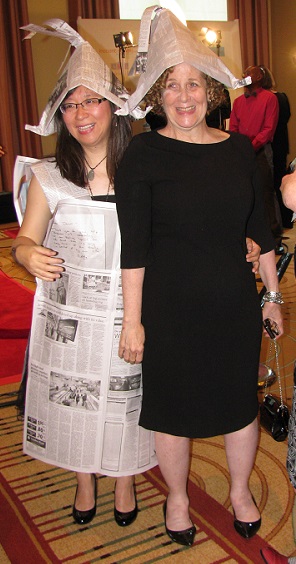 I loved this Jumanji: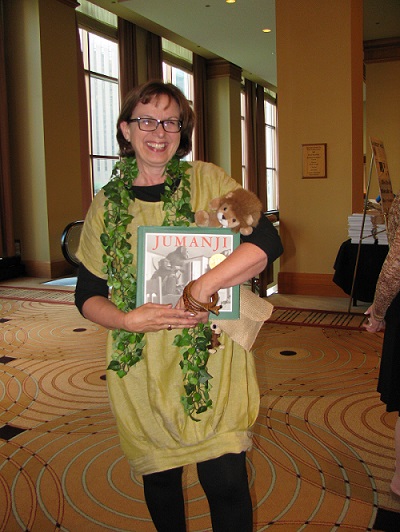 My neighbor at dinner had this lovely rendition of Why Mosquitoes Buzz in People's Ears:
It was a wonderful night, as always!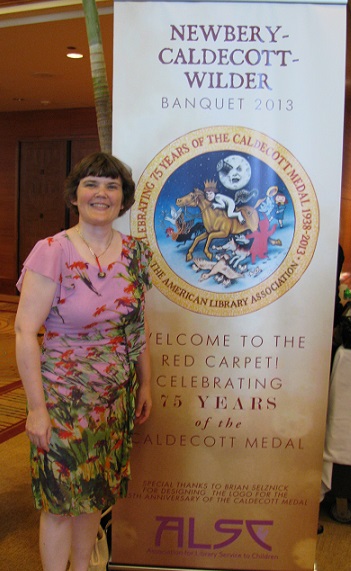 Even the dessert had a 75th Caldecott theme!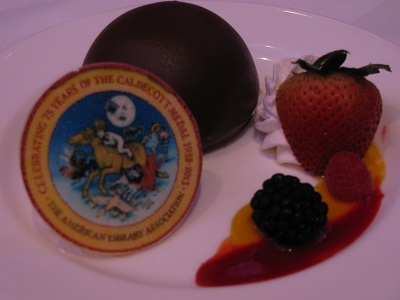 There was more fun on Monday, capping off with the Printz Reception, when I again got to meet Elizabeth Wein.
Another wonderful conference!
When I got back home – more walking by the lake! Can I resist posting a million pictures?
It was now a year since I'd last seen Steve. All year I'd been thinking about stopping "waiting" for Steve. But it was all theoretical – until I found myself attracted to a man. A newly-divorced coworker.
So that got me thinking much harder. All this time, since I got married in 1987, I hadn't let myself be attracted to anyone. When I was married, it wasn't a problem – I was in love with my husband, so other men weren't really on my radar. Then while I was "standing for my marriage," I was carefully staying away from men.
In fact, I was mad at men in general. After reading The Script and meeting a lot of women who'd been cheated on – I was starting to think I could never trust a divorced man. It didn't help that I worked in a library, with very few male co-workers.
So – part of my healing was letting myself get a crush on someone.
But first I had to actually let go of "standing for my marriage," actually stop hoping Steve would come back to me.
And just at the crucial time, when I was thinking hard about that, Pastor Ed preached a sermon on "Plan B Living."
I was afraid that this would make me feel like I didn't have enough faith.
But instead, he drew a diagram on a chalkboard. He had a long line demonstrating the "Human Activity Spectrum." On one end was "Control" and "Legalism." This was "Plan B Living," and is all about striving and making things happen. On the other end was "Just letting things happen" and "Planless Surrender."
In the middle? That's the sweet spot, the Path of Trust.
And – it finally dawned on me that "standing for my marriage" was not trusting God. It was Plan B living, with the prayer, "If only you, God, will baptize my plan."
Here's how I summarized my thinking in an email to Lisa Maulella, my small group leader's wife.
Saying that "Standing" for your marriage is always the right response to divorce is Legalism — and that's why it appeals to me so much!  In my mind, I don't think God requires the same thing of everyone.  But I wanted to regain my status as a spiritual person — we all know a divorced person isn't spiritual, after all!  (I told you I love legalism.)  But if I can just grit my teeth and pray and believe and "stand" — well then I can take control of the situation again.
 
So giving that up feels like more in the direction of trust than holding onto it.
 
Mind you, I'm not getting married any time soon!  🙂
 
But this was a big deal for me.  Just to decide in my mind that God is not asking me to "stand" for my marriage.
 
God still might bring Steve back.  In fact, I think He basically promised me that Steve will repent one day.  But it's not going to be because I took control of the situation (Ha!) and fasted and prayed.  And he may do much much better walking with God with some other woman by his side.  It's not like I mean to stop praying for him.  Just that I am rejecting the idea that if I ever marry anyone else, it would be adultery.  That I need to in any sense consider myself still married to him.
Now, most local people will know exactly who I had my small crush on, so I won't be secretive. It was my friend Paul, who was then working part-time at the Fairfax library with me.
And just last Sunday, I had the chance to attend Paul's wedding! That was nice coming right at the time I was thinking about writing this week's post and about how Paul turned out to be my best friend the year I was 49.
When I say "best friend," he didn't usurp my lifetime best friends. But that year, he was the person I talked to most and I saw him at work. And he's one of those rare creatures – a man who answers emails! And he's a writer, so he can write an articulate sentence. We got into some great email conversations.
I soon found out that he was in a long-distance relationship. And as I got to know him, it was pretty clear we weren't looking for the same thing.
But still, being willing to let myself indulge in a little crush on someone was a big step in my getting over Steve.
Paul also arranged some Games Nights with another (much younger) co-worker, James. And then Paul encouraged me to go to a gaming group that met on Saturdays in Fairfax a block from the library. The first time I went, Paul met me there, and considerately played the games I was interested in playing.
I'd never in my life needed to attend a gaming group. Growing up, there were always plenty of siblings to play games with. And then I'd brought my kids up playing games. But that was one of the hard things about the Empty Nest.
By the next Spring, Paul let me join the invitational Friday night gaming group that met at his house alternating with another guy's house. It was limited to 8 people, and one was moving away, so he said I could join. I was ready to find a new small group, because I was living further away from the group that met in Herndon now. So I started gaming on Friday nights.
And it really felt good to be with a bunch of guys playing games. (There was one other woman in the group, the wife of one of the men.) I felt like a math major again! And it really did help me get over that being-mad-at-men. And they were nerdy, smart guys – just like my Math Brothers in college.
Then when Paul's long-distance relationship ended badly at the end of 2013, I was able to provide a listening ear to him.
And Paul and I both signed up for online dating at the same time, in February 2014. It was actually nice moral support to start the same time as a friend and discuss our experiences. By this time I'd figured out that we definitely were looking for different things in relationships – but we could still provide encouragement to each other. And after I found someone to date and had a boyfriend for 2 months – when I broke up with him, Paul came over, driving the hour to my house, and hugged me while I did some crying and then played some 2-player games with me. A man who will do this? That's a true friend!
I simply can't overstate how nice it was to have a man for a friend again. Now, we have a very different world view and we're not suited to be a couple (and I'm super happy about his marriage last Sunday) – but it was good to have a male perspective. For that matter, it was great to have any friend who would answer a bunch of emails and talk about navigating life. Someone who had a little more time on his hands than my girlfriends who were busy with their families. As an introvert with an empty nest, emailing is exactly how I like to reach out.
So that was skipping ahead a bit. At the start of the summer, I was still just getting to know Paul and adding gaming into my life and really enjoying that. Still walking around the lake and enjoying the great blue heron sightings.
Here's my building:
And Tim was 19 years old!
And it's late! I need to stop for tonight…