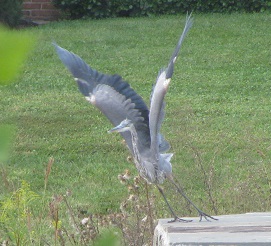 If I count it a blessing every time the weather is wondrous, that's going to take up a lot of posts.  But since I started the blog afresh recently, I figure it's okay to indulge in a few raptures on an especially beautiful day when I get to take a walk out in it.
And the great blue heron was there!  And I hounded him until he took off and left — and he did that right when I was snapping a picture.  This picture feels joyous and beautiful to me, and I was so happy to get it!
And I was already happy.  The weather had cooled off.  The sky was glorious!
A lovely cool breeze was blowing.  I mentioned the heron showed up?  And wildflowers of many different kinds were blooming beside the path.
Just an utterly lovely day.
I've always figured if you don't like the weather, try to ignore it.  (Go inside and turn on the air conditioner!)  If you do like it, might as well let it affect your mood!  And today it was exhilarating to go for a walk on such a glorious day.