Where to even begin with the blessings that happened today?
After I posted about loneliness this week, my dear best-friend-since-3rd-grade Kathe asked if we could get together.  (We always mean to do so more often than we do.)  I'd been thinking that I really should use the Annual Pass to Shenandoah National Park that I bought last September, which expires this September.  And it worked out that we could go together this afternoon.
We got off to a rather late start, but it's not far, and we didn't have to hurry.  We did a very short hike to Land's Run Falls.  It's also not far from the entrance to the park, so perfect for a late afternoon hike.
The trail takes you to the top of the falls, so I couldn't get the greatest pictures.  But it was so lovely and peaceful to be walking in the woods, hearing the rushing water, and there with my dear friend.
The leaves were just barely beginning to turn color, but already beautiful.
And of course, always on Skyline Drive, the drive was beautiful, too.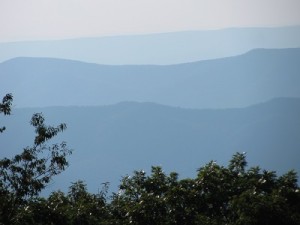 The whole day was simply such a blessing!