It's time for Project 52, Week 52!
52 weeks ago, on my 52nd birthday, I began Project 52. Since there are 52 weeks in a year, each week I took one year of my life and blogged about it. This week, I'm covering the year I was 52 — June 14, 2016, to June 14, 2017.
So, yes, I am now 53 years old – time to tell about that last year!
So far I've covered my trip to California in July for my niece Megan's wedding, my sister Becky's visit in September, and my reading retreat in Chincoteague.
That Fall, I was a panelist for the Cybil Awards, in the category of Young Adult Speculative Fiction, so I had lots of reading to do – reading that I was thoroughly enjoying! But I still took time to take pictures of the beautiful leaves by my lake.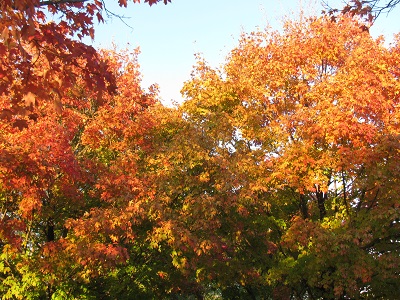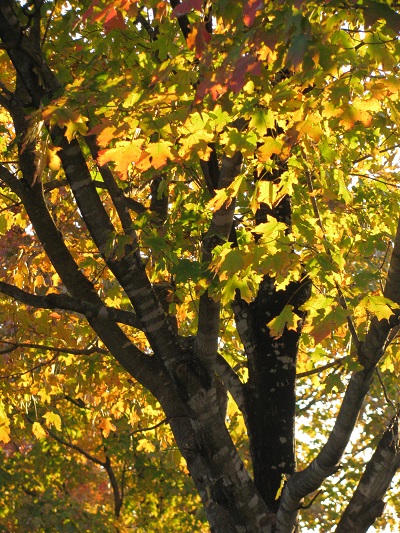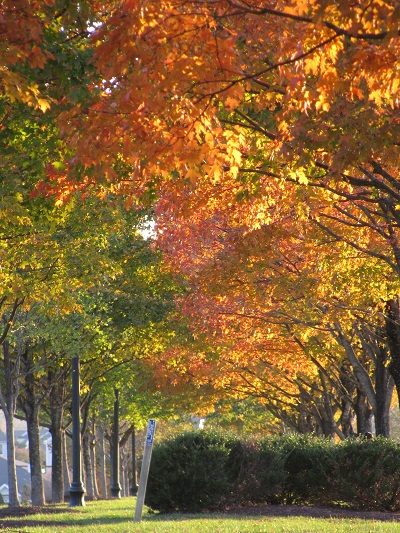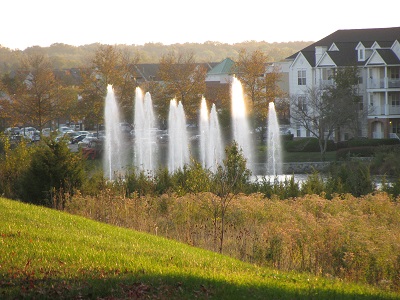 I'd bought souvenir t-shirts on Assateague and Chincoteague, so I took selfies the first time I got a chance to wear them.
I had a Truly Empty Nest at that time, with both my daughter Jade and my son Tim now living in Portland, Oregon. But that Fall, my small group was going through the book Champagne for the Soul, by Mike Mason. It's a book about Joy and looking for Joy. Looking through my quiet time journal, I found this quote from it: "Joy, like love, banishes loneliness." Yes! I was finding a lot of Joy from the reading I was doing, from getting to take beautiful pictures, and from reliving some joyful years of my life while writing Project 52.
Here's a Sonderblessings post I wrote at that time about Leaves as Lucky Pennies and finding Joy.
And so, I'm afraid, I have more Leaf Pictures to show. But remember, they brought me Joy!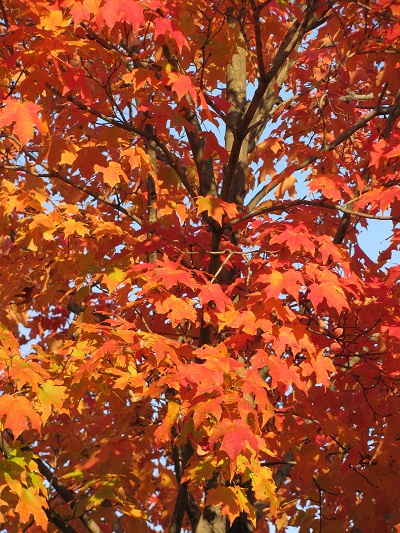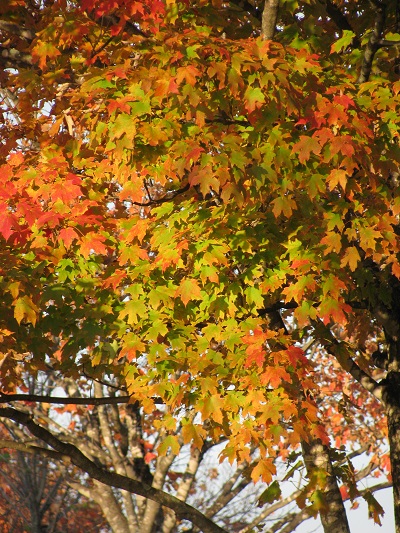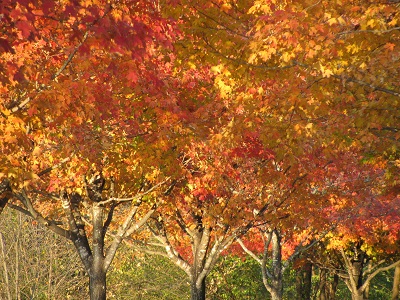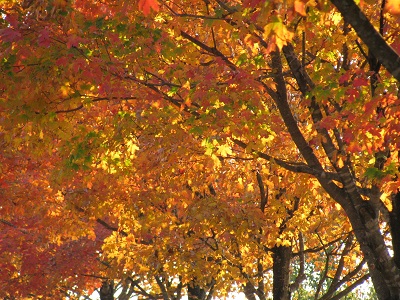 I was walking among the leaves every day for awhile. Those were from November 2nd. (I took sick leave because of a neurology appointment. My vertebral artery was doing fine.) November 3rd was a late work day, so I went for a walk in the morning.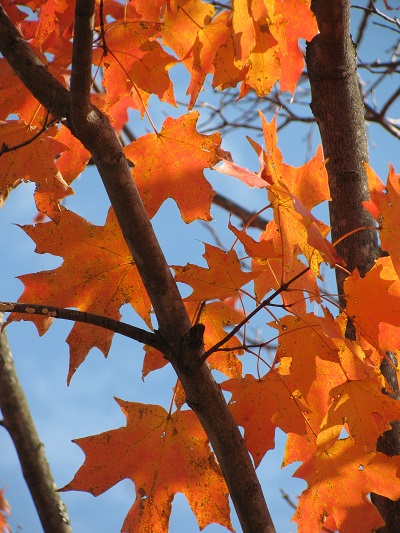 November 4th was my day off. I took a nice long photo walk. The leaves were starting to come down, but they were still so pretty!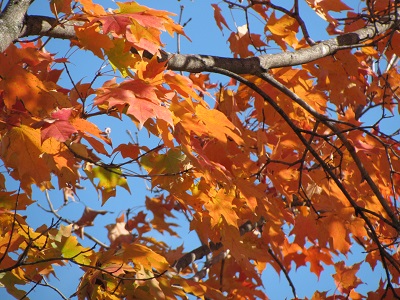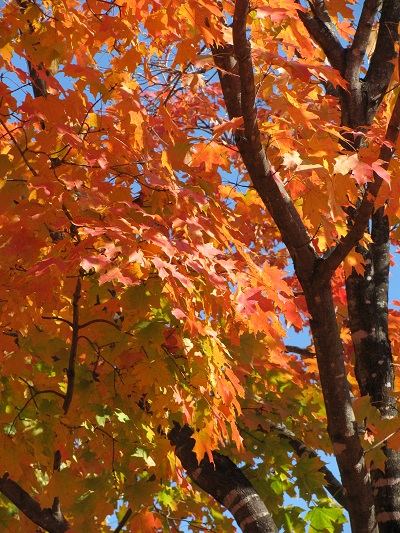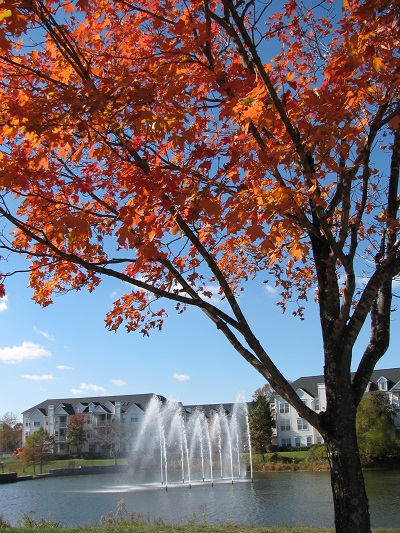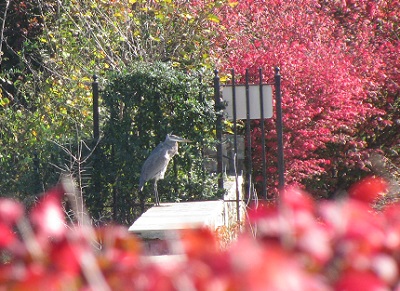 That afternoon, I read on my balcony – and kept pausing to gasp at how beautiful the yellow tree was! I'd stop to take pictures, too. (Surprise! Surprise!) They don't capture how brightly it was glowing.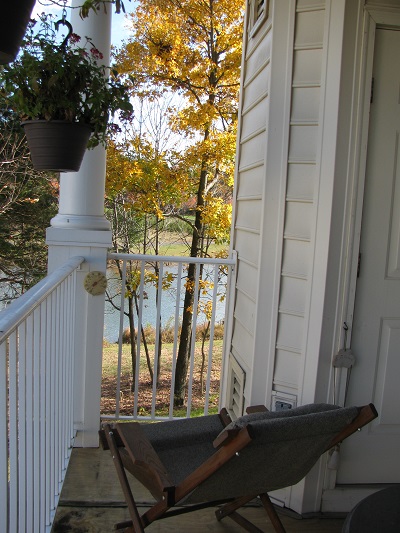 Such luxury to lounge on my balcony for my reading!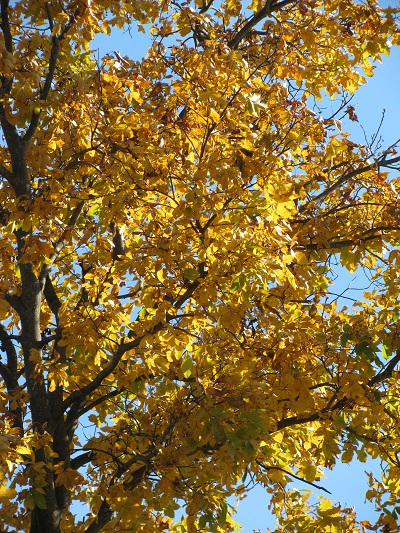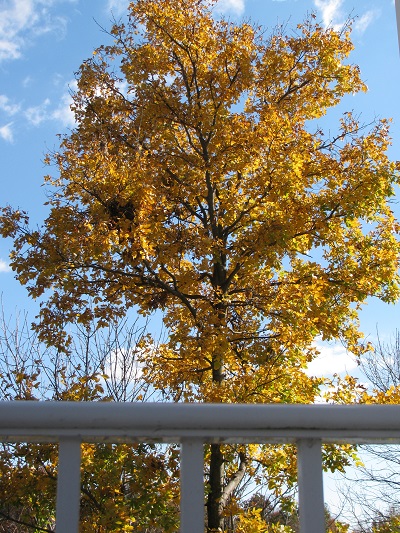 And one of the most wonderful things about reading on my balcony is listening to the bird song and being among the treetops with the birds.
On November 6th, Daylight Savings Time ended, so I woke up early enough to take a walk before church.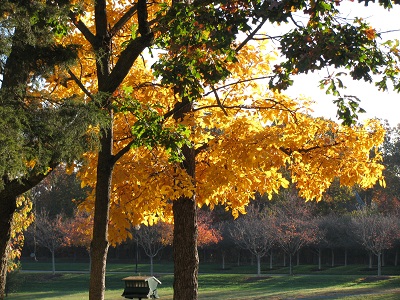 The heron showed up.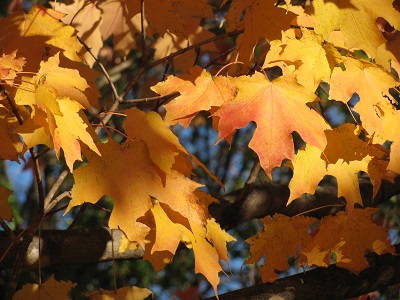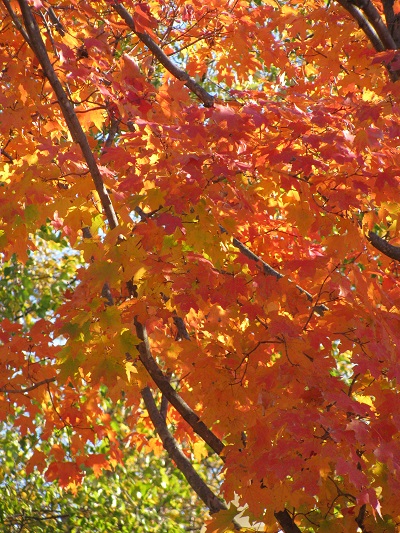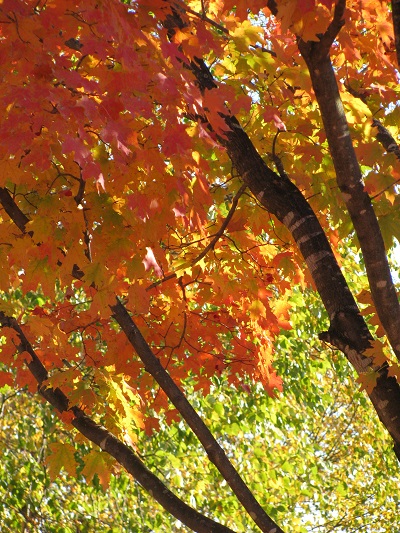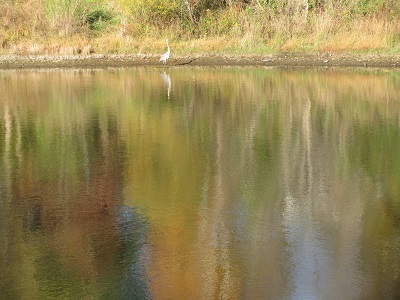 On November 7th, the great blue heron decided to eat breakfast the same time as me. When I opened my shades in the morning, there he was!
The leaves were glowing gorgeously in the rising sun, too.
And November 7 was the day that our branch did a kick-off of the 1,000 Books Before Kindergarten program – and our local county channel interviewed me! I was happy with the way they edited the segment – taking out all my stumbling. You can view my interview on my Sonderblessings blog.
There were more glowing leaves and a beautiful fog on the lake on the morning of November 8. I got up early to vote before work. Alas! My hopes were high, but got dashed.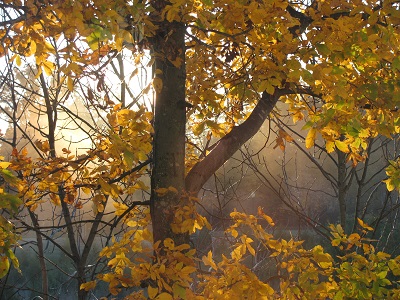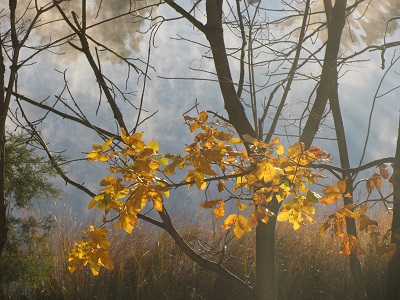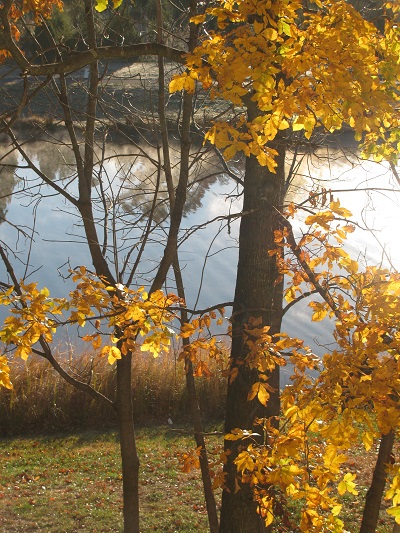 And we made a voting booth for kids at the library! (I should say, other staff did.)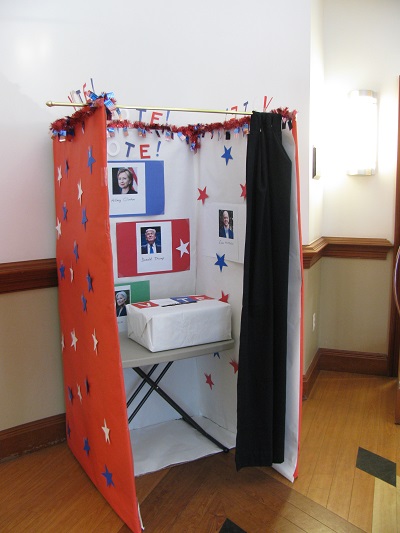 On November 10th, the heron again had breakfast the same time as I did.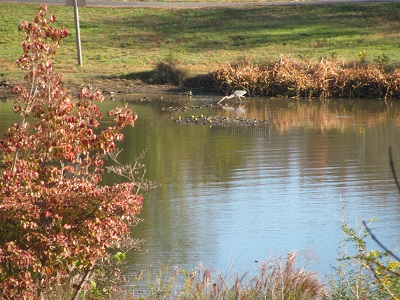 And I got another morning walk in before working late. Despite the disappointment with the election, it was still fairly easy to find joyful moments now that I was looking.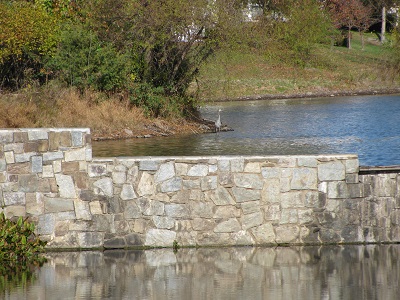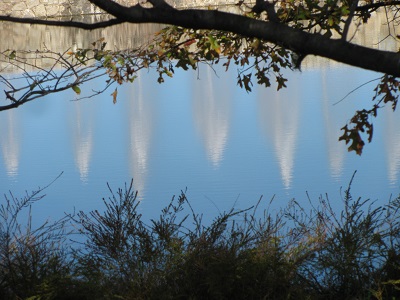 On Veteran's Day, the great blue heron showed up out my window at breakfast for the 5th consecutive day.
I was catching a cold, so I spent most of that long weekend indoors reading, but on Veteran's Day, I went for my last walk with Autumn leaves for 2016.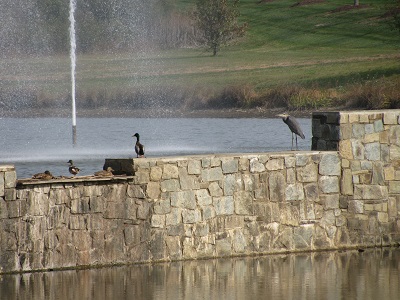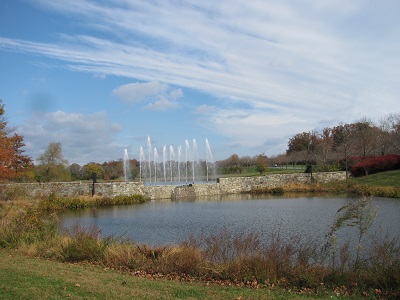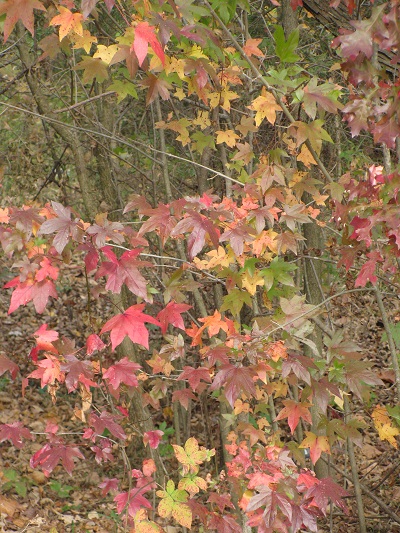 The end of Autumn seems like a good place to stop for the night. I know I went overboard on pictures, but hey, those Autumn leaves brought me a lot of joy.