It's time for Project 52, Week 11!
11 weeks ago, in honor of my 52nd birthday, I decided to start Project 52 — for 52 weeks, I'm going to reflect on one year of my life.
This week, I'm going to cover the year I was 11 years old — June 14, 1975 to June 14, 1976.
The picture above shows our family in April 1976. Come to think of it, this would fit in well on the Awkward Family Photos website. Across the back is Rick, age 14, in 9th grade, holding Jeff, age 1; then Becky, 13, in 8th grade, holding Nathan, 3 months old (Yes, there was another birth in January 1976.); then me, 11, in 7th grade. Front row is Randy, 7 years old, in 1st grade; Wendy, 8 years old, in 3rd grade; and Ronny, 3 years old.
I got my own camera that year. Apparently we took a vacation and visited both our Grandma in Phoenix and our grandparents in Salem. I like my approach in taking this picture of Jeff and Randy in Phoenix:
7th grade was tough. Painful even to think about. I was lonely. My foursome from elementary school had been broken up. Kathy moved to Catalina Island — not far away but very inaccessible. Abby switched to a different junior high school. Darlene went to Brethren Junior/Senior High School with me — but we only had one class together in 7th grade, 7th period math, which was a full classroom and we couldn't even sit together. I think we even had different lunch periods.
Besides needing to make new friends, 7th grade was when I began to get an inkling that my clothes and hair were completely out of fashion. But I had no clue what to do about it. Just felt wrong and different. I think that was about the time I was wearing a lot of clothes that were given to us from a family at church — clothes that were awfully dingy and old and completely out of fashion. To this day, I can't handle shopping at Thrift stores. I like things that are New and Shiny. And it fills some hole to tell myself that I actually do deserve new things.
However — despite all that, some wonderful things happened in 7th grade.
For two of the great parts of 7th grade, the way was paved by my older brother and sister.
One of those was going a year ahead in math.
When Rick did it, a couple years before, it was a new thing at Brethren High School. My Mom had to push for it. But Becky had done it, too, and it wasn't too hard to work it out my year, though I had a different teacher than they had, Mr. Kerby. But math class met in a room that had a back room. So Mr. Kerby let some of us go back there with a teacher's aide and do ALL the problems in the book, at our own pace.
And I do mean ALL the problems. We had to miss no more than 3 problems on a homework assignment or do them over. I remember one very annoying long division assignment with about 36 problems that I had to do maybe 3 times before I got enough right. (I mean, I clearly knew how to do long division. But there were lots of places to make a mistake!)
We had fun in that back room. And that was how I got to know another lifelong friend, Ruth Douglas. I think Penny Cypert was in that back room with us, too (She definitely took Geometry with us later). And there might have been someone else? Maybe Laurel Yancey? (I'm just not sure….)
Anyway, I remember I spent my Christmas break finishing the 7th grade math textbook. So second semester, I got to take 8th grade math. And that did it! I was now a year ahead in math. (I still say 7th grade is a fantastic year to do that — 7th and 8th grade math is fluff to prepare students for Algebra.)
So yes! Even though my old friends weren't around, I did make some wonderful new friends. These pictures are dated October 1975, taken at what I believe was my first of many sleepovers at Ruth's house.
Here's Ruth:
And here's our other friend Jennifer Schilpp:
Another thing about 7th grade, for which my older brother and sister had paved the way, was that I was the only 7th grader in high school band. My brother was in 7th grade the year they started the band, and my sister had been in high school band when she was in 7th grade, so it wasn't a stretch for me to do the same. Especially when you consider that I was also the only flute player. This was also when I began taking flute lessons with Mrs. Chapman, having "graduated" from Mr. Currie, the band director, who wasn't actually a flute player.
Since that school year ended in 1976, the Bicentennial year, ALL the school's music groups were going to take part in the annual May Festival, which was usually put on just by the A Capella Choir.
So — the band played some extra-challenging music that year. I especially remember "American Civil War Fantasy" — with a gunshot! Oh, and "Stars and Stripes Forever" — with young me as the only flute player. The entire band progressed wonderfully that year as musicians — and I personally know I was a much better player by the end of the year. The feeling of rising to the challenge was awesome.
We tried to find red white and blue material for dresses! Here are the only 4 girls in band that year, my sister Becky (clarinet), Denette Anderson (oboe), Brenda Perkins (bass clarinet), and me (flute).
We went to ACSI Band Festival in San Diego that year. All the other schools had *lots* more, much older flute players, which was quite intimidating, but learning the music so well was still a wonderful experience.
And here's the band performing at a Bicentennial event in a park: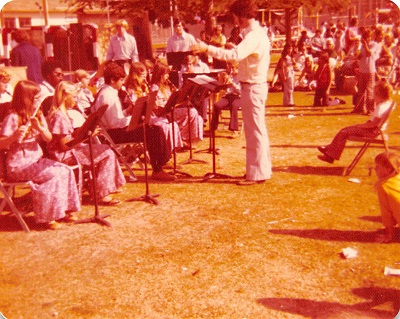 I'm going to finish with my view from my window, with my beloved jacaranda tree in the green leaf stage. I loved the view of blue sky plus green leaves — almost as good as when the tree was covered with purple flowers. There's also a piece of crewel embroidery that I finished and actually got framed. (Many years later, I was delighted to learn to knit, because I didn't have to get around to framing the finished product.)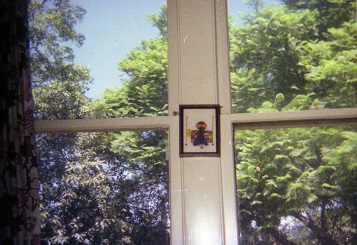 Though seventh grade wasn't the easiest year in my life, how nice to look back and see that was the year I accomplished some challenges, and even better, that was the year I made some more lifelong friends.