It's time for Project 52, Week 12!
12 weeks ago, on my 52nd birthday, I decided to start Project 52 — for 52 weeks, I'm going to reflect on one year of my life.
This week I'm looking at June 1976 to June 1977 — the year I was 12 years old and in the 8th grade.
8th grade was SO much better than 7th grade! From the bottom of the heap — youngest at a new school, not knowing many people — to the top of the heap, at least of the junior high. (The junior and senior high were all in the same school, but there was some natural separation. Lunch and P.E. and chapel were all done separately — at least for most people.)
And 8th grade was the year I had every single class with my friend Ruth Douglas. And that was the year we really became best friends.
The reason we had all our classes together was that we were the only two 8th graders in both high school band and high school math — Algebra I. Because of the way our schedules worked out, we ended up going to chapel (once a week) with the high school. Instead of feeling very small because of this — this made me feel very big and important.
Ruth is a lot more outgoing than me. And a lot more willing to look crazy. But in junior high… hanging out with Ruth meant I did a lot of wild things (to me!). And it gives me a big smile just to think about that time.
It's also the year I, to quote John Pavlovitz, "chose my heterosexuality," and got a crush on a 9th grader in my math class that lasted until he graduated from high school. (But I eventually got another hopeless crush on a guy at church. The crushes could coexist because they weren't actually based in Reality. Fun though!)
High school band, I'm afraid, wasn't as fun as the year before. We had a new band director, Mr. Engel, and he wasn't a bad band director, but he didn't know how far the band had progressed the previous year by working so hard on such challenging music — and he selected much simpler music, which was rather a let down.
Mr. Engel did introduce me to a new flute teacher, Bev Matsumura. Bev had all her students perform in a recital every three months — so I got lots of practice learning to get up in front of people without shaking. Well, I shook less. It's very embarrassing when you shake holding a flute, because the whole flute shakes. But that wasn't enough to stop me playing the flute, like having to play in the piano festival got me to quit piano. I really enjoyed the flute.
And we performed at the football and basketball games as a pep band. It was so much fun to stay after school and go to the games! (This references back to feeling big and grown up. On my own for a few hours. Wild times!)
Oh, and sometime in junior high is when I grew to LOVE roller coasters. The picture at the top is from when Ruth's family took me to Magic Mountain. That's Ruth and her brother Tom with me. I remember the first time I rode the Revolution at Magic Mountain, that feeling of doom when we went into the loop and I went upside down on a roller coaster for the first time — and it was so much FUN! I decided if I wasn't afraid of that any more, well then I wasn't afraid of any roller coaster!
I still say that getting lots of chances to ride roller coasters in junior high — when you're a little crazy just by nature — guarantees that a kid will love roller coasters for life. With Ruth as my best friend, there was no way I was going to hang back!
And I had more friends by then. Here are some pictures I took the day our whole grade went Whale Watching, while we were waiting to leave.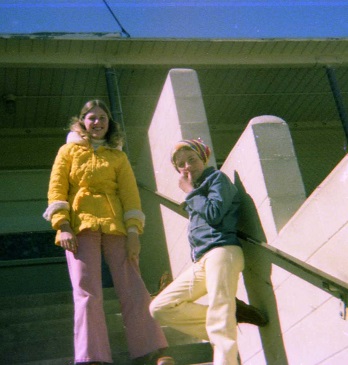 That's Christine Van Aalst and Penny Cypert.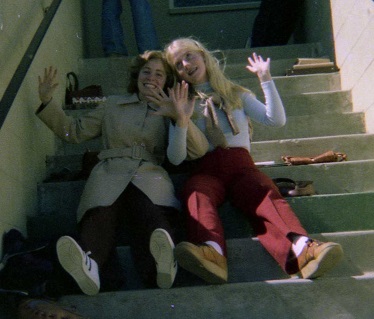 And then Lauri Ann Stone and Jennifer Schilpp. Those pictures (and others that didn't come out as well) remind me that 8th grade felt much less lonely than 7th grade.
My pictures of Whale Watching aren't dated, but I'm pretty sure it was 8th grade, because that was the year we had Science class.
Ruth and I were in 5th period Science class with one other girl, Karen Baker — and about 30 boys! The teacher was a woman, Mrs. Erickson, but that set-up was a little awful. Most eighth grade girls were in junior high choir that hour. Ruth and I were in band, and Karen wasn't in the choir. So we were in Science class with all the boys. After awhile, we made a petition to Mrs. Erickson to sit together, and dripped water on it for tears. She didn't even argue! She said, "I see your point." and let us sit together from then on. (We took advantage of it and passed a lot of notes.)
I don't have many family pictures from 8th grade. I realized when I was thinking about this post that in 8th grade, there were 8 kids in the family. In 9th grade, there were 9 kids in the family. And in 10th grade the 10th kid was born. (A google search shows that, just as I remembered, 1977 was when the TV show "Eight Is Enough" became popular. My Mom was already pregnant.)
Anyway those 8 kids the year 1976-77 were:
Rick – 15 in October – 10th grade
Becky – 13 – 9th grade
Me – 12 – 8th grade
Wendy – 9 in October – 4th grade
Randy – 7 – 2nd grade
Ronny – 4 in October
Jeff – 2 in October
Nathan – 1 in January 77
And okay, playing with babies was still fun at that point. Jeff and Nathan got dressed alike and were SO CUTE! We older siblings taught the babies to walk and to read and played with them. We seriously did teach the little ones to read. Jeff basically taught himself. He'd point at words and ask what it said until he knew. But watching that process was so much fun! All of them were reading before Kindergarten, and we were all in on teaching them.
Speaking of reading, 8th grade was the year our English teacher Mrs. Ossen announced that there would be year-long contest to see who could read the most books! The requirement was that we write a summary and write out the definitions of five words in the book that we didn't know. I read a lot of Agatha Christie books that year — we'd switched to the big Torrance Library near my Dad's work — and I'd use British spellings, not realizing they were actually the same word. I also read Gone with the Wind that year – Mrs. Ossen let us count it as two books if it was over 500 pages.
Yes, I won the reading contest. Gail Karber was my closest competition, but I read more than 100 books, and was pretty decisively ahead.
That was also the first year I won a five-in-a-row Tic Tac Toe tournament. The high school math teacher, Miss Royer, ran three pencil games tournaments at the end of each year. That was the first year I entered (the junior high tournament), and I got hooked. I didn't win at Hex or 3D Tic Tac Toe that year — but I started my streak of winning Five-in-a-row — and ended up winning five Five-in-a-row tournaments in a row. (You use graph paper for an unlimited board. First one to get five in a row wins.)
Another thing I remember is that the summer before 8th grade was when I started spending an hour a day memorizing Scripture. I remember because I so badly wanted to go on the 8th grade History class trip to Washington DC. I was born in Washington DC! My parents paid me to memorize Scripture — and I earned sixty dollars that summer. But it wasn't enough to go on the trip. But I did get hooked on memorizing Scripture, and that was pretty much something that got me loving God's word. I've already written about memorizing, but that ended up being a wonderful thing in my life.
And sometime in there I started doing The Bible Fellowship — a daily Bible study program put out by our church. The Bible Fellowship is big on check charts — which suits my personality perfectly! But it did help me establish a daily habit of studying Scripture.
And apparently I still got together some times with Kathy, Abby, and Darlene. Here we are at Abby's house celebrating Abby and Kathy's birthdays (June 4 and 5) at the end of 8th grade.
And I just remembered one more thing about Junior High. Darlene still car pooled with us from the high school to the elementary school. I am sure of that because once we got to Junior High, we could buy candy at the Student Store. However — if anyone in the car found out we had candy, we had to share with EVERYONE. One of my favorite candies to buy was red hots and I would foolishly try to eat them secretly.
Darlene and I still talk about how Ronny would turn around in his seat and look at us and say, "I smell somepin!"
So, looking back, Eighth Grade was a very happy year — especially compared with Seventh Grade. I don't remember as much about Ninth Grade — at least not yet. As I think about it this week, who knows what memories will pop up out of the woodwork?