It's time for Project 52, Week 34 – Part 4!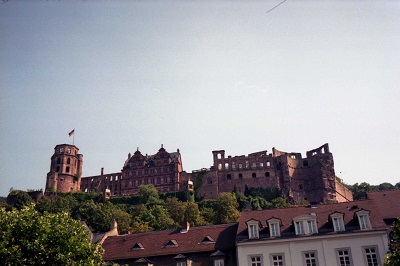 34 weeks ago, on my 52nd birthday, I began Project 52. Since there are 52 weeks in a year, each week I'm taking one year of my life and blogging about it. This week, I'm covering the year I was 34 — June 14, 1998, to June 14, 1999.
However, when I lived in Germany, each year was packed full! This is now the fourth post about being 34, after talking about my new home and new job, our vacation in Spittal an der Drau, and visiting the village of Sondra.
I still haven't gotten through the summer. It was about that time that my cushy schedule of working Tuesday, Wednesday, Thursday switched to working four hours a day, five days a week. In a lot of ways it was nicer — I could get a regular schedule and usually worked 9:00 to 1:00, which was very nice. It was a three-week rotation, and every third week I had to work Saturday and Sunday.
I was still trying to spend lots of time writing. I was trying to sell my first novel and trying to write my second. Working a little bit more days was conducive to that (though being a Mom wasn't — there were always things that came up).
I remembered that just when my boss told me my schedule would have to change, I'd bought tickets to go see the Student Prince in Heidelberg. Fortunately, Elfriede took pity on me and took that Sunday.
So on August 16, I went on a bus tour with band wives Kathy Huggins and Daphne Ciufo, and we got a tour of Heidelberg and got to see the musical "The Student Prince" performed in the courtyard of Heidelberg castle!
First was a tour of the city.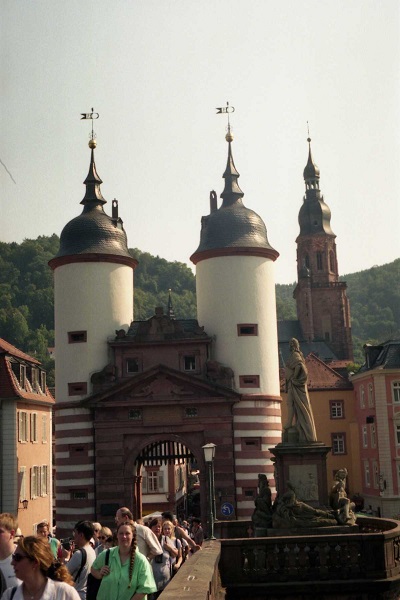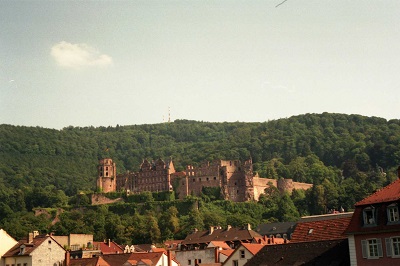 And then we saw the musical "The Student Prince"! They set up chairs in the courtyard. They brought in a real carriage and horses! And used an upstairs balcony for some of the scenes. It was a wonderful summer night, not too hot, not too cold, and most of the play happened as the sun was slowly setting.
My favorite part was when the Student Prince would say, "Ahhh, Heidelberg!" talking with longing of his time there — as we were sitting there in Heidelberg. It was wonderful.
Our busy summer finally ended and Josh started 5th grade.
In my quiet time notebook for this year, I see that this was when I first read the compilation of George MacDonald's writing, Discovering the Character of God. My journals are joyful. Lots of quotes from the book. On September 18, I wrote this:
But my mind has been expanded. George MacDonald is convincing me little by little of his belief that God is so loving that all will be saved — eventually.
I knew this was a big deal. I figured I wouldn't be able to teach at Biola any more, since I wouldn't be able to sign the statement of faith as written. I wouldn't be able to become a member of our church for the same reason. (Though Steve couldn't become a member because he was baptized as an infant. But still.)
We had switched churches when we moved. We'd been attending Faith Baptist Church near Ramstein. But when we moved, we missed lots of weeks, and even though I was singing in the choir, no one seemed to notice. (To be fair, there was so much turnover, it was hard to even know who was new or who'd moved away.) So we started attending Sembach Bible Church, near the base at Sembach. A nice thing about this is it made us more part of the Sembach community. I'd see people I knew from church at the library, and some of my friends' kids went to school with Josh.
I still believed that Jesus is the way, the truth, and the life. So I could still worship with them. But I was starting to think that Jesus brings some people to the Father in a way I might not recognize.
After I read the George MacDonald book, I began reading through the New Testament with this new lens. Could it be true? It seemed impossible before I tried it — but to me the new view actually seemed a better and more natural interpretation of the words of Scripture. (Since then, I've read many, many more books on the topic. And found out that this was actually the view of the Church Fathers. And there are many today who believe it as well. For more, check my book reviews.)
On Labor Day, the whole family was off, so we drove into France to Strasbourg.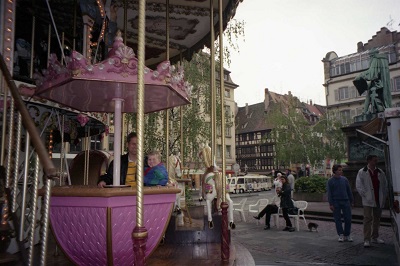 There we visited Castle #59, Palais de Rohan, and the Musée de Beaux-Arts.
On Saturday, September 19, I spent the morning at work, and then we drove on the Hunsrück Schiefer- und Burgenstraße, and on a whim followed signs to Ruine Koppenstein. There was a nice path — a Rundweg — through the woods to the castle.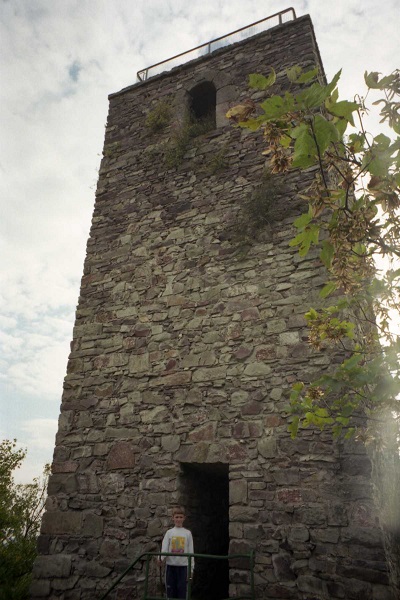 We weren't sure if the huge rocks were part of the old wall or part of the mountain.
Either way, they were fun to climb on!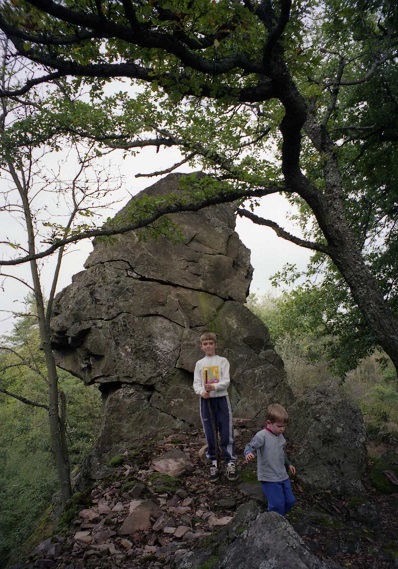 And one day, Josh came home from school and said, "Steg is worth a THOUSAND DOLLARS!" Steg was one of two Beanie Babies that Aunt Kay gave us when Timmy was a baby and Beanie Babies were just cute. 1998 was the height of the Beanie Baby craze. The kids were fine with selling them. So when Steve had a band trip to Colorado in October, he took the Beanie Babies with him and sold them in a mall. He didn't get a thousand dollars, but he did get $540 for Steg and $200 for the other dinosaur (a triceratops, if I remember right). Now what to do with the money that really belonged to the kids….?
While Steve was in Colorado, I went for the first time to the Frankfurt Book Fair with Elfriede. Now that was an amazing experience! Even just staying in the English-language hall, it was overwhelming to see so many books, so many publishers.
And next up — Ruth and John came to visit!