Awesome! That's what everyone agrees about the third annual Kidlitosphere Conference in Washington, DC, on Saturday. (Well, really at the Crystal City Sheraton in Arlington.)
It was Saturday morning. I decided it wasn't crucial to be punctual for the 7 am breakfast. I looked up the directions and it sounded easy as can be. Then, as I approached the other end of Highway 66, I learned that a crucial exit was closed all morning for an "event." So I got off the exit before and had no idea where I was. Good thing I brought a map! Too bad I couldn't read it and drive at the same time! Too bad I couldn't find a place to pull over! Too bad I drove around and around Arlington for awhile!
However, I was delighted to discover that even though I arrived about ten minutes after 8:00, the first group session hadn't begun. Whew! Time to relax and stop kicking myself for not leaving earlier.
And the first session was a perfect way to calm my nerves, which were jangling from the consciousness of being late. Mother Reader, who was responsible for putting together the wonderful conference, started us off with a session called "The Blog Within: An Interview With Your Inner Blogger." She asked us to write our personal answers to questions like: Why are you blogging? What do you have to share that is unique to you? Who are you blogging for? Where do you see your blog among the other blogs?
Looking back at my answers, even though written when I was still trying to un-frazzle my nerves, I'm pleased by my main answer to "Why are you blogging?" I said: To connect with people through books.
The reason I like this answer is that two key words of the conference were Connection and Community. I have connected with people through my website, and made new face-to-face connections with people at the conference. Most of all, I felt part of a Community, a community that cares about good books and kids and literacy and ideas and giving back and all sorts of other good things.
The second session was called "Building a Better Blog." Mother Reader spoke about Purpose, Passion, and Professionalism. Under "Passion," I'd like to do the assignment she suggested: Go back over the past six months. Pick out your 5 favorite posts, then pick out the 5 posts that best represent you. Do you hear your voice in those posts?
The next speaker in that session was Michelle Franz of galleysmith.com, talking about technical aspects. She had great tips about involving and engaging your audience, building community with reciprocal links, and participating in memes like Poetry Friday and Nonfiction Monday (I will have to get going on that, or maybe try starting one of my own), or Salon Sunday. She talked about Search Engine Optimization and a plugin I can download on my WordPress blog. She convinced me to get on Twitter and to post links to my reviews on GoodReads. She told me what a gravitar is and how to get one.
So many great ideas! So little time! But little by little…
The third session was just us bloggers, with the authors in a separate session. I finally loosened up and pulled out my camera.
This panel featured Melissa Fox of Book Nut, Jennie Rothschild of Biblio File, Tricia Stohr-Hunt of The Miss Rumphius Effect, and Mary Lee Hahn of A Year of Reading.
Some of their great tips included: Join the book blogging community. Participate in Reading Challenges. Do weekly features. (Poetry Friday and Nonfiction Monday again.) Get on the Kidlit Listserv. Participate in the Carnival of Children's Literature. Post your reviews on the Children's Book Review wiki. Focus on your opinion, because that's what you personally add to the discussion. People can get summaries on the book jacket.
Once again, so many great ideas, it's a little overwhelming!
Next, Mary Engle from the FTC came and talked to us and calmed fears about new "guidelines" they posted. I resolved that I should put a note on each page that I am an Amazon Affiliate and get a tiny percentage when people order books via the links on my site.
Then came lunch. This was the exciting part where I somehow ended up walking to a food place with a bunch of authors! Cool! I got tips and encouragement from them, too, like: Get an agent!
One of the authors I ate with was Diana Peterfreund, whose book Rampant I read (devoured) and reviewed just the day before. I loved that book, even if it did make my own first novel, Unicorn Wings, look awfully tame. (But I've pretty much given up on publishing that one anyway, and am chalking it up to experience.) Diana already had read my review, thanks to the magic of Google alerts. She has assured me there will be a sequel, and in fact she was supposed to be working on the revisions that very day. I'm so glad — what an awesome book! Killer unicorns — who would have thought? She also alerted me to an anthology I will have to watch for, Zombies vs. Unicorns, (or was it Vampires vs. Unicorns?), which includes a story she wrote.
So here's a picture of me schmoozing with Diana: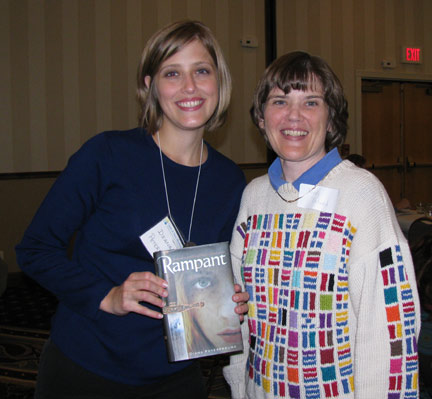 Also in the lunch group were authors Varian Johnson and Paula Chase. I was especially excited later to get an Advance Reader's Copy of Varian's book My Life As a Rhombus, because it features a heroine who loves math. What could be cooler than that?
Here are Varian and Diana and Paula:
After lunch came a Meet the Author session, which was when I got the above pictures. I met some other authors whose books I reviewed and loved:
Laurel Snyder, who wrote Any Which Wall was delightful to talk to. I liked it that she understood that when I said her book was like an Edward Eager book, that was high praise indeed.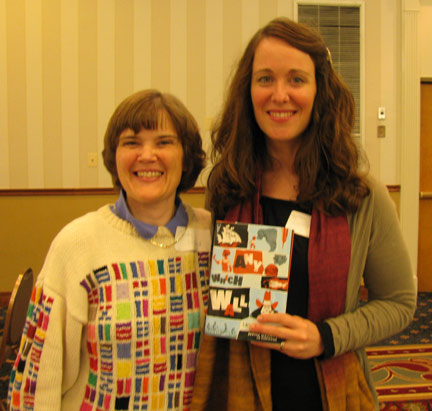 I also met Elizabeth Scott and was given a signed copy of Something, Maybe! Woo-hoo! The books I've reviewed of Elizabeth's are Stealing Heaven and Perfect You. Here I am with Elizabeth:
And then I met Sara Lewis Holmes, who wrote Letters from Rapunzel, and whose new book, Operation Yes, I definitely want to read. (She's lived in Germany, too!) I feel silly posting all these pictures with authors, but it was a thrill to actually meet real, live, published authors, and my plan is to one day be one of them. Meanwhile, I want some of that published aura to rub off! Here I am with Sara:
And finally, here's a picture of two authors I met whose books I haven't read yet, but hope to soon, Jennifer Hubbard, whose book The Secret Year will be out in January 2010, and Pam Bachorz, who kindly gave me an ARC of her new book Candor.
All of these authors were so wonderfully nice! In fact, one feature of the Kidlitosphere Community is that it seemed like an incredibly nice bunch. So fun to meet these people!
Of course getting more books to read and review was one of the highlights of the conference. Never mind that I'm in the middle of a Newbery class and reading old Newbery winners…. Somehow, some way, some day, I'll get them read!
After the time with the authors, Greg Pincus did a wonderfully inspiring and entertaining talk about social media. More great ideas. More talk about Community and Connection. I especially liked when he said that when you reach out to expand your community, you are Sharing the Joy!
Again, I made lots of resolutions. Get on Twitter. Post comments on other blogs. Get involved in the Cybils. Engage. Another good phrase: Play in traffic!
(Greg had mentioned Knitters and Fibs (poetry based on the Fibonacci Numbers — what could be cooler?), so I was inspired to explain my prime factorization sweater to him, which you can see in all the above pictures. He was most appreciative. I promise I will write a post explaining it after this one.)
The next panel was "Authors, Bloggers, Publishers (and ARCs)." More inspiring talk about Community. Publishers are still figuring out blogging and if that publicity is helpful, so we were encouraged to communicate with them what sort of book we like. (My favorite is YA and Middle Grade Fantasy, by the way.)
The final panel of the day featured Terry Doherty of Share a Story — Shape a Future, Ernestine Benedict from Reading Is Fundamental, Gina Montefusco from PBS's Booklights, and Jen Robinson from Jen Robinson's Book Page:
They too, talked about building community, giving back, connecting kids with books, and promoting literacy. They mentioned the gallery A Lifetime of Reading at NCTE's National Gallery of Writing, with writing on that topic from members of the Kidlitosphere. (Yet another thing to do: Submit something!)
All in all, it was a day packed full of inspiration, ideas, connection, and community. But it wasn't finished yet! As it happened, I ended up at a table at dinner with other people from the DC area, and got invited to participate in Capitol Choices and a Kidlit book club and met some wonderful local people who seem to be kindred spirits, and whom I may well see again if I get involved in these local events, too. One of them has also applied to the Bill Morris Seminar in January and, like me, is waiting anxiously to find out in November if she was selected. I hope I see her there!
Here are my tablemates except Jacqueline Jules, who had just stepped away. Let's see if I can remember their names: author Moira Rose Donohue, Susan Kusel the librarian (can someone send me her blog address?), Wendy Burton (I think! Am I right?), author Sue Corbett, author Wendy Shang (whose first book, The Great Wall of Lucy Wu, will be published by Scholastic in Spring 2011), and author Jennifer Hubbard:
What do you know? I was eating with Authors again. I still hope something rubs off! 🙂
I drove home exhausted but inspired. So many things I'd like to add to my blog, so many books I'd like to read, so many more blogs to follow, so many connections to explore! But meeting these wonderful people face-to-face was definitely a delightful way to start!
A huge thank you again to Pam Coughlan, Mother Reader for putting together an incredible day!
P.S. Yes, there was some discussion of how long a blog post should be and the consensus was that it should NOT be this long! Once I got started, I was on a roll, however, and couldn't bring myself to stop until I finished. And I did follow the suggestion of providing links, so you can discover some fantastic blogs just by exploring the links in this post. Some day I will even update my blogroll to include them, but that's another thing on my list of things to do that suddenly grew to outrageous proportions at this conference.