It's time for Project 52, Week 47!
47 weeks ago, on my 52nd birthday, I began Project 52. Since there are 52 weeks in a year, each week I'm taking one year of my life and blogging about it. This week, I'm covering the year I was 47 — June 14, 2011, to June 14, 2012.
Last time, I covered the year the divorce became final, in November 2010. The year I was 47 began with excitement. Tim finished his junior year of high school a week later, on June 21. Then on June 22nd, he left to spend two and a half weeks with Steve.
But I didn't have time to mope about missing Tim, because I was making plans to go to ALA Annual Conference in New Orleans, and I was super excited about it!
Oh dear, when I blogged about the first day of ALA Annual Conference, there's an ominous reference to "a crick in my neck." Sigh. I believe that is when my right vertebral artery was badly injured with a vertebral artery dissection.
Here's what happened. I was flying to New Orleans through Boston. I didn't bring a neck pillow, because I was flying during the day, and I planned to read, not sleep. (I now ALWAYS fly with a neck pillow.) Anyway, I stayed awake on the flight to Boston, but on the flight from Boston to New Orleans, just couldn't stay awake. I had a window seat and leaned against the window. I believe the plane encountered turbulence while I was sleeping in a bad position, and gave my neck a bad jerk, which jerked me awake. I remember that my neck hurt badly when I woke up. And I had a headache, which I attributed to needing food as soon as possible. I also remember that through the whole conference, my shoulder hurt – all the way up to my neck – on the right side as I was filling my bag with free books.
[This is why I got a doctor's note for all ALA conferences since then to bring a wheeled cart onto the exhibit floor. Carrying heavy bags of books is not a good idea when you have a vertebral artery dissection. I am absolutely sure that didn't help.]
But – I still had a lovely time at ALA! I had a roommate this time – April Pavis (now Schroeder), who I'd connected with through Susan Kusel's KidLit Book Club. She was delightful, as youth services librarians so often are. Here's April with her friend Katie when we went out to eat.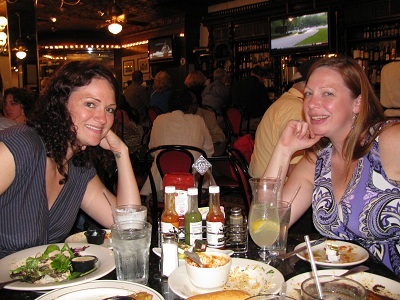 That first night on the exhibit floor, I met Laini Taylor!
And the next day, more authors!
Marilyn Johnson wrote a book about librarians, This Book Is Overdue!. She'd given me ten copies to send to each member of the Fairfax County Board of Supervisors during the budget cuts.
I met Tom Angleberger again. In just a month, his book may have saved my life! (Stay tuned.)
Franny Billingsley! She had been at the Writer's Retreat I went to in Paris in November 2005. She didn't remember me, but she did remember the conference. I believe this was her first book since the conference – and it was worth the wait.
After watching a movie in the evening about children's books, I met Grace Lin again.
And I accosted Maureen Johnson on the streets of New Orleans! I knew her especially as the funniest person on Twitter.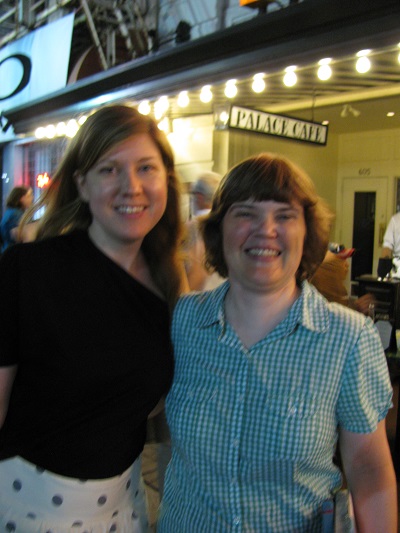 In fact, when I got back to my room, I tweeted: "I bet @maureenjohnson was surprised when she was accosted on the street. But that's what happens when celebrity authors come to a city full of librarians."
Imagine my delight when she tweeted right back, "I liked it!"
And more the next day!
Here's Catherine Gilbert Murdock, signing an ARC of her newest book:
And Mo Willems! Since I was wearing a t-shirt with his characters, this seemed only right to get a picture.
Ingrid Law!
Maureen Johnson again, this time signing a book!
Kirby Larson!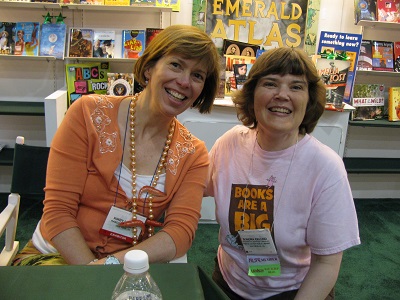 And that night was the Newbery/Caldecott Banquet! More schmoozing before the banquet.
I saw two bloggers, Travis Jonker of 100 Scope Notes, and John Schumacher of Mr. Schu Reads. They were on ALSC's committee on Children and Technology, a committee I was just joining (and my first ALSC committee).
And I met James Kennedy again – but this year, I'd been reading his book, The Order of Odd-Fish, on the plane on the way to ALA Annual Conference. It was the copy he'd signed the year before. (Hey, when a book doesn't have a due date, it doesn't get read until I go on a trip and don't want to bring library books.)
And here are some of the librarians at my banquet table.
And there was still another day of the conference. I met Brandon Sanderson.
And Nnedi Okorafor:
The conference finished up with the Printz Awards Reception. I met Paolo Bacigalupi.
And Marcus Sedgwick, who writes good books, and has a gorgeous Australian accent. (His speech was fun to listen to!)
That was the year I got my favorite sleep shirt!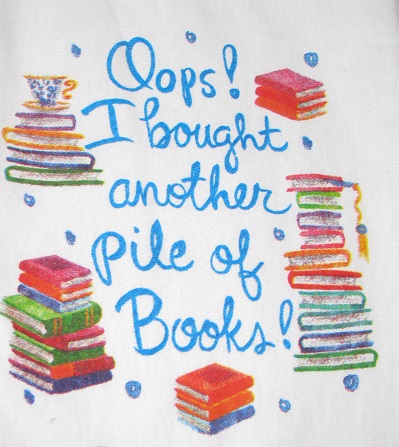 I didn't get as much loot that year, since I had to ship it home. But I still got plenty!

I got home on June 28, and went back to work the next day. I was getting lots of small headaches. At first, they just get mentioned in emails and my journal as little annoyances. I marched in the July 4 parade that year. I remember that it was very hot, and the little headache I had got worse. (I have never marched in the July 4 parade again, because I connect it with that year as the headache lasted weeks and got worse and worse and worse. Walking in a parade on a hot day did not help.)
By the 9th of July, I started writing "Headache" on my calendar. (I do that when I have a significant headache to keep track of trends.) Then I continued to do so each day right up until July 24, after which I stopped writing in my calendar for awhile, because I was in the hospital.
By July 15, I started praying about the headaches in my quiet time journal. I noted that Zoloft wasn't working any more. I was seeing a doctor and asked for wisdom for them. On the 17th, I read, "This headache is bad." And I was scared I was going to run out of sick leave. (Mostly I was going to work during this headache because if you get a headache that lasts for weeks, you can't stay home the whole time.) I did take Sick Leave on the 18th, though, and had a doctor appointment. I noted that I tried Maxalt (a migraine-specific medication) – no effect.
On July 19, I say, "Father, I have such a headache! Please grant me relief." I do remember that this headache was centered specifically in my neck, behind my ear, which seemed very odd.
On July 22, I took sick leave again, because I had menstrual cramps on top of the headache. And that meant that on Sunday, I'd start up on birth control pills again. I'd been taking them to end the ovarian cysts I was getting each month. But I'd let the prescription expire, so I'd been off them the last month. I did have some pelvic pain with that cycle, so on the advice of the gynecologist, I got a new prescription refill and planned to start again after my next period started.
Dear Reader, you may not remember, but long before, when I was a young mother, I'd asked about birth control pills and had been told that when migraineurs take them, they are at higher risk for a stroke. When I'd brought this up with my new doctor in 2011, she said that birth control pills are lower dose now, and it's no longer a concern. Well, maybe if you don't have a vertebral artery dissection….
So, to sum up, I'd unknowingly injured my neck (this was determined later) when sleeping on a plane going to ALA June 24th. My neck hurt a lot at the conference. When I got back, I was getting lots of small headaches, and they progressed to a constant, very bad headache beginning July 9 – and continuing on and on.
But here's how Tom Angleberger's book, Stonewall Hinkleman and the Battle of Bull Run may have saved my life.
The 150th anniversary of the First Battle of Bull Run was coming up. I purchased two tickets (for Tim and me) to attend a reenactment on Sunday, July 24. But the forecast was over 100 degrees. And I'd had a headache for 3 weeks. I started reading this book, and in the book, Stonewall Hinkleman is a middle school kid whose parents drag him to reenactments. He thinks they are stupid!
Stonewall – plus my headaches – convinced me. I'd stay home and read the book instead. I was feeling bad enough, I didn't even go to church.
It did get to 104 degrees that day. You had to park and take a bus to the reenactment site and then stand around a lot. I had a stroke the next day. If it had happened that day, when I was in the crowds at the reenactment – I'm not sure what would have happened. So I'm really glad I didn't go! And the next time I met Tom Angleberger, I thanked him for his book!
Though now for the timing I blame the birth control pills. Though as bad as the headaches were before I started back on the pill, I didn't have an actual stroke until I started them again. But who knows? The headaches were getting progressively worse.
So I stayed home on Sunday. By that time, my Quiet Time journal said, "Lord, I have such a headache! Give me strength to overcome. Show me what I should do. Should I quit caffeine? Maybe go to the E.R. and beg to be put out? I want to overcome – but it's hard to focus on anything but the headache. Have mercy, Lord. Show me what to do – or not do."
The next day, July 25 was a late day for me at work, so I got to sleep in. Here's an email I wrote to a friend that morning.
Alas!  The headache is still going strong.  This is about the 4th week.  I'm not quite sure what to do.  I tried calling the neurologist I saw a year and a half ago, and she doesn't work there any more, so I would need a whole new referral.
 
I am really thinking about going to an emergency room and begging for a shot to give me at least temporary reprieve.  But I would have to find someone to take me and bring me home.  And I don't have sick leave left.  And my next day off is Friday, which is Timothy's birthday, so that would not be a good day to go in!
 
It actually is better than last week, so if I could just chug on, ignoring it, that would be good.  But it's really worn me down, and I'm having trouble thinking about anything else.
 
Now, I've only been on the birth control pills for two days, and my period is just finishing up.  So maybe things will settle down soon.  But my fear is that now my headaches just settle in.
 
I do think maybe I should try cutting out my caffeine intake, as long as I have a headache anyway.  But I know I wouldn't be able to work if I did that, and I would want to have some kind of way to get rid of the headache.
 
Sigh.  I was doing so good, too….

Otherwise, I'm getting more and more obsessed with the card game Tim & I are playing every day. [This, folks, was when I got started on my obsession with Dominion!]  Yesterday we played twice.  We're both really enjoying it, and I like doing it together.  The game changes every time, because you use 10 sets of cards for each game — out of a possible 50 different sets.  I bought Tim two more expansion packs for his birthday, so then there will be even more possibilities.  The game DOES distract me from my headache, though I wasn't playing it for a couple weeks there because I didn't even want to think about playing with a headache.  As it turns out, it's a nice distraction.
 
Anyway, on the good side, the whole ovarian cyst thing seems much better.  I may cancel the appointment next Monday with the gastroenterologist.
Because of my low sick leave, I did go to work. I was thinking about going home early, but once I got to dinner time, I figured I might as well stay. I had leftover spinach casserole for dinner. (I learned later that spinach has lots of vitamin K which helps blood clot. I wonder if that was a factor.)
Then I was working at the Information desk during the 6:00 hour. Just minding my own business. When suddenly, the whole room started spinning. I said to Ivelisse, who was working next to me, "I feel really dizzy." I thought I was sounding casual, but she immediately said she'd help me get to the back and lie down. Well, then a customer walked up to me and asked for help looking for a book in the YA section. I motioned to Ivelisse. I knew I couldn't walk to the YA books. I tried to close the windows on my computer, but only managed to close one and gave up. I put my head down until Ivelisse came back, and then she helped me get to the back room. I couldn't walk straight.
I was still completely coherent – but the room was spinning. I laid down on the couch in the break room – and the room was still spinning, even when I was lying down. After about five minutes, I remembered about birth control pills and strokes, and since the dizziness wasn't stopping, and since I'd had a bad headache for more than 3 weeks, and since I'd never experienced anything like that – I did ask my hovering co-workers to call the paramedics. Gari Plehal, the branch manager, was especially helpful and got my purse for me from my office.
When the paramedics came, just moving my head to scoot into a position so they could examine me made me vomit. (But we had time to get a bowl from the kitchen!)
I did describe the night in my blog, written a few weeks later.
Riding in an ambulance wasn't nearly as fun as it looked when I was a kid watching Emergency!. Of course the ambulance moving made the dizziness worse, though the paramedics gave me an IV with something that was supposed to help that.
They took me to Fairfax Hospital, which is supposed to be a stroke center. By the time I saw a doctor, the dizziness had just subsided. By that time, it was probably 45 minutes from when it had first hit. I did hear the paramedics report that I was negative on the stroke scale, which soothed my worries.
They did a CT Scan, which came out clear. What I didn't know at that time is that cerebellar strokes are in an area surrounded by bone, and they don't necessarily show up on CT scans when they're first happening.
I told the doctor that I get migraines and that I'd had one for the last three weeks. They decided this must be some sort of change in my migraines – and sent me home! I could barely hold my head up as I waited for my friend Marilynn to come drive me home. I was nowhere near feeling good enough the next day to figure out how to get the prescriptions filled they gave me.
No – they should not have sent me home. I'd never had a headache remotely like that. More on that later…
Here's the note I sent to my small group the next day. I was clueless and feeling dragged out and awful.
Hi Gateway folks!
 
I just thought I'd update folks on what happened yesterday, and ask for your prayers for some kind of resolution.
 
Some of you know, I've had a headache for more than 3 weeks now.  It was a little worse last week, but mostly it's been pretty low-level.  Yesterday, it seemed low-level again, but it had gone on so long, it was hard to stop thinking about it, and I felt a tiny bit nauseous.
 
I have been doing fantastic, headache-wise, since I started on Zoloft in January 2010.  Hadn't even needed headache medicine during my periods, which was a first.  But I had started on birth control pills because of the trouble I was having with ovarian cysts.  After 3 months, that's mostly, but not completely resolved.
 
Anyway, what I suspect happened was at ALA Annual Conference in New Orleans, I didn't get enough sleep and missed a "dose" of caffeine and got headachy again.  At the same time I finished up the birth control pills and let them lapse for a month.  (I had an appointment and started them again on Sunday, so I was hoping that would resolve the headache.) [So I knew it had started at ALA, but didn't realize the problem was a neck injury that happened on the plane.]
 
I'm guessing that a long, long headache is my new "normal", since that's what was happening before I went on Zoloft.  Just not sure how to resolve it.
 
Anyway, last night I was scheduled 12:30 to 9.  I wasn't focusing very well, but was doing okay.  About an hour after dinner, just sitting at the reference desk, I suddenly got hit with severe vertigo.  I could hardly even walk straight.  My coworker helped me get to the lounge and lie down on the couch.  The dizziness didn't pass at all, and if I moved my head at all, the room spun.  I was also in a cold sweat.
 
I started thinking that birth control plus migraines could mean I'm at risk for stroke, so I did ask my boss to call the paramedics.  When they came and I moved my head just a little bit, I vomited up all my dinner.  They gave me an IV to help with the nausea and the dizziness finally went away about the time I got to the ER.
 
They did an EKG and a CT scan, and it wasn't a stroke or a tumor or heart problems.  So that's all good.
 
They sent me home with a neurology consult (I think I probably still have to go through tricare first) and prescriptions for headache drugs and antinausea drugs, which I still haven't filled.  Marilynn gave me a ride home.  Thank you so much, Marilynn!
 
Today it was all day before I could stay vertical long enough to do anything more than eat.  But I am feeling better as the day progresses.  Perhaps from the medicine still in my system?  I do have a slightly elevated temperature — 99.1.  Normal for me is about 97.4, and last night in my cold sweat, it was 95.1.  So maybe a bug?
 
My headache isn't very bad today, but I am still feeling kind of weak and sick.  Though better as the day progresses.  Though I will probably go lie down after sitting up to type this.  I did take the time to play a game of Dominion with Tim, though!  🙂
 
While I've got a headache anyway, I cut down on my caffeine intake and only took one Naproxen instead of my usual daily 2.  So that could affect the temperature, and it could mean that the headache gets a lot worse tomorrow.  But it seems like if I'm going to cut caffeine, I might as well when I'm feeling bad anyway!
 
Tomorrow, I plan to try to find someone to take me to the library (City of Fairfax) to get my car.  I'll either try to work a few hours (I'm scheduled 12:30 to 9), or take the car to go get the prescriptions filled.  At least if I feel like I can drive — I'm hoping that will be no problem.
 
So — that's what happened.  I'd really appreciate your prayers.  I'm trying to turn to God about this rather than "wail upon my bed."  In fact, here's a meditation about that that works in some ideas from the book we're going through, plus Pastor Ed's sermon:
http://sonderbooks.com/sonderblessings/?p=1261
 
An added worry is that I've run out of sick leave, and will end up not having enough annual leave to go to my brother's wedding at the end of the summer, as I had planned and have plane tickets.
 
So I'd really appreciate prayer: 
That this headache would end.
That if there's a direct cause I should find out about, that it will be found.
That I can go back to work.
And that I'll depend on God.
 
Oh, and Tim's birthday is Friday, so you can also pray that we both have a great day!  (That, at least, is my day off.)
 
Thanks for caring about me!  I'm feeling a little overwhelmed, but it's good to know people care.
 
Sondy
So that was Tuesday after the Monday incident (which was, actually, a stroke). On Wednesday, Kathe drove me in to work to pick up my car. I told folks that I was fine. I had a doctor appointment on Thursday, so I told them I'd plan to come in to work after the appointment.
On Thursday, I woke up needing to go to the bathroom – and got super dizzy and almost fainted in the bathroom. I ran back to my bed before I fell over. Then I noticed that my right leg was numb. Had I slept on it funny? Then I noticed my right arm was also numb. Why, my whole right side was numb.
I lay there, trying to figure out what to do. I didn't want to call an ambulance. I didn't want to scare Tim, who was asleep in his room. And besides, with all the piles of books in my room, the paramedics wouldn't have room to bring their stretcher into my room. (Oh, the stupid things you think of! Sondy, call 911!) But I didn't. After awhile, I started feeling less dizzy. I was afraid to take a shower. At the very least, I didn't want to faint while I was naked! But I got dressed. Then laid down. Then went downstairs to figure out what to do. I made breakfast, my usual oatmeal, with frequent breaks to lie down on the couch. I laid on the couch and called to cancel my appointment. I asked the nurse what I should do, and she didn't sound alarmed – said I should go to Fort Belvoir, the military hospital.
When I started eating my oatmeal, I realized that even the right half of my lips were numb! There was no way that was from sleeping on them funny! I decided I should definitely go to the E. R. I called Marilynn, who couldn't pick me up, and Kathe, who said she'd be right over. I woke up Tim and told him I'd be going to the hospital, but I'd call him.
While I was waiting for Kathe, I thought I'd get on the computer to print directions to the hospital out at Fair Oaks. Believe it or not, I sent another email to my small group! Here's what it said:
Well, instead of going to my doctor appointment this morning, I'm headed for the ER at Fair Oaks.  Would appreciate more prayer.  The nurse at the doctor's office said I could wait for a friend to pick me up, though that was before my whole right side started tingling again.  Kathe's going to take me.
 
I woke up this morning and got real dizzy when I went to the bathroom.  Then my whole right side started tingling — arm and leg and even my face.  I rested and managed to eat breakfast, got dressed, but didn't try a shower.  Cold sweat with the dizziness.  Oh, and an intense right side headache, too.  Anyway, I went online to print directions to Fair Oaks, but now think I will lie down until Kathe comes.  I admit I'm freaked out!
 
Sondy
By the time I'd sat up that long, I was feeling really bad again. I laid down, but decided I really should call an ambulance. I called Kathe to tell her not to come – but she was one minute away, so she did drive me.
She had to help me walk out to her van. It was almost comical – I honestly couldn't walk in a straight line! I wasn't able to sit in the front seat, so I laid down on the back seat.
So – God showed me all kinds of grace. I so should have called 911 in the first place!
When I got to the ER, they gave me a wheelchair fairly quickly (I must have looked bad) and quickly let me lie down. I was pretty out of it. I blogged about the whole experience later.
They decided to do an MRI because of my right side tingling. And that was what revealed the stroke. I ended up being in the hospital for 10 days.
I called Tim that first day. I felt terrible – because the next day was his birthday! But he was planning to go to Steve's on his birthday anyway, so I had him call Steve and ask if Steve could pick him up a day early. So at least I didn't have to worry about him.
It wasn't until the second day that they did the test that determined the stroke was caused by a vertebral artery dissection, which had caused a clot, which had gone to my cerebellum.
Fair Oaks hospital is cool, because you get to keep the copies of your scans. Here's my stroke! It's the white heart-shaped area in the bottom left of this picture. (The images are flipped – the stroke is on my right side. Interestingly, the cerebellum is one of the few parts of the brain that affects the same side of your body.)
I did a heartfelt post answering the question, Was I Scared?
But what really shook me up was a couple weeks later when I read an article about cerebellar strokes. 35% of cerebellar strokes, presenting as vertigo – get misdiagnosed. Because they don't always show up on CT scans when they're happening. (Like mine didn't.) In fact, CT scans only catch 26% of cerebellar strokes.
For people whose cerebellar strokes are missed – 40% of those patients go on to die when they have another stroke! 30% are permanently disabled. So I was in the lucky 30%!
Now, I do have lasting effects from the stroke. A very small one is that when I stand and sing in church, in an auditorium with a sloping floor, I have to hold onto the seat in front of me and keep my eyes open – to give my brain extra balance cues. The cerebellum is the center for "balance and grace." (Fortunately, I never used it much!) I was very glad my higher thinking wasn't touched at all.
I did have a lot more trouble with general dizziness in the weeks and months directly after the stroke.
I'll talk about that more in next installments. Now it's getting late, and I have a small headache tonight – and writing about this definitely isn't helping!
In summary – I'm so glad I'm alive!
I did end up staying home from work a couple weeks more – and got some great time with Tim, with lots of playing Dominion. I was so glad the stroke happened during the summer. For one thing, Tim could go to Steve's while I was in the hospital, but also I got some great time with him. I made him a belated 17th birthday cake. And the cake made a smiley face in the oven! I figured that's the sign it would be a happy year!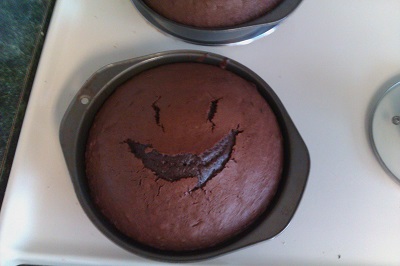 I did run out of sick leave – and my co-workers generously donated all I needed. I was really having trouble with no energy, general dizziness, and still having lots of headaches. I was put on Coumadin for six months to keep from getting another clot – but they had to check my blood levels frequently to make sure the dosage was right.
But another wonderful thing about the timing? It very effectively got my mind off of Steve!
And just when I was starting to feel up to going back to work – it was time for the vacation I'd booked to Oregon to see my brother Robert get married.
It was actually very good timing – because I thought I was ready to go to work – but I really don't think I was. On vacation, I spent a whole lot of time in bed – and got a little bit stronger and readier to go back to work.
And I will write about the Oregon trip – and all of my siblings together for the first time in years – when I tackle the next part of Year 47.