After the YA Author Coffee Klatch, I headed back to the convention center. By this time, the very thought of the exhibits was starting to wear me out. However, there were some authors signing that day whom I really wanted to meet. I mostly restrained myself to those books on Day 3. Below are some authors I met before and after and between the programs I attended:
I was super excited to get an advance copy of Catherine Gilbert Murdock's new book, Wisdom's Kiss. She wrote Princess Ben and the contemporary Dairy Queen trilogy, all outstanding, and I'm excited that she wrote another fantasy.
Then, wandering the stacks, I saw the genius Mo Willems with his family. (I tried to make it to his signing, but I was too late.) Since he's the one author several librarians had asked me to be sure to meet, and since I was wearing a t-shirt with his characters on it, I was so bold as to ask for a picture with him:
After those encounters, I wanted to hit some programs. I wanted to attend a program called "Newbies and Newberys" featuring people who had won a Newbery Honor with their very first book. However, the crowd for that program was overflowing the room, so I looked for my next choice: "Learning from Elmo, Blue, and Dora: Applying the Science of Educational Television to Storytime."
This program had some fun clips and some good, solid ideas. It didn't feel like anything I didn't already know, but it didn't hurt to review the basics of a good storytime.
I liked the circle the leaders talked about: Participation encourages Comprehension, which encourages Repetition (Kids like to "Do it again!"), which builds Motivation (Kids enjoy what they know), which encourages Participation again.
They also encouraged us to see Storytime as Family Time and include brief information for the parents. You can pass out an informational flyer with songs used or a list of books and include concepts you've used.
Another good word of encouragement was to learn from others. Visit other storytimes, look into online resources, read the literature — and don't forget educational TV!
After the program and lunch, I went back to the exhibits. I had tried to snag an advance copy of The Name of the Star, Maureen Johnson's new book, but the line looked to be about an hour long. I came back after lunch, and was able to get a copy of her already published book, The Last Little Blue Envelope.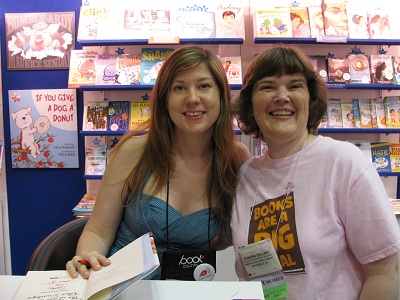 After that, I got books signed from two Newbery Honor-winning authors:
Ingrid Law won her Newbery Honor with Savvy, which I can't believe I still haven't read, because I love it when fantasy books get Newbery attention. Anyway, I now have signed copies of Savvy and its new companion, Scumble, so I have no more excuse for not getting them read.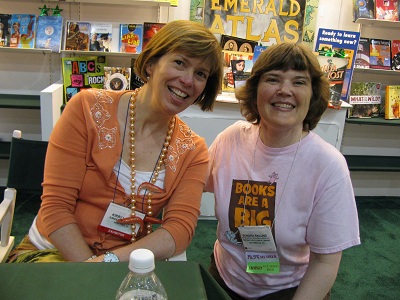 Kirby Larson's Newbery Honor was four years ago for Hattie Big Sky. I met her at that ALA Annual Conference when she saw my SCBWI tote bag and said hello. She has a new book out, The Friendship Doll, and it was fun to say hello again.
At 1:30, I had planned to attend a meeting of the Best Fiction for Young Adults committee, where they have teens talk about books they've read. However, I ended up deciding I needed to mail another shipment to save my arms, and spent a little too much time in the post office. When I did get to the program, it didn't go as long as the program guide said, and I only heard a few teens speak about a few books. One interesting thing was that two of the books talked about were Okay for Now, by Gary Schmidt, and Between Shades of Gray, by Ruta Septetys, books I'd heard discussed by ALSC's Notable Books committee. The teens had similar praise of those books to what the Notable Books committee members had said.
To me, it goes to show that those books are excellent for both children and teens. I hope the committees see it that way and decide they should be honored by both committees.
After that, it was back to my hotel to get ready for the Newbery-Caldecott-Wilder Banquet, which I'll blog about tomorrow.
I promised Bookmobiles, so here are some pictures of the striking vehicles parked on one end of the Exhibit Hall:
This truck has a Library of Congress mobile exhibit, which they take all around the country for people to enjoy who can't get to the actual building. They're also promoting the National Book Festival, which I'm very much looking forward to.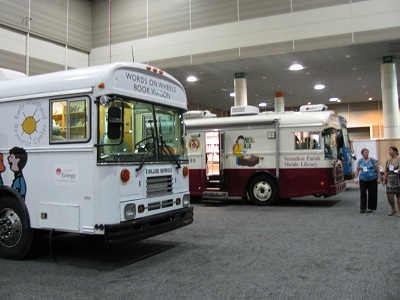 And here are some local Bookmobiles from Louisiana. Aren't they beautiful?