It's time for Project 52, Week 48!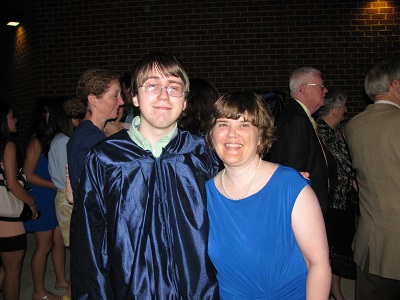 48 weeks ago, on my 52nd birthday, I began Project 52. Since there are 52 weeks in a year, each week I'm taking one year of my life and blogging about it. This week, I'm covering the year I was 48 — June 14, 2012, to June 14, 2013.
Last week, I covered having a stroke, seeing all my siblings at my brother's wedding, book conferences, and more.
The first big event of the year happened two days after I turned 48 – My youngest, Timothy, graduated from Thomas Jefferson High School for Science and Technology.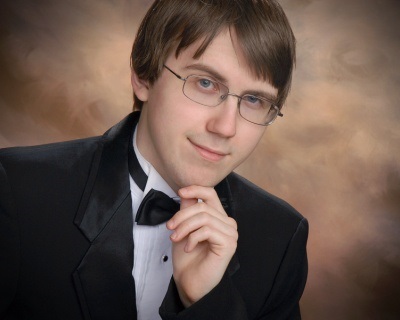 Steve was at graduation, and so were his parents. But Steve didn't say one word to me. And when his parents tried to get a picture with the three of us, he quietly backed away. That hurt a bit.
But to be fair, I had recently threatened to take him to court if he didn't pay the lawyer fees the court had ordered him to pay me.
And that was the last time I came face to face with him. Which was sad – but also a relief.
But I was ever so proud of Tim! And I had one last summer with him home.
And the first thing we did that summer was go to California for the American Library Association Annual Conference in Anaheim – right down the street from my sister Becky, who now lived in Garden Grove!
I brought Tim with me – he stayed at Becky's while I went to the conference. I rented a car and it was actually straight on one road to get to the convention center. This was good, because a year after my stroke, I still didn't have a lot of stamina and went back and took naps a couple of the days.
Here's my report of the conference.
I didn't take as many pictures this year, but at the Margaret Edwards Luncheon, I stood in line next to one of my favorite authors, Garth Nix!
And then I had lunch sitting next to Susan Patron, whose Newbery speech was the first one I got to hear in person!
Here's the honoree, Susan Cooper, speaking with Garth Nix.
The next big event was the Newbery Banquet. I always enjoy the schmoozing ahead of time and ran into Betsy Bird and Jon Scieszka. Betsy had on special Newbery/Caldecott jewelry.
I had to get a picture with Jon again!
The Caldecott Medal went to Chris Raschka that year:
And the Newbery Medal to Jack Gantos: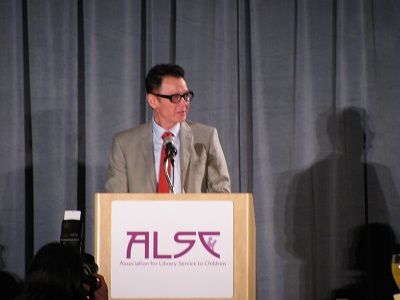 The next night was the Printz Awards Reception. I met Maggie Stiefvater, whose book I loved!
Then Lemony Snicket (Daniel Handler), who of course wouldn't pose normally.
And John Corey Whaley, the big winner, was still awfully happy!
I showed a whole lot more restraint that year. My loot total was only 68 books! That year I didn't have to mail them from the exhibit hall, but brought them to the post office near Becky's house.
But I took a week off after the conference to have time with my family. Again, I didn't take very many pictures – except on Tuesday, June 26, when I got together with my sisters Becky, Marcy, and Abby – and we went to Shoreline Village in Long Beach.
We met at my parents' house. My Mom, who has Alzheimer's, was still capable of taking our picture – sort of.
Once we got to the beach, we found someone to take a better picture.
We had a lot of fun with a bubble gun we bought there.
Apparently, we had way too much fun in a hat shop!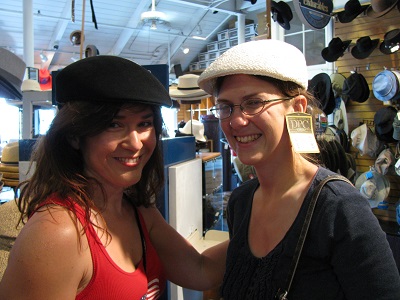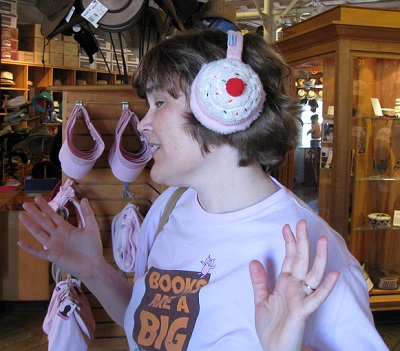 And we rented a pedal cart!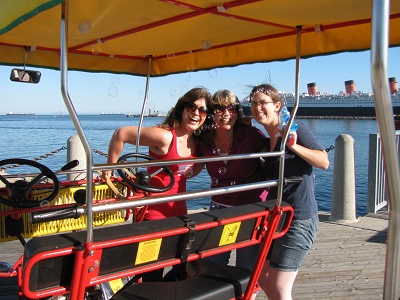 We had to periodically rotate who was sitting where, of course.
I have no idea what motivated this picture!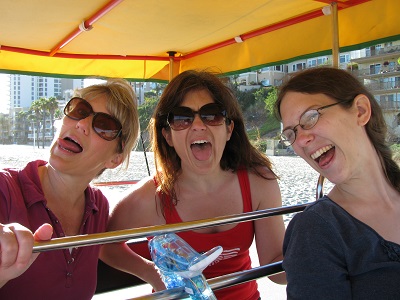 In this one, the dolphin on the bubble gun found a friend in the dolphin of the statue!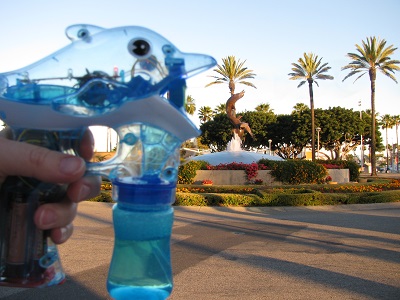 That week, I got time with my friend Ruth, a lunch with my friend Georgette, and my friend Lauri Ann took me shopping. She bought me this dress!
I got back from California right at the start of July. On July 4th, I finished reading a book I got at ALA before, but which had won a Printz Honor this year, Why We Broke Up, by Daniel Handler and Maira Kalman.
And that book for teens, about a romance that went bad, read on Independence Day, set off something in my heart.
Here's what I wrote in the review:
I realized that though I had my heart broken not long ago, though I did get a divorce, I never did really break up. Instead, I got secretly betrayed and abandoned, while I was trying to cling by my fingernails to the marriage. Funny how reading someone else's story, it's easy to see what a good thing it was for Min to break up with Ed. Easy to imagine the satisfaction that Thunk must have brought. I got to thinking, what would I put in a box if I were to really act out a break up with a Thunk? What would I write in a letter? Now, mind you, there's no box big enough for 24 years of marriage, and no book long enough. But Why We Broke Up did spark some deep thinking. I decided to celebrate Independence Day by putting away my wedding pictures. (Yes, I admit, I still had them up.) So not only was it a tremendously engaging story, it was therapeutic, too.
What I said in my journal that day, in part of an entry that spanned many pages, was:
Lord Jesus,
I think it's time for me to put away my engagement ring, even though Steve said the single stone represented You in our marriage. It's time to put away my wedding pictures. It's time to break up.
Yes, it was time.
And I celebrated Independence Day with joy!