It's time for Project 52, Week 49!
49 weeks ago, on my 52nd birthday, I began Project 52. Since there are 52 weeks in a year, each week I'm taking one year of my life and blogging about it. This week, I'm covering the year I was 49 — June 14, 2013, to June 14, 2014.
This week, I've already talked about steps in healing, as well as enjoying my first autumn and winter in my new home.
In reading my emails from that time, I'm struck by how much Steve was still on my mind. But I was sloooooooowly getting used to the idea of dating. I decided I'd sign up for online dating in the Spring.
Now, I'd told my kids long before that I wouldn't even date until after Steve remarried. So I thought I should feel out how my kids would feel about it if I started dating.
I brought it up while Tim and I were having dinner in Williamsburg when I went to pick him up at Christmas break.
Tim was fine with it and then said, oh, he hadn't know how to tell me this or if he should tell me this, but Steve had a girlfriend and had since about the summer before.
 
My first reaction was to be happy for Steve.  And I was SO proud of myself for that!
 
But the reaction that built up after that was thinking about Steve and romance – and I missed him.  Sad and wistful.  Remembering the good times.  Sad that it worked out like it did.  And just, doggone it, missing him.
 
But I had a good cry, not even a very big one, and that, actually, was about all it took to feel better.
So one more thing, and it confirmed that thinking about dating was a good idea.
Jade (then called Josh) also didn't have a problem with it. In fact, I was excited for Josh at that time – they'd landed a salaried job as a programmer! Yay! Gainfully employed! (They'd been working temp jobs for awhile.) In fact, eventually my brother Peter, my sister Melanie, and my brother-in-law John all started working for the same company. But Josh was there first. (And this was a job in Portland, Oregon, where they'd been living a couple years.)
Tim and I had a quiet Christmas at home and Christmas dinner (and games) with Darlene's family. And then we headed out to see family and friends in California for New Year's.
I was staying at my sister Becky's house. Friday the 3rd of January was the 27th anniversary of my wedding day, and I was going to spend it with my long-time friend Ruth – and get my ears pierced!
I figured better late than never! And it felt symbolic of my new life. I could buy myself earrings, and that would be something Steve had never bought for me.
We went to the mall – and got my ears pierced! Ruth bought me some lovely earrings and we had a great time together.
Ruth had recently bought her own condo, and here we are out on her patio: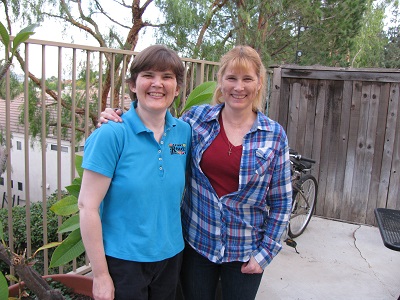 The next day, I went to my parents' house and played some games.
Here are my parents: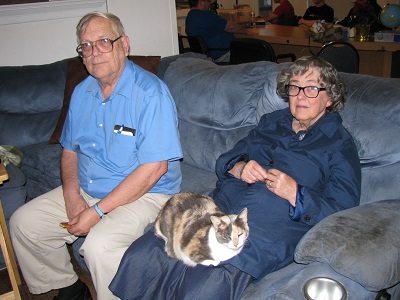 My sister Abby:
My brothers and Tim:
On the 5th, I went with Becky's family to the Getty villa in Malibu on the way to meet Megan at Pepperdine.
We are inevitably silly together.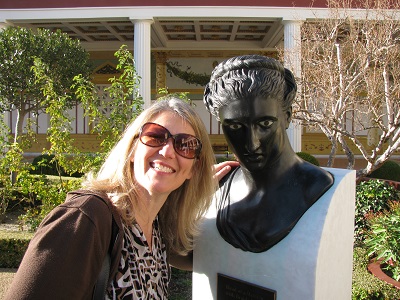 The statue looks like someone to be thoughtful with.
Kristen and Michael walking in the lovely corridor.
Here's Michael, Becky, Jason, and Kristen:
Becky and I ALWAYS enjoy being silly together!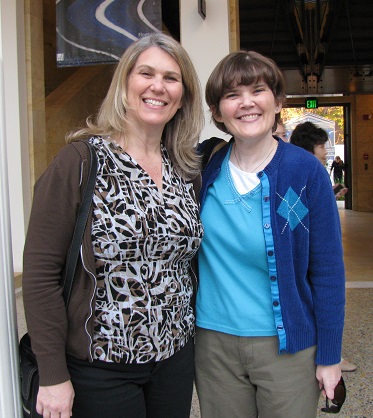 Tim and his cousins!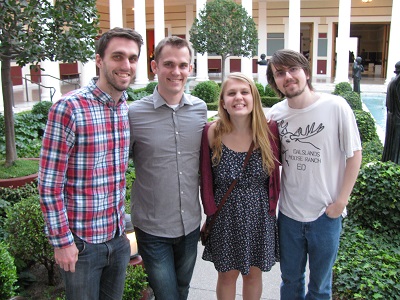 Becky and her girls, Megan and Kristen:
The next day I drove north of the city to visit my high school friend Susan and her husband Randy and their son.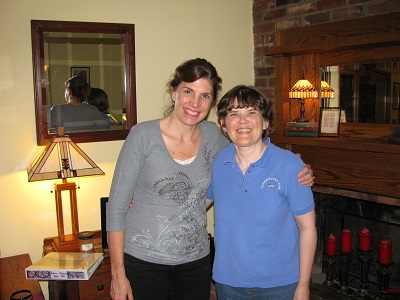 On that trip I also got to see my long-time friend Lauri Ann and her husband Len, but I didn't take pictures.
And then I got to meet my little niece Alyssa! And see her parents, Marcy and John, who hadn't moved to Portland yet.
On my last day at Becky's, Kristen and I posed because we agree that the coolest people are five foot two.
Becky picked up Mom (as she'd often do to give Dad a break), and we sang hymns together!
When I got home, during the month of January, while my small group was taking a break, I went to Paul's Friday night gaming group instead of the Saturday group at the store. They're hardcore Euro gamers, and I really enjoyed doing that.
I kept going to the Maulellas' small group in Herndon through March, but I was now farther away from the group and liking the idea of Friday night gaming. I'd hoped when I moved closer to church that I could start having a small group at my house. I proposed a women's group – but only found one person to do it with me. So that Spring, Vicki and I met on Tuesday nights at my house doing a study of Psalms. But we only lasted that one quarter.
We got some good snow that winter! But first, here's some wonderful Red Sky at Morning out my bedroom window before the storm.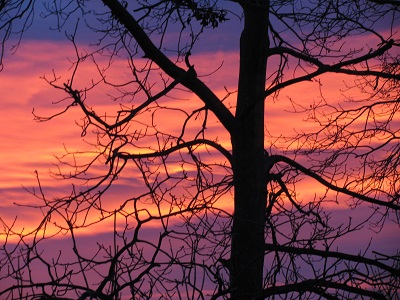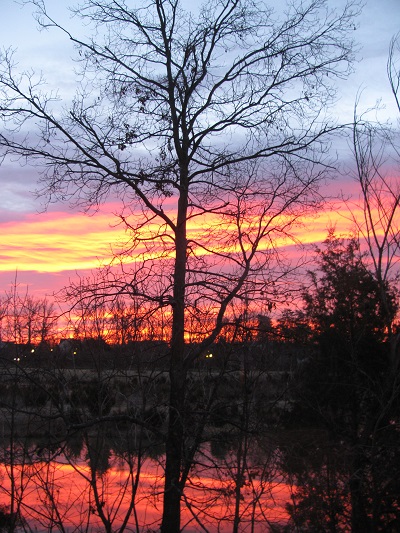 Snow did follow.
And by the end of January, I had made a profile on eHarmony. I activated it, and they started sending me "matches." But with eHarmony, I got no signs of interest at all. And they sent me more matches each day – and they were quickly from farther and farther away. So now I was doing it, I wasn't terribly impressed with online dating.
But – before I made an online profile, I gave several of my friends these instructions: "If I ever in the future am tempted to take Steve back [not that I ever think he'd want to], I want you to look me in the eye and say, 'Sondy, he had a plan to kill you.'"
I wanted to be absolutely sure that in the back of my mind I wasn't pining after Steve. That just didn't seem fair to any new date. By signing up for online dating, I was closing that door for good. And, come to think of it, he once had a plan to kill me. Choosing not to ever get back together with him – no matter what he should say – did seem like the wisest course of action.
In early February, we got ice and more snow. When the trees look like this, I have NO interest in driving!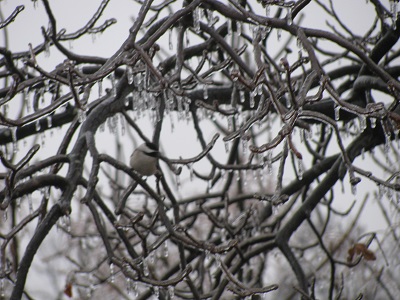 And I finished my Pascal's Triangle Shawl! I explain the math on my Sonderknitting page.
Here's a picture with the earrings Ruth gave me, which I could wear now that my ears had been pierced for six weeks.
We got a lovely snow dump around Valentine's Day.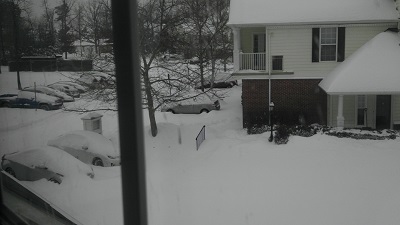 Lots more pretty snow moments that winter: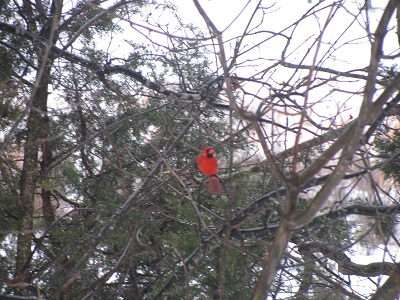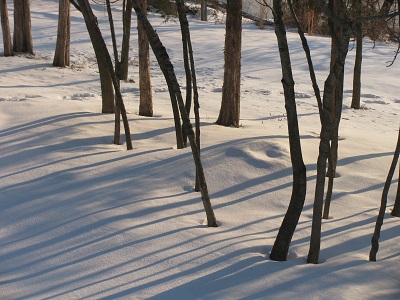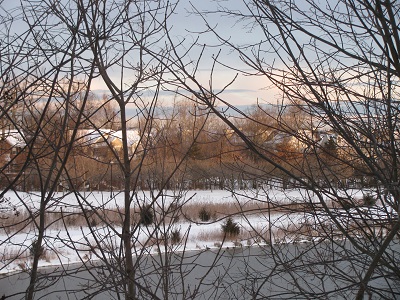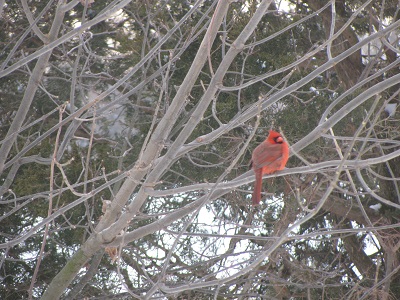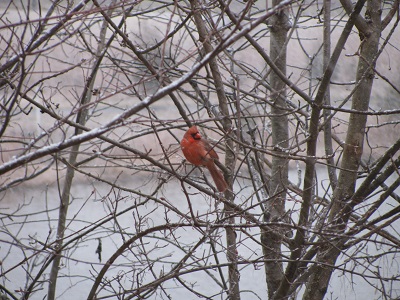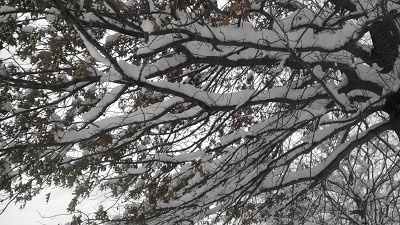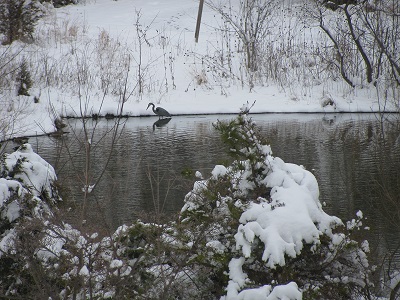 By the middle of March, I decided to switch to OKCupid from eHarmony. (I also tried Christian Mingle, which had some interesting profiles, but unless they have a paid membership, they can't read their emails. I didn't have much luck with them.) I liked OKCupid better than eHarmony, because YOU determine the questions. It's not a "patented match formula" that's left mysterious. You know what questions they answered which way.
And – by the end of March I had two dates!
I'd set up the first date – and then realized that of course "LDS" meant Mormon. I told him I couldn't see myself getting in a relationship with him – I wanted to be in harmony spiritually – but he seemed like a nice guy, so I asked if he still wanted to have the date. And I told him it was my first date with someone other than my ex-husband in 30 years. (I had very much wanted to go out with someone before the 30-year anniversary of our first date in May. I did achieve that goal!)
The date with the Mormon man was nice. We had dinner and then went to see the movie Divergent. But even besides him being a Mormon, things didn't quite click for me. He talked about going to folk festivals (not necessarily an introvert's first choice of activity), and his idea of gaming was playing Mille Bornes. Which is fun, but not quite like Euro games.
But he worked hard to be romantic. He brought me candy, and was lavish with compliments. (A little too lavish, actually. We didn't know each other yet.) It would have been easy to have my head turned.
But I had a date with someone else within a week! The guy, John, had more Master's degrees than I did (3) and was working on his PhD and attended an "emergent" church, which sounded promising. We exchanged some fun emails before meeting for tea at the Starbucks near my house.
The day we were going to meet, some workers were randomly blocking my garage with a crane! Fortunately, the Starbucks was in walking distance. We met and talked for 3 hours!
I liked very much that he brought a book to the meeting in case I'd be late! (I was there first, actually.)
So it was all very promising. The following Sunday, I got a call from John. He asked if I wanted to come play games with some friends of his. When I asked what game, he said it was hard to describe.
Well, when I got there, they had Dominion, my very favorite game, all set up to play! I was hooked – both on John and on that group of his friends. (Mainly two couples attend the group, both with two kids. They're friends of John's from when he was in grad school and they were in college. I like them very much!)
And – I dated John for two months, and it was lovely while it lasted. Why don't I post some spring blossom pictures here to represent how nice it was to be in a relationship again!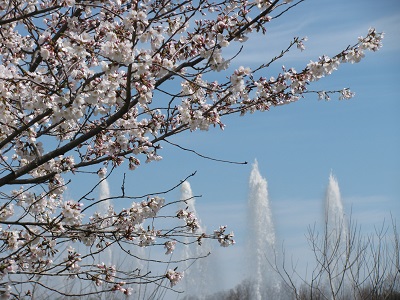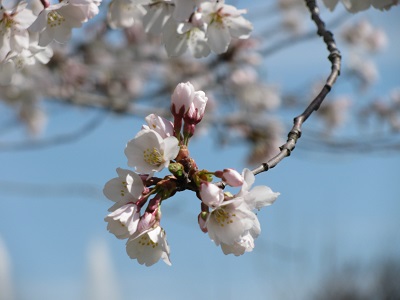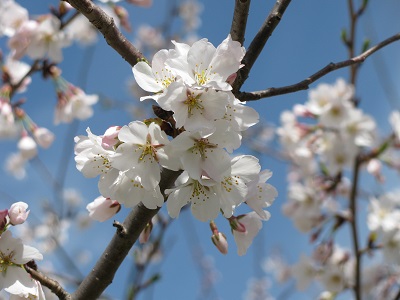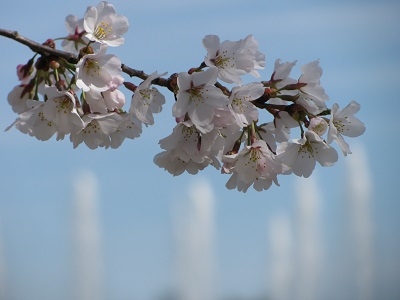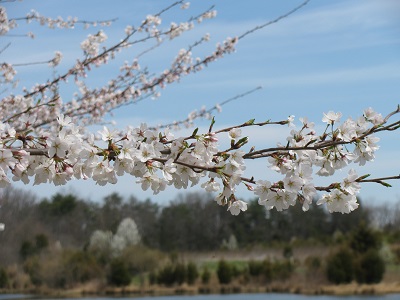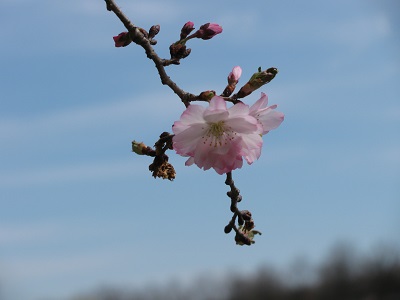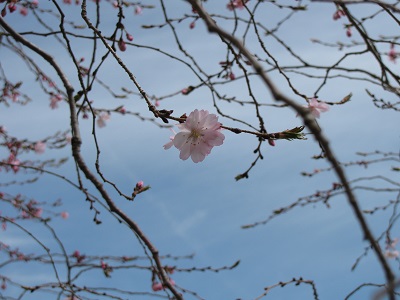 I went to Meadowlark Gardens that year with John – but was holding hands and didn't take any pictures!
However, I made my annual Bluebell Trail pilgrimage on my own – so took the usual lovely pictures.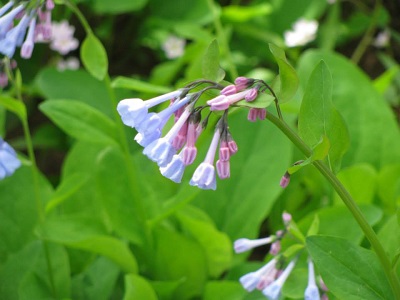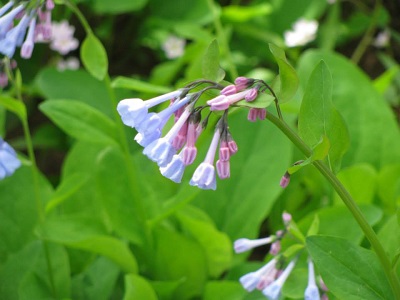 Dating John was lovely – but some mismatches started showing up.
I feel compelled to say that in the 2 months I was dating John, I had my last three menstrual cycles. Yes, that is really close together – basically my hormones were wacked out – and that did not help my emotional stability!
Anyway, on June 1st, I decided it was time to break up with him. At the time, I thought it was my decision, but the truth is, he didn't argue one little bit. I think it was basically mutual.
After I broke up with him, I called Paul, who knew it was a possibility that day, and Paul drove the hour to my house. He hugged me while I did some crying, and then we played some two-player games. That was when I knew Paul was a True Friend.
I did do some more negotiating with John. I was annoyed when I realized that I'd just gotten out of my life the one single friend I had – someone to go to movies with! Plus, I just loved his friends – the ones I saw in the gaming group. We agreed that we would still be friends. The gaming group said they were happy to keep me in the group. And over the three years, John and I have done things together now and then like movies or dinner.
I considered the whole experience a big win for online dating. Because I gained not one friend, but five friends. And a new gaming group for Sunday afternoons.
I think John and I are wonderfully suited – as friends. As a couple? Not so much. I've watched him in the past three years, and I think there are too many mismatches we'd have to overcome. (The last-minute planning being a HUGE one!) But I do enjoy his company and can, literally, listen to him talk for hours.
But back in 2014, it was rather a sad way to start the month when I would turn 50. All the same, I was a little proud of myself. I had never broken up with someone before. John was my first boyfriend other than Steve. So it felt rather good to evaluate things and make the choice that this wasn't for me. One more little step in my healing, I think.
And – my 50th birthday was on a Saturday! That really does call for a party. After I broke up with John, I decided the absolutely right thing to do was to throw myself a birthday party. I was so ready for a new decade!