It's time for Project 52, Week 50!
Okay, really, it's one day early – but that's something a day off is good for!
One day less than 50 weeks ago, on my 52nd birthday, I began Project 52. Since there are 52 weeks in a year, each week I'm taking one year of my life and blogging about it. This week, I'm covering the year I was 50 — June 14, 2014, to June 14, 2015.
Last time, I talked about how I signed up for online dating and dated someone for two months. It was nice to have romance in my life again!
But it also felt good to break up with someone, in a strange sort of way. It affirmed that I don't want to get into a relationship that doesn't enhance my life and my walk with God. I'd love to have romance in my life – but there are other things that are more important. And I'm glad to know that. What's more, it affirmed that I'm happy with my life! I don't need a relationship to be happy, even though I'd love to find someone to share the joys of life with.
The verse I felt like God was giving me at that time was Isaiah 43:18-19 —
Forget the former things;
do not dwell on the past.
See, I am doing a new thing!
Now it springs up,
do you not perceive it?
I am making a way in the desert
and streams in the wasteland.
And it was great to enter my 50s! You might have noticed in reading Project 52, but my marital troubles began when I turned 40. Now I was done! What's more, as it happened, I had my last three menstrual cycles in the two months before I turned 50 – and no more ever again. And, as I'd hoped for years – having read that 80% of women with common migraines lose them at menopause – my migraines got dramatically better. I stayed on Zoloft (the only preventative that ever worked well for me) for several more months, but when I stopped – my migraines didn't come back! It is glorious!
Anyway, my 50th birthday fell on a Saturday, so I just had to throw myself a party. I invited all my friends, though not a lot could come, but that was because on the second Saturday in June, a whole lot of people had other plans. But some friends did come and we had pizza and cake and played games and I had just a lovely day.
Oh, and Tim wasn't at my birthday party because he was in Prague! He'd gotten into a summer Study Abroad program with William & Mary, and had just left a few days before my birthday. Jade (then called Josh) was in Portland, Oregon, and was working as a programmer. So I was happy for my kids, too.
And looking at old emails – it looks like this was when I started exchanging daily emails with my cousin (actually my mother's cousin, but much closer to my age) Sheryl. She sent me a Happy Half a Century email, and I answered, and she answered – and almost three years later, we're still emailing almost every day.
But it's clear from my journal that the new thing I was *most* hoping for at that time was a new job. The December before, the Youth Material Selector position for Fairfax County Public Library had come open – and I wanted that position. When I was at Sembach Base Library, my favorite thing to do was order books. But I was disappointed when I came to Fairfax that only one person ordered the books for the whole system. Then I learned she was due to retire. When she did, I waited eagerly for the job announcement, which took months to happen. I see from my journals that I got my application in that July.
I'll summarize now what ended up happening, sloooooowly. I had a phone interview and did well. Then I got an in-person interview in late September – and didn't find out until a month later that I had not gotten the job.
That was a blow, because I'd been wanting the job for months. I've come to peace about it. One path to peace is that I got to help out at TechOps for a few hours a week a few months after that. And – I get so absorbed in the work, I forget to take breaks and get headaches.
In my current job, I can still keep up with what's new in children's books – and I have an opportunity to pass that on to library patrons. I get to use the books in storytimes, in programs and in booktalks. And now, I'm on the Newbery committee. I've got a whole lot more variety in my job, and I do like it that way. On top of that, Fairfax County Public Library buys so many of the newly published books – it's not like there are ones I want to read that she leaves out.
So anyway, that was very much on my mind the entire year I was 50 – first hoping for the job, then coming to terms with the fact I hadn't gotten my "dream job" – but what do you know, I do love the job I have.
But the big event of the summer was going to Oregon in honor of the 75th Annual Bates Family Reunion.
My great-grandmother Bates started the reunions the year my grandpa, her oldest son of ten kids, got married and moved out. My Mom was his oldest child, and I'm the third oldest – so most of my Mom's cousins are closer to my age than hers. Anyway, 2014 was the 75th Reunion, and with Josh living in Portland, I was extra motivated to go! Besides, in the previous three years, the youngest third of my siblings – Peter, Robert, Marcy, and Melanie – had all moved to Portland! And Robert and Marcy had both had little daughters, so I'd get to see my nieces, too.
Tim and I stayed at Marcy and John's house, so we got to enjoy getting to know Alyssa.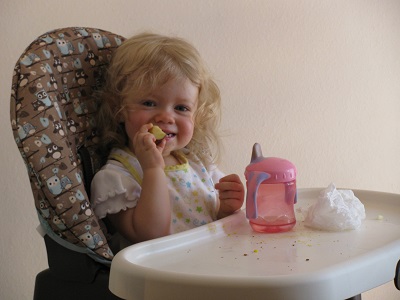 I especially loved watching Tim fall for Alyssa.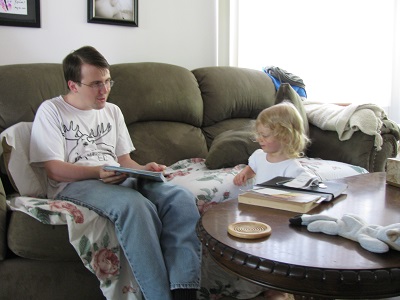 And we went to see Robert and Laura and little Arianna as well.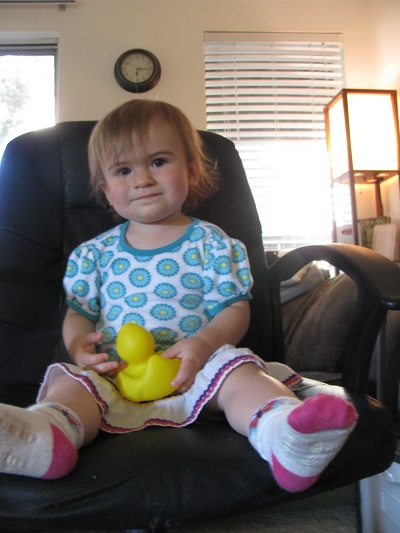 My little brother makes a great Dad!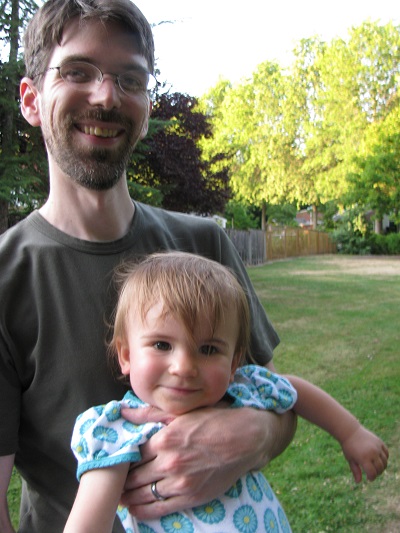 And back at Alyssa's house – and a playground – to finish the day.
I wanted to go to the Oregon coast while I was there, and I brought Tim with me. We had a wonderful day hiking.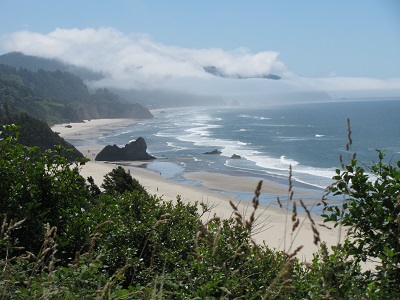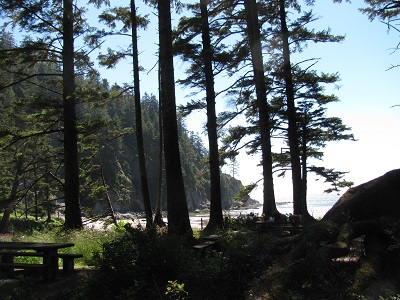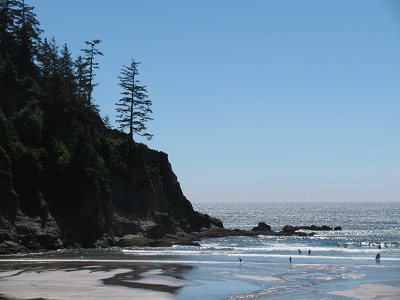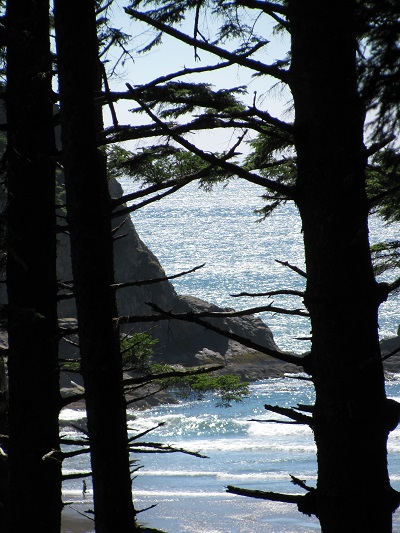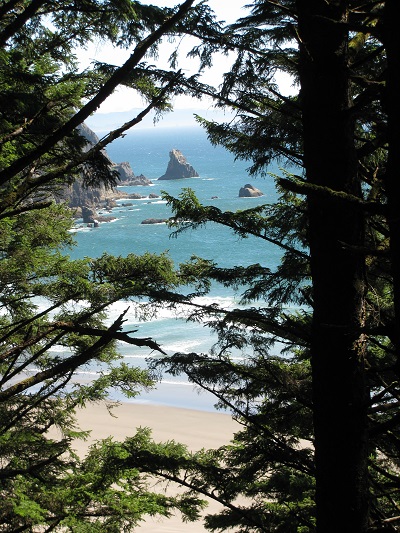 We got back in time for Alyssa's bedtime.
And the next day, Arianna came over to visit Alyssa.
We went to Robert and Laura's house, and my parents had arrived – and we all went to the pool. My Mom was still capable of enjoying the little girls.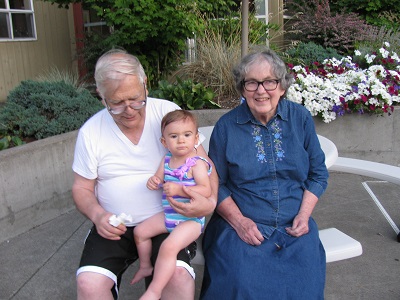 Marcy was awfully cute, too!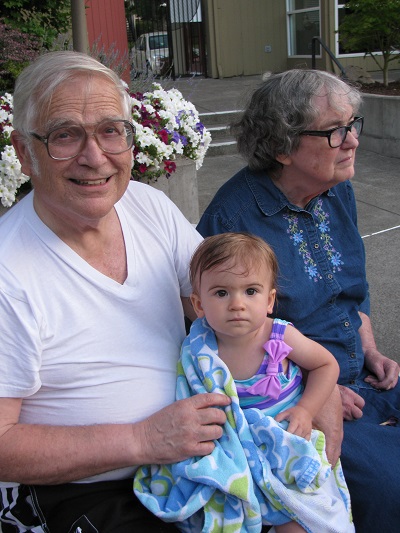 That night was the pre-Reunion at a pizza place.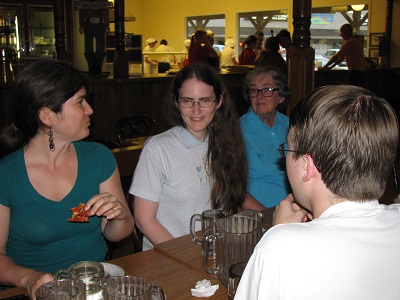 And the next day – the 75th annual Bates Family Reunion!
The squares in this picture represent descendants of my great-grandparents. My grandpa's descendants are the first TWO pages of the chart. And remember – this is only one-fourth of the people I'm related to. My grandfather was the oldest of ten siblings, eight of whom grew to adulthood.
With my kids!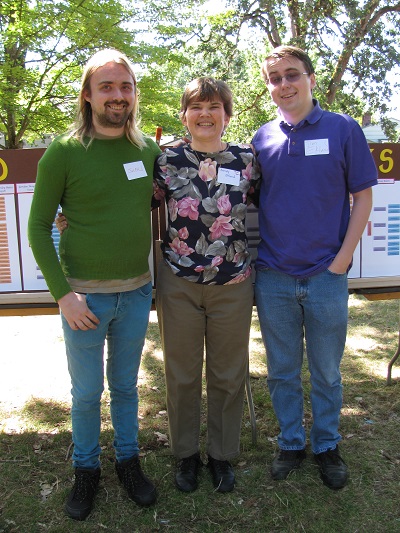 My Uncle Allen and his new wife Jeanne. They were on their honeymoon!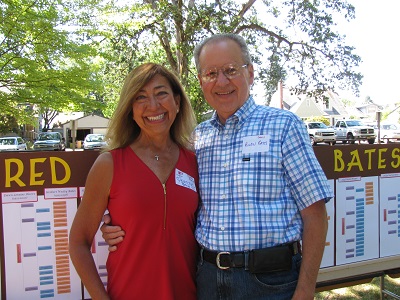 Robert and Arianna:
A bunch of people related to me eating:
Arianna's hair was so adorable!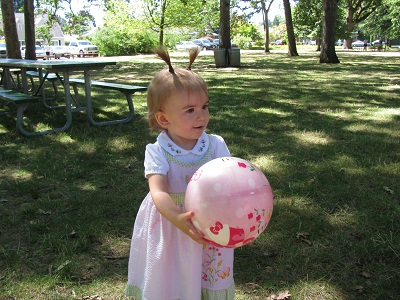 Playing ball with toddlers:
My Grandpa's siblings are people who like to laugh!
Toddler Ball was getting more laid back.
Here are all the descendants of my Grandpa who were there, plus spouses.
Mom always did enjoy Reunion! I think it was hard for her aunts and uncles to see her like this (with Alzheimer's), but I think she did have a good time. I'm afraid it was comforting for me to see them still sharp as tacks. It doesn't seem to be hereditary. I hope.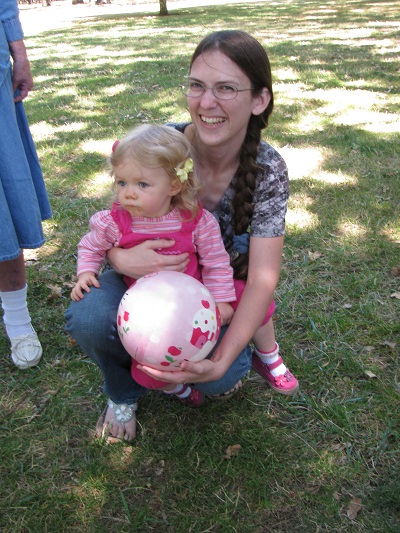 Aunt Donna!
Robert and Laura and Arianna:
And we sisters started getting silly.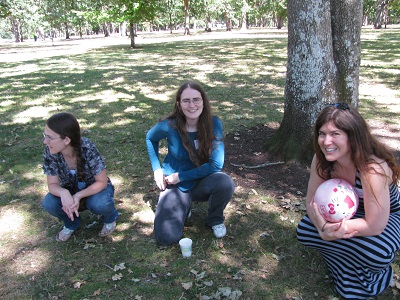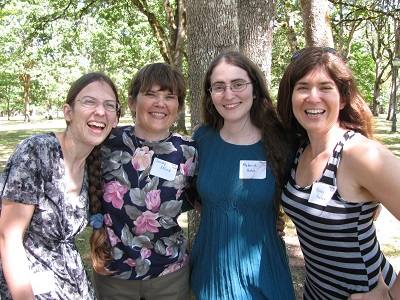 Here's a Second Generation picture – my Mom and her siblings and cousins who were there, with their spouses:
The Third Generation. I'm by far the oldest of those who were there, my siblings and second cousins:
And the Fourth Generation isn't nearly so large. Those who were there were Josh, Tim, Alyssa, Arianna, and one baby third cousin of theirs. Anyway, when we attended Reunion in 1989, Josh was the only member of the Fourth Generation there, and Josh was actually the second member of the Fourth Generation to be born. (My sister Becky's son Jason is the oldest member of the Fourth Generation, and Josh the second.)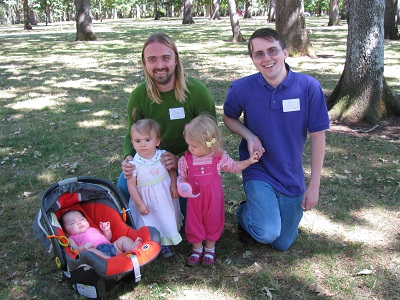 I had a whole bunch of fun looking through the Reunion albums. It turns out, I attended Reunion most of the first ten years or so of my life.
This picture of my Mom and her brother Allen was especially sweet.
And it was fun finding my family! I hadn't even realized how many Reunions I'd been to. Here we are when I was 5. (I can tell how old I was by how many kids there are.)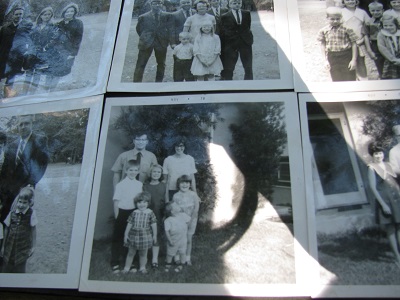 I think Josh and Tim got bored while I was looking through the albums. But it still made my heart happy to see them walking and talking together.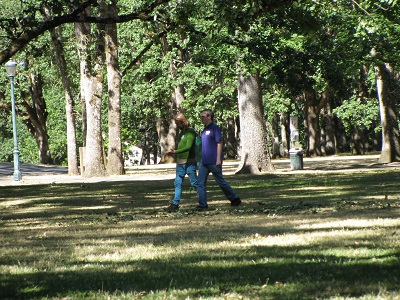 And after Reunion, we drove back to Portland, and I took Josh and their partner Sunny and my brother Peter (who rooms with Josh) out to eat at their favorite vegan restaurant. There was really wonderful food there, but a fairly long wait. They would call us on a phone when a table was ready – and we went walking among the rose gardens of Portland! It was simply lovely.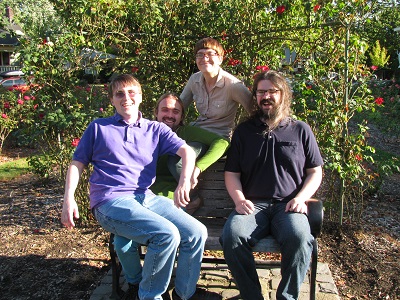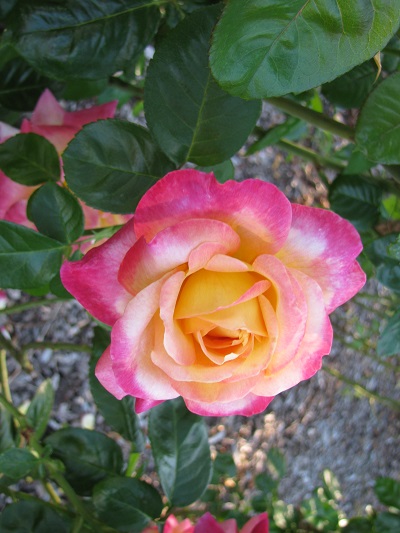 I love being with my kids!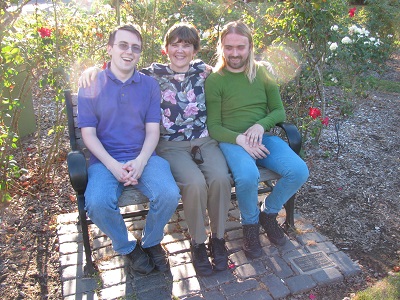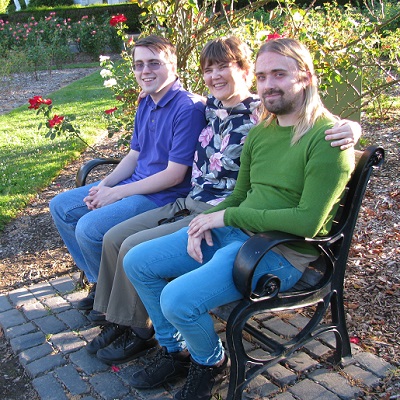 There was a little time left for more fun with my sweet little nieces and my siblings.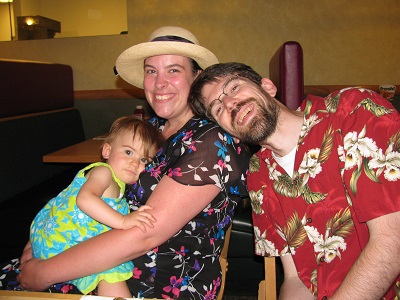 So it was such a lovely trip!
During that summer, after his Prague trip, Tim had done some intern work in the Virginia Room, but not long after we got back from Oregon, it was time to take him back to school.
In September, I had my phone interview for Youth Materials Selector.
And at home, a great white egret started joining the great blue heron on the lake. (You can probably tell I love my lake! I still get a thrill every time I see these beautiful birds.)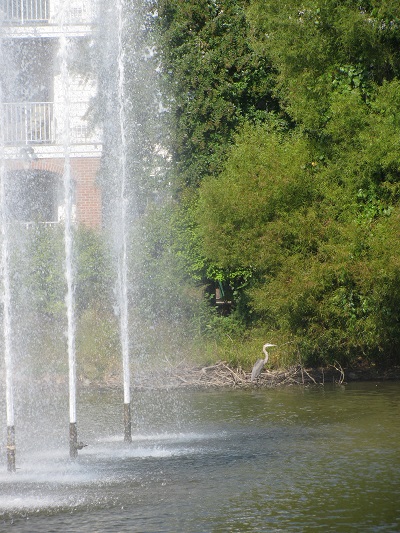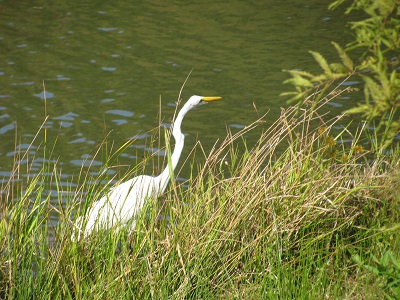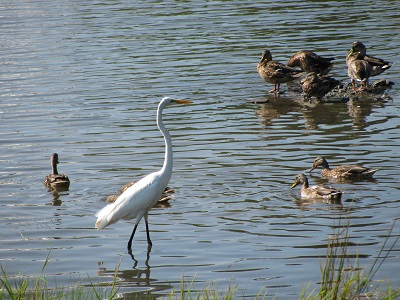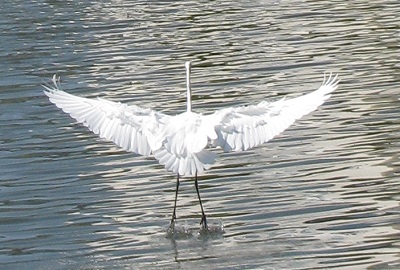 And that's enough for tonight! (So much for finishing on my day off!) Next time, I'll talk about celebrating being 50 with my best friends Ruth and Darlene!