It's time for Project 52, Week 50!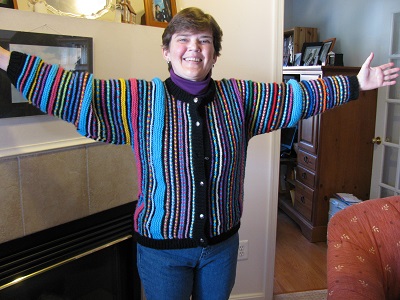 50 weeks ago, on my 52nd birthday, I began Project 52. Since there are 52 weeks in a year, each week I'm taking one year of my life and blogging about it. This week, I'm covering the year I was 50 — June 14, 2014, to June 14, 2015.
This week I've already covered the 75th Annual Bates Family Reunion and a Being 50 Celebration with my childhood friends.
Ruth flew back home on October 4th. I'd purchased a 5-year Journal on September 30th at the Library of Congress, so now I have a paragraph on each day to refer to. The night before Ruth went back to California, I wrote that the time with Darlene and Ruth had been soul-feeding.
I got back into my routine. I was playing games with the group of hard-core gamers including my friend Paul on Friday nights and playing mostly Dominion with a more social group, including my ex-boyfriend John, on Sunday afternoons.
And a small group from church began meeting at my house! This made me happy. When I moved close to the church, I was hoping that I could host a small group. But I don't have enough room for kids. And I'd tried doing a women's group on Tuesday nights, but that's not really a great time for a lot of women.
Anyway, I found a group that was meeting at the church office after church on Sunday. I attended there one time, and then said, Why don't you come to my house? They're doing the same thing they did when meeting at the church office – getting some fast food before they come over. It's mostly people who live a little further from the church and don't want to make a second trip during the week. I still host this group, and they've come to mean a lot to me.
I was still walking by my lake, especially on weekends and the days I worked the late shift. Still delighting in the great blue heron and the great white egret.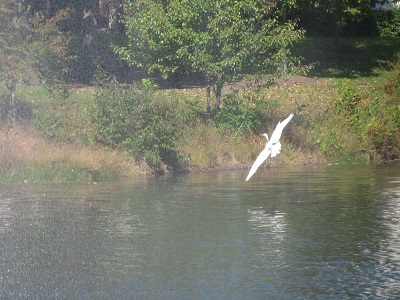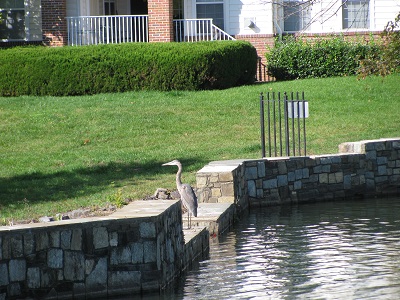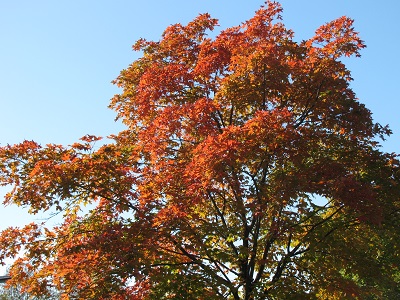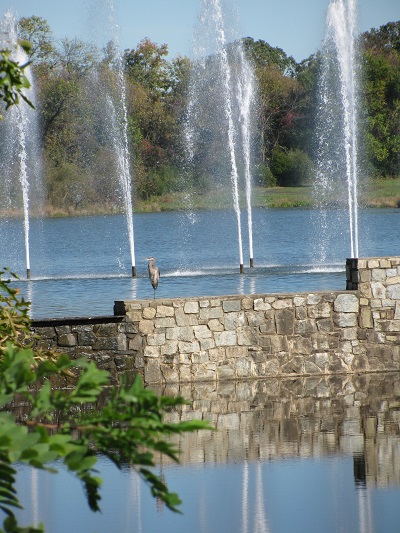 On October 11th, I went to a Michael W. Smith concert and took my friend Mabel. As soon as I heard the song "Sovereign Over Us," I ordered the CD, and I've still got that CD on shuffle in my CD player. I believe that God orders our steps, and He is good. So when I heard Michael W. Smith was coming to town, I got tickets. Okay, I was hoping to find a man to go with me. (I had tried subscribing to Christianmingle for awhile, as well as OKCupid – but no luck.) So I asked my single friend from my previous small group, Mabel.
That was Columbus Day weekend, which meant more walks around my lake. The fall color was starting, too.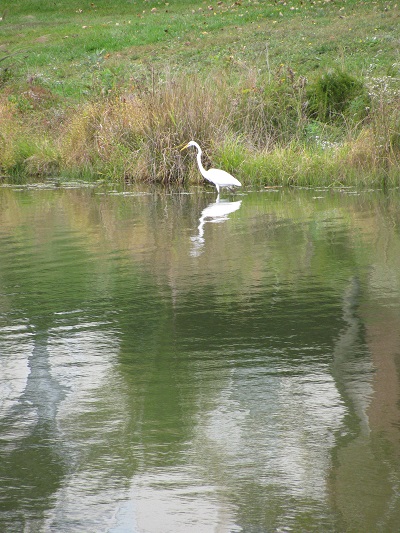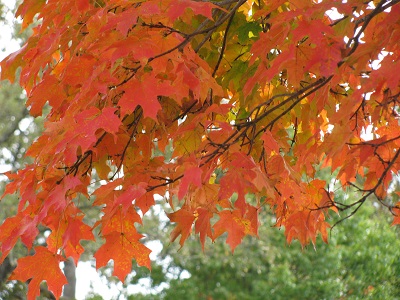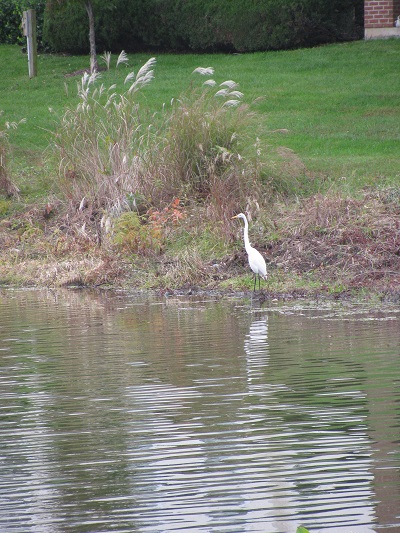 These next pictures are notable. I was sitting eating breakfast and looking out my window on October 15, as I do. And the great blue heron flew onto the pinnacle of the building across from me – and the very next moment a storm started, suddenly pouring rain.
It was pouring! Even the heron started looking wet!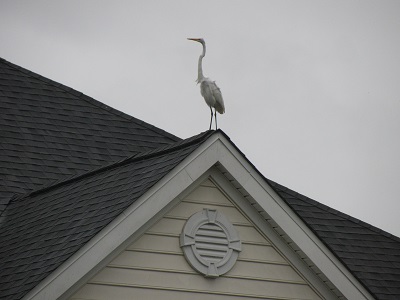 Autumn continued, and I continued taking walks and pictures.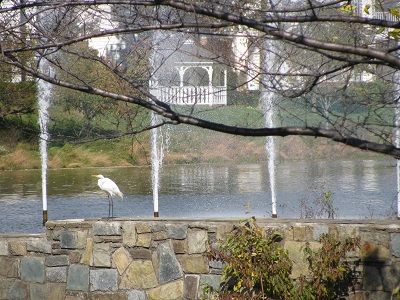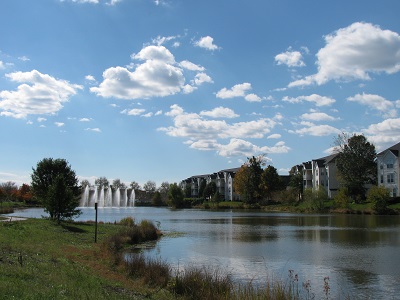 On October 20, I found out I was a Cybils Panelist! This was a late start. They had originally chosen someone else, but asked me to step in when one person dropped out. So I was judging first round Middle Grade Fantasy and Science Fiction again.
I also had started doing Crazy 8s Math Club on Monday afternoons. It's sponsored by Bedtime Math. They send all the supplies and instructions for an after-school math club – doing silly activities that loosely relate to math! In 2017, I just finished my fifth season, and I love doing it. A way to show kids how much fun math is! I love doing it at the library, where I don't have to test anyone.
And I kept going for walks and loving it.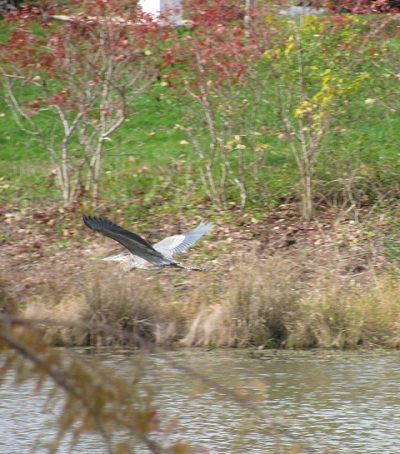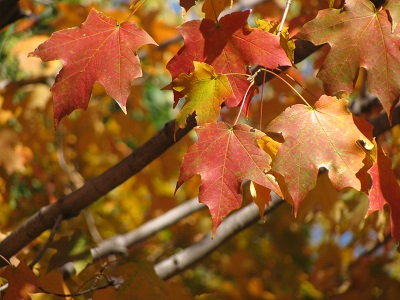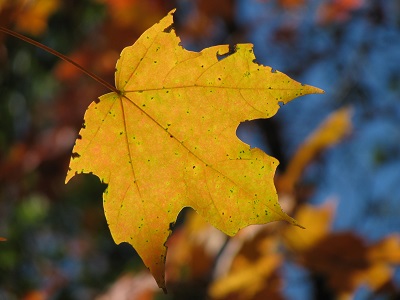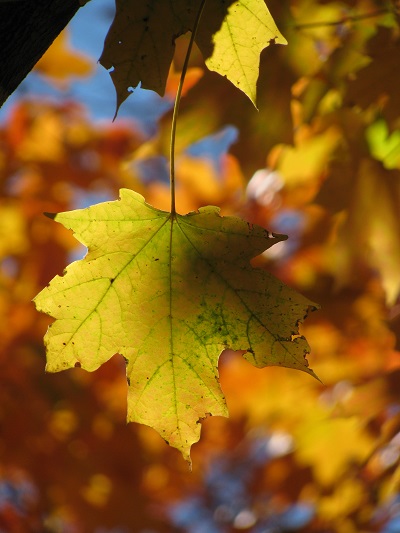 And on November 1st, I finished knitting my Prime Factorization Cardigan! I explained the math on my blog, with a link later on Sonderknitting.
But it got cooler! On November 6, Bedtime Math featured my prime factorization cardigan! And the next day, my website got 1768 hits!
And that's all I have time for tonight. I think you can tell that even though I enjoyed my travels, I was still thrilled with my home by the lake.