It's time for Project 52, Week 51!
51 weeks ago, on my 52nd birthday, I began Project 52. Since there are 52 weeks in a year, each week I'm taking one year of my life and blogging about it. This week, I'm covering the year I was 51 — June 14, 2015, to June 14, 2016. I'm almost done!
Last week I covered the year I was 50, finishing up with plenty of springtime festivities. My 51st birthday was extra special, with church, small group, gaming group, and a Steven Curtis Chapman concert at the Kennedy Center.
The first big event of the year, as with so many other years, was a trip to ALA Annual Conference. But this time, ALA was in San Francisco. So as long as I was on the west coast, I planned trips to Portland and to Los Angeles after the conference.
But before I left, the library began the Summer Reading Program. I finished booktalking, and one of our first programs was a program with TechShop that I had set up. My cousin Mark was the CEO of TechShop. I'd worked out for them to come to the library. It went great!
Josh announced on Facebook that their correct name was now Jade. I asked in email what that meant, and Jade told me we'd talk about it when I was out there. Tim was also in Portland, doing a summer internship at the company Jade worked for.
ALA Annual Conference in San Francisco began on June 26. This year, my co-worker Karen Jakl came and roomed with me. It was nice to have a friend along!
The Printz Award reception had been moved to Friday night instead of Monday night. So that was my first event. After, of course, the mad dash for ARCs in the Exhibit Hall! I did post notes about all the events I went to. Saturday was Leadership and ALSC, since I was now Chair of the Grants Administration Committee for ALSC. Then came a powerful film called The Raising of America. Next came an interesting panel about the importance of libraries and books. The panelists were all authors of books about books – and we were given copies of the books. In the evening, Karen and I went to a party sponsored by Ingram, and ended up chatting with the Loudoun County and Prince William County Public Library directors. (These are neighboring counties to Fairfax County, where we work.)
On Sunday, I began the day with a "Literary Tastes" meeting and more free books. Of course, more Exhibit time!
Here I am with Nathan Hale of Nathan Hale's Hazardous Tales!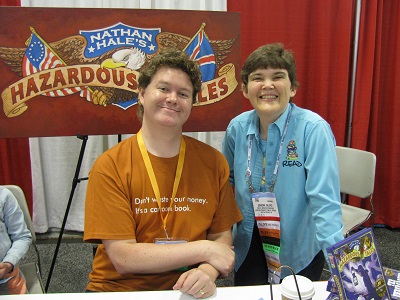 And Author Erin Bow:
I went to an interesting session called "All Hands on Tech" about modeling responsible technology usage with parents.
But the highlight, of course, was the Newbery/Caldecott/Wilder Awards Banquet!
They always have really wonderful programs.
I got to sit with my friend April.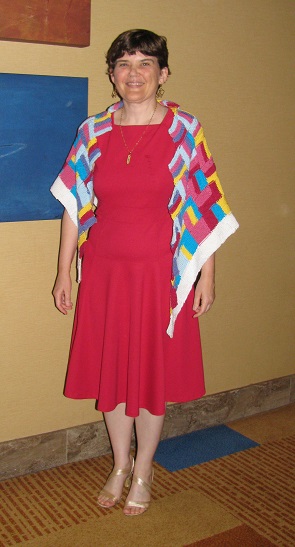 Monday was the day to wrap-up. I still got to some interesting sessions. There was a YALSA "Shark Tank" session that had some good ideas for teen programs. And a really interesting one called "Reading the Art in Caldecott Books." I also shipped my loot that morning, and went to the Odyssey Awards program (for distinguished audiobooks).
Now that the Printz program had been moved from Monday night, I had the evening free – and met up with my Uncle Allen and his wife Jeanne and his kids Andy and April. Andy's wife Marcy and kids Molly and Trevor were there – I hadn't seen them in years. And April had just gotten married on my birthday! She and her husband Jared were in the Bay Area for a reception. I had a really wonderful time getting to know these wonderful relatives better.
Tuesday, July 1st, it was off to Portland! My sister Marcy picked me up at the airport, and I got to play with Alyssa, who was shy for a little while, but not too long.
On Wednesday, I got to see my kids! Marcy and Alyssa and I drove Marcy's husband John in to work – and we had lunch with Jade, Tim, Peter, and Melanie, who all worked at the same place. While we were in Portland, of course we stopped at Powell's books. And more playing with Alyssa that afternoon.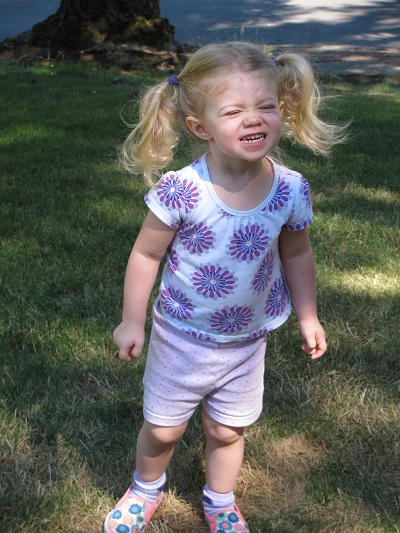 Then I went to Robert and Laura's house, to spend the next couple nights with them and my niece Arianna.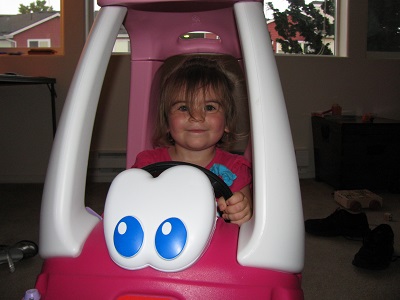 The next night, they took me to English Country Dancing. My sister Melanie was there, too.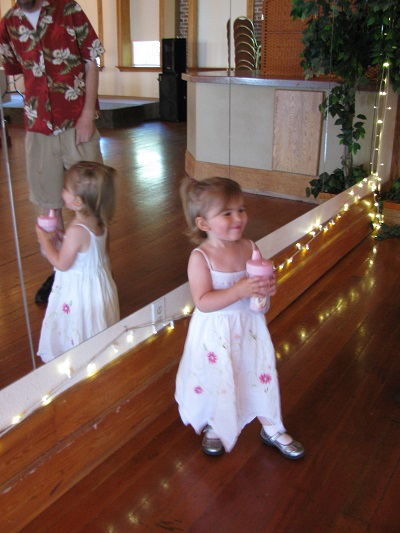 The next day, Robert took me to Jade and Peter's house, where Tim was also staying for the summer. My brother Ron was visiting at the same time, so he also came along and Robert, Ron, Peter, Jade, Tim, and I all played games. That night we went to see the movie Inside Out.
The next day was Independence Day, and I had the conversation with Jade. Yes, her name was now Jade. Yes, she now considers herself female. (She was using the pronoun "they" at the time, but I'm going to skip to "she" in writing about her, which is what she uses now.) She had started taking hormones and was very happy about the transition.
I was glad we had the conversation in person. Because then I could see for myself this was still my kid, whom I will always love with all my heart. I didn't lose my child. She's still the same person.
I'll say here that I later had some conversations with relatives and friends who weren't terribly understanding. No, I never had any clue – but the fact is, I believe that my child is the only one who knows what is going on inside her own body.
When I was going through my divorce, I was helped tremendously by Patricia Evans' books on verbal abuse. She says that verbal abuse happens when someone defines you differently than you see yourself, when someone claims to know you better than you know yourself. Isn't gender a fundamental definition of a person? Shouldn't we allow people to define themselves?
No, I've never experienced gender dysphoria. That doesn't mean no one else has! I believe that no one knows better than the person themselves what is true about themselves. And I am happy to report that two years later, Jade has no desire to go back.
I stayed at my kids' place three nights. It was the holiday weekend, so they were off work. We played lots of games, and it was simply good to be with them!
On Sunday night, Melanie drove Ron and me down to Salem, where we had dinner with Aunt Susan and Aunt Donna, which was very nice!
On Monday the 6th, my writer friend Kristin (from our retreat in Paris!) picked me up. She now lived in Portland. Another writer friend from my writer's group at Sembach, Laurie, now lived in Vancouver, Washington, and she met us for coffee. We went for a walk in the rose garden by Kristin's house and had lunch.
Later, Kristin and I did some writing together, and I spent the night in her lovely home.
On July 7th, it was time for the next leg of my trip. Kristin took me to the airport in Portland, and my Dad picked me up in Long Beach. I had a quiet evening with Mom and Dad. I walked in the morning with Kristin – quickly, and in the evening with Mom and Dad – slowly.
My Dad is so sweet to my Mom!
On the 8th, I spent the day with Ruth! She took me to the Los Angeles Science Center and the Dead Sea Scrolls Exhibit.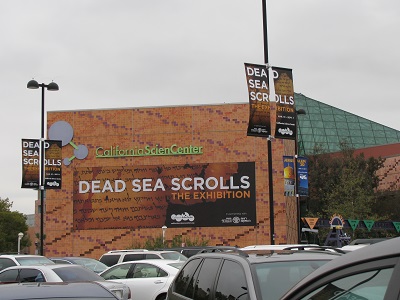 We also saw the Space Shuttle Endeavor.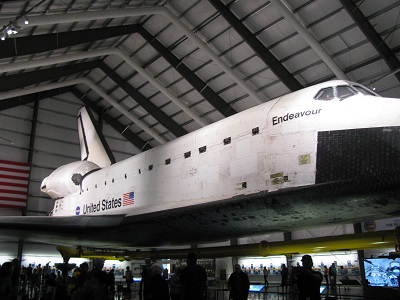 We finished up with some lovely wandering in the rose garden.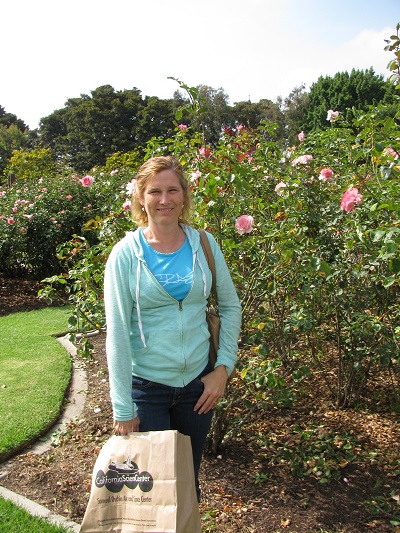 On the 9th, Becky picked me up at Mom and Dad's – and we toured a Civil War Museum that's a block from their house! It's been there for ages – but we'd never been! It was a barracks during the Civil War, and they actually kept camels there! The tour was fascinating.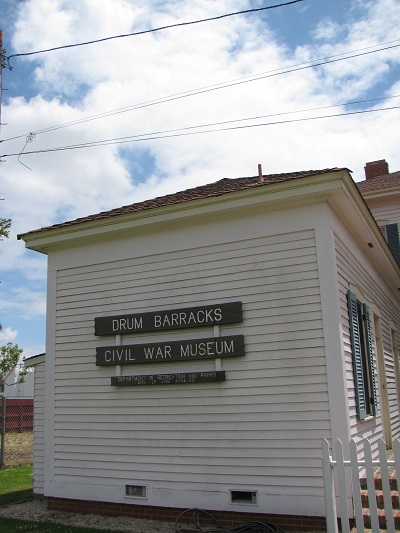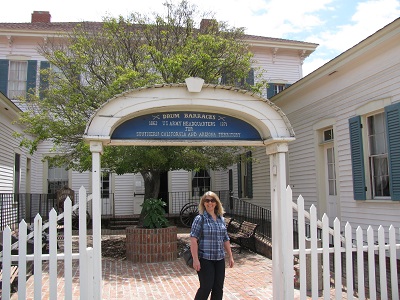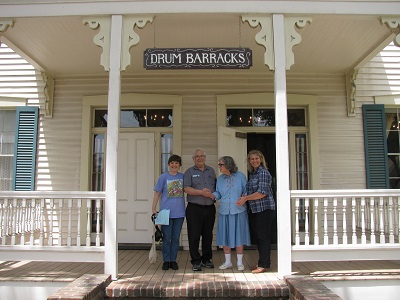 I love the jacaranda trees every time of year!
There is now a park across the street from the Drum Barracks (so a block from my parents' house) with Camels!
Then Becky took me down to Encinitas, where they were now living again. Kristen was the only one of her kids who was home. That night, we watched an old movie, "How to Steal a Million."
On July 10th, Becky and I had a lovely long hike in Torrey Pines State Reserve.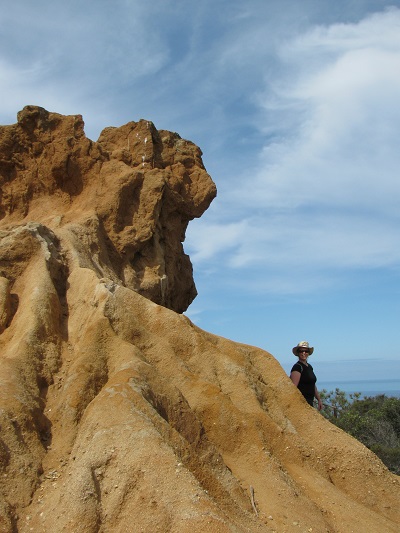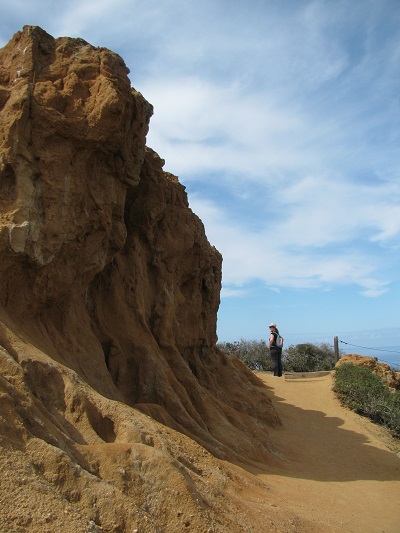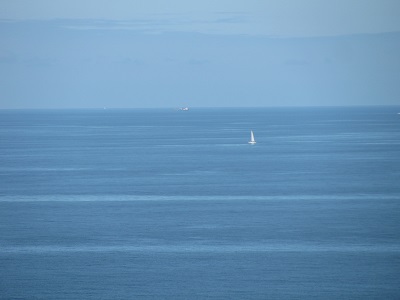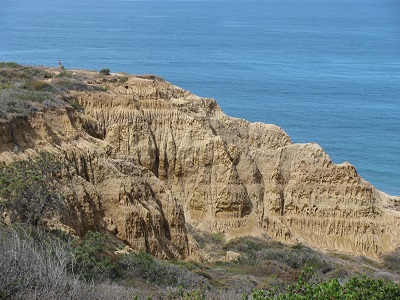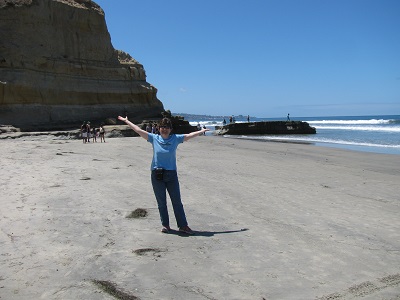 That night, we went out to California Pizza Kitchen with Kristen, and then we watched Beastly and another classic, How to Marry a Millionaire.
On my last day in Encinitas, we spent the day at the Encinitas Beach. On the way there, I checked out the lovely Encinitas Library.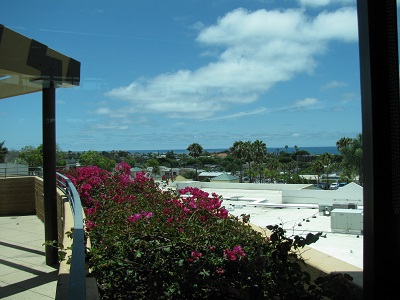 At the beach, they were having a concert with the Christian group "Need to Breathe," and a surf competition. We stood up on a place overlooking the beach where we could watch and hear them both.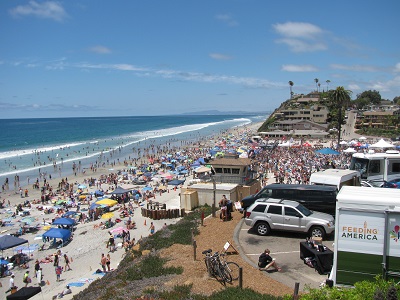 I was fascinated by the drones that were filming the surfers.
That evening, Becky drove me to meet Abby for dinner in Laguna Beach.
Abby took me back to Mom and Dad's. That night we still had time for some games of Red Seven and Linko with Abby and Rick and Jeff. And Dad took me to the airport the next day. Kathe welcomed me home!
Of course, it wasn't long before my loot from ALA arrived!
And that's all I have time for tonight! That covers the first of three trips to Oregon that year.