It's time for Project 52, Week 50!
50 weeks ago, on my 52nd birthday, I began Project 52. Since there are 52 weeks in a year, each week I'm taking one year of my life and blogging about it. This week, I'm covering the year I was 50 — June 14, 2014, to June 14, 2015.
This week, I've already covered the 75th Annual Bates Family Reunion, Fabulous Friends at Fifty, Herons and Egrets Around My Beautiful Lake, Christmas fun, and the Wonderful Winter. Now it's time to talk about Spring!
I was still happy at work. Early in Spring, I started a new season of Crazy 8s Math Club, and I have a note that a little girl told me, "I had a fabulous time!" It melted my heart.
First, signs by my lake.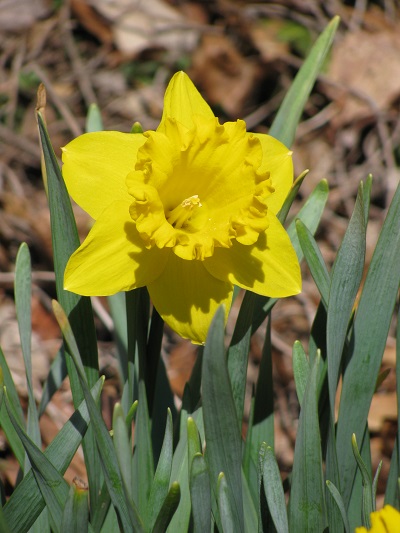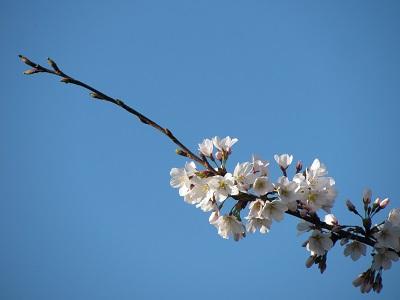 Oo! There's an insightful statement in my journal from April. I realized that if somehow a miracle happened and Steve were to come back and we went back into the marriage we had – I'd have to squelch the person I'd become. I'd have to dampen my enthusiasms: for my career, for fellowship with God's people, for enjoying and taking pictures of nature.
Looking back, that seems like a good criteria. If I'm with this man, do I have to squelch any part of myself?
Oh, but that was also when I got contacted by a scammer on OKCupid who claimed to be an American general but who was from Paris. He was widowed and had a grandson in Paris – even though if the times he told me at various times were correct, his own son had a child at 12 years old! And when he had time to walk around Paris holding hands with his wife while he was pursuing that military career in the U.S., I have no idea! Funny how he was too busy to actually meet up – he was in important meetings with the Joint Chiefs about a secret mission to Damascus. I'm embarrassed how long I corresponded with him, but eventually a google search on some of the phrases he'd told me about his life revealed which military bios he'd stolen the lines from. Oh well. That was when I started thinking I needed a break from looking online.
Okay, more enthusiastic pictures!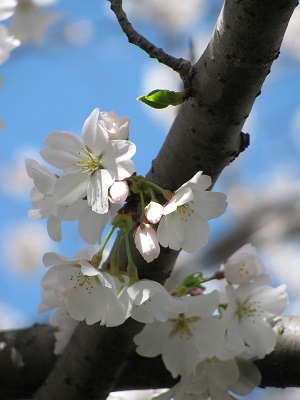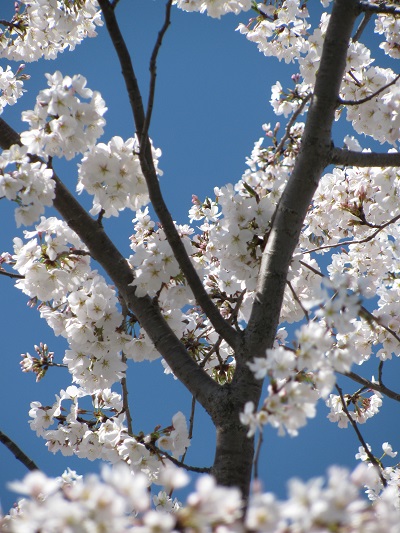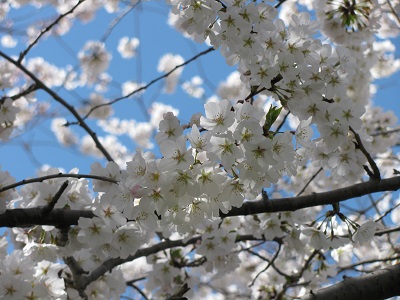 On April 18, I went to the National Math Festival in Washington, DC.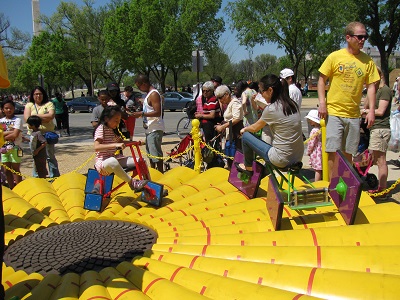 I brought my prime factorization cardigan and showed it off. First, to the curator of the math art exhibit.
Then at the Mathical Awards, I showed it to the author of Really Big Numbers, who also wrote You Can Count on Monsters about prime numbers, and was very appreciative. The funny thing, though. After I talked with him, it nagged at me that he seemed really familiar. I looked up his bio after I read Really Big Numbers, and then I emailed him and confirmed. He was my classmate at UCLA! We only had one class together, Number Theory seminar, when I was a graduate math student and he was a Senior undergrad. I remembered him as rather cocky – I was insecure because I didn't know the other people in that class. (He said he didn't feel cocky at that time.) It made it seem a very small world!
Then I went to hear a stand-up mathematician. When he showed off the mathematical scarf his mother knit for him, I knew I had to show him my prime factorization cardigan!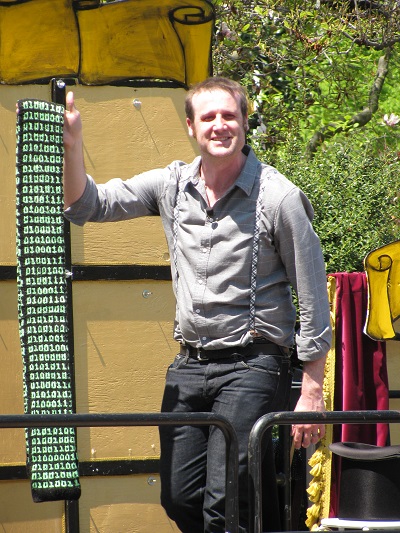 While I was in DC, I had to catch some of the beautiful flowers.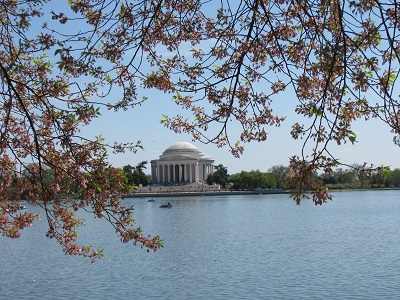 That week in Crazy 8s Math Club, we did Venn diagrams.
And on April 24th, I made my annual pilgrimage to the Bluebell Trail at Bull Run Regional Park – but first I went to Burnside Farms, where they grow tulips!
My journal says:
Wow! Today I went to Burnside Farms' tulip fields for a couple hours, then the Bluebell Walk at Bull Run for a couple hours. Then I fell fast asleep! It was so beautiful. My cup overflows.
Yes, I went nuts taking pictures. What follows is a tiny percentage of those I took!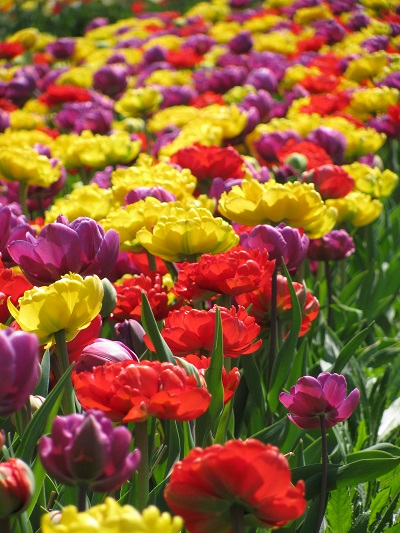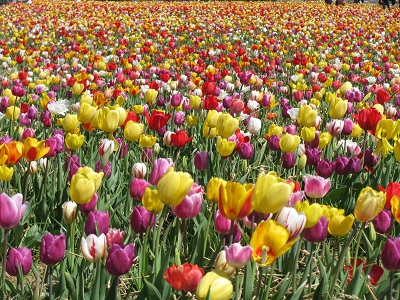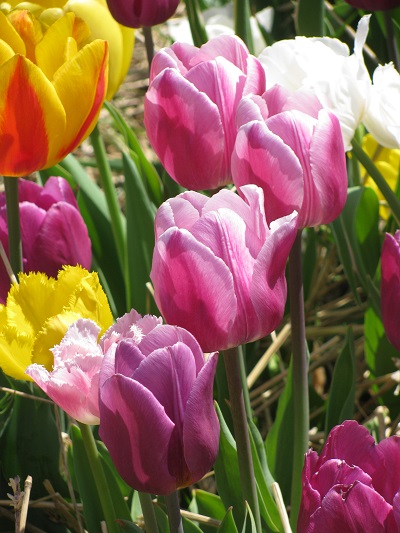 Then the Bluebell Trail!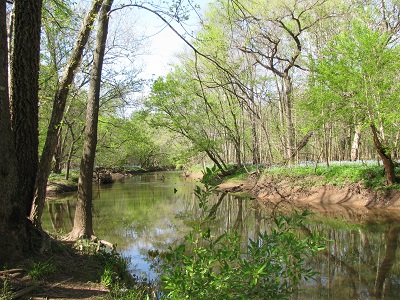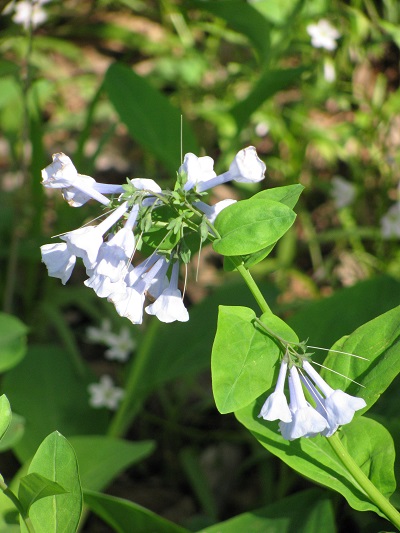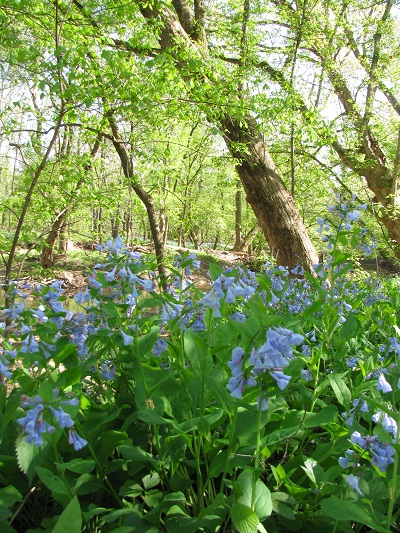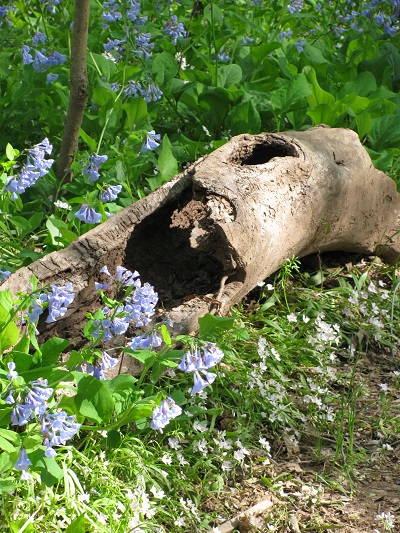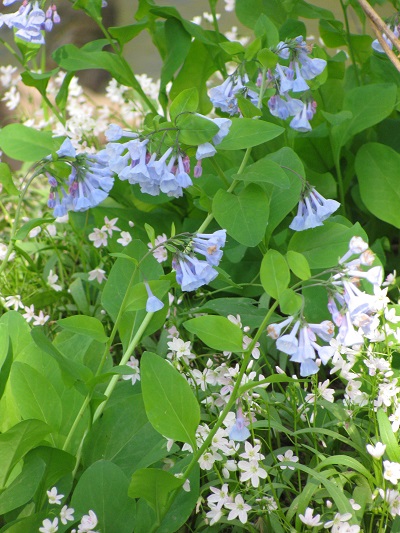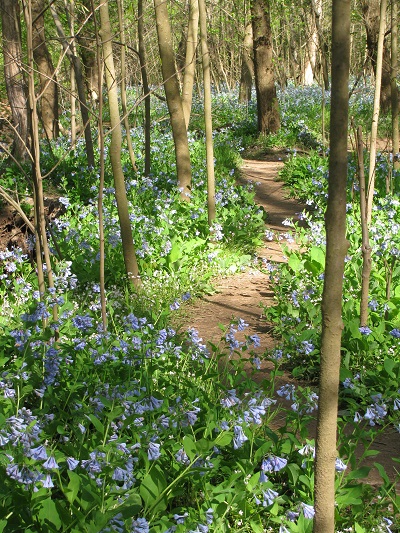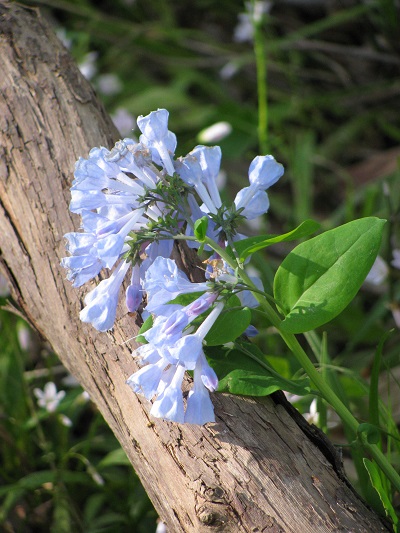 I did bring home some of the tulips.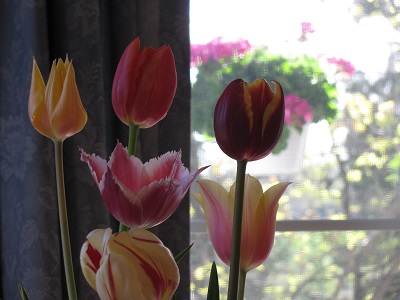 And bought some balcony flowers.
Ah! I remember why I was getting so frustrated thinking about dating. First, I figured out the Frenchman was a scammer. A few days later, I went to my ex-boyfriend's PhD party and met his current girlfriend (who seemed a much better match with him than I was), then not long after I went to a Book Dating event at another library branch, and someone did express interest – but after exchanging a couple emails, just dropped me.
At least it drove me to prayer! (And going off online dating for awhile was a good choice.)
Oh, and the other thing – I was looking at old emails from that time. With the scammer, I talked about him (before realizing he was a scammer) with my friend Paul, my friend Kevin (who'd been in the military and recognized this guy's story didn't ring true), my pastor, and the men in my small group. Between the lot of them, they cautioned me, and I did some more digging and figured it out. I came away realizing that my friends have my back! I really felt like I have some extra brothers watching out for me. (As if 7 actual brothers weren't enough!)
But my lake had new beauties in May.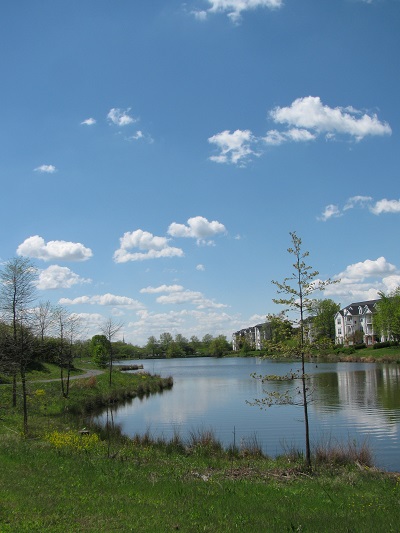 Our small group met at Erik and Renee's house and met their giant dog.
My balcony is extra cozy in the Springtime.
On May 13th, I got Tim from William & Mary. I happily report in my journal that he talked to me all the way home. We started reading The Jedi Doth Return aloud to each other that summer.
But I'm afraid I had another 3-week vestibular migraine in May. I finally went to the ER to get rid of it. Though I can happily report, knocking on wood as I do so, that that was the last time I went to the ER for a headache. A doctor told me that it often takes a year after menopause for headaches to settle down, and it seemed to do that for me.
I got some Golden Rectangle earrings!
And on May 19, I finished my second Pascal's Triangle Shawl, this time done with shades of purple. I think it turned out even prettier than the first one, though it doesn't go with as many different things. I blogged about the math.
And then I tried to get a Selfie wearing it.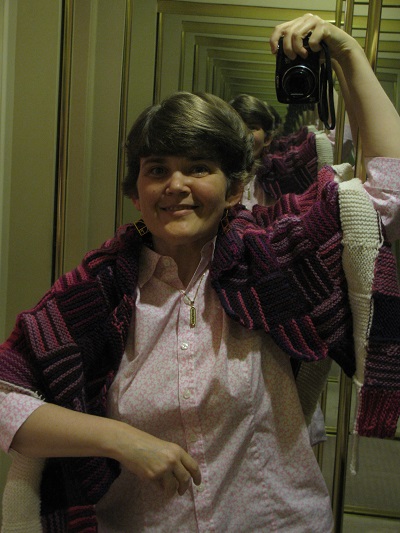 I finally gave in and asked Tim to take some.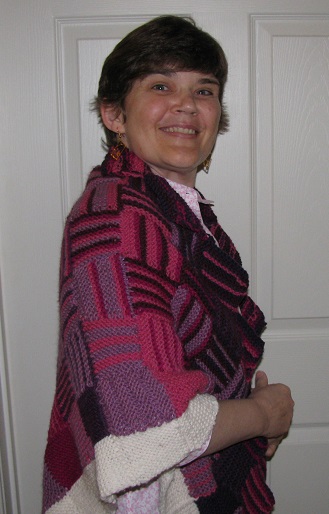 In late May, my lake was now blooming with irises.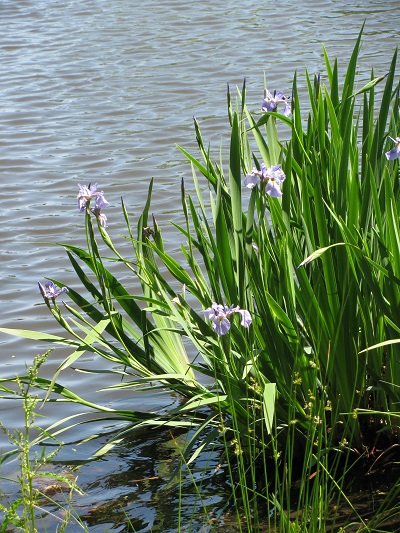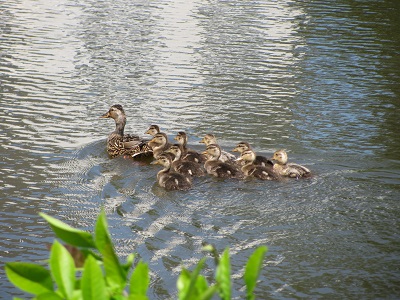 And I watched a red-winged blackbird dive bomb the great blue heron!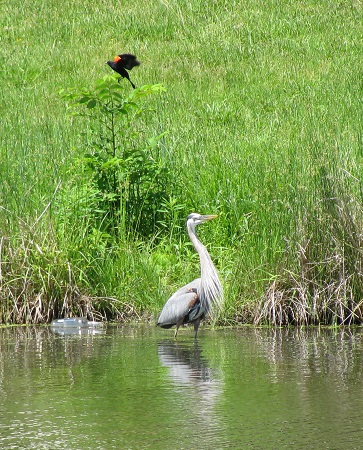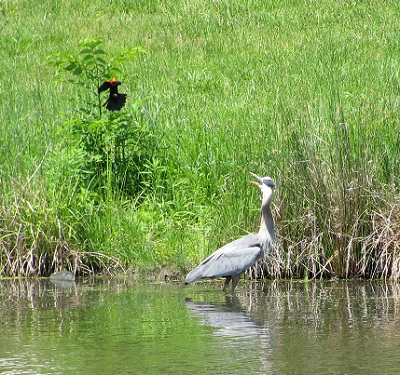 More irises: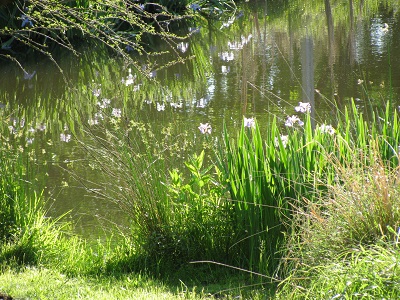 And on Memorial Day, Tim and I went to Shenandoah National Park and hiked the Traces Trail.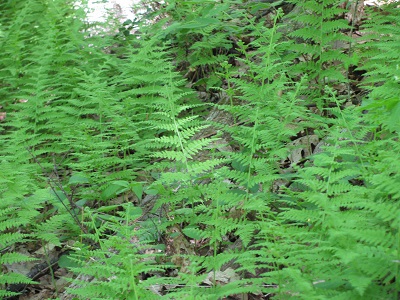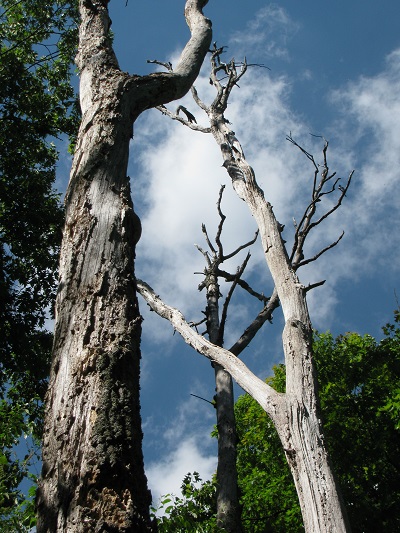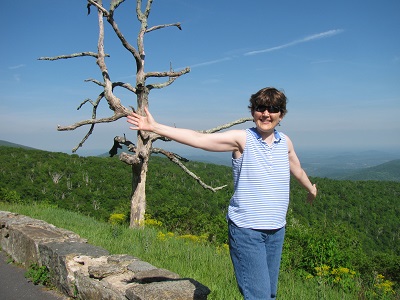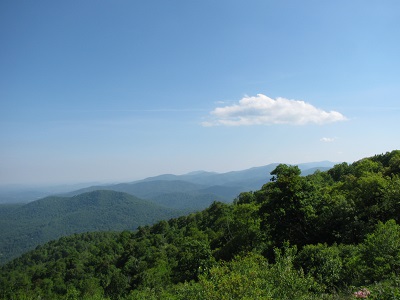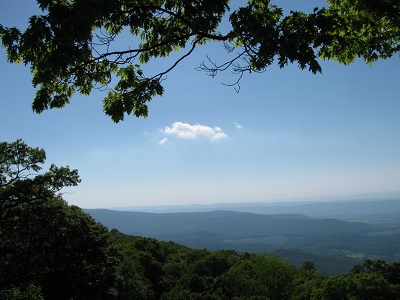 But a couple days later, I had to take Tim to the airport. He had gotten a summer internship in Portland, with the same company Jade (then called Josh) worked for, as did my brother Peter, my sister Melanie, and my brother-in-law John. So both of my kids would be in Portland for the summer!
However, the first time I took Tim to the airport, there was a storm, and the flight was delayed too much for Tim to get his connecting flight. So I picked him back up, and that night we played a game of Castles of Mad King Ludwig. The next day, though, he really did leave for the summer.
But I settled back into the swing of things, keeping busy. I was still gaming every Friday night and most Sunday afternoons. We started booktalking in the local elementary schools. My Dad had a trip to Annapolis, so I met him there for dinner. Church had a Family Challenge in June – silly games to play as families. I helped with one of the tables. I had dinner in Reston with Darlene the night before my birthday. I'd also started writing again, aiming for 30 minutes a day, working on a book about my prime factorization charts.
And I had a simply splendid 51st birthday. It was a Sunday, so it began with lots of birthday wishes at church. (Facebook is great for giving away things like that!) My Small Group met at my house as usual – but this time they brought lunch, and we had cake and strawberries and blueberries, and I got sung to. Then came the Dominion gaming group. I brought cupcakes, so they sang to me, too. And I finished the day off with a Steven Curtis Chapman concert at the Kennedy Center with Mabel, which was amazing. (When I heard he was playing at the Kennedy Center on my birthday, I immediately ordered tickets!)
So it was a year filled with many beautiful things.