This is the story of my Road Trip Adventure to Prince Edward Island with my friends Darlene and Ruth. We drove up from Virginia to Canada on a late September weekend. On Monday, we visited Green Gables Heritage Place and walked on the trail through the Haunted Wood to Montgomery Park and L. M. Montgomery's Cavendish home, finishing up with a drive along the shore. On Tuesday, it rained, so we visited museums — first L. M. Montgomery's Birthplace and then the Green Gables Museum at Silver Bush.  That day culminated with a trip to Anne of Green Gables: The Musical.
On Wednesday, we decided to set out and see more of the island.  I'd heard good things about Greenwich Dunes, so that's where we headed.  By now I was coming to terms with the fact that my phone's GPS wasn't working, so we grabbed the map I'd been sent from tourismpei.com.  (This was a life saver!)
Setting out, I tried to direct us along a marked scenic route.  We were driving through farm fields and gentle hills, and the sun had come out, and it was glorious.  But then I missed a turn — and we were entering Charlottetown!  Oops!  Anyway, we figured that out and got back on track.  Just when we were looking for a place to use the restroom, we spotted a Visitor Information Center.
This Visitor Information Center was staffed by a very nice lady who chatted with us.  She said that Greenwich Dunes has the prettiest hike on the island, the one where locals love to go.  She also told us we'd see farmers bringing in the harvest on the hill, her husband among them.
We drove just a little further, around a bend and up a hill, and had to stop by the road to take pictures near this church.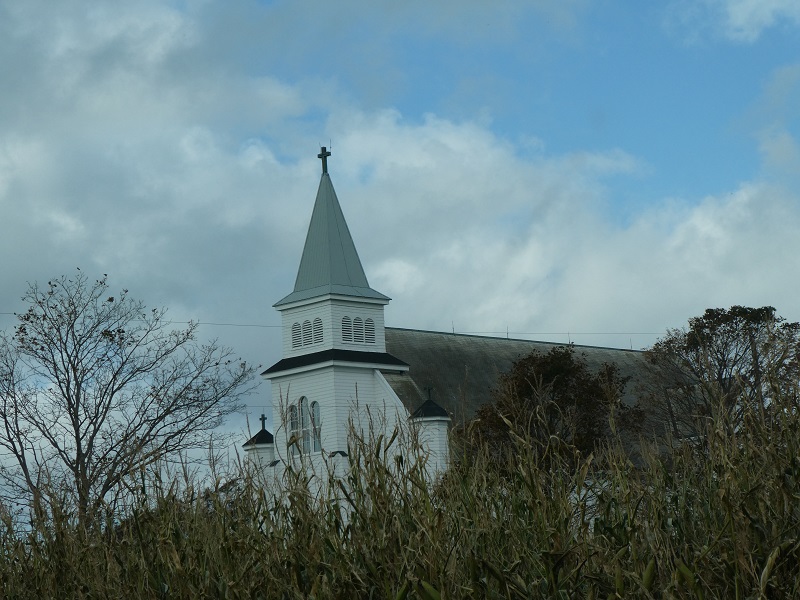 The beginning of a bay was beneath us.
We drove a little further and got to the Greenwich Dunes Interpretive Centre. It was brand-new (I'd read about it on the website.), but unfortunately, it was closed for the season.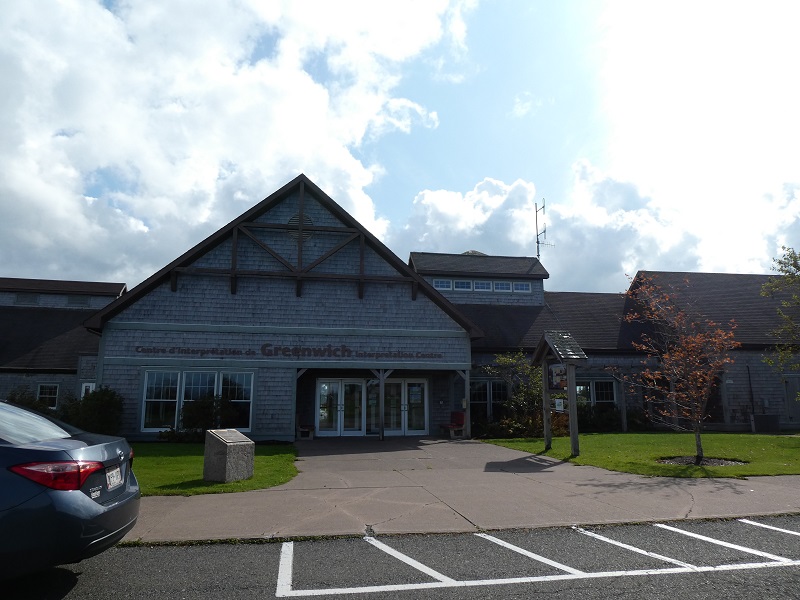 It was windy, so we ate our lunches at our car, but then we were ready to set out on a hike!
Based on what the lady at the Visitor Centre had told us, we took Path 3 to Greenwich Dunes.
After a little bit of a walk in the woods, we came out to what had once been farm fields, and we began walking parallel to the water.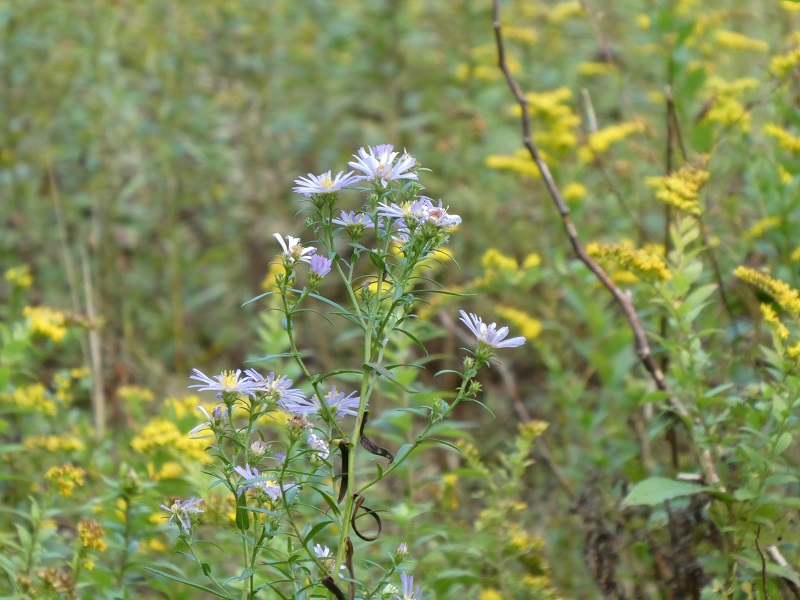 Lots of wildflowers all along the way.
The path was flat, with easy walking.  Trees and plants on our right, the gulf on our left.
Did I mention that the weather had turned lovely?  The sun was out.  There was some wind, but once we started walking, we weren't cold.
Above was the farmland side on the right of our walk.  Below is the bay side on our left.
As we walked, we began meeting people coming back from where we were going.  These people actually raved about what we would see.  One man called it "astonishing."  They all told us to take the path all the way — that we would be glad we did.
The path we were already taking was very nice indeed — but not "astonishing."  However, their encouragement made sure we kept walking.
This part had fewer trees, and some interpretive signs along the way told us where settlers had a farm in the past.
Meanwhile, the sky and sunshine on the water were doing beautiful things.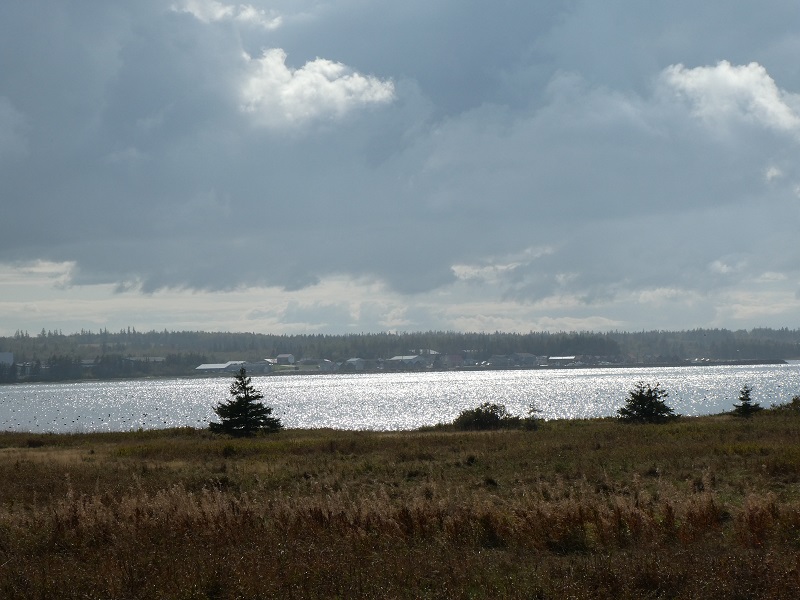 The shrubbery started getting taller.
And then we entered the woods.
In the woods, I mostly took pictures of leaves that had begun to turn color.
This was late September, and back home in Virginia, Fall hadn't really started when we left.  Of course, Ruth was from California, so Fall Color was a complete novelty for her.
I saw what I thought was a bridge ahead, and figured there must be a stream or something beneath it.
I was still paying attention more attention to the red leaves in the treetops.
The "bridge" kept going on and on.  It turned out to be a boardwalk.
Like everywhere we'd been on the island, we saw a lot of trees that had been knocked down — probably mostly from Hurricane Dorian, which had swept through a few weeks before.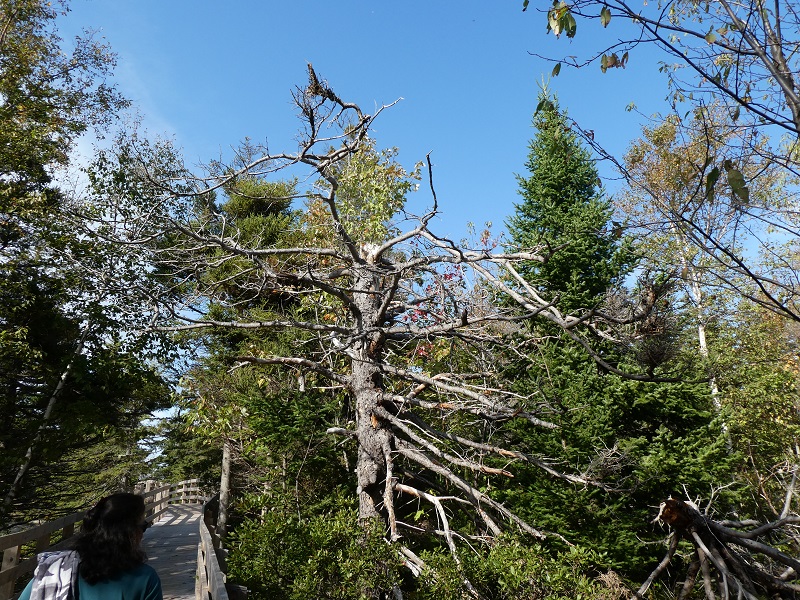 Then we saw a sign that explained why the boardwalk had gone on so long.  It turned out that we were already walking among the dunes!  But these dunes were covered by forest and plants!
Once the sign pointed it out, I finally pointed my camera down to some of the strange-looking growth now beneath us.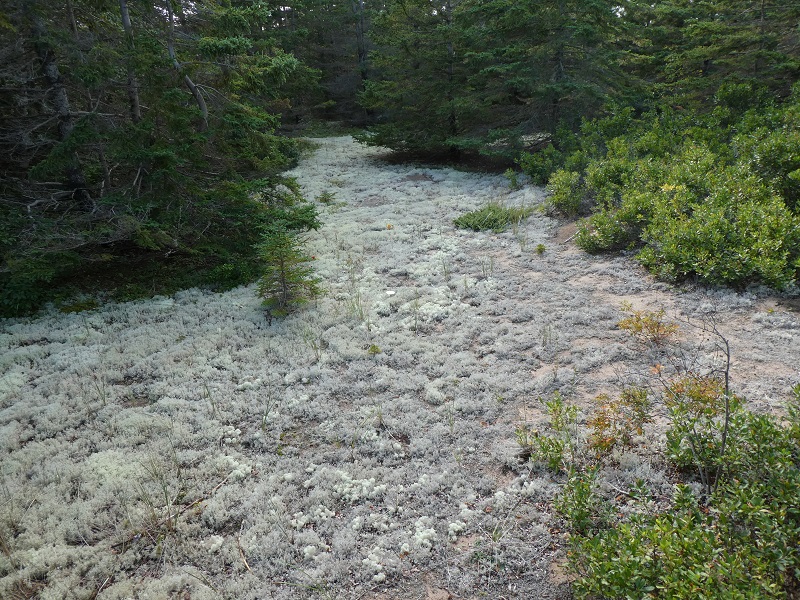 The sign says, "These dunes are far enough inland that sand accumulates and erodes more slowly.  The less wind-blown environment allows plants unsuited to growth in shifting sand to survive.  This stability allows large mats of lichens to grow which, in turn, help to further stabilize the dune.  As it takes a long time for lichens to become established, their presence is an indication of a more stable dune.  However, this special plant community is fragile and very susceptible to damage from trampling."  This is why we were walking on a boardwalk!
We felt like we'd stumbled into a bit of a forest from another planet!
And then…
We came out of the forest, and this is what we saw:
That's enough for one post!  I'll write about the Astonishing part of our walk through Greenwich Dunes in my next post.