It's time for Project 52, Week 34 – Part 6!
34 weeks ago, on my 52nd birthday, I began Project 52. Since there are 52 weeks in a year, each week I'm taking one year of my life and blogging about it. This week, I'm covering the year I was 34 — June 14, 1998, to June 14, 1999.
I'm afraid now that I've reached the Germany years, it's taking multiple posts! This is now the sixth post about being 34, after talking about my new home and new job, our vacation in Spittal an der Drau, visiting the village of Sondra, yet more castles, and Ruth and John's visit.
That brought us to the end of October, 1998. For Halloween that year, naturally Timmy was a knight.
And here's the first snow day of the year, on November 19.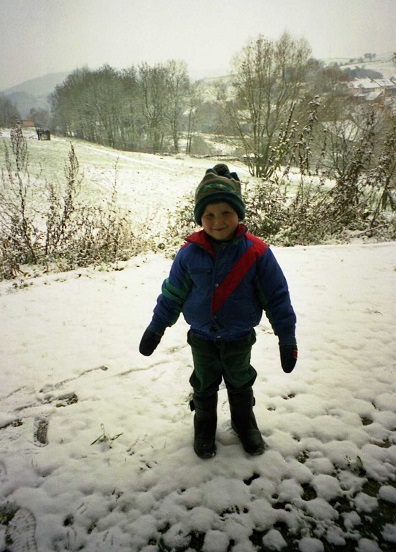 But the next Big Event was when we decided what to do with the $740 from the Beanie Babies Aunt Kay had given to the kids that Steve had sold in Colorado. It was really the kids' money — so we decided to go to Disneyland Paris!
Knowing Disneyland (California) like I do, it seemed ideal to go over Thanksgiving Break, when the French kids would be in school. (This was, indeed, an excellent idea.) I'm going to quote from my journal for most of the description of the trip.
"We left on a cold, cloudy morning. We left fairly late — 10:30, and arrived at 3:30. It took us an hour to find the Ranch Davy Crockett and check in. It was so foggy when we arrived, we couldn't tell where the park was when we were in the parking lot!
"We entered Disneyland Paris at 4:30 — It was open until 6:00. There were no lines whatsoever. First, we all rode Star Tours. It's the same as California, only the robots speak French! I'm not crazy about that ride, because it doesn't give the whooshing feel I love on roller coasters, and is so jerky. Timmy said it was too scary.
"Then Josh and I went on Space Mountain. Josh was just barely tall enough — they checked him twice. He's 1.40 m tall. I was glad they had a Space Mountain, and liked the Jules Verne décor, but I expected the ride to be exactly like Disneyland California. How wrong I was! It had both a 360-degree loop and a corkscrew! As we went around, I was laughing delightedly — 'Space Mountain doesn't go upside-down!' Ah, but it does! The ride was also darker and faster than the other Space Mountain — all-in-all, one of the best roller coasters I've ever ridden!"
"That night we also rode It's a Small World and the Teacups. It was an excellent hour and a half.
"After the park closed, we looked at Disney Village."
"I wanted to eat out since it was Thanksgiving. We shelled out well over $100 for Buffalo Bill's Wild West Show. It was rough on someone with a headache (me) — too much shooting. I expected tables — dinner theatre sort of thing. Instead, we were crammed into a bleachers sort of arrangement. Anyway, the boys did enjoy it."
The next morning, we did the Character Breakfast. I love the way Timmy's face is shining in these pictures. (And we're all wearing my knitting!)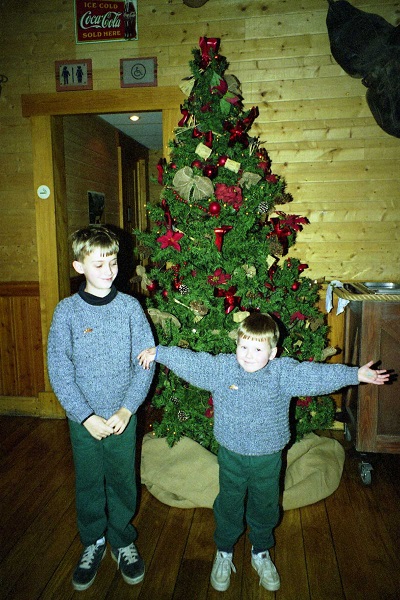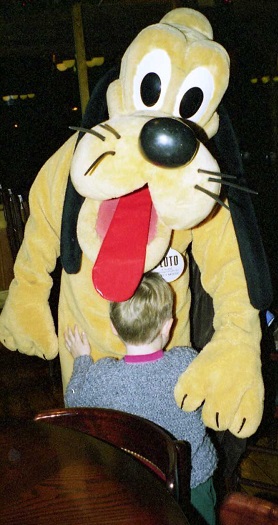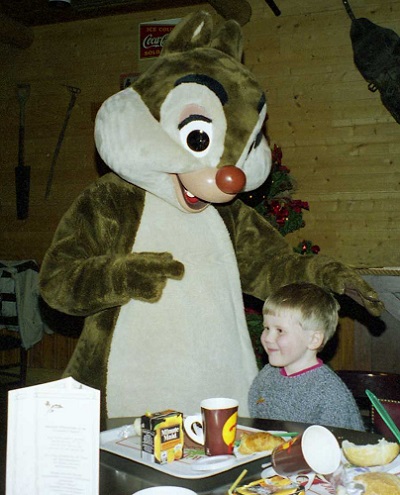 "On Friday, we were at the park by 9:30. Sure enough, they let you in before opening at 10:00."
"This time we headed first for Frontierland — for Indiana Jones et le Temple du Péril and Big Thunder. We took turns riding those and being with Timmy. I liked Big Thunder better than the California one. It goes underground at the start, to go on an island. And it seems faster to me. Indiana Jones is another roller coaster that goes upside-down."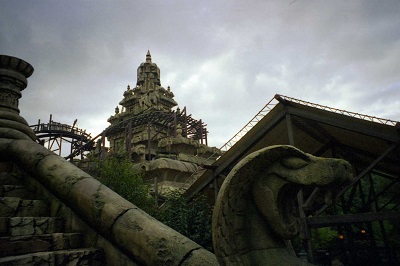 "We had a marvelous day. There were no lines at all. I liked Adventure Isle — no boats to get there, just bridges — how nice. It has more caves and tunnels than Tom Sawyer's Island."
"Another thing that's different is Alice's Curious Labyrinth — instead of a ride. Rather fun."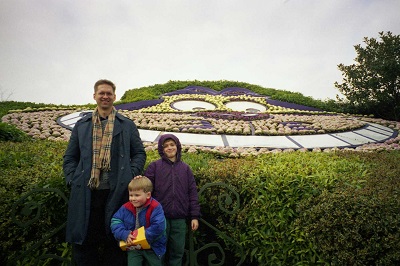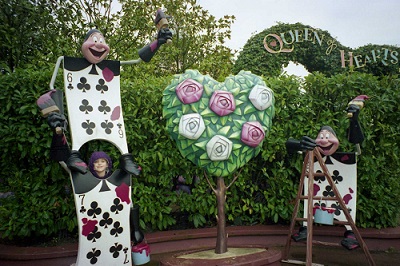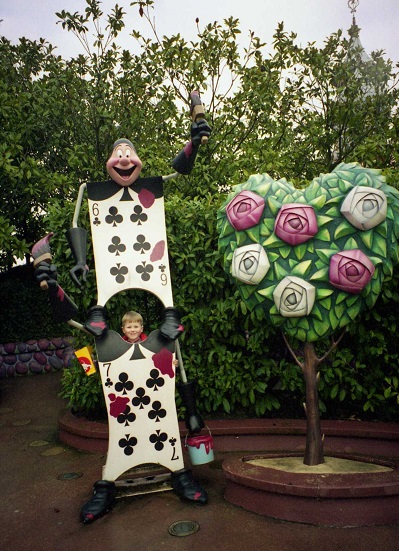 "Timmy also liked Storybook Land — both the boat and the Casey Jr. train (which goes faster than the California one)." Here's Belle's village in Storybook Land:
"We got to go on everything — Timmy went with us on Pirates of the Caribbean and Phantom Manor (both updated) and even Big Thunder! He must be exactly 1.02 m tall — the height limit. On that ride, he clutched the bar and my hand tightly and looked pretty scared. He said it went 'too fast.'"
The Pirates of the Caribbean got a castle! (No, I didn't count any of these castles! They weren't 100 years old!)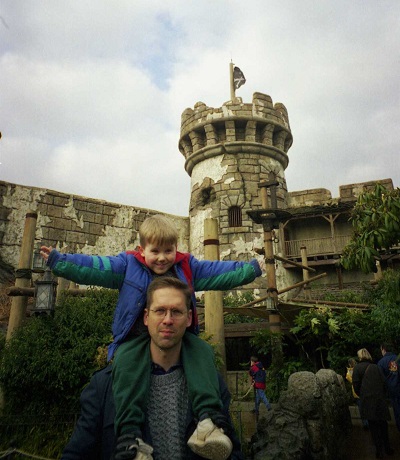 "Another highlight that was different was the 360-degree movie — a journey through time and Europe, instead of America. It was fun."
More pictures from that wonderful day: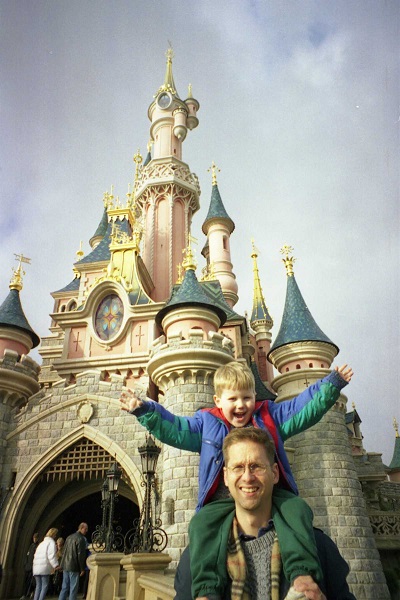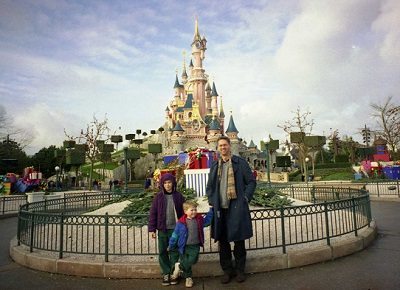 I love the oh-so-French shrubbery:
This part of Frontierland looks almost the same.
I call this one "Tired and Cold":
But there was still enthusiasm for Eeyore!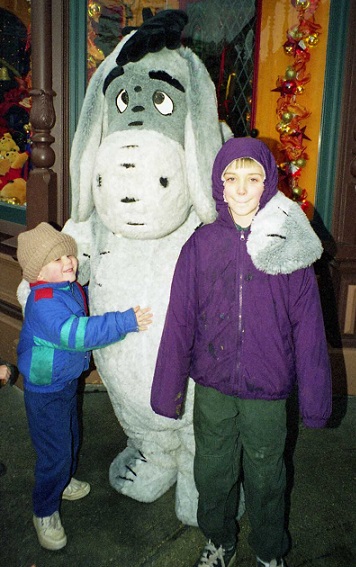 "The next day (Saturday), we took the kids to their favorite rides and headed home about 3:30. The lines were short — max was 30-45 minutes, but we had been spoiled the day before!
"Josh chose Star Tours, Space Mountain and Pirates of the Caribbean.
"Timmy chose Peter Pan, It's a Small World, and Autopia. We did those separately, and all rode on the Teacups together (another favorite of Timmy's)."
"Saturday was cold and even rained a little, a contrast from our lovely day Friday. I did like that they had "galleries" behind the Main Street shops, so you didn't have to be outside. We ate at Buzz Lightyear's Pizza Planet for lunch.
"On the way home, we ate at a French restaurant, where I had absolutely scrumptious pear ice cream.
"A nice finish to a fabulous vacation!"