It's time for Project 52, Week 34 – Part 7!
34 weeks ago, on my 52nd birthday, I began Project 52. Since there are 52 weeks in a year, each week I'm taking one year of my life and blogging about it. This week, I'm covering the year I was 34 — June 14, 1998, to June 14, 1999.
But my 34th year was a big one! This is now the seventh post about being 34, after talking about my new home and new job, our vacation in Spittal an der Drau, visiting the village of Sondra, yet more castles, Ruth and John's visit, and our trip to EuroDisney.
Well, so far I've gotten to the winter….
One major event that happened on December 15, 1998, was that my Grandpa Bates died, in Oregon, of a brain tumor. I couldn't afford to fly to the funeral at Christmastime prices. (I hadn't heard of bereavement fares, though any amount would have been difficult.) That made me feel far away from family. And it gave me a fresh wave of grief about my college roommate Colleen Jenks, who'd died of a brain tumor in Oregon in March of that year.
As the winter carried on, my job-share Sonia moved away, but it took them months to replace her. From January through August, I worked 27 hours per week instead of 20. At the same time, I was taking my writing very seriously, trying to spend 7 hours per week writing. But I was also working, being a Mom, trying to keep a large house decently clean, going to castles on weekends, and trying to get all those pictures I was taking into photo albums. (I did not succeed, but some of them are in nice albums. Now I'm trying to post them all online, which is a much more doable task.)
My journals are interesting. There was lots at this time about being my Authentic Self — probably natural now that I was in a job I loved so much. I also believe that's a side effect of my theology changing. If God is going to eventually save everyone, it doesn't make sense that my main purpose in life is to convert people to Christianity. Maybe the other gifts I have to bring have meaning. Maybe God made me my quirky self for a reason and takes joy in what I can bring. Working in a library certainly makes my heart sing. And Writing.
And I was delighting in my sweet kids. When it snowed, Timmy loved to go outside and use his bubble mower and "mow" the snow!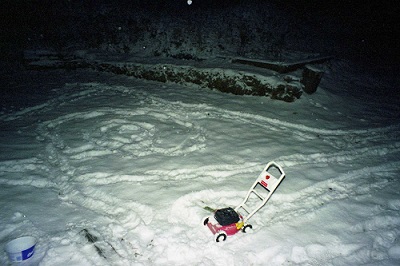 Here's our beautiful view with snow on top!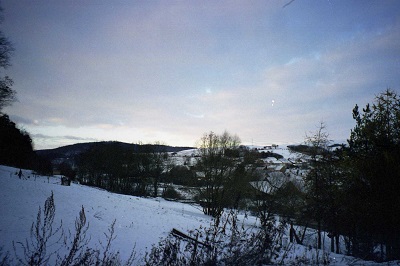 And here are the kids sledding in our own yard:
Here's our pretty house at Christmastime: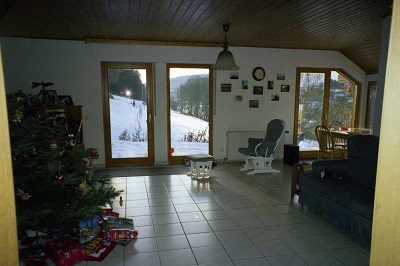 And look! I took some pictures at the Sembach Library! The first one has my dear Elfriede!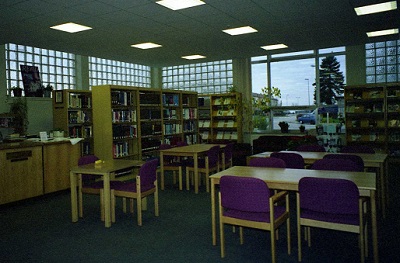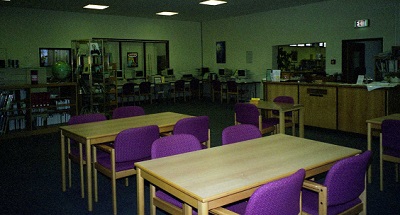 Did I mention our cat, Oskar? He came with the house, and quickly "informed" us that he was allowed indoors, and that he did not tolerate dry cat food. I swear he liked to go walk in the mud and then come back into the house, just to annoy me. He also liked to rip the "skirt" off the back of our sofa. You can see him here making nefarious plans. But the kids loved him.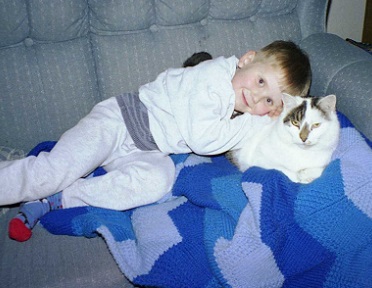 We got to one castle that winter, on February 27, 1999. Castle #64, Burg Reipoltskirchen, a Wasserburg (with a moat!) — I think the only moated castle in the Pfalz. Most there were built on hills instead.
Josh turned 11 years old. They were a winner in the 5th Grade Oral Reading Festival!
But on March 25, 1999, Steve's parents came — for a month! That put a lot of pressure on me. I was already trying to find every spare minute to do my writing. Now I had to set it aside to be a good host. Only I was scheduled for a Society of Children's Book Writer's and Illustrators retreat in Paris in April, during their visit. And there was homework. So I really had to get that homework done before the retreat.
On top of that, as soon as they arrived, I got sick with a bad cold. But we took off two days after they arrived and headed south to the Black Forest.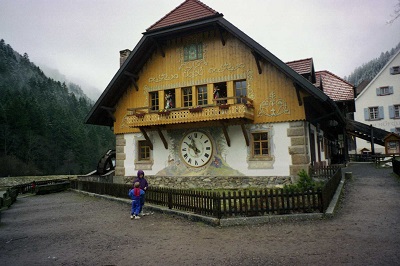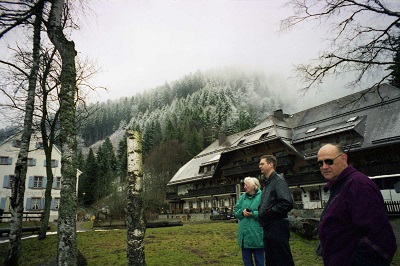 And the next day, we went to Mainau Island and visited Castle #65, Schloß Mainau.
That next week, of course, we went with Gram E and Gramp E to Falkensteinerhof for dinner and visited Burg Falkenstein.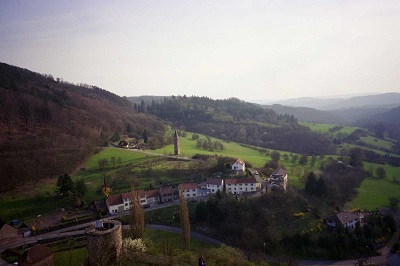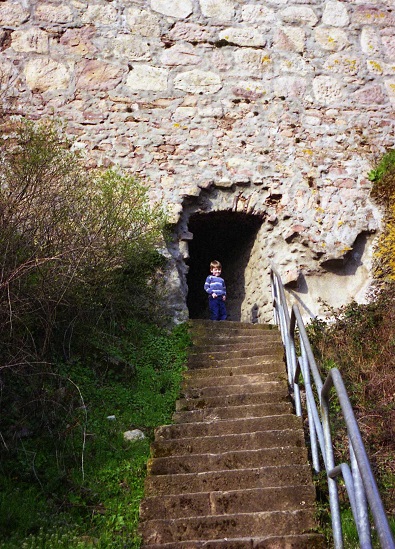 Springtime! We could eat outdoors with the beautiful view!
My main homework assignment for the writer's retreat was to illustrate the poem "I'm Hiding." Since I don't draw, I decided to use photos. Setting them up was a lot of fun. Here are my favorites.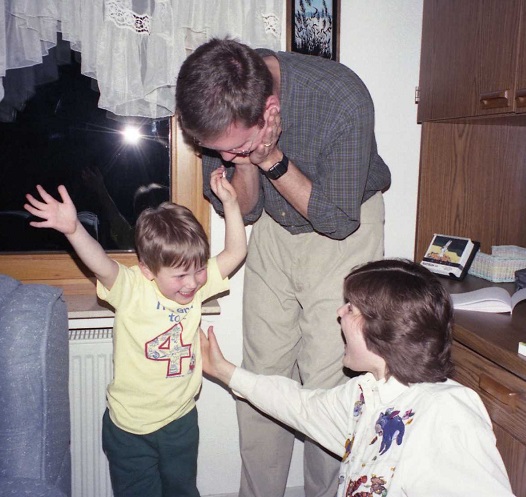 On Easter Sunday, after church we drove to Bern, Switzerland, and saw the bears!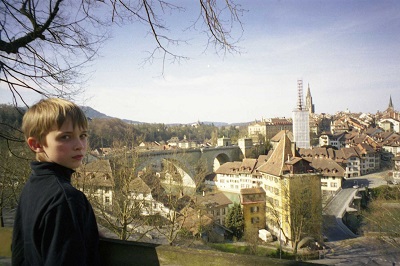 And the next day, April 5, we visited Castle #66, Schloß Burgdorf, near Bern.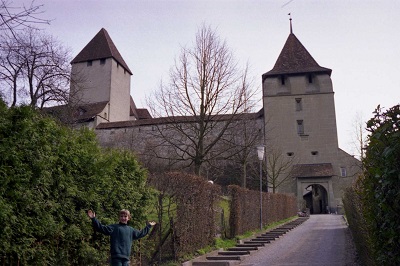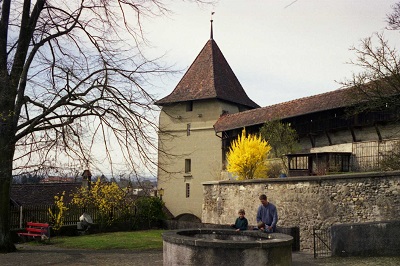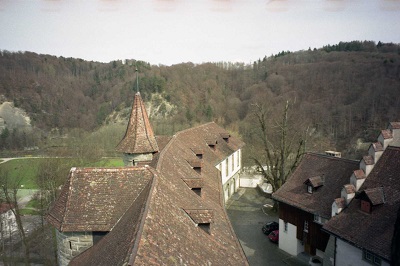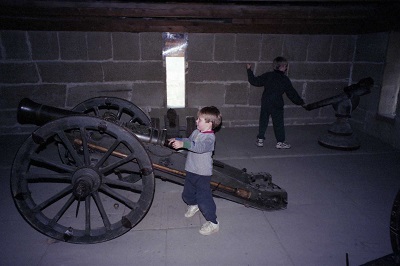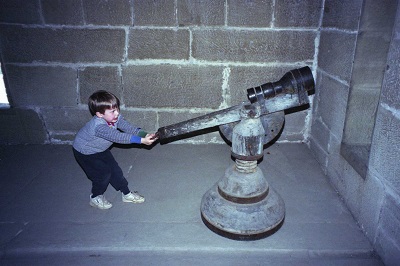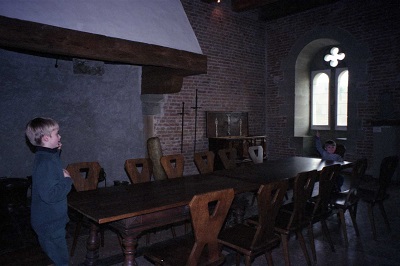 When it came time for my SCBWI Retreat, the whole family went on vacation. They visited Paris while I was on the retreat.
First, we spent a night with Steve's Dad's cousin in Ghent. The flea markets there were amazing!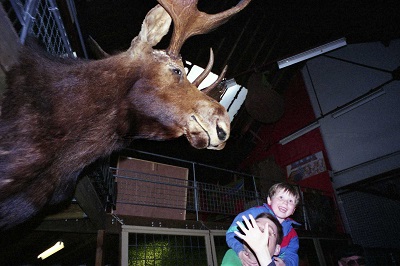 And of course we made sure to touch Burg Ghent, Castle #67!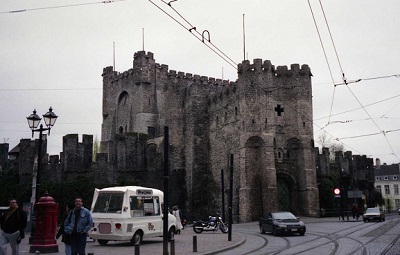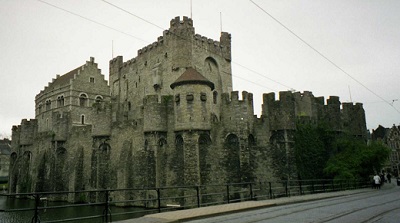 The city of Ghent is lovely.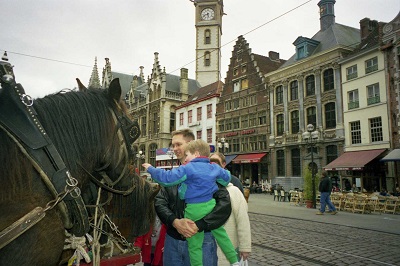 This is at Steve's Dad's cousin's house. Beautiful countryside.
And we stopped in Brussels for a couple hours on our way to Paris and were dazzled.
You have to have chocolate in Belgium!
And of course we visited Mannekin Pis!
Well, it's getting awfully late, and I still haven't been able to finish. Next up is my amazing SCBWI Writer's Retreat at the Abbaye de Royaumont in Paris, where I made some lifelong friends.