I've posted about almost all of ALA 2013 Annual Conference now. Still to report: One last day of meetings, and the Printz Awards Reception in the evening.
There was one thing from the Newbery/Caldecott/Wilder Banquet, however, that I didn't notice until I was packing up to go home.
I don't know about your libraries, but at our library, we put out those golf pencils and have to replenish them every single day. They disappear because people take them without thinking about it.
At the Caldecott Banquet, honoring the 75th anniversary of the Caldecott Medal and this year's winner, Jon Klassen, author of This Is Not My Hat, they handed out a Bingo contest with Caldecott trivia. They handed me a golf pencil, and I didn't get the chance to refuse because I'd rather use a pen. When I was packing up to go home, I found the pencil in my purse and was going to throw it away. But then I looked at it:
I laughed and laughed! Here's the full view:

For the record, I did not throw it away!
Monday morning, the first meeting I'd planned to attend was too packed to enter. So I headed for the ALSC Awards, which were scheduled a little later, so I was on time for a change! They award the Sibert Medal, the Carnegie Medal, the Batchelder Award, and the Geisel Award at this event.
Some notable quotes:
Steve Sheinkin (Sibert Medal winner):
His story started with the story of a diamond mine scam. He couldn't find sources, so switched to an obscure spy, "and so it began."
"If Shakespeare could write one historic play about an American, I think it would be Oppenheimer."
When he found out about the Norwegian spies, he thought of them as "Indiana Jones on skis."
Katje Torneman (Carnegie Medal winner):
She began making films to spread awareness about the environment.
"We can make a difference in the world.
Dial Books representative (Batchelder Award winner):
When the book was being translated, she only got to read a chapter at a time.
It's a story of duality, a girl who has nothing, but has everything.
(Note to self: Must read My Family for the War)
Ethan Long (Geisel Award winner):
The big banner in his mind: "You beat Mo!"
After the celebration of the award winners, it was back to the exhibits for a bit. I saw these two Odyssey Award narrators being interviewed by Booklist:
On the left is the narrator of the latest Artemis Fowl, and next to him is Elliot Hill, the narrator of Cornelia Funke's Ghost Night. I could listen to both of their wonderful voices for hours, and, come to think of it, I have listened to Elliot Hill for hours. (It's maybe just as well that I didn't know while I was listening that he's cute, too!)
After a little time in the exhibits, I went to the ALSC membership meeting. That's the children's services division of ALA. Among other things, they talked about the Common Core and the importance of play.
I'm a member of two other divisions — YALSA, for young adult librarians, and PLA, the public library association. But my heart is with ALSC, and that's where I'm trying to get involved. I just finished two years on ALSC's Children and Technology committee, and have begun serving on the Grant Administration committee. And I'm hoping that some day, somehow, I'll get to serve on the Newbery committee.
Then it was back to the exhibits. I went straight to the Booklist booth to hear Elizabeth Wein speak, but she wasn't there yet. I heard that she was still signing — and I immediately went to find her, since I figured they might be giving out ARCs of her new book! Sure enough, I didn't get it signed, but I did snag a copy of Rose Under Fire!
And then I got to hear Elizabeth Wein speak, so it was a Win-Win morning!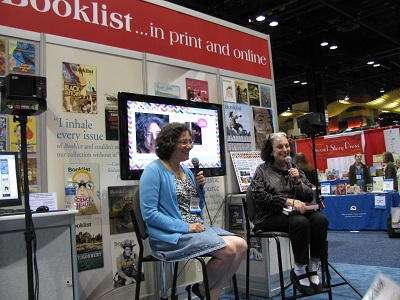 At the Booklist interview, she talked about writing Rose Under Fire. Her introduction to Holocaust literature was the same as mine: reading The Hiding Place. She became obsessed with it. Both Code Name Verity and Rose Under Fire are based on a story she wrote when she was 12. The story was not written, but she made pictures. It started with spies and went on to a concentration camp, so Rose Under Fire is the second part of that.
There's a part of her that says, "I have no business telling this story." But she didn't deprive herself, because she knows her characters, and the real people they're based on, wouldn't wish that kind of hardship on anyone.
"Both books are about the Power of Words."
Julie's process of writing was very self-indulgent for Elizabeth Wein. She had to rein herself in for Maddie.
The importance of poetry in Rose Under Fire comes from a survivor account.
Each of her books is about something specific.
"Rose Under Fire is about hope."
"Code Name Verity is about friendship."
"My first book [The Winter Prince] is about jealousy."
"Fly the plane" comes from flight instructors. When you're up there, you can't think about anything else.
There's more of her in Rose than any other character she's written.
After that, I had lunch and then tried to get out of the exhibits. But I was pulled inexorably into the free books line at the Simon & Schuster booth. I got four free books (the EXACT number so that my brother Robert correctly guessed that I'd come home with 92 books), but then managed to NOT get back in line.
The final program I attended was "Think with Your Eyes" about Visual Thinking.
The man leading it was modeling Visual Thinking Strategies. He had a work of art up on the screen and asked three questions:
"What's going on here?"
"What do you see that makes you say that?"
"Thank you. What more can we find?"
"Something about VTS encourages scaffolding — building off each other."
"Don't start by asking 'What do you see?' Start with 'What's going on here?'"
Image selection is a critical part of the process.
"Provide a space where you have a multiplicity of right answers.
This matches real life."
You can also use this method with poetry.
Kids get used to no wrong answers.
Evidentiary reasoning: "What do you see that makes you say that?"
"'There's one answer to everything.' is the opposite of creativity."
Paraphrasing responses clarifies and validates.
The facilitator also points out linking — "You're building on what Joe was saying."
The hard part: Teaching educators to remain neutral.
Participants learn that other people think differently than you.
It's very similar to the Scientific Method, only less directed.
Meta-cognition — becoming aware of how you think.
Collaborative, not competitive.
There's not consensus, but everyone listens and hears the multiple perspectives.
Find out more at the VTS website!
The VTS images become more complex with time.
Teaches silent looking — a valuable skill.
"Gives students a format for civilized discourse."
Next speaker, a teacher, uses VTS with Caldecott books.
I want to try those questions the next time I use a wordless book in a storytime. It's a great model!
That was my last session of the day. I needed to get back to my hotel early, so I could ship my books before going to the Printz Awards Reception. Here are some of my piles: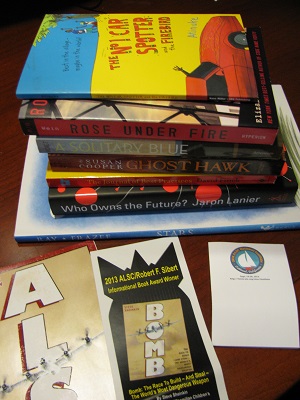 Those were the books I got on Monday. So much restraint compared with the other days!
I used my wheeled bag plus a tote bag to get the books to the post office. Here's the tote bag stuffed full:
And the remaining books that I need to put in the wheeled bag:
The good news was that I got ALL the books except one into four Flat-Rate boxes and shipped them successfully. I was all ready to go to the last event, the Printz Awards Reception!